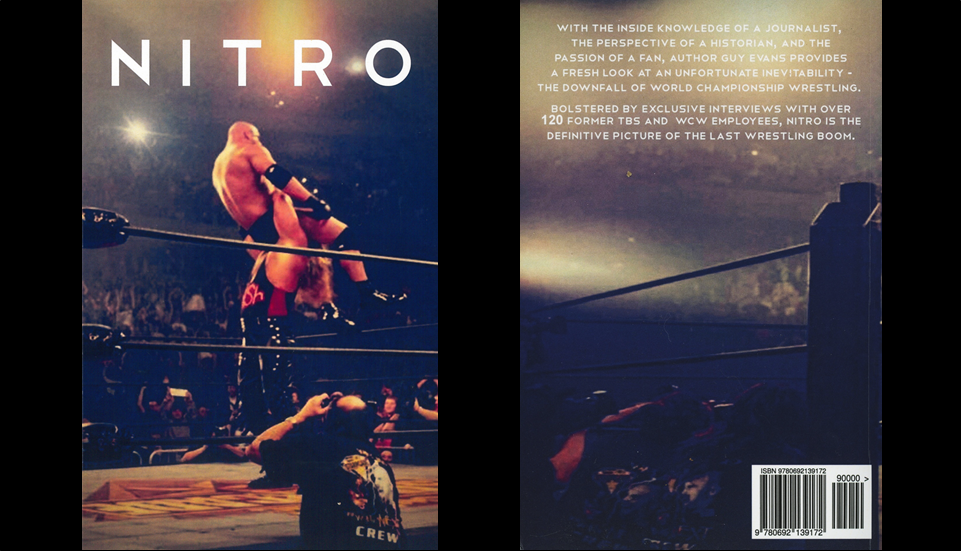 The idea of writing a book about World Championship Wrestling nowadays must be incredibly daunting. Not only have numerous shoot interviews and other published works covered the same grounds you'd be looking to tackle, but the current reign of insider tell-all WEEKLY podcasts could also beat you to the punch with any of the untold gold you could potentially uncover in your research. To be able to stand out, you would have to be completely devoted and driven into creating something that was more than a retread of available material on WCW but also goes beyond the pale of what anybody else could potentially come up with.
That's exactly what happened here with Guy Evans and his NITRO: The Incredible Rise and Inevitable Collapse of Ted Turner's WCW. Evans managed to get numerous people on record to discuss World Championship Wrestling, ones that go past the usual list of suspects for these kind of pieces. Getting various WCW wrestlers and personalities to retell their tale of backstage debauchery is always entertaining, but the most interesting parts of NITRO is whenever former Turner Broadcasting Systems employees (and even an ex-TBS Network President) get their turn to speak. The detail that comes through from these accounts is something I've never read before in any WCW tell-all. First-hand stories of dealing with an Eric Bischoff consumed by his own ego and even musings of how Ted Turner really felt about professional wrestling directly from those who worked aside him; these are the tremendous highlights that made NITRO such an enjoyable read.

Keep in mind though that NITRO is a lengthy trek that also jumps head-first into the deep waters of the business side of WCW and Turner. The voice that moves you along presents everything as a matter-of-fact and bolsters the narrative with direct quotes from those in-the-know along with numerous clippings from various on-the-record depositions. Funnily with several of the early chapters of the book being driven by newer statements from Eric Bischoff directly, sometimes there's a juxtaposition that occurs whenever the larger context is revealed through the voices of others around him. In the case of the firing of Sean Waltman, Bischoff gets a chance to "set the record straight" with his truth by responding to older claims made by Scott Hall and Kevin Nash regarding Bischoff's famously short-fuse. Bischoff gets the last word on this particular matter in the book, but the story is sandwiched in-between tales of paranoia regarding Turner spies and a blow-up where he promises in front of the WCW locker room to sue, bankrupt and "starve" Ric Flair.
It's the kind of thing that if Eric Bischoff were to hear about the other accounts included in NITRO, he'd just dismiss the entire project as bullshit before trashing it wholesale on his 83 Weeks podcast. I wouldn't be surprised if that actually occurs in the near future…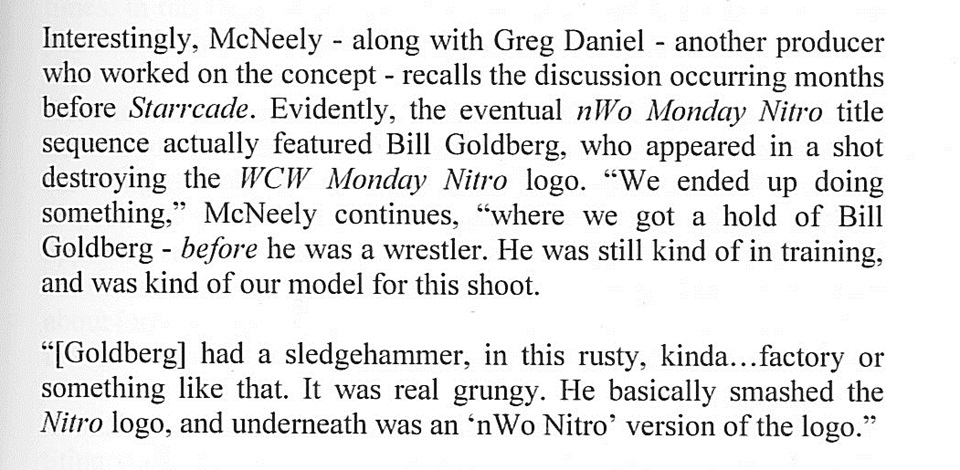 NITRO moves through the history of WCW chronologically with ease by focusing on a major theme, personality or event with every passing chapter. All of the controversial moments you'd expect to find are represented in full. Long held conspiracies like Vince Russo being a saboteur or Vince McMahon having an inside-man that got Turner to cancel WCW for him are brought up and squashed. The Starrcade 1997 debacle gets into an area with Eric Bischoff that he's only flirted with previously in regards to there being other issues with Sting that night beyond him having a few extra pounds. The television ratings for every period of WCW Monday Nitro are covered and Guy even goes through full breakdown of the time-frame where Russo had full control of the company. The chapter ends up being a great takedown of often-repeated claims by Russo and his fanatics of how ratings drastically swung upward under Russo and Ferrara's watch.
I enjoy the lack of snarky (or is that smarky?) quips that keeps the book from wading into The Death of WCW territory and appreciate how it never dwells on the more scandalous or salacious stories from World Championship Wrestling. That said, it's not all as serious as a Lance Storm promo throughout NITRO. There are great asides and tales of WCW's trademark quirkiness, extravagant spending and pure incompetency on display. A WCW production coordinator recalls a time when they setup to film a Graveyard match with a full rented crew, only to discover that no one bothered to invite Vampiro to fly in for the shoot (costing WCW to eat $95,000 in costs). It's hard to not sit there with your head in your hands after reading some of these insane stories, specifically another one that involved plans of the ass-kicking ghost of Bischoff being involved in some capacity at Halloween Havoc '98.
Yes, you read that correctly.
With NITRO, Guy Evans ended up taking on a seemingly insurmountable challenge by retelling the story of WCW and crafted something that is a must-read. Multiple readings might be required in order to absorb all of the details found within Evans' book, something I'm looking forward to revisit soon just to ensure that I didn't accidentally miss anything. I would go as far say that Evans manages to best The Death of WCW of Bryan Alavarez and R.D. Reynolds, but that's such a difficult claim to make. The work of Alvarez and Reynolds (along with WWE-produced documentaries) have seemingly held a grapple hold on the collective hive-mind of wrestling fans when it comes to the history of WCW, for better and for worse. Hopefully, NITRO can find a place among them and become a resource for those fans who lived through the Monday Night War or even newer fans who relive that era through the WWE Network.  If anything, NITRO is an absolutely intimidating beast for any wrestling historians out there flirting with the idea of writing their own retelling of WCW's history. Guy Evans has set the new standard.
---
Even though the site is thanked in the linear notes of 'NITRO', a review copy was not sent out to WCW Worldwide to cover. I pre-ordered and purchased it just like everybody else.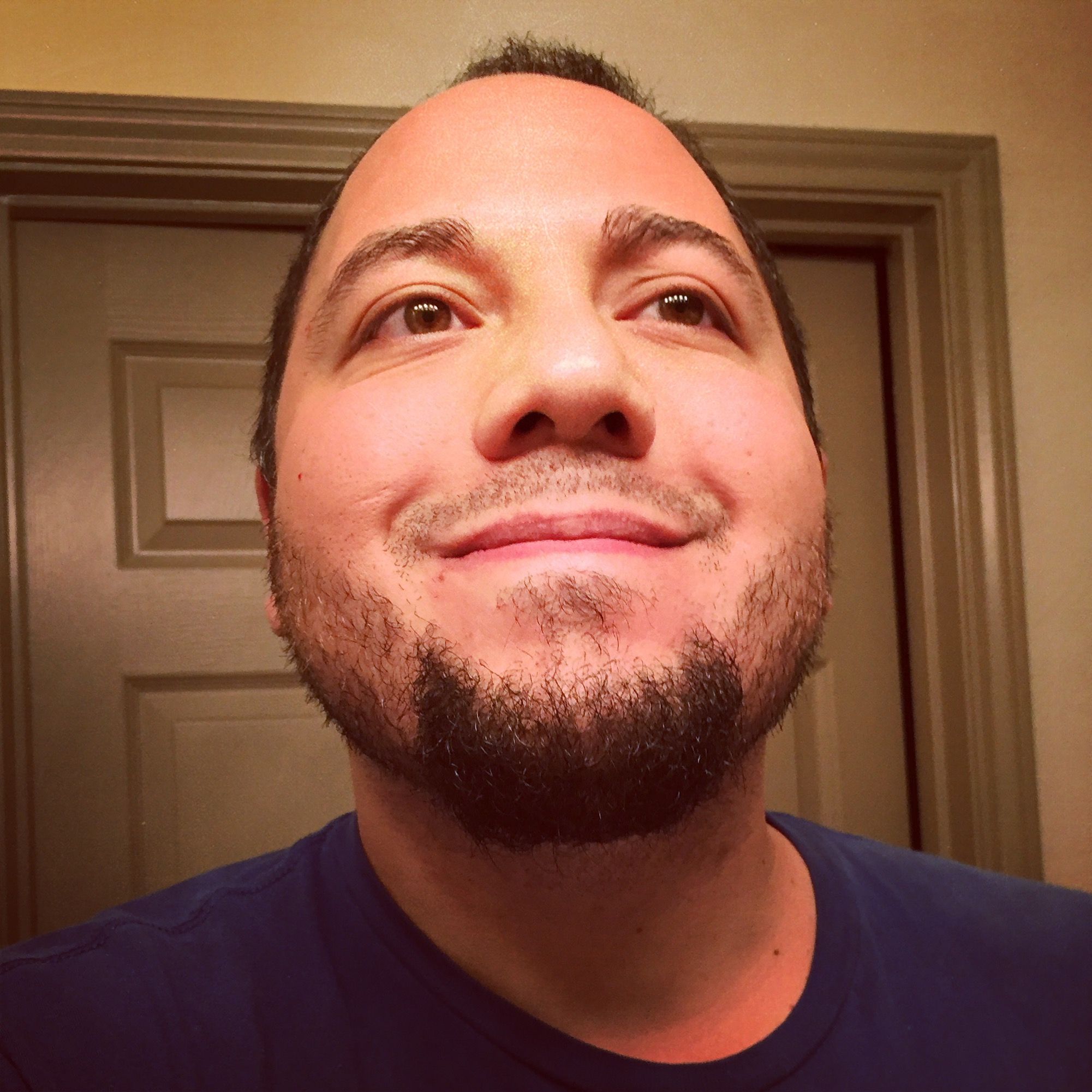 38-year-old World Championship Wrestling fanatic/collector/hoarder. Safety officer by day, scanner of wrestling magazine by night.
He's got posters on the wall, his favorite rock group's KISS.