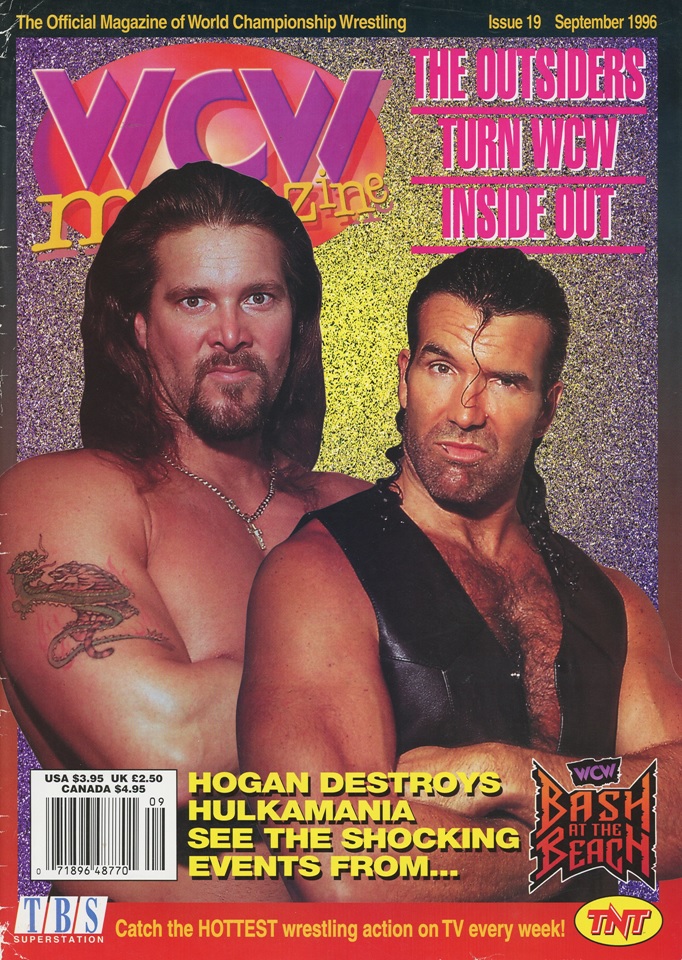 Last time I brought you the issue of WCW Magazine that showcased Hulk Hogan in World Championship Wrestling for the time, now it's time to focus on The Outsiders, Scott Hall and Kevin Nash. These two invaders from "up north" have found themselves causing havok during WCW Monday Nitro and have seemingly added The Hulkster to their group at Bash at the Beach!
It's strange to see that even by September, WCW Magazine hadn't been completely "taken over" by the New World Order.  Hall and Nash get the same amount of time devoted to them in their cover feature as guys like Big Bubba and Mongo McMichael end up with. There are ZERO nWo logos to be found anywhere here. I'm guessing that this magazine will end up playing catch-up by their October issue…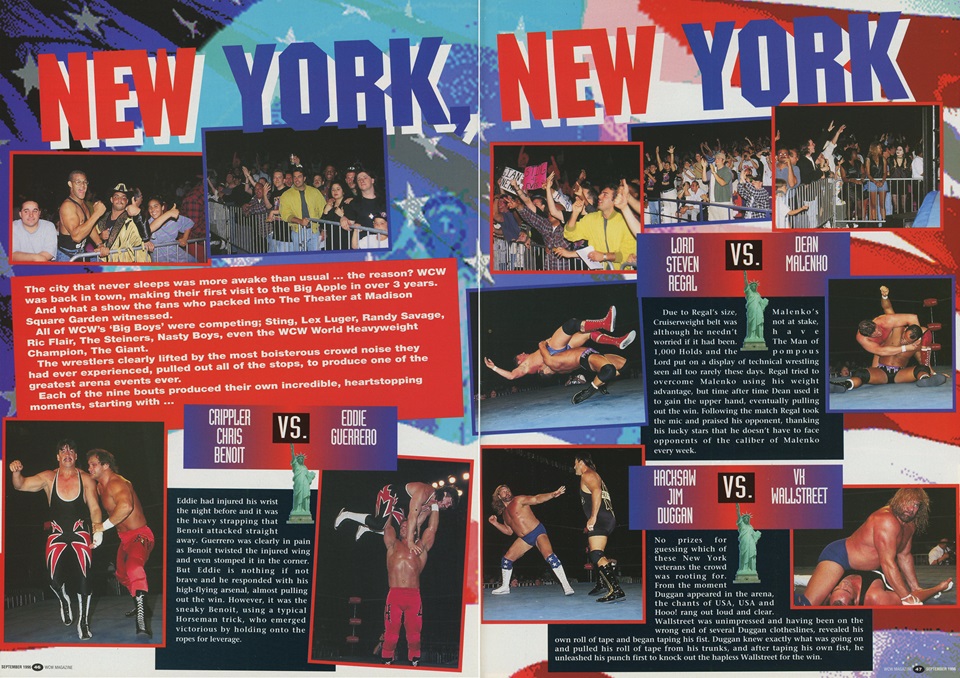 I'm always surprised to see how high that WCW was on Alex Wright. The guy is seemingly featured brightly in every issue around this era, even when wrestlers like Eddie Guerrero, Chris Benoit and Dean Malenko in the company now. Even Pro Wrestling Illustrated highlighted "Das Wunderkind" as a "young lion" worth watching in WCW alongside Marcus Alexander Bagwell and Chris Jericho…
Maybe my memory of his matches is hazy or just completely ruined due to seeing more of his post-1998, comedy stuff like the "Boogie Knights" phase and or WrestleCrap like Berlyn.  Maybe I should reach back into these early Nitros on the WWE Network and just him an honest try.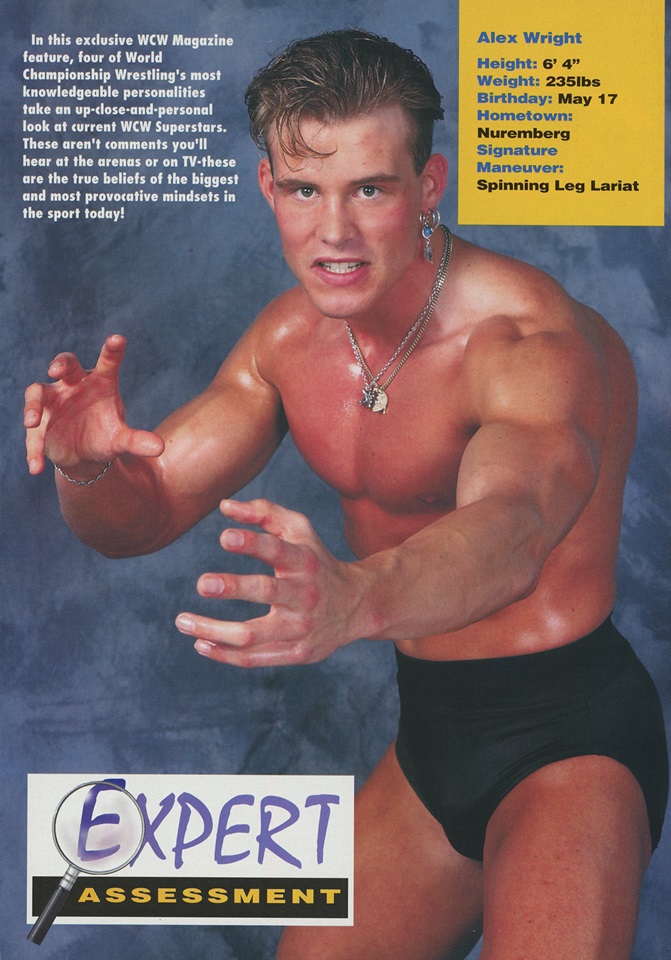 Or maybe I can skip that and continue on with my magazine scans,  focusing next on uploading one from 1999.
**Subscribers at ANY level of the WCW Worldwide Patreon will get to download these files as soon as they're uploaded to my Google Drive. Patreon backers are rewarded with early downloads and even a chance to get vintage and original WCW merch sent to them as a thank-you.**
Download WCW Magazine #19 [September 1996]
ZIP File | CBR File
WCW Magazine #19 - September 1996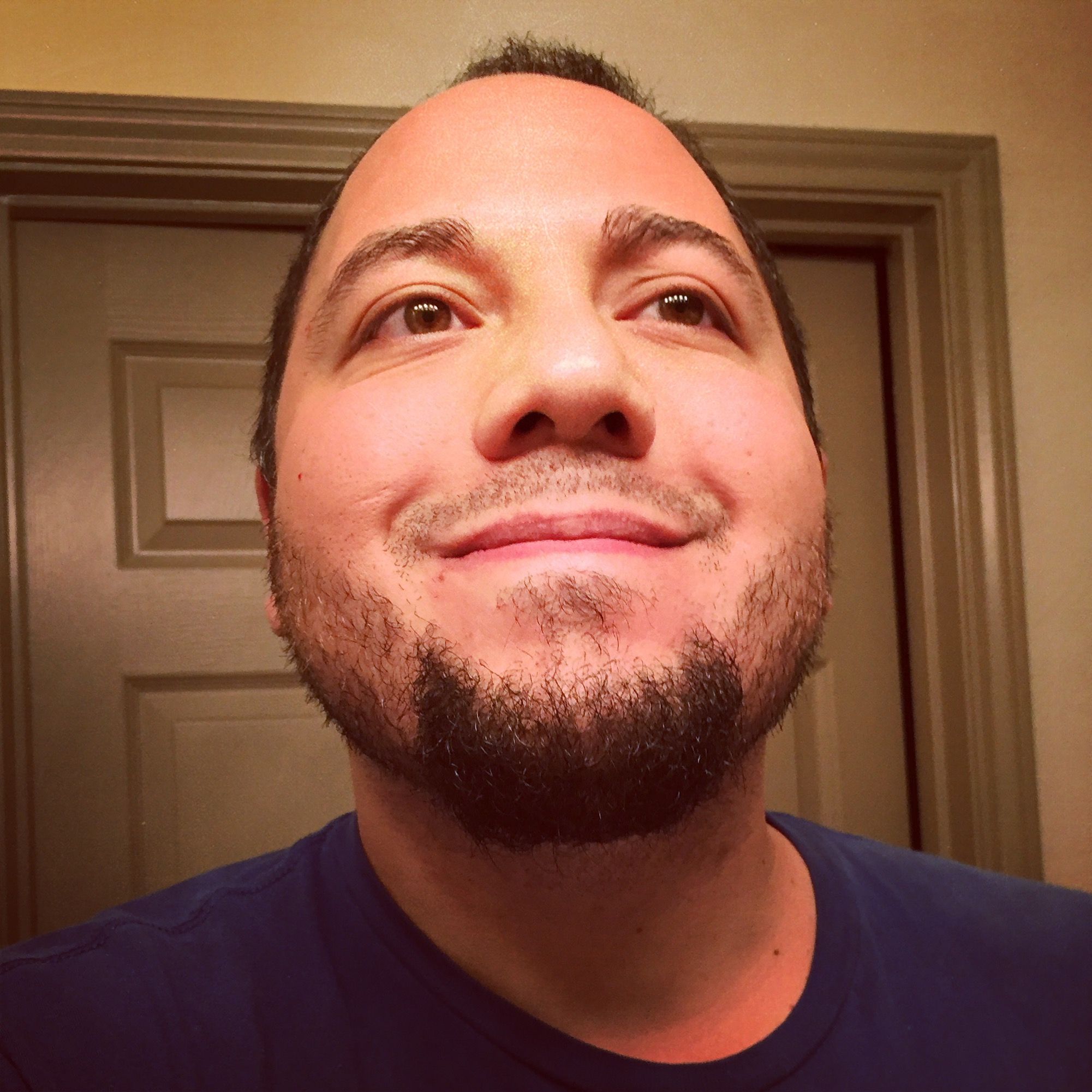 38-year-old World Championship Wrestling fanatic/collector/hoarder. Safety officer by day, scanner of wrestling magazine by night.
He's got posters on the wall, his favorite rock group's KISS.