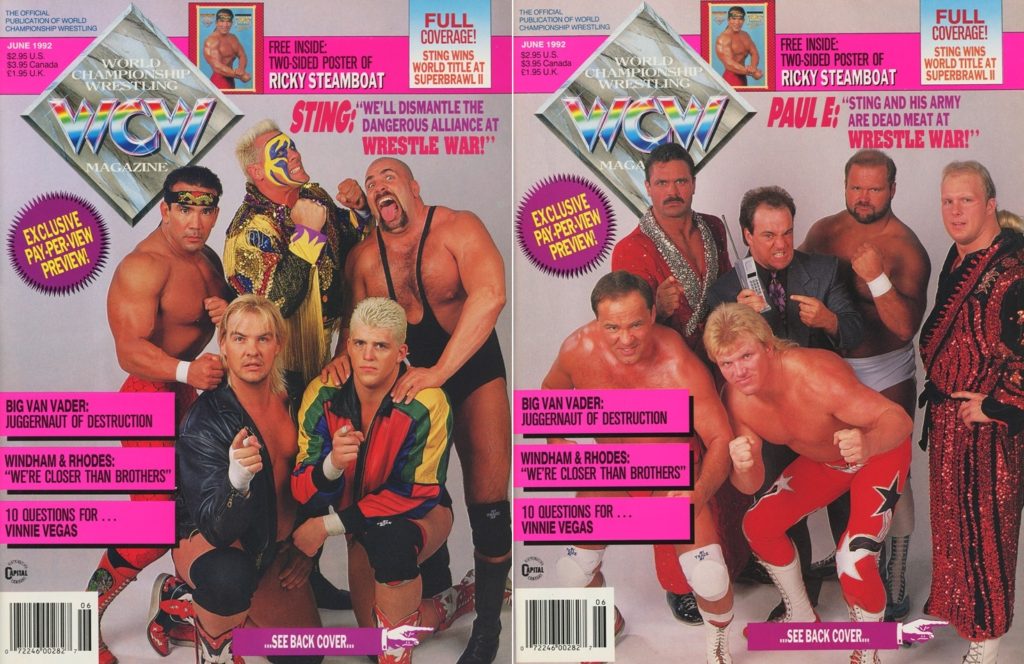 A double-sided WCW Magazine with Sting's Squadron and Paul E. Dangerously's DANGEROUS ALLIANCE! When you look at everyone included here, it's hard to not praise Heyman for the group he assembled here. Rick Rude, Arn Anderson, Steve Austin, Larry Zbyszko and "Beautiful" Bobby Eaton; there's no way Dustin Rhodes and Nikita Koloff can stack up here!
This magazine from June 1992 is filled with great photo spreads, something that I kinda enjoy when flipping though but still is frustrating when you want a certain shot to be CLEAN.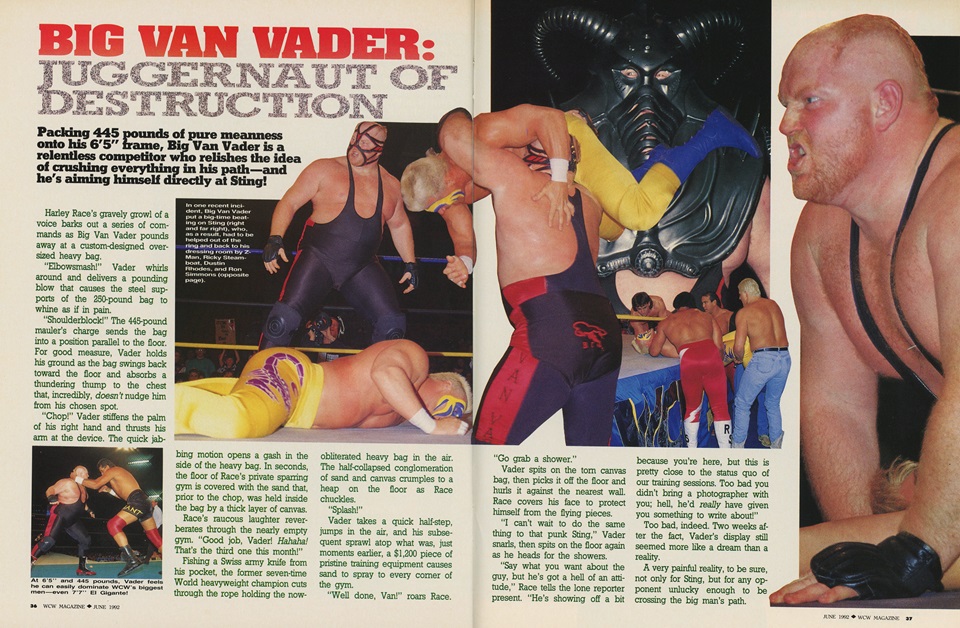 Right there in the middle, I would have loved to have all four of those shots clean and on their own! Instead, the designers clipped and mashed them all together in one montage for this article. Visually appealing to readers but disappointing for us nowadays who know that the WWE rarely dips into their photo archives from this era. Still though, there is ABSOLUTE GOLD to be found inside this issue, including proof that Paul Heyman is wrestling's Forrest Gump: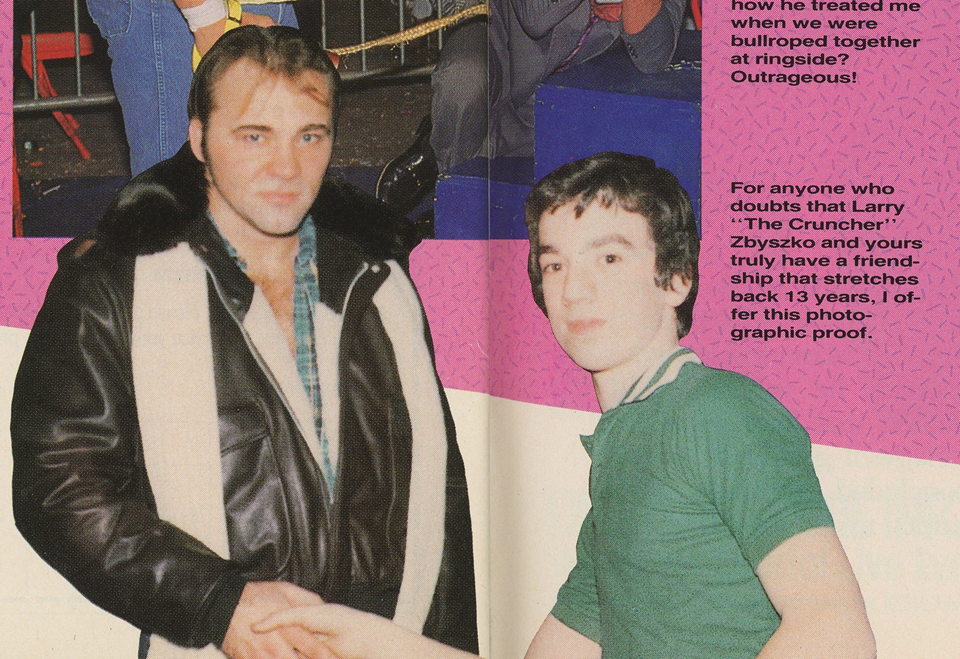 The photo of a young Heyman hanging out with Larry Zbyszko was used as a response to a letter calling BULLSHIT on Paul E's claim of knowing Larry for over a decade. Since their original meeting in 1979, Heyman would continue networking around the wrestling world due to being a New York event photographer and would hustle his way into become a full-fledged wrestling manager by the late 80's. The idea of running an old photo for Heyman's column in WCW Magazine just to give the Dangerous Alliance that little bit of extra credibility is such a fantastic touch. I mean, Sting had issues with Nikita and Barry Windham during his early days in World Championship Wrestling… could he really put his trust into them to have his back at Wrestle War '92??
Also, there's a fun article included that talks to Vinnie Vegas to see what this seven-foot grappler is all about.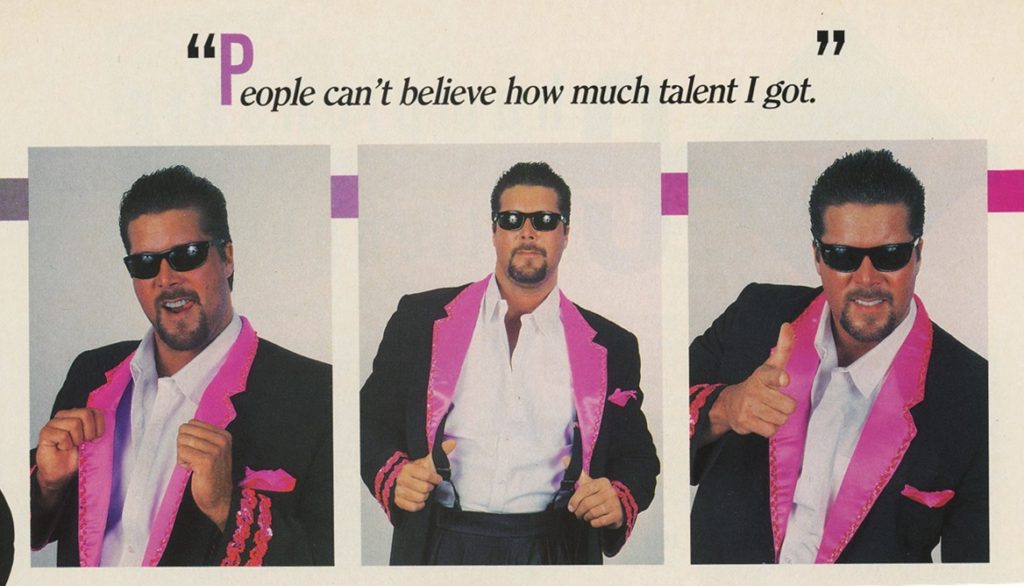 And to think — this man would be one of the most important names in wrestling in only four years after these photos.
**Subscribers at ANY level of the WCW Worldwide Patreon will get to download these files as soon as they're uploaded to my Google Drive. Patreon backers are rewarded with early downloads and even a chance to get vintage and original WCW merch sent to them as a thank-you.**
Download WCW Magazine #6 [June 1992]
ZIP File | CBR File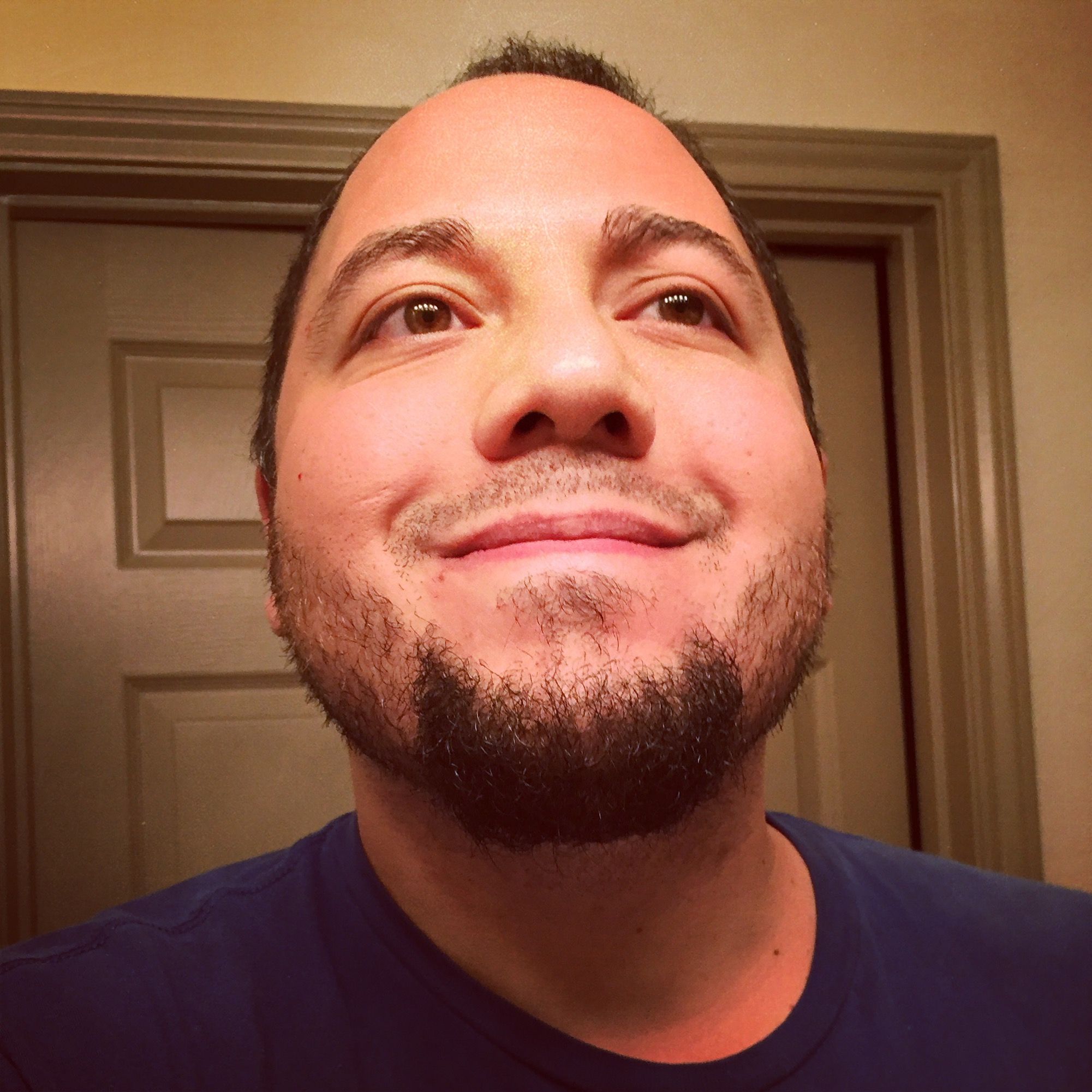 38-year-old World Championship Wrestling fanatic/collector/hoarder. Safety officer by day, scanner of wrestling magazine by night.
He's got posters on the wall, his favorite rock group's KISS.