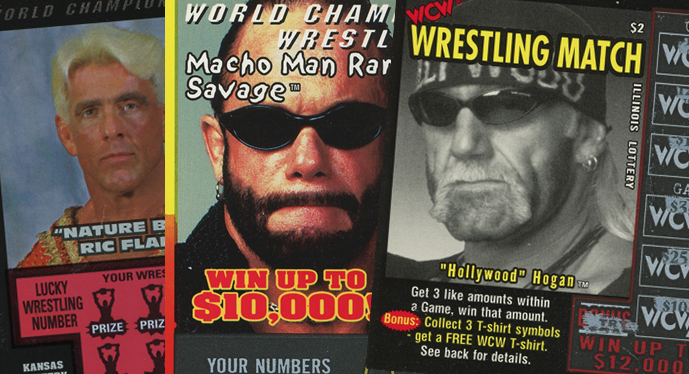 Did you know that WCW pretty much licensed everything they could under the sun? While WCW coloring books, video games, boxer shorts, coin banks, candy pieces, bowling balls and hot sauces are all fine and cool, NONE of them actually were created to make you and your family that much-needed $$$.
From what I can tell, the tickets started in Illinois in early March with the first set shown below. I thought I had collected every series that was made available through-out 1999, but a quick glance at my own damn site showed me that I'm missing a FOURTH set of tickets from called WCW CASH SLAM.
Judann Pollack: "'The WCW is a big property, and a lot of marketers are tying in with them,' said Cathy Beres, deputy director of marketing at the Illinois Lottery. 'We're doing it in a non-violent way.'
The WCW linkup is only one means the lottery has employed to spice up the appeal of its instant-win games. Other pop culture icons have appeared on tickets within the past few years. Among them: 'Baywatch' characters, Lucy and Desi, and the Three Stooges.
Its Marilyn Monroe instant game proved so popular it's been adopted by other states, Ms. Beres said.
'From my experience, Illinois has been a leader in pursuing this kind of thing,' she said." – 'Ad Age' [March 22nd, 1999]
The tickets were grabbed from a collector of these kinds of things which had a mixture of pre-scratched off tickets, pristine tickets and tickets that were completely voided out. I could very well be holding a $30,000 winner in my hands here but since the deadline to collect expired eighteen-years-ago, I doubt that I am sitting on a goldmine.
I'll work on completing a full gallery for this site and hunting down that missing set, but for now, here's everything I have along with each series' respective t-shirts that were also made available.
Pretty nice set of cards here, cool to see Chris Jericho represented as well. All I'm missing from this set is a Goldberg, but that one's already on the way and will be added to the gallery shortly.
Out of this batch, I'm not certain who I'm missing overall save for a Bam Bam Bigelow. Hogan and Goldberg are the most likely candidates along with maybe a Rey Mysterio as well. I'll keep an eye out.
From what it looks like, I have a complete set here of the Kentucky lottery tickets, but when the same game was introduced in Maine, they included an additional four more wrestlers (Steiner, Jarrett, Luger and Sid).
If I ever get this entire set, expect to me to broadcast it all over my Twitter and Facebook. But until then, enjoy the mug of "Big Sexy" Kevin Nash.
While we're on the topic, wrestling scratch off tickets weren't just limited to WCW. TNA released their own set of Impact Wrestling tickets in 2013: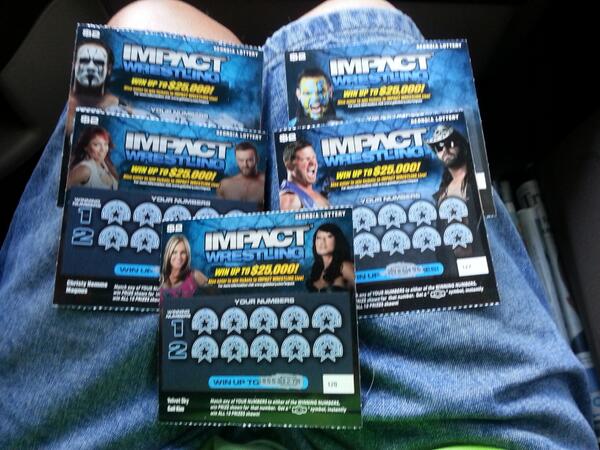 The WWE also followed along by putting out WWE WrestleMania scratch-offs to promote their mega-event here in Texas back in 2016: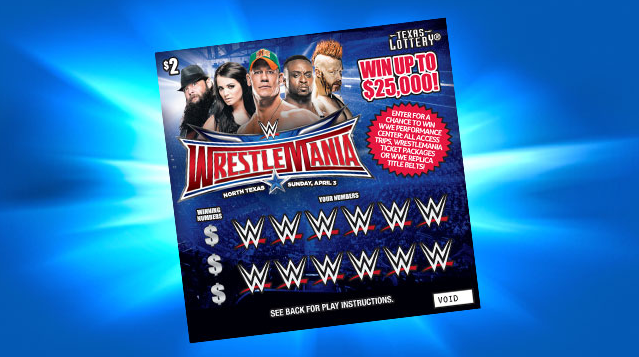 Not only that, but the "Nature Boy" Ric Flair has had THREE of his own lottery tickets sold in both North and South Carolina starting back in 2009:
When it comes to promoting the lifestyle filled with the finest luxuries found on this planet, Ric Flair isn't the worst choice you can make to be the face of your lottery ticket. There might be a note of irony there considering Flair's public money issues, but it still makes for a fun ad spot if you don't dissect it too much.
If you look closely at that first Flair lottery ticket, you can see that they decided to go with the famous shot of Ric Flair at a WWF event holding up a modified WWF Tag Team Championship title that was used as a stand-in world championship in lieu of the Big Gold Belt: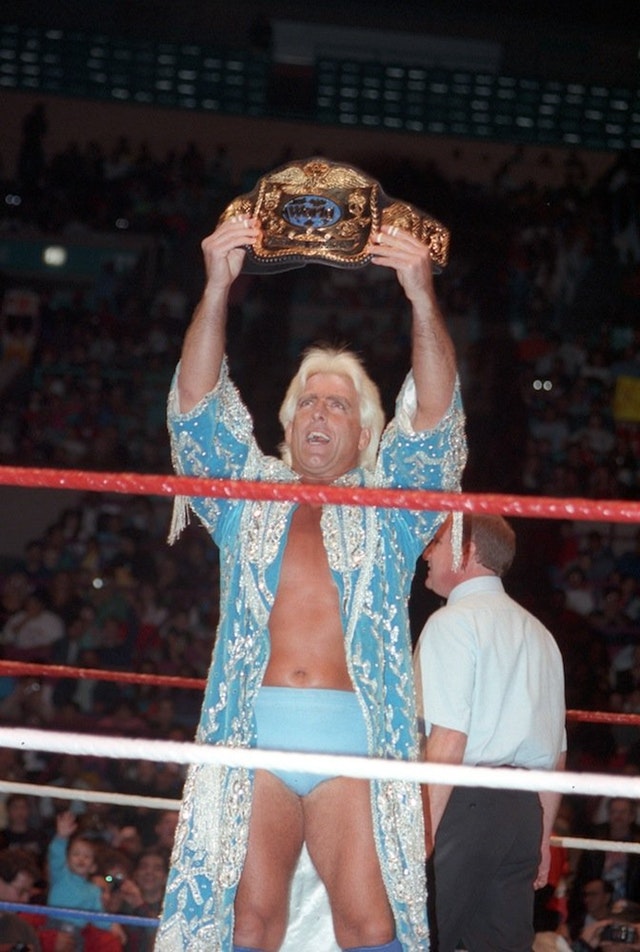 This version of Flair's world heavyweight championship was used after WCW took issue with Ric Flair showing up on WWF television with their NWA/WCW World Heavyweight Championship. This blue WWF title would be worn by the "Nature Boy" but it would be digitally blurred or flat-out censored on television. You can kinda see it during the 1991 Survivor Series PPV during Flair's entrance as Gorilla Monsoon tears into him for wearing the belt.
But, yeah… wresting lottery tickets. If I get some more, I'll scan them and put them up here.