With the 1992 and 1994 WCW Worldwide playlists documented, it is time to dive into the only full calendar year where red and yellow Hulkamania ran wild in World Championship Wrestling. That of course being 1995. It is a polarizing year . . . on one hand, fans think fondly of the start of Monday Nitro and consequently the Monday Night War. On the other hand, some fans hold their nose at Hulk Hogan's struggle with the Dungeon of Doom.
At the start of the year, the syndicated WCW Worldwide was arguably tied for the #2 show with WCW Pro Wrestling that aired on TBS . . . WCW Saturday Night (The Mothership) was the #1 show. By the end of the year however, Worldwide took a step back to #3 with the introduction of Monday Nitro.
The link at the top of the article will take you to a YouTube playlist featuring almost 50 videos taking viewers on a fun journey through the year that was on WCW Worldwide. Here we will touch on some of the more notable videos in case you don't have five hours to watch the whole compilation.
We start by highlighting a rather innocuous match featuring Lord Steven Regal taking on Brian Armstrong from January 14th. What would have confused viewers at the time was that the youngest of Armstrong clan had debuted on WWF Monday Night Raw way back on December 5th, 1994 (almost six weeks earlier) as Jeff Jarrett's Roadie. In this case, WCW took the "Waste Not, Want Not" approach to their footage.
On February 25th, we see Hulk Hogan team up with the Macho Man Randy Savage to battle The Butcher and Avalanche (with Kevin Sullivan). In realizing that Hogan's feud with the Three Faces of Fear was silly season stuff, it was nice to see a Clash-level main event on our favorite syndicated rasslin show.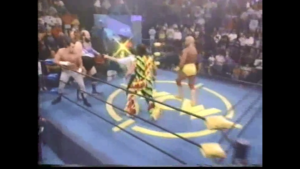 We move to March 11th when WCW TV Champion Arn Anderson's title reign was in jeopardy at the hands of Hacksaw Jim Duggan. It was at this moment that Meng decided to run in and was greeted with a 2×4 over his head. The fans at Disney did not need any crowd sweetener as their breaths were taken away when the board broke in two over Meng's head, and he didn't feel a thing.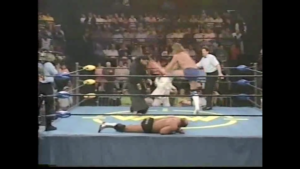 April 8th gave us the television debut of the Blue Bloods when Lord Steven Regal and Earl Robert Eaton took on the formidable duo of Brad Armstrong and Tim Horner.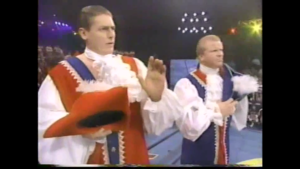 Later in the month on April 22nd, we saw the split between Butcher and Kevin Sullivan. The footage of Gene letting us know that we'll see you next week as Butcher writhes in agony on the floor is worth sitting through any ad necessary.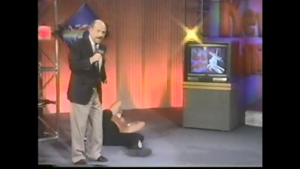 May 13th saw Kevin Sullivan and The Man With No Name (Butcher) tangle in a match a week before their pay-per-view bout at Slamboree.
May 20th presented us with the most wacky set of segments of the year. First, Hulk Hogan and Randy Savage no-showed their scheduled match against Bunkhouse Buck and Dick Slater. Later in the show Ric Flair and Vader were in the ring for their match against Los Dos Amigos. With visions of Ricky Steamboat and Shane Douglas floating in viewers' heads, the Amigos unmasked themselves to be Hogan and Savage and were able to fend off the evil doers one day before Slamboree.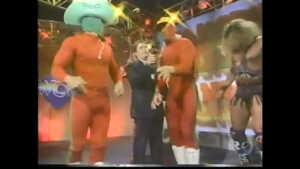 A rare title switch occurred on June 24th when Harlem Heat were able to win the WCW Tag Team Championships from the Nasty Boys. Of course, the match was taped before the Nasty Boys were even the champions, so nobody came to the ring with the titles. Based on the echo in Gary Michael Cappetta's introduction for Harlem Heat, I wonder if he overdubbed his intro to include references to it being a title match. After the match, Gary Michael Cappetta referred to Harlem Heat as the "World Tag Team Champions" instead of the "New World Tag Team Champions".
July 8th saw some unique instances where Mark Starr and Tex Slazenger each gained victories.
July 22nd featured Stunning Steve Austin's final televised match for World Championship Wrestling.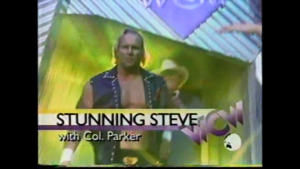 We took in a rare Vader match after his face turn on September 9th (the first post-Nitro episode).
A week later on September 16th, fans were greeted by an interview with Hogan, Savage, Sting, and Vader regarding War Games. However, there was a special message provided in the form of a WCW News Flash . . . "Due to circumstances beyond our control Big Van Vader will not be a part of the Hulkamaniacs during Wargames at Fall Brawl. Lex Luger will now team with Hulk Hogan, Sting, and Macho Man Randy Savage as they battle the Dungeon of Doom at Wargames!"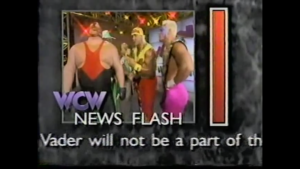 The future Rhyno (Terry Richards) gave it a go against Road Warrior Hawk on September 23rd.
November 25th and December 2nd set the seeds of what could have been a fun feud between Meng and Kurasawa. At this point, Col Rob Parker managed Kurasawa and Meng was under the tutelege of the Taskmaster. Kurasawa's extended post-match meditation sessions were starting to get under the skin of Sullivan when on December 2nd, Meng and Kurasawa brawled all over the Disney MGM Studios.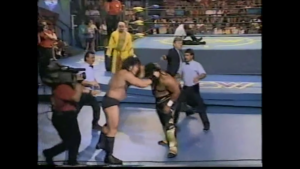 In his last televised match until 2000, Mr Wonderful Paul Orndorff put away the Disco Inferno in a matter of seconds when Disco decided he wanted to steal a peek of himself in Wonderful's mirror.
And that's a wrap for 1995. Wanted to wish everyone Happy Holidays and if you're a fan of compilations, feel free to check out the 150+ playlists curated from the 4,500+ videos I have on my YouTube channel.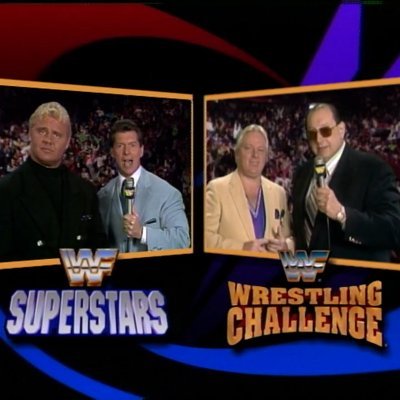 A Gorilla Monsoon mark who has a YouTube channel that ironically features more WCW matches than WWF ones. @Monsoon_Classic