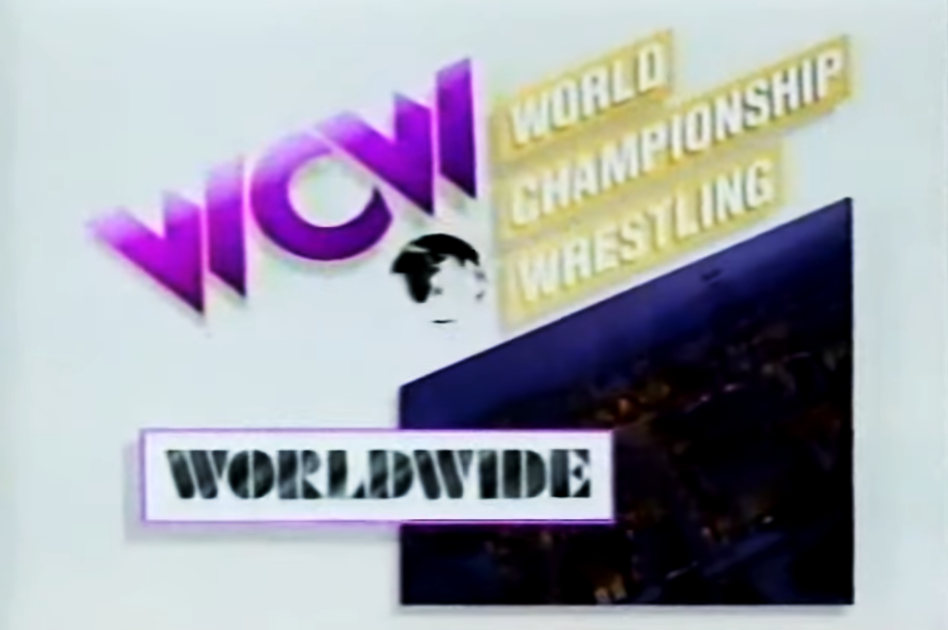 Being that I am a contributor to WCWWorldwide.com and this is my 25th article, don't ask me why it's taken me this long to spotlight a playlist dedicated to a year of WCW Worldwide Wrestling.
Since the sale of Jim Crockett Promotions to Ted Turner in October of 1988, it feels like WCW's 1994 is the equivalent to the WWF's 1984. Both years brought on a heavy dose of transition to its respective promotions. Because of this, the natural gravitation is to lean to that year. Since fighting gravity generally results in a losing effort, we'll take a look at 1994.
As of today, the WCW Worldwide 1994 playlist on my YouTube channel stands at 61 videos. We'll touch on some of the more interesting occurrences, plus link you to a noteworthy match that was blocked by the Tube.
By the beginning of 1994, the Worldwide tapings were taking place exclusively at Disney MGM Studios.
Don't scroll too far down because you won't want to miss Vader destroying prospect Randy Hogan on January 22nd. As Jesse Ventura put it, "Hogan just doesn't seem to be as good as I've seen him before." This definitely wouldn't have qualified as a SuperBrawl V run through. More on that match HERE.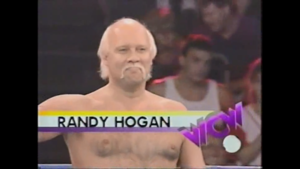 Moving to March 12th, Lord Steven Regal defended his TV Title against Brian Pillman which included a post match angle that led to their rematch at Spring Stampede.
The next week gives us a unique match pitting Johnny B Badd and Terry Taylor vs Diamond Dallas Page and Bryant Anderson (the son of Ole Anderson).
The next three weeks would give us a series of matches that starts with 2 Cold Scorpio & Marcus Bagwell vs Harlem Heat. The actions of that match would lead to main events for the next two weeks.
See if you can spot the production folly in the Dustin Rhodes match on April 16th.
April 30th would begin the five round Marquis of Queensbury Cup with WCW Champion Ric Flair taking on TV Champion Lord Steven Regal in a throwback to the World of Sport format with five minute rounds. Of course the difference here is the rounds progress week to week. Definitely worth watching as by the end of the five weeks, Flair has to start leaning heel with the impending arrival of Hulk Hogan. More on these matches HERE.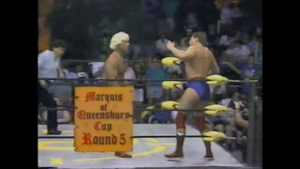 April 30th also featured a Texas Death …. errrr, Tornado match with old rivals getting a chance to beat each other silly in Cactus Jack and Vader. The finish had Vader powerbomb Jack on the outside for the win, not unlike their famous WCW Saturday Night match one year prior. The 1994 match was talked about in Mick Foley's initial book Have A Nice Day. Foley noted that it was the presentation of this match's airing that caused him to quit WCW. He was disappointed that the one year full circle story was not referenced or that his bump to the outside was largely downplayed in comparison to the 1993 bump.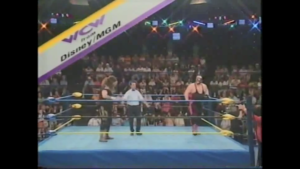 One of the final matches of Rick Rude's career aired on May 14th when he fought Sting in an I Quit match in which we're still waiting for one of them to surrender.
Starting on May 28th, Worldwide moved its tapings from the sound stage at Disney MGM to the "New York City Streets". It made for a fun setting for the summer. A bit jarring for a kid to turn on Saturday morning wrestling and see it was pitch black outside, but having the wrestlers make their entrances from a bank, subway steps, a theater, and other areas more than made up for it. In fact, check out Ice Train's entrance on June 11th to see how far he had to gallop to get to the ring . . . reminiscent of the Ultimate Warrior's run to the ring at Wembley Stadium.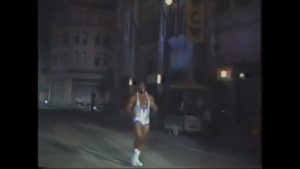 June 18th had a fun TV Title match with Larry Zbyszko having to fend off young Terra Ryzing not far from where the NXT Performance Center would be built.
On July 30th, US Champion Stunning Steve Austin took on Ricky the Dragon Steamboat in a match where if Steamboat won, he'd receive a future title shot due to the uncoothe way Austin won their Bash at the Beach bout.
In a brawl you will not want to skip, Terry Funk & Bunkhouse Buck took on Erik Watts & Barry Houston on August 20th. Funk made sure the match would be memorable to those who watched it. It also marked the final match before Worldwide would move back into a remodeled Disney MGM Studio sound stage.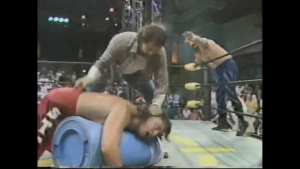 Jesse Ventura would call his final match for WCW in the main event of the September 10th show which was Brad Armstrong vs Vader.
A rare teaming of the Stud Stable and Col Parker transpired in the September 17th feature match.
For Meng fans, don't miss the Arn Anderson vs Scott Armstrong match from October 8th. Meng makes mince meat of many of the preliminary talents after the match.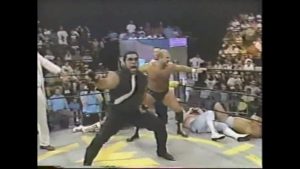 WCW Champion Hulk Hogan made his in ring Worldwide debut when he teamed up with Sting to take on the Bruise Brothers on November 12th. The match was blocked by YouTube, but it was posted to Twitter and can be viewed by anyone regardless if you have an account . . . https://twitter.com/i/status/1045417625940086784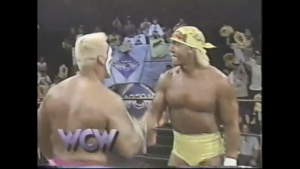 Sister Sherri made her first appearance as Harlem Heat's manager on November 26th when they clashed with the Nasty Boys in a Clash of the Champions rematch.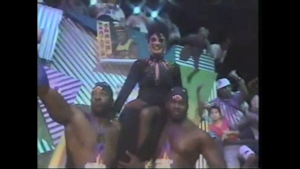 We also see the Fantastics make their return to Worldwide Wrestling on December 3rd then step up in competition taking on Pretty Wonderful on December 10th.
The playlist concludes with a December 17th main event of all Three Faces of Fear (The Butcher, Kevin Sullivan, and Avalanche) battling Brad, Scott, and Brian Armstrong. Brian Armstrong had already made his WWF debut as the Roadie on the December 10th edition of Monday Night Raw.
That wouldn't even be Brian Armstrong's last appearance on WCW Worldwide. But that's a YouTube Playlist Spotlight for another day.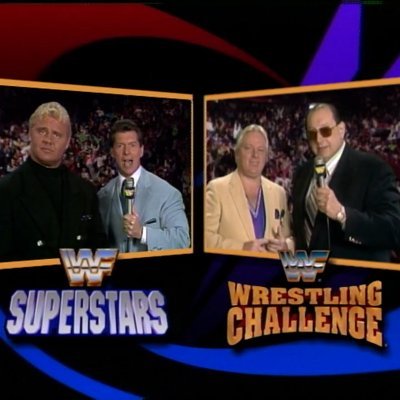 A Gorilla Monsoon mark who has a YouTube channel that ironically features more WCW matches than WWF ones. @Monsoon_Classic