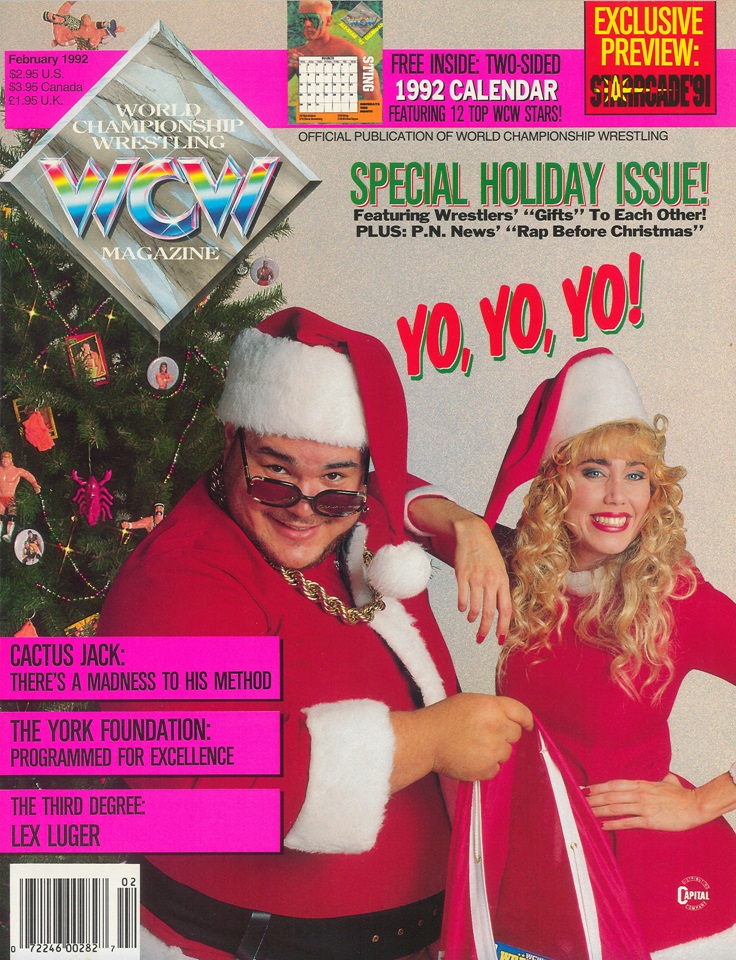 "Merry Christmas, ya filthy animals!", is a thing I WOULD say if I had my things together better. Every year, I always forget about this issue of WCW Magazine and my vow to get it scanned and posted for December 25th. This year, I completely forgot again but thankfully the fine people at D_V_D_V_R board posting pics from this mag on Tuesday helped jog my memory a bit. So… it's not exactly a Christmas gift, but hey, at least we're still in December.
Enjoy the late upload! Keep an eye out for all of the random WCW personalities in Santa hats hidden throughout!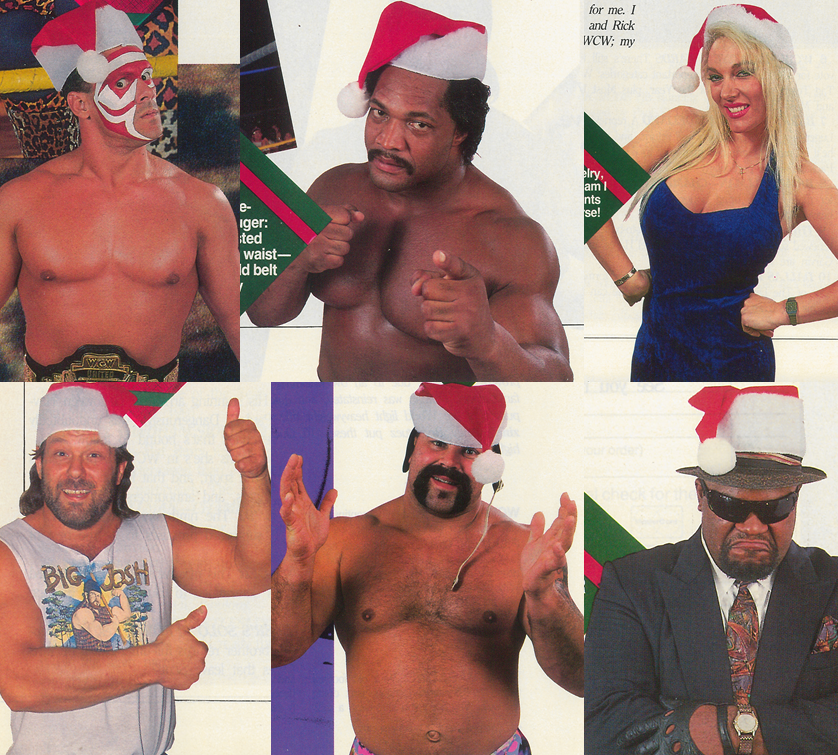 Another highlight of the magazine is the amazing P.N. News "The Rap Before Christmas" pullout poster. It's kind of sad to see how News was getting a real good shine here in this magazine but his WCW days were coming to a close soon after this issue hit the stands. The whole Rapmaster persona was a Dusty Rhodes creation that was poised for great things. P.N. News was front-and-center for the Marvel's WCW World Championship Wrestling comic book, he had Galoob action figures planned for production, he was the face of a fan rap contest where the winner was jetted into Halloween Havoc 1991 PPV; 1992 should've been The Year of the Rapmaster.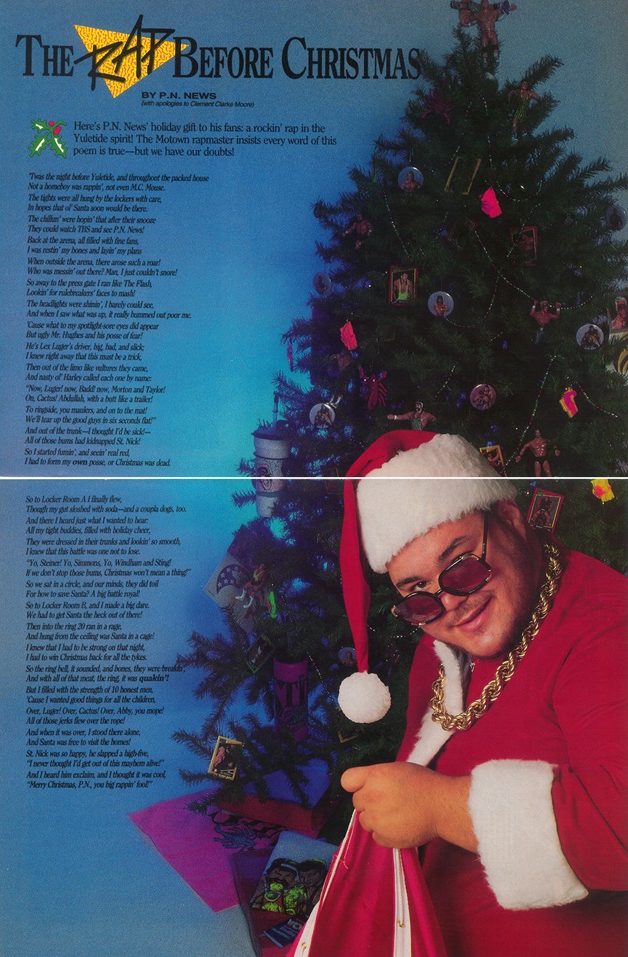 Unfortunately for P.N. News, he was wrongly blamed for some items going missing from wrestlers' lockers during the overseas WCW Roar Power Tour. At least, that's how News remembers the incident nowadays:
P.N. News: "I was in the dressing room with Terry Taylor and a couple of other guys, and well… this was in Sheffield, England. Anyway, I was out of the dressing room, and Terry comes up to me and he says, 'Hey, man. I'm missing some money. Did you see anybody go in the dressing room?'
I say, 'No, no', you know?
So, I went back and the first thing I did, I went right back to dressing room and checked my bag and MY cash was missing. So, I'm shitting myself and there's cameras all over the place. For Christ's sake, we're in England, already back then there was closed [circuit cameras] all over the place, so I went to Grizzly Smith and said, "Grizz, we need to get something sorted out. My money's missing. Terry's lost his money. Can they check, can security check the camera?"
He said he'd look into it and do that stuff. I don't know. He said they didn't see anything, blah blah blah. Whatever, but you know, all of a sudden, I get back to the hotel, and I'm drinking at the bar–well, I had a, you know, I didn't have a credit card at the time, but I just had gotten one right before we left for England. I just got a secured credit card in the mail, so I had like $500 on that. So, I had some drinks in the bar, you know, and I just charged it, charged it to my room, and the next morning, I paid on my secured credit card.
Well, the word came–everybody's talking, and when we're at the airport and all that stuff, guys are whispering. On the flight back, it was Bill Kazmaier, he goes… well, I go, 'God, everybody's treating me like that, you know, I just, I just gave one to the neighbor's cat!', and he goes, 'You don't know?'
And, I said, 'No, I don't.'
He goes, 'They think you stole Terry's money.'
And I was like, 'You gotta be kidding me.' You know what I mean?
So, that's how that all started. A couple of days later, we're back in Atlanta and I got into a fisticuff with Rick Rude and I mean, the next morning we were both a little bit drunk and stuff and whatnot. Me and Rick Rude got into a little fight but the next morning, we were talking to each other, and we were trying to get our stories straight because neither one of us wanted to get fired for fighting, you know? So, we just got our stories straight and anyway. So what happened, so what they said is they said I stole the money and Rick caught me in his bag or whatever and he, you know, he fought me over the deal. Which was, all of it which was fabricated. There was no truth to it. I kinda got hanged out in the kangaroo court, so my dates for WCW–I was under a guaranteed money–so my dates for WCW then started to tail off, but they still had to pay me. By May, when my contract ran out, I was gone." – IYH Wrestling Podcast [2016]
News isn't the only one who claims his innocence over the whole deal as I believe Tony Schiavone vouched for him on an episode of his podcast a while back. Apparently, a referee was caught stealing items from wrestlers' bags a few months after P.N. News was essentially run out of the company. Guilty or not, P.N. News became too hot to handle, too cold to hold for WCW and would have his last match on WCW Power Hour in May 1992.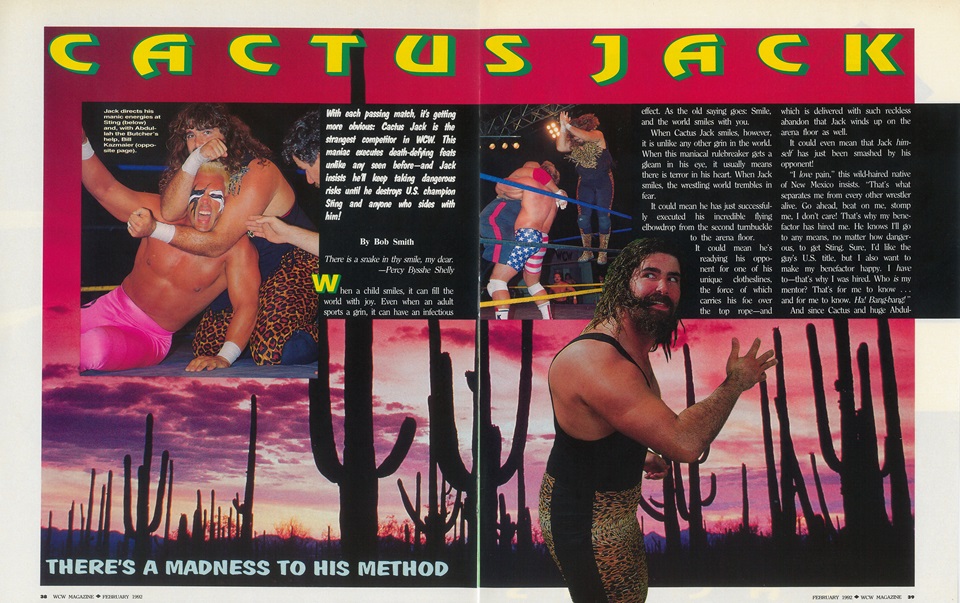 I'll have another magazine up for you all here relatively quickly, a 1998 Year in Review that covers the entirety of WCW's most profitable and hottest period. The unstoppable Goldberg, the splintering of the New World Order and the rise of an unlikely superstar in one Diamond Dallas Page.
Next week!
**Subscribers at ANY level of the WCW Worldwide Patreon will get to download these files as soon as they're uploaded to my Google Drive. Patreon backers are rewarded with early downloads and even a chance to get vintage and original WCW merch sent to them as a thank-you.**
Download WCW Magazine [February 1992]
ZIP File | CBR File
WCW Magazine - February 1992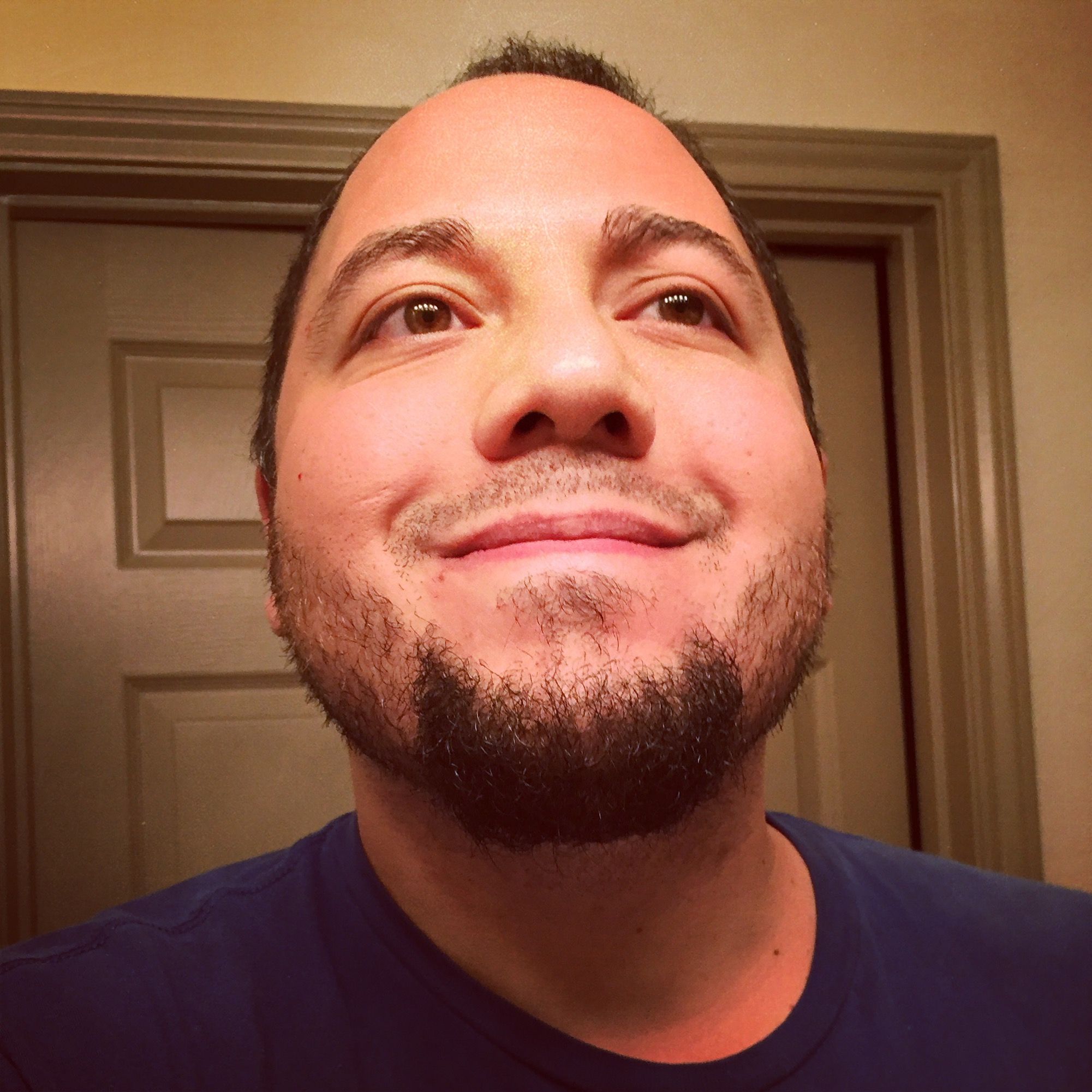 38-year-old World Championship Wrestling fanatic/collector/hoarder. Safety officer by day, scanner of wrestling magazine by night.
He's got posters on the wall, his favorite rock group's KISS.