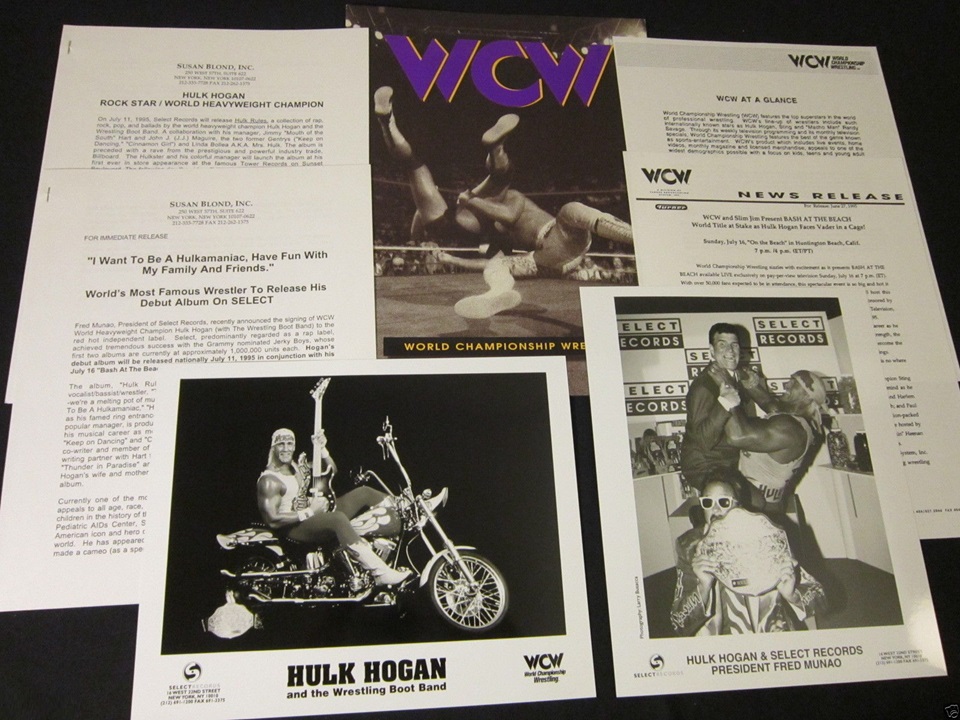 Oh, the wonderful things you can find on eBay…
In 1995, being a tv/movie star and the WCW World Heavyweight Champion wasn't enough for the "Immortal" Hulk Hogan as The Hulkster tried his hand at being a rock star as well. Hogan had fooled around with music before his break in the squared circle (and even tried to become a bassist for Metallica once Jason Newsted left), but the 6'5″ wrestling icon never cut his own album until Select Records came around:
"So what happened was, a gentleman approached us about maybe Hulk doing an album, because Hulk played bass and I played in a rock group (probably before you were born) called The Gentrys, so we kind of all put something together. Hulk went into the studio and we got two great money deals off it, really [laughs].
Hulk played bass on it, and we had our friend Jim Maguire there. Hulk and everybody else there just chipped in, sat around for a few weeks, and wrote ten songs. All of a sudden, we got a major record deal on Select Records, and the next thing you know, we're over in Europe knocking on a few doors with the album while Hulk was doing a big promotional thing for one of his movies at the time."
Jimmy Hart – Noisey [November 17th, 2014]
Select Records, home to Kid 'n Play and The Jerky Boys, inexplicably decided THIS guy was going to be their next star: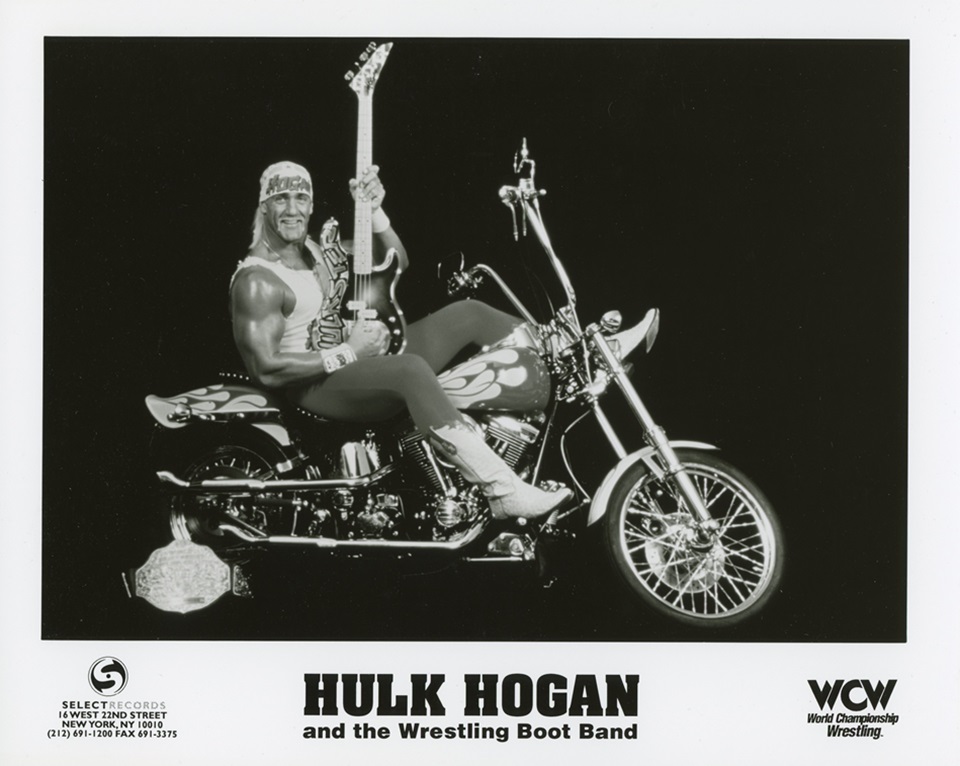 So, Jimmy Hart got together with J.J. Maguire (a longtime collaborator of Hart, a man who also worked with him and Jim Johnston in the WWF) and quickly came up with ten song album featuring Hulk and his wife Linda to create what became known as the Wrestling Boot Band: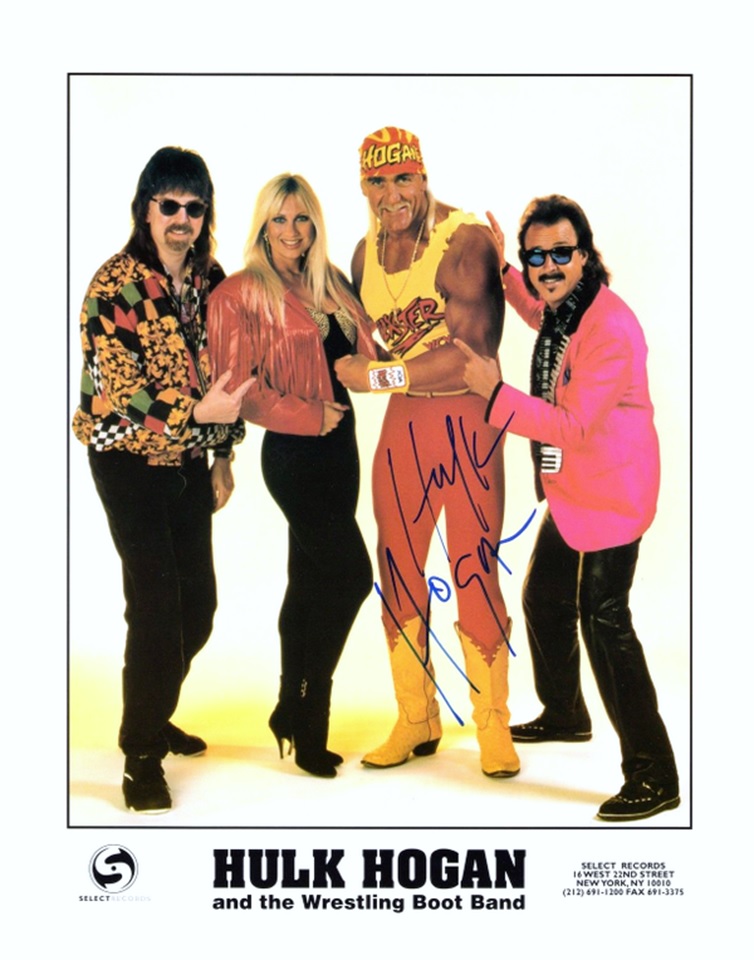 Hulk Rules was released on July 11th, 1995 and got as high as #12 on the Billboard children's charts, according to Complex. A small success for the project, but definitely not the runaway hit that "the world's most famous wrestler" wielding "the greatest force in the universe" Select Records was expecting, according to their press release:
The "American icon and hero of pop culture" has a ton of accolades listed here, but surprisingly every item included are all events that happened before his time in World Championship Wrestling. The press release lists Hogan as the current WCW World Heavyweight Champion, you'd think that there'd be something there regarding his time there??
Thankfully, there's an ADDITIONAL press release where Susan Blond Inc. celebrates the The Hulkster's win over "Rick Flair" and boasts Hogan's real-life venture going into "battle with evil around the world in action-packed adventure style" (what!?):
I should also point out that Brad Garrett actually did the voice of Hulk Hogan in Rock 'N' Wrestling, not Hulk himself despite what the above text wants you to believe.
As bad as Hulk Rules ending up being, the songs have some sort of bizarre charm to them in their awfulness. There's a novelty to hearing Hulk Hogan singing and rapping poorly, with my own personal highlight of the album being the earworm "I Want to Be a Hulkamaniac" (which apes a riff from Owen Hart's "High Energy" WWF theme, also composed by Hart and Maguire):
Sad to say, Hulk Hogan and The Wrestling Boot Band never did a world tour in support of Hulk Rules or even held a single live show. Even The Hulkster himself wasn't arrogant enough to believe that his album was any good, given this reaction Hogan gave to a mention of his music career in an interview with Noisey from 2014:
"[Noisey:] I own a copy of Hulk Hogan and The Wrestling Boot Band (1995).
[The Hulkster sighs and face-palms]"
Thankfully, the power of Hulkamania would never be called upon again into a recording studio after the release of Hulk Rules, but even that might still be too early to call. After Hogan's recent lawsuit win over Gawker Media, there's no telling how many albums The Hulkster could release with his $115 million dollar winnings!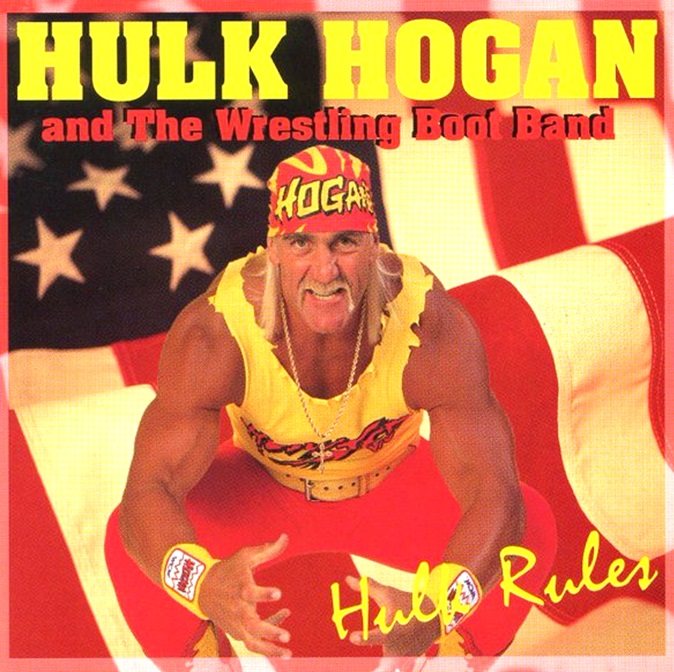 Hulk Rules full press kit contents available below including scans of the nifty WCW folder they came packaged in: