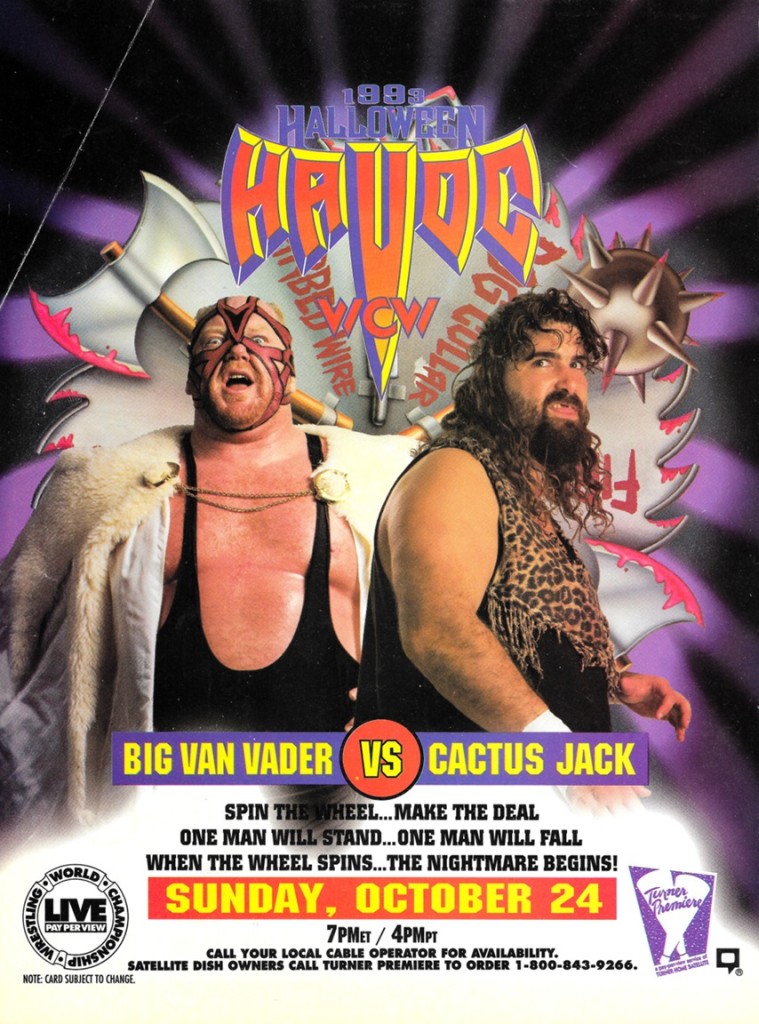 The second consecutive Halloween Havoc with the dreaded "Spin the Wheel, Make the Deal!" match, a randomly decided specialty match with twelve different possible outcomes: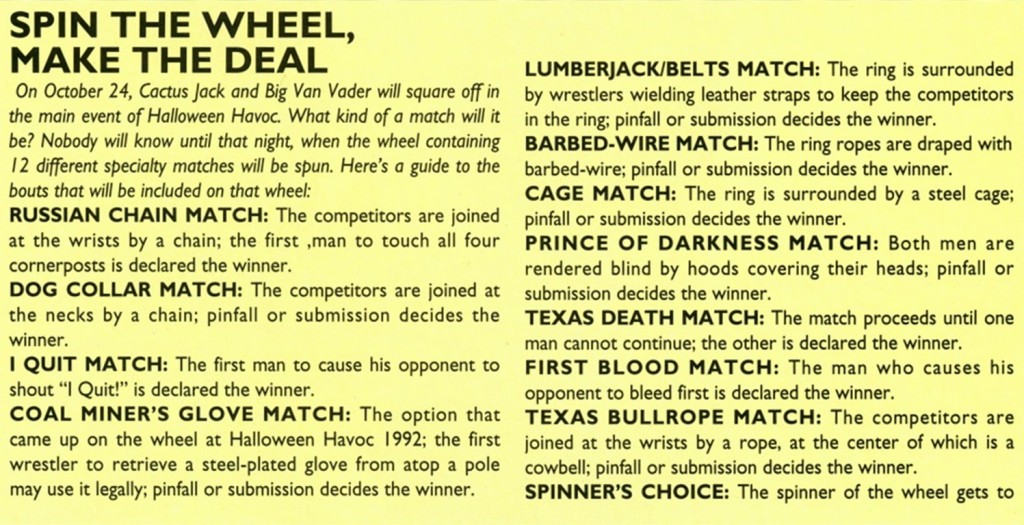 When WCW used the wheel for their match with Sting vs Jake "The Snake" Roberts at Halloween Havoc 1992, the wheel itself was not rigged, leaving everything up to chance. It seems that WCW learned their lesson as having Vader and Cactus Jack in anything but a Texas Death Match would be ultimately the wrong decision due to how sadistic the two were against one another inside the ring.
In Mick Foley's 1999 autobiography Have a Nice Day! A Tale of Blood and Sweatsocks, Foley revealed an interesting and crazy tidbit regarding his match against Vader at Havoc '93. The level of intensity in the main event was by design, specifically because Foley had planned on injuring himself legitimately during it as a way to collect some major $$$ from a insurance policy he gotten through Lloyds of London. Sure, the legalities behind such a thing are murky at best and could be seen as insurance fraud, but apparently Mick Foley was hellbent on to crippling himself during the match as a way to get out of the "bullshit" that was professional wrestling:
"When many fans think about Halloween Havoc 1993, they may recall a particularly painful move that for my money was the single most gut-busting, suicidal maneuver I've ever tried. In actuality, I really was going to commit suicide: career suicide. I was trying to end my career right there in the Lakefront Center in New Orleans. The plot to end my eight years in the ring began when I placed a sleeper hold on Vader, who was staggering on the wooden [entrance] ramp."
"I jumped on Vader's back, still holding in the sleeper, causing the Mastodon to stumble like a drunken sailor with a 300-pound weight on his back. Here it comes, I thought, bracing myself for the pain and hoping that it would be severe. With a sudden burst of energy, Vader put my plan into effect. He dropped straight back while kicking his legs up in the air, literally crushing me between the bulk of his 450 pounds and the unforgiving wood of the entrance ramp. Vader rolled to the side, and I instinctively rolled into a fetal position, secure in the knowledge that my career was over."
"There was only one problem. Me. My body had become so conditioned to taking punishment that it had somehow managed to take this. So I did the only thing I knew how. I got up. Slowly. And then, as in Germany [when my ear was partially ripped off during a match], I went on as best I could."
Insanity.
The Halloween Havoc 1993 card in its entirety:
Ice Train

, Charlie Norris and The Shockmaster vs Harlem Heat (

Kole

and

Kane

) and

The Equalizer

Paul Orndorff (with The Assassin) vs Ricky Steamboat
WCW World Television Champion

Lord Steven Regal

vs Davey Boy Smith
WCW United States Heavyweight Champion Dustin Rhodes vs Steve Austin
WCW Tag Team Champions Marcus Bagwell and 2 Cold Scorpio (with Teddy Long) vs The Nasty Boys (

Brian Knobs

and Jerry Sags) (with Missy Hyatt)

Sting

vs Sid Vicious
WCW International World Heavyweight Champion Rick Rude vs Ric Flair (with Terry Taylor as Special Enforcer)
Big Van Vader (with Harley Race) vs Cactus Jack in a Texas Deathmatch
WCW Halloween Havoc - October 24, 1993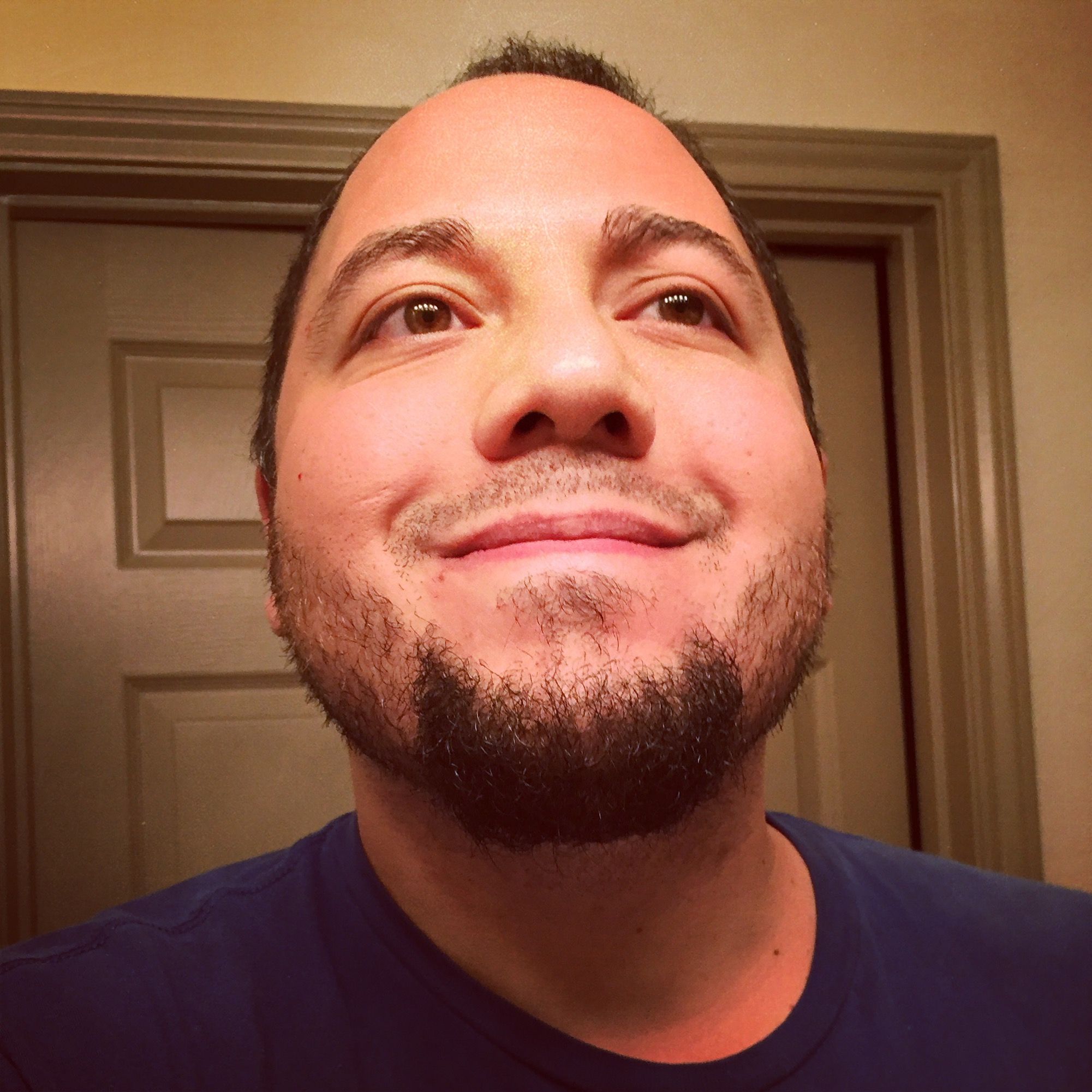 38-year-old World Championship Wrestling fanatic/collector/hoarder. Safety officer by day, scanner of wrestling magazine by night.
He's got posters on the wall, his favorite rock group's KISS.