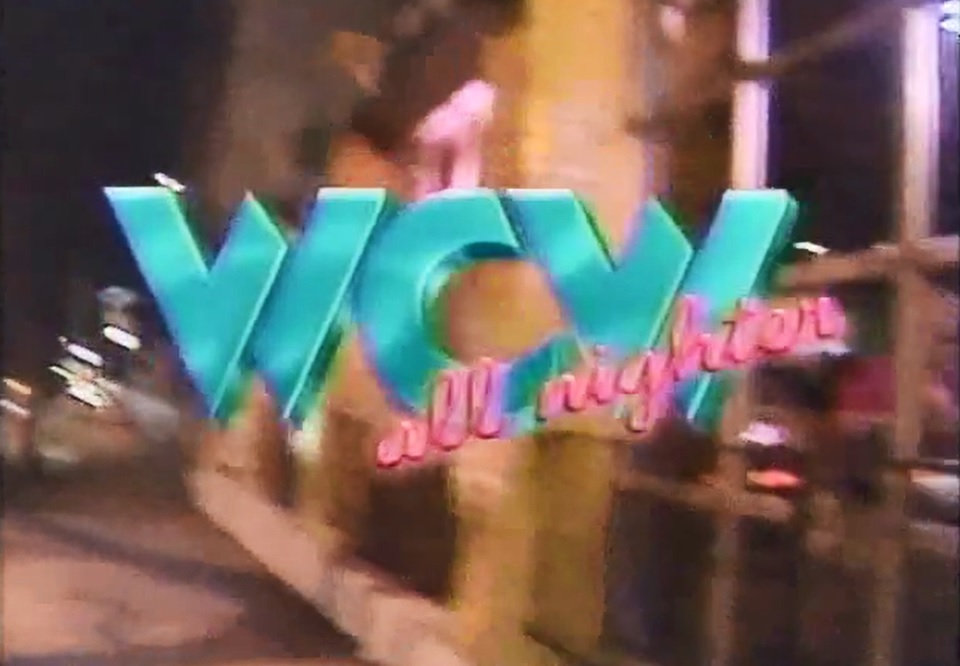 When the WWE Network launched over four years ago, fans immediately noticed the almost unlimited possibilities in regards to the programming of the live stream. Maybe show an old Raw followed by an old Nitro from the same night. What if they aired an ep from a different territory for each day of the week? How about some syndicated programming for weekend mornings?
Most readers are likely underwhelmed by the same three hours of shows that loop throughout a given day.
Over the years, I've seen several tweets noting that the WWE Network should air modernized versions of the old WCW All Nighter.
For those unaware, on March 6th, 1994 and January 21st, 1995, WCW aired six-hour marathons of matches. Each special ran from 12:05 – 6:05 am on TBS so it wasn't as if they were pre-empting staple programming.
Part of what endeared fans to the idea of skipping sleep for the night was the fun wrap around segments which featured Tony Schiavone hosting a slumber party with Gene Okerlund, Bobby Heenan, Gordon Solie, Dusty Rhodes, Eric Bischoff, and others.
While most of the matches are easily found on the WWE Network (Sting vs Ric Flair, Dustin Rhodes & Ricky Steamboat vs Arn Anderson & Larry Zbyszko, etc.), the party scenes are not. These are what is included in the videos below. The night flies by as you make it through twelve hours of All Nighters in just 45 minutes.
The March 6th, 1994 episode emanated from Tony Schiavone's basement. We basically have to assume he lives in a hotel since it would otherwise be the only basement I've ever seen with floor to ceiling windows being curtained off. Some highlights include . . .
– Bobby Heenan's search for his leisure wear for the evening.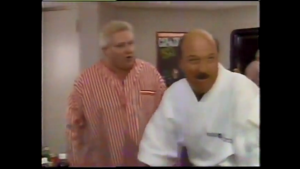 – Mean Gene big timing Eric Bischoff instead of giving him Hulk Hogan scoops (This was three months before the ticker tape parade that welcomed Hogan to Turner land).
– Chris Cruise being the life of the party.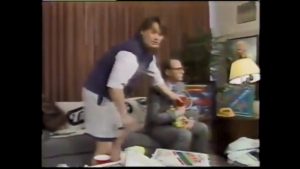 – Ric Flair wandering into a sausage fest and can't make a U-Turn fast enough.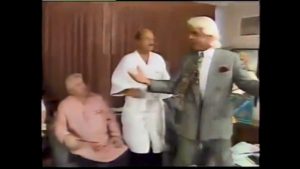 – An Easter Egg featuring Schiavone asking about Flair's sock.
https://www.youtube.com/watch?v=GHnNwRQbaoQ
After the mess made in the basement the previous year, they come clean in 1995 and admit they're in the Omni Hotel in Atlanta, GA. The room is heavily decorated in Hulk Hogan merch with a couple WCW banners taped to the curtains. Keep an eye out for . . .
– Bobby Heenan getting sleepy . . . resulting in Gene Okerlund giving Terri Runnels a run for her money as a makeup artist.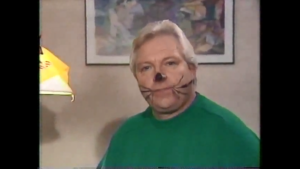 – Gordon Solie leading a conversation regarding Mulkey Mania.
– A very rare appearance by David Crockett post-Turner purchase.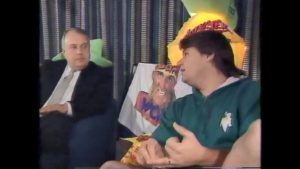 – Papa Ron delivering pizza (Maybe he can be the new face of Papa John's).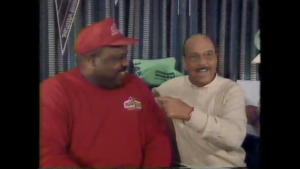 – Dusty Rhodes breaking down his gorilla angle from 1985.
https://www.youtube.com/watch?v=PXkJ1zFRhNo
https://www.youtube.com/watch?v=pfjvgqW3L70
One constant that stretches throughout the two nights is wondering what exactly has Mean Gene been drinking.
Would you want a modern version of these All Nighters on the WWE Network? Renee Young, Corey Graves, and a host of others could present a jukebox of matches and segments that can run from dusk til dawn.
Until then, enjoy some pizza and Mountain Dew with the WCW broadcast team . . . all night long.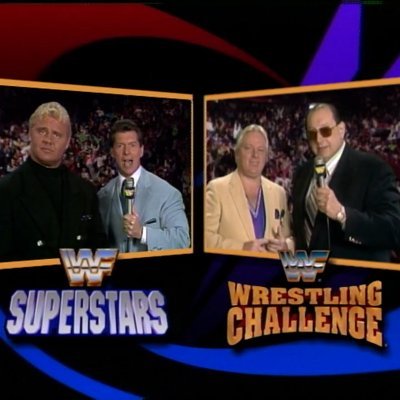 A Gorilla Monsoon mark who has a YouTube channel that ironically features more WCW matches than WWF ones. @Monsoon_Classic