ROOS FALL 1990 CATALOG
Final Auction Bid – $400.00
A few weeks back, I stumbled across this incredible find on eBay. A seller named AuctionPants had put out a Fall 1990 KangaROOS shoe catalog with full photos of their collaboration with the National Wrestling Alliance. KangaROOS ("Shoes for your feet, pockets for your stuff!") were given their funny name due to a little side patch that allowed you to stash a bit of whatever into them. Based on various anecdotes shared with me online, these were popular in the mid-80's with kids who completely fell for the gimmick of hiding away the smallest bit of treasure in their shoes.
I have zero memory of these being a thing, but I was far too young during their heyday. In fact, I think the first time I had even ever heard of ROOS was when I got in this poster to scan during the days when this site was only a Tumblr blog: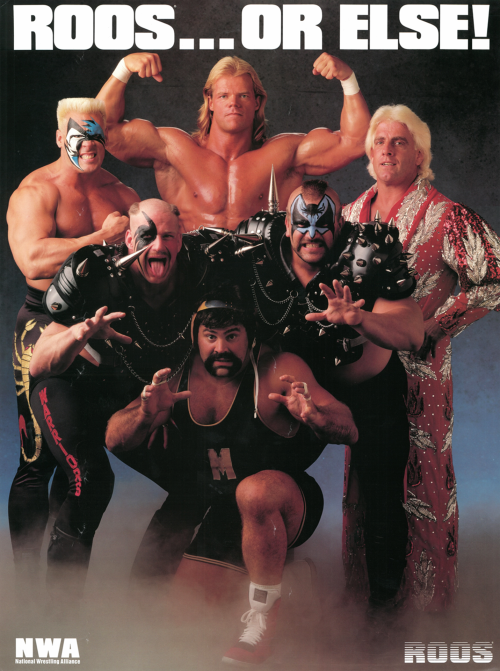 Seeing a complete catalog with various NWA wrestlers AND their associated shoe designs immediately made it number one on my list of holy grail wrestling items to own. Going through the auction photos, you can see some details about each style of ROOS that were made available. Each section has a wrestler paired alongside each shoe design with a photo and small write up (sadly no clean shots of the shoe pages themselves):
"Nobody who can flex his pecs like Lex is going to settle for a wimpy shoe. That's why Lex Luger wears ROOS Sports 90's, the shoes with muscle. Just like Lex, our 90's series sports sleek physiques that get attention, and makes its own rules with strong, confident designs that buck tradition… He may think he's the best-looking wrestler around, but even the Total Package will admit, there's no better-looking shoe."
"When you're a cool muscle dude like Sting, only cool muscle shoes will do. The ROOS Court Slammers. Slam 'em on the court, slam 'em on the beach. These shoes can move — and they look great too. When it comes to high-flying fun, we're talking totally radical here — life of the party. Just ask the Stinger. Like, maybe, we should have named the shoes – Totally Awesome."
"Someone once said, 'One classic deserves another'. It must have been Ric Flair. After all, this six-time NWA World Heavyweight Champion arguably has the most beautiful women, the fastest cars, the best clothes… what more could he want? ROOS Street Classics, that's what. Now he has everything."
"Dogs may be man's best friend, but when Rick Steiner's in the ring, there's nothing this Dogfaced Gremlin likes better than his ROOS. There's no doggin' it for this hot dog. That's why he wears ROOS Wrestling. After all, when you're as wild and crazy as Dogfaced, you need a shoe that can keep up with you – even when you're on all fours. It's no wonder ROOS are the official shoe of the NWA."
[ROAD WARRIORS page not shown, possibly not even in catalog as they were in WWF by summer of 1990]
Due to the difficulty of finding a single clean shot of any of these styles online, it's safe to assume that this was not a successful endeavor for the shoe brand. The only proof-of-life, physical existence of the NWA ROOS shoes I've found online is from the ToyeticToys Instagram page, an account that takes beautiful shots of random wrestling figures and trinkets. The owner of the page was nice enough to send me over ALL of the photos they still had of the 1990 ROOS Stingers (note the rarely used NWA Stinger logo).
The "cool, muscle dude" line found in the eBay catalog is also used here on the tag, but these are not the same shoes as the Court Slammers. That means, there's a chance that there were MULTIPLE wrestling branded shoes put out by ROOS in this deal that we still are not aware of. I want more photo evidence of these things. If you're out there reading this and have some dusty Street Classics sitting somewhere in your home, lets see them. If your parents did not throw out your LEX LUGER branded sneakers, and you have them currently displayed in your TOTAL PACKAGE TRIBUTE ROOM, send me those pics. I can't get into a time machine at hit up a Payless, I have to rely on you, the reader, to help build a photo gallery for these things.
Also, huge thanks to Toyetic Toys for sharing. Looking at their collection, I'm pretty sure I might have forced them to pay $127.50 for a single Pastamania cup back in late 2020, and since that realization, I have apologized to them directly.
As of this writing, I am no longer upset at not being the owner of a plastic cup for a Hulk Hogan owned pasta restaurant.
[1/18/2023 Update] The DAY I posted this, a seller put up another pair of these shoes on eBay with the Buy It Now price set at $500. There's no flashy name attached to these, as far as I can tell, but they are the first pair of this collaboration.
Let's hope that the Universe provides for us and more of these get unearthed here soon.
xxx
Jim Cornette: "Flair, Luger and all those guys were wearing the ROOS tennis shoes because they were based in St. Louis, and [Jim] Herd knew somebody…
The only thing you could get in those pockets on those shoes was probably a fucking tab of LSD to take it and forget the fact that you were watching Ric Flair wrestling in St. Louis in fucking tennis shoes. He was HOT that night. They went to St. Louis for a house show, he was in the main event, and they wanted him to wear the ROOS to wrestle in. Can you imagine? Ric Flair with his custom-made, color-matching tights and boots and robes, and he's going out there like he's in a fucking outlaw mud show wrestling in tennis shoes. He was goddamn pissed." – 'Jim Cornette Experience' [March 20th, 2022]
Trying to research how this ROOS + NWA deal all came together isn't easy. The earliest I can find anything regarding their partnership is a quick blurb in an '89 issue of the Observer:
Dave Meltzer: "Kangaroos Athletic Wear has taken out major full-page ads in sports trade publications which feature the Road Warriors, Flair, Sting, Steve Williams, and Rick Steiner." 'Wrestling Observer Newsletter' [September 11th, 1989]
If you were a World Championship Wrestling fan in 1990, you saw ROOS branded on the ring posts, ROOS mentioned as a major sponsor on the television shows, and even sometimes a special ROOS Move of the Week highlight video.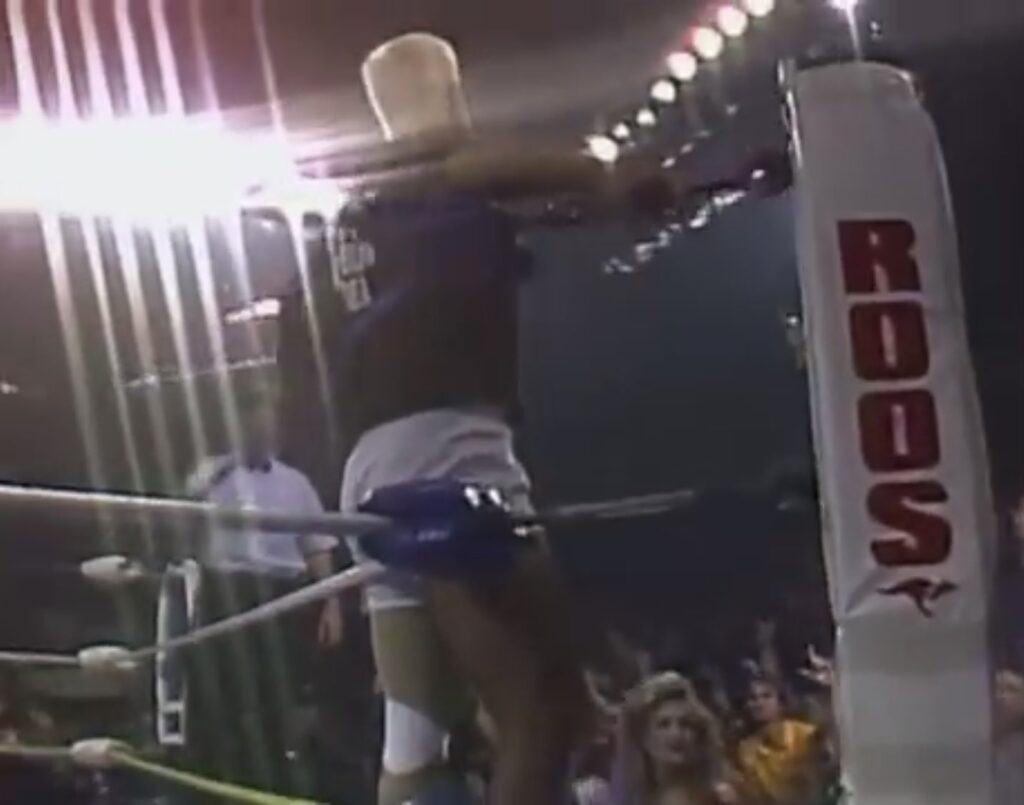 And there were also several ROOS commercials ft. the wrestlers prominently airing throughout various NWA broadcasts:
As far as I can tell, this all comes to an end in late July with the ROOS sponsorship being there one week for Worldwide and gone the next. If this ROOS + NWA catalog was meant to be for their Fall 1990 line, there's a good chance that everything had already fallen apart before they even got near the autumn months. Hawk and Animal were out of the NWA and would debut for the WWF in July. Even the planned Rick Steiner GALOOB figure had its original ROOS branding removed when it came time for full production of the toy line, which was also released in 1990: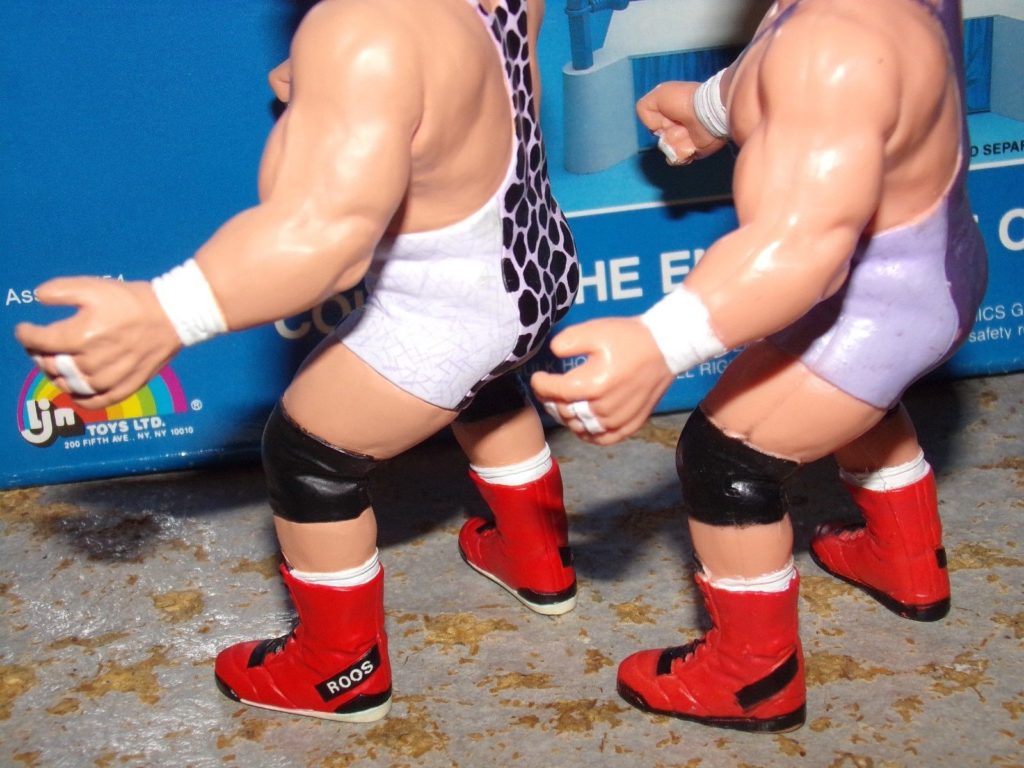 There's no telling if any of the Fall 1990 NWA ROOS shoes ever made it onto store shelves at all.
If the partnership had been successful, the idea of adding more babyfaces to the ROOS family could have been realized as this was offered as an incentive for a certain wrestler who walked out of the NWA. Unfortunately, this just was not meant to be:
Dave Meltzer: "The Great Muta quit after the ['Clash of the Champions X: Texas Shootout'] as well and missed the rest of the week, however the NWA wants him back and he's agreed to meet with them on Monday. If Muta returns, no doubt he will also be turned face and they'll be dangling the carrot of a Roos shoe deal for him should he agree to return. Several months back the NWA was talking about coming out with Muta comic books for kids when and if he was ever turned, so no doubt that will be discussed as well." – 'Wrestling Observer Newsletter' [February 19th, 1990]
I'm not a ROOShead, by any means, but it looks like 1990 was a rebranding/rebuilding period as KangaROOS had previous success in the 80's with partnering with various sport stars. They had styles of shoes for every kind of sport imaginable, so tagging up with a professional wrestling company doesn't seem too wild considering the style of their previous ad campaigns:
For their 30th anniversary, Sneaker Magazine talked to the original German licensee of KangaROOS, Bernd Hummel. From his point of view, the collaboration with professional wrestling was not viewed favorably at all. The American owner of KangaROOS sold the shoe company to the group who actually ended up partnering with the NWA. This wrestling deal is cited as the reason Hummel dissolved his involvement in overseas distribution (although he remembers it as a partnership with the WWF):
Bernd Hummel: "When Bob [Gamm, ROOS Founder] sold the brand in 1989, the new owners started a new advertising campaign and signed World Wrestling Federation, that was such a mess. I decided to stop the distribution contract right there. Since then, we became Master Licensee and had the full responsibility for our KangaROOS business from design, marketing to distribution."
This also lines up with what Meltzer reported back in April 1990, covering the issues the shoe company was facing even before getting into the wrestling business:
Dave Meltzer: "The NWA's deal with Kangaroo Athletic Wear is in jeopardy due to a major reorganization within the St. Louis based company.
Basically, Kangaroos was a company deep in financial problems and the attempt to tie them in with wrestlers was described to me as like an attempt to hit a last inning grand slam when you're three runs down with two outs.
Officially, both the president and general manager of the company resigned this past week when co-owner Donald Simon decided that the company's new marketing plan wasn't successful. The ad campaign with the wrestlers attracted a lot of attention but results (as far as moving shoes) weren't coming as fast as hoped for. Simon was quoted in a St. Louis paper of saying about the tie-in with the NWA, 'It's taken us a long time and it's developed much more slowly than we want it.' The truth is, Roos major problem is they have no distribution deal, which means even if there was a demand for the shoes, people that wanted them couldn't get them at the stores anyway. The article said that Roos would continue its wrestling tie-in but not to the extent it has of late." 'Wrestling Observer Newsletter' [April 16th, 1990]
Ultimately, this wasn't the worst idea that Jim Herd ever had, but it looks like it just missed riding on the ROOS popularity wave by a few, uh, several years. In the current day, KangaROOS still exist online with several styles available on Amazon to purchase. An official website is up with a brief history lesson on the brand that throws in a brief Rick Steiner mention, but nothing worthwhile.
So at this point, I'd like for this post to be a living tribute to the ROOS/NWA deal. Any more photos of the NWA/WCW ROOS shoes will be updated here until we finally have them all displayed. If you have any of these, please send me what you have. I don't care if they are molding and completely scrapped, I want to know what actually made it out to fans in 1990.
As a bonus, here's a full collection (I believe) of the ROOS posters that have been passed around on eBay over the past year. I was just waiting for a good place to put them!