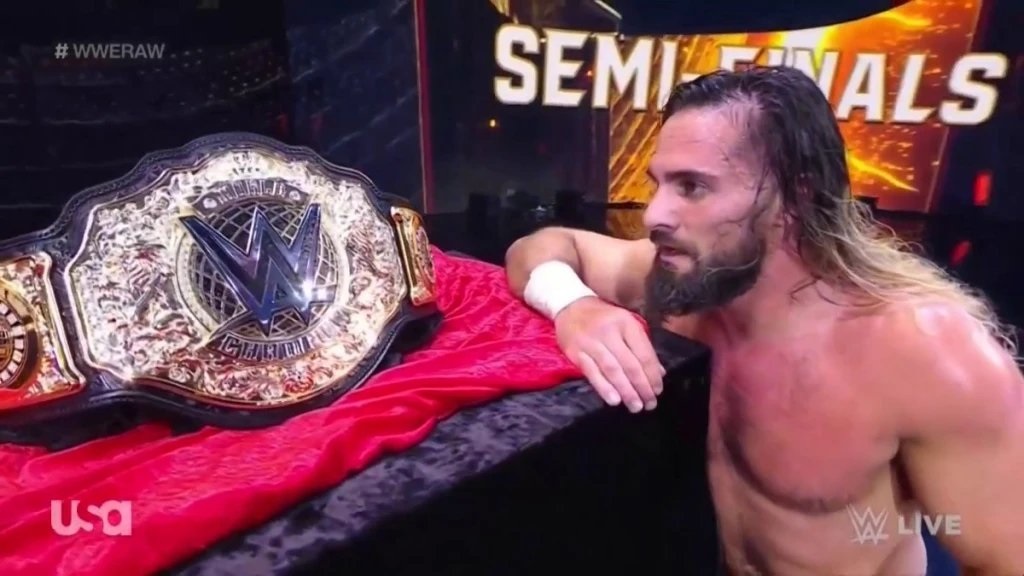 This month, a classic WCW design gets revived (kinda), Goldberg to AEW possibly, Madusa is shitalking on Twitter, and Chavo Guerrero updates everyone on how his family loves Rey Mysterio (but also, you need to know that he wasn't ever Eddie's best friend).
NEWS
I've sold shirts and coffee mugs with this design. I've always believed in my heart-of-hearts that The Big Gold Belt will forever be THE wrestling championship belt design that everything else is aspires to be. In a way, I am proven right yet again by the WWE with the reveal of their NEW World Heavyweight Championship: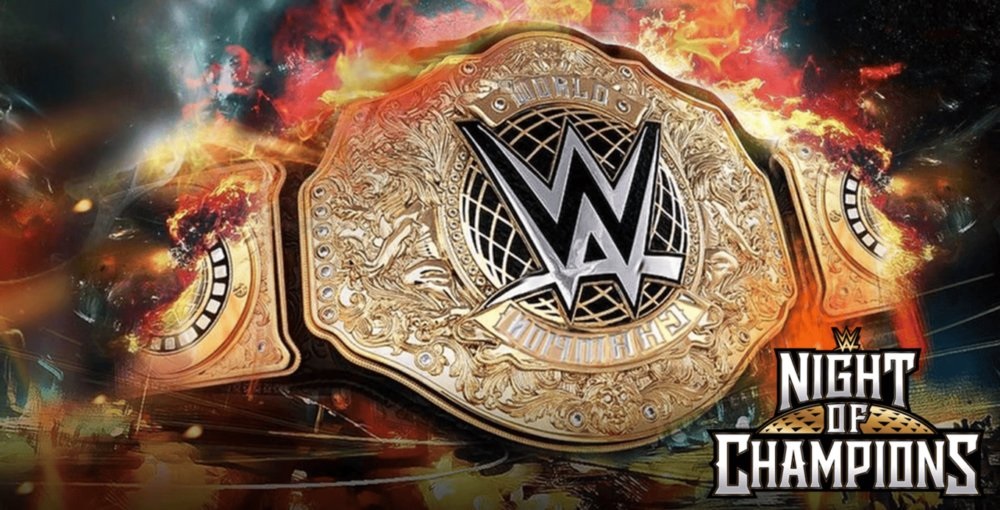 I am a pessimist through-and-through, and hoo boy, was there a lot here to tear apart after the reveal. The nod to Big Gold but with giant WWE branding and customizable side-plates (thank you, Mattel). The flourishes inside the main championship plate with random imagery (how many animals can you see?). The fact that it somehow picks up the lineage from where the NWA/WCW/WWE World Heavyweight Championship left off (or maybe not after all?).
Granted, I've read a lot of you all on Twitter who love this new design. I understand that, realistically, it is nothing more than a television prop, and the days of getting proper worked up about anything wrestling are long past me. That said, you can still put me into the NOT A FAN category, but I would love to see some concept art of this thing. I would like to know what garbage didn't pass the grade for the WWE, but somehow this ended up fine.
At this time of writing, I'm not sure if the beltmaker has made themselves known online either as the usual suspects are all mum. Wildcat Championship Belts made sure promote themselves as soon as the recent piss-yellow Undisputed WWE Universal Championship was revealed: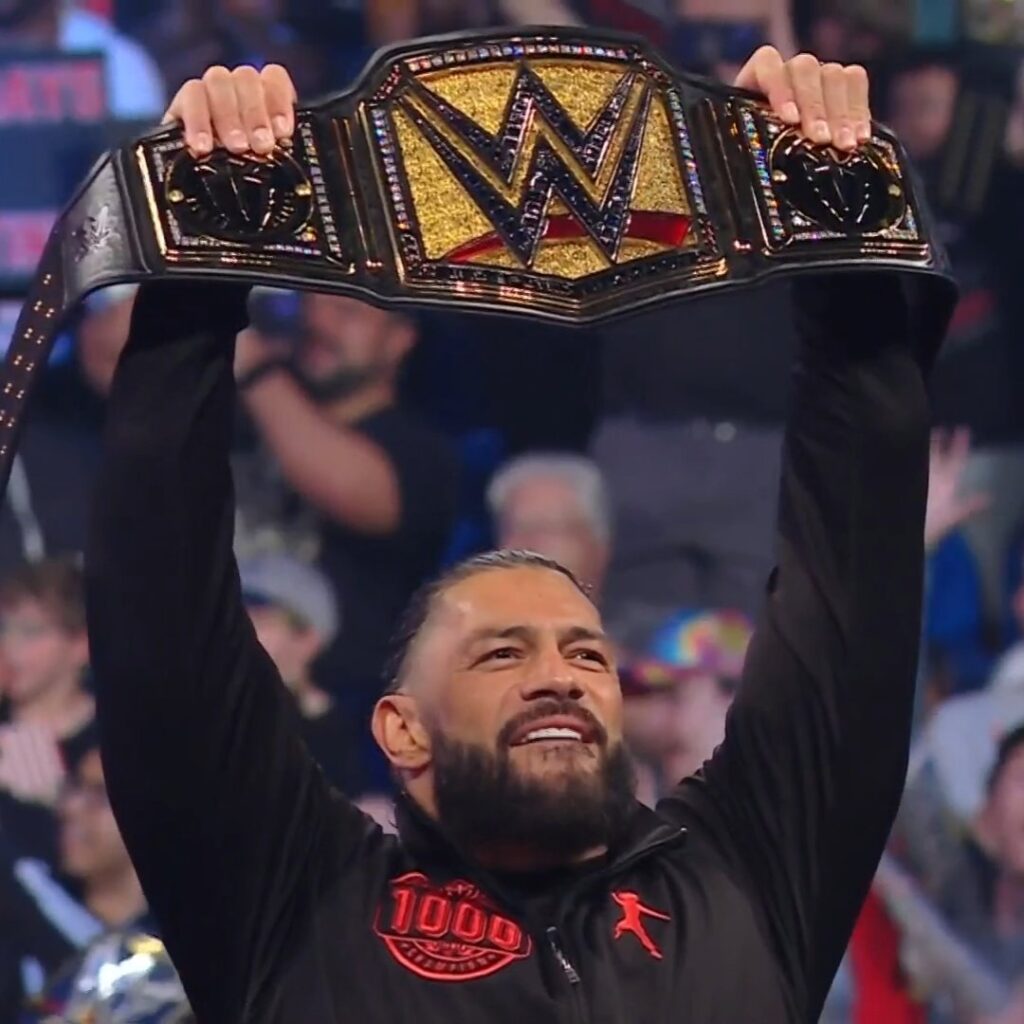 If they were behind this one, you would think they would've posted something similar but nothing so far. Replicas of this cursed hybrid are available in the WWEshop for the type of people who like this kind of thing, where you can see clearer HD photos of the design.
xxx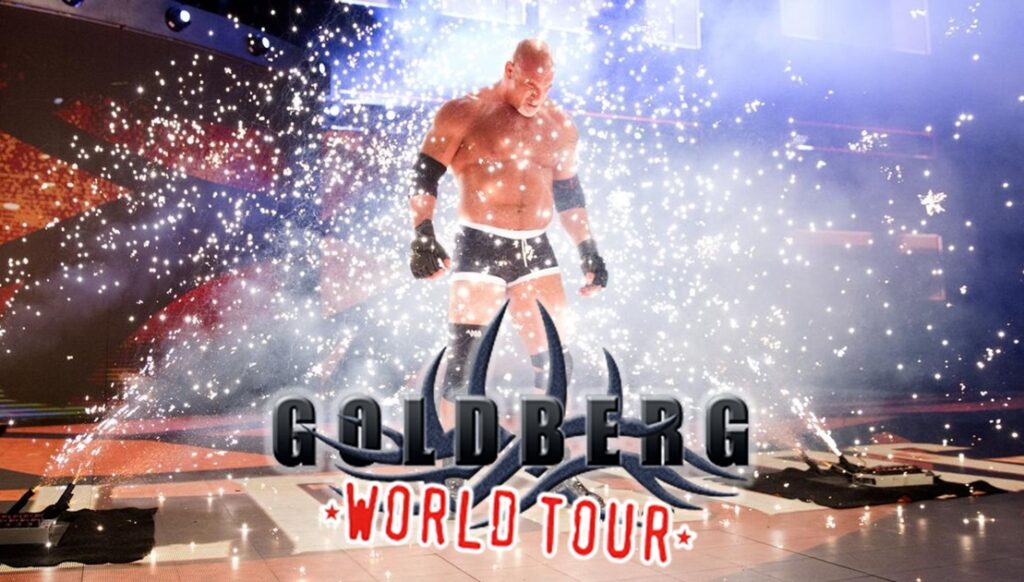 Last month, we covered Bill Goldberg potentially setting up his own Retirement Tour and whether or not he would be making any appearances in AEW. Tony Khan addressed this himself during the media scrum after the Double or Nothing PPV, when asked by Adrian Hernandez of Audacy Sports if he had talked to Goldberg recently:
Tony Khan: "Yea. Yea, I have. I have talked to Bill. (room laughs)
It wouldn't be that unusual. I talked to Bill when he's not been under contract, at-times, and have a good relationship with Bill. So, I have had a good conversation with him, but I've had a lot of great conversations with Bill. You know, Bill's family had done a lot of great things in Jacksonville. Bill is related to the Wolfson family, who built the Wolfson Children's Hospital in Jacksonville. Bill's a great former football star, and I work in football, and it's a big part of my life, so we have a lot in common. And we have a lot of mutual friends, and I have a really good relationship with Bill, so I like him a lot.
As to what I talked to him about, I would say that's just between the two of us. But, I'm not gonna lie to you, yeah, I have [talked to him]. It was a good chat. I like Bill a lot, he's a great guy. Thank you."
Does this mean anything? Will AEW be next for Goldberg? Would FTR even allow a Goldberg to walk into the locker room due to their allegiance with Bret?? Lots of unanswered questions, but I'm sure Goldberg could easily get MJF up into a Jackhammer'ing, if the opportunity arose.
Give Goldberg his sendoff, dammit! pic.twitter.com/v9yUvSaIj7

— Martin S Dixon is commission-able🐀 (@BunnySuicida) April 20, 2023
Let's see it!
xxx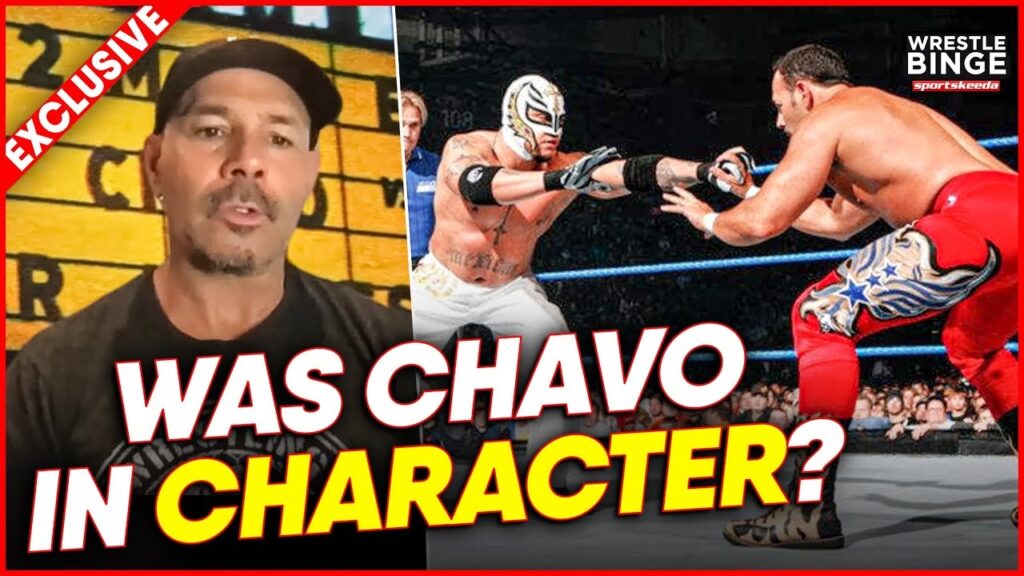 Another update from last month, Chavo Guerrero, Jr. had a chance to talk more about his comments of Rey Mysterio "prostituting" the Guerrero name. In a chat will Bill Apter for Sportskeeda, he plays the attacks down as nothing more than "working the fans". Chavo points out that the comments covered last month were the second wave of shots that originated during an streaming fan signing event for Captain's Corner:
Chavo Guerrero, Jr.: "Basically, it was stuff I did in 2007, where I'm like, 'Hey, man. You're not a Guerrero. You're jealous of the Guerreros, and you'll never be a Guerrero. I'm sorry that no one knows who Rey Mysterio Sr. is.'
Basically, I was just messing around, kind of tongue-in-cheek, kind of joking. It didn't come out hard or nothing like that.
Well, when we got off the interview, the guy that I was working with, Nick [Andrew], he goes, 'Wow, that was pretty good.'
I go, 'Well, you know what? It was because there was some truth in there. It's real, that's why people love that kind of stuff, and that's why Vince [McMahon] loves it. Like we talked about before, Jerry Jarrett, the promoter and Jeff Jarrett's father, says real issues draw real money.
Bill Apter: So, this is a real issue?
Chavo Guerrero, Jr.: It's not. It's not. It's just–I love Rey. So, when that happened, all of a sudden the next day, the 'New York Post' covered it. Everybody was freaking out about it, and I'm like, 'That's not even really news. I mean, CM Punk ending up at 'RAW' backstage, that's wrestling news. Me telling Rey that, 'Hey man, you're just using the Guerrero name too much.', that's not news…"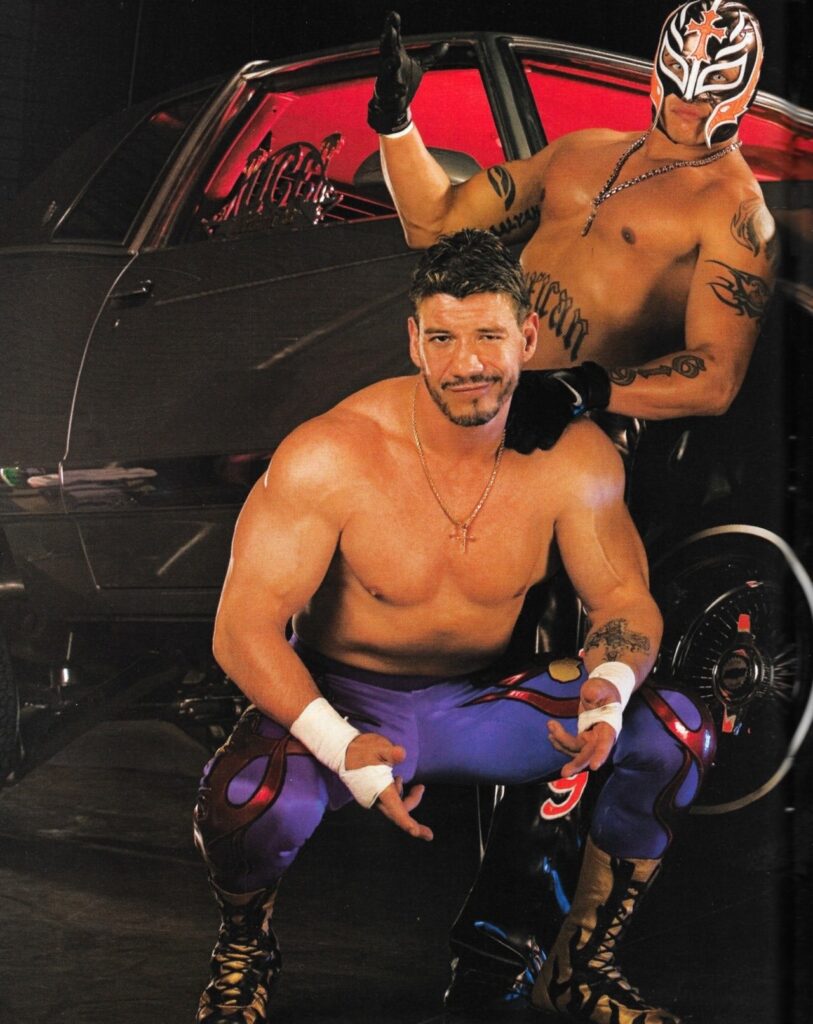 Chavo Guerrero, Jr.: "I text Rey, and I say… 'Hey, not real. It's not real heat. I'm not mad. Just a work.'
And he jokingly texted me back, 'Yeah, I was wondering what I ever did to him?', and we had a quick laugh about it.
So, I said, 'Anything I say from then on, just disregard it.'
Chavo then mentions going more into this work against Rey, bringing up Mysterio "prostituting" the Guerrero name. Commenting that none of Eddie's daughters get any of the merch money. For him, turning up the heat was his plan to just rile fans even further. Chavo explained that the whole affair was an example of his own love/hate relationship with fans:
Chavo Guerrero, Jr.: "It's very hard for [wrestling fans] to pick a side. The lines are very blurred with them. Like we said before, if you see Sylvester Stallone walking down the street, you don't go, 'Hey, Rocky!!'.
No, you say, 'Hey, Sylvester Stallone.'
When I walk down the street, people are gonna go, 'Ooh, Chavo!', 'Where's Pepe?', 'How's your relationship with Rey?', and now, they're going to be talking about what I just did with Rey.
It was a work everybody."
Weirdly, Chavo gets to that point after making sure that we realize that, well, actually, Rey Mysterio was not Eddie Guerrero's best friend. In fact, the official ranking according to Chavo was:
[REDACTED]
Art Flores (WCW's Spyder)
Himself
All of this seems so weirdly unnecessary to say while letting everyone know how much the Guerrero family loves Rey Mysterio, and how Eddie did love Rey like a brother. It's bizarre to bring up that Rey wasn't even one of the first people to find out that Eddie passed away ("Rey found out just like everybody else [when the news became public], I didn't have to call Rey.").
His words have a twinge of passive-aggressiveness to it all that makes it seem like Chavo really has some deep-resentment on how the WWE uses Eddie Guerrero's name. To be honest, I wouldn't blame him and might be able to see his side of things if he articulated that out loud here. The WWE warping and redefining their own history on a whim has always been strange, especially if you're someone who has been watching longer than a few years. The WWE has distilled Eddie Guerrero down into being a mythical entity who had a legendary feud/friendship with Rey Mysterio which defined their era of WWE SmackDown. And Chavo Guerrero? Umm… who??
Chavo ended his talk with Apter by announcing he was going into "heel mode" and left off with this, showing how easy it was for him to work fans:
Chavo Guerrero,  Jr.: "Wait a minute, Rey. Yes, after Eddie passed, we were all doing tributes. You–where was the tribute the last few years or the last ten years, really? You kind of stopped doing it, and now all of a sudden, when you need it with Dominik's angle, you start doing the tributes again. Hmm."
Having your words transcribed leaves things open for the reader to interpret the tone themselves, so please watch the link above to get a better feel of all this. Real or work?
If I were in Chavo's boots, the return of the Latino World Order with the stable using a version of the "Los Guerreros" theme would irk me. This might not ever be anything that gets discussed openly, if there's anything there, because WHAT IF they need a Guerrero to come in for a quick spot? Can't fuck up that gravy train until you know for a fact that they're completely done with you.
Then again, Chavo Guerrero Jr. has one thing that Vince and company don't have, a Screen Actors Guild award for his work on GLOW for Netflix: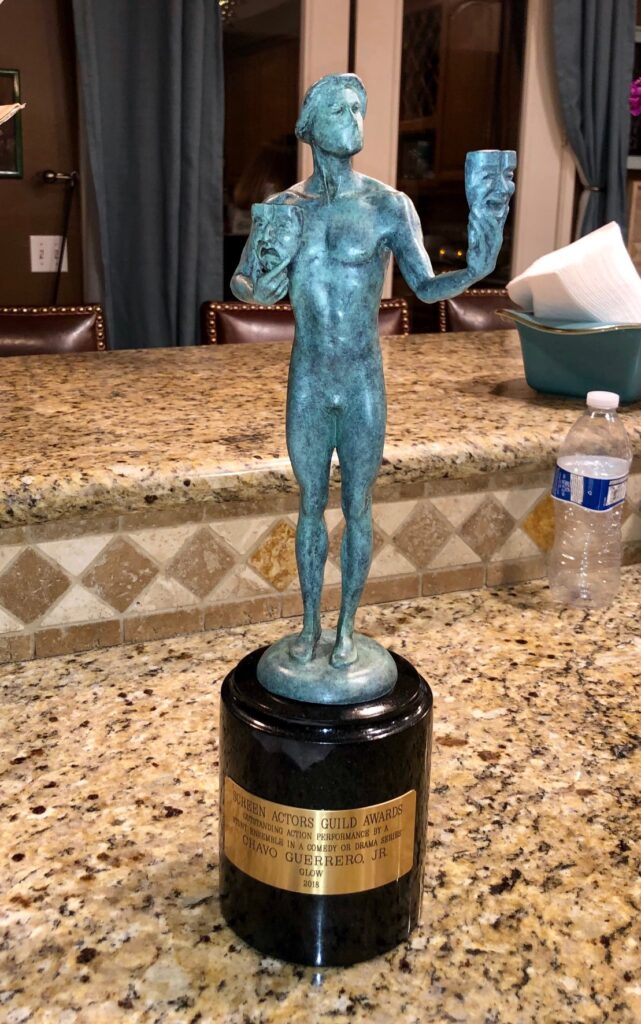 Time will tell if Chavito has any room in this current Dominik storyline or maybe even the Latino World Order plans. I wouldn't hold my breath, though.
xxx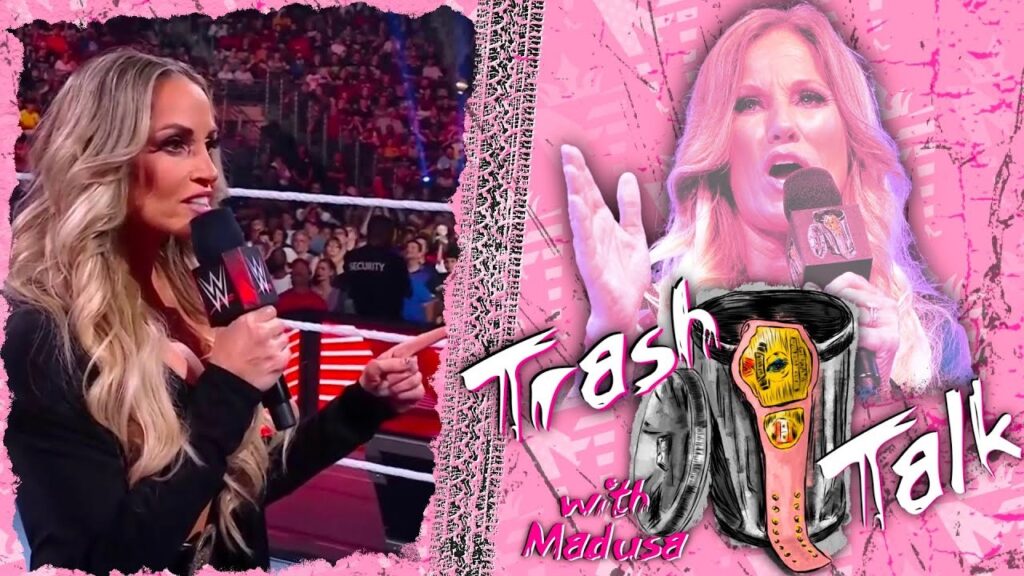 Madusa is having her own Chavo Guerrero moment online by calling out the returning Trish Stratus. Which, you know what–fine. Nothing wrong here. Madusa just released her autobiography The Woman Who Would Be King: The MADUSA Story, so this is par for the course. Just like Chavo, she even sprinkled in some of her real-life issues with Trish into her diatribe. Madusa discussed Trish Status on her Trash Talk show on YouTube:
Madusa: "I've been watching this–I don't know what this is about Trish. She's becoming a heel, or she's a heel, now. So, she thought that she'd try her way of being a bitch, probably the secret bitch that she's always been. But she's now really turning it into the heel bitch, right? In order to be that real heel bitch, you always secretly have to be that bitch. That's how I've always put it. There's some truth to that, guys."
Madusa: "Trish is claiming that she's responsible for the women's evolution of wrestling. We all know that's not true. I don't know, maybe she missed a word in her script. Maybe she meant she was the one for the Divas' evolution, maybe? Maybe not. Maybe her new bitch heel turn, [she] just said screw it. She is the one across the border, the whole platform. Then I took to social media, and just said, 'Maybe I just need to educate her.', because it's false. Completely false. False!
Rumor has it that @trishstratuscom is claiming that she's responsible for the evolution of women's wrestling.

Maybe she needs me to educate her?#Respect #EarnIt #WWE #WWERaw #SmackDown @WWEUniverse @BeckyLynchWWE @WWE pic.twitter.com/Zf4ckHMZR0

— Madusa/AlundraBlayze (@Madusa_rocks) May 11, 2023
Madusa: "Maybe my generation needs to be recognized and given kudos to–not just me. It's not just about me. But the women that did lay the foundation, even before me, that paved the way, that actually is responsible for the women's evolution. Every era… it evolves, it evolves. But not one person is responsible for it. So, that's where she's wrong.
Then, I continued to listen to her fumbling interviews, whatever "promos", or whatever the hell she wants to say, and finally… I just had enough, and I put another [tweet] out there. I just said that I thought that Trish has set the women back and turned them into a sideshow again.  Because she's just claiming these asinine pinnacle moments, and it's a lie. I think that if you can just blatantly go out there and lie to people's faces and think that that's going to be your great heel turn, you're gonna get backhanded. Because it's a lie. I don't know if it's supposed to be funny or what, but I think that's where she fell on her face. I don't know.
So, again, I felt like I needed to educate her. Not only did I feel like that she was making it like a sideshow, but all the work that I did to get the women respected and legitimize them as the superstars they are, I mean, it was just crushing to me to see all that."
Getting worked up over Trish's television promos seems like a bizarre thing to fall for, but I can empathize. If you have given your life to an industry whose leader consistently shuffles the roster of who is and who isn't personae-non-gratae, I can imagine Trish appointing herself as the turning point for all of women's wrestling getting stuck in your craw.
On one hand, it is a staged storyline, but again, the WWE now has Trish and Lita as the legendary once-in-a-lifetime talents that altered the course of wrestling history forever. What about the time before them? Madusa? Umm… who? You mean, Alundra Blayze, right? The only WWF women's star of the early 90's who was pretty AND who could wrestle, but ultimately revealed herself to be a traitor by accepting Ted Turner's devil money? The disrespectful and tawdry Alundra Blayze, that one??
Continuing her Trash Talk, Madusa brings up her throwing away the WWF Women's Championship on Nitro as a way to push the women into a main spotlight, to get the power behind them for sparking a change. That didn't happen under Eric Bischoff, but in some retellings of this event, the incident is described as a catalyst responsible for the WWF pulling their gloves off during the Monday Night War.
Going back into my own personal history with wrestling, Madusa is partially responsible for getting me into WCW. I had played the NES game, but WCW Beach Blast was the first actual wrestling I had ever rented from Blockbuster Video. When you see the box, its not hard to understand why: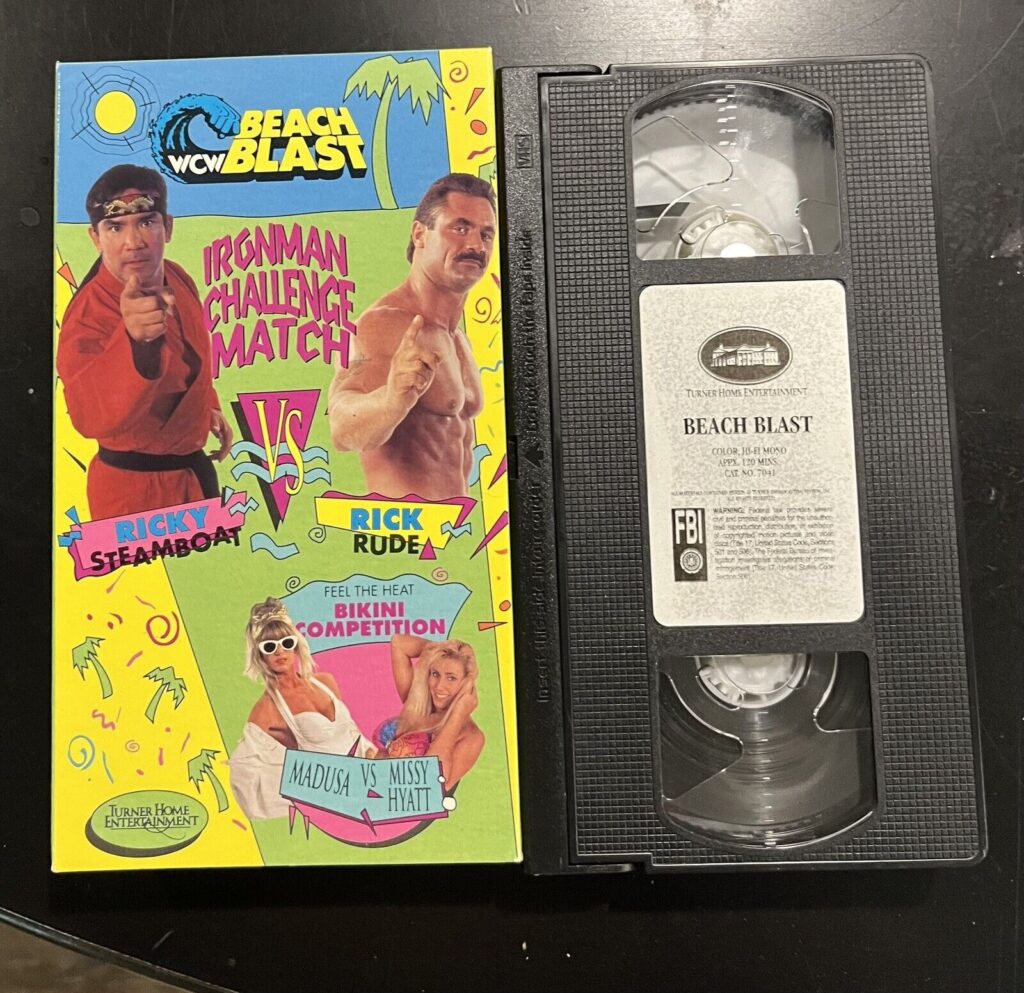 Because of the bright colors, you see.
Madusa will always be one of those people who I see as someone that's been undervalued for her career. I don't believe that whatever she has going on with her YouTube show will ever lead to anything substantial in regards to a wrestling return, but it would be nice to see something. One segment. Let Alundra Blayze come in and finally tear through that branding to be acknowledged as Madusa, for once. Let her educate the fans on the years that occurred before the Diva's Era. Trish Stratus can end the segment by dumping Madusa into the trash herself, it will be poetic or something. Full circle, Maggle.
This would be too fun, so don't expect that to ever happen.
GAME CORNER
After months and months of waiting, we finally got the release date of one of the most anticipated wrestling games of modern era. At first glance, this throwback title to gaming of yesteryear might have left some of you all apprehensive, but this game has DAY ONE PURCHASE written all over it for me. That's right, WrestleQuest will be released on August 8th, 2023.
Watching all the trailers as they've been released, I never could figure out what this game was actually going to be. Your lead (?) character is the Muchacho Man, and you are playing through his story, but also the actual "Macho Man" is there too? Was this a game that was getting near completion and real-world wrestlers were inserted at the final hour? How does licensing even work here? Did the developer Mega Cat Studios set up individual contracts with each person or their estate to be included, and if-so, why haven't we seen this before? Also, will there be an issue with WrestleQuest pixelating real WWF promo photos??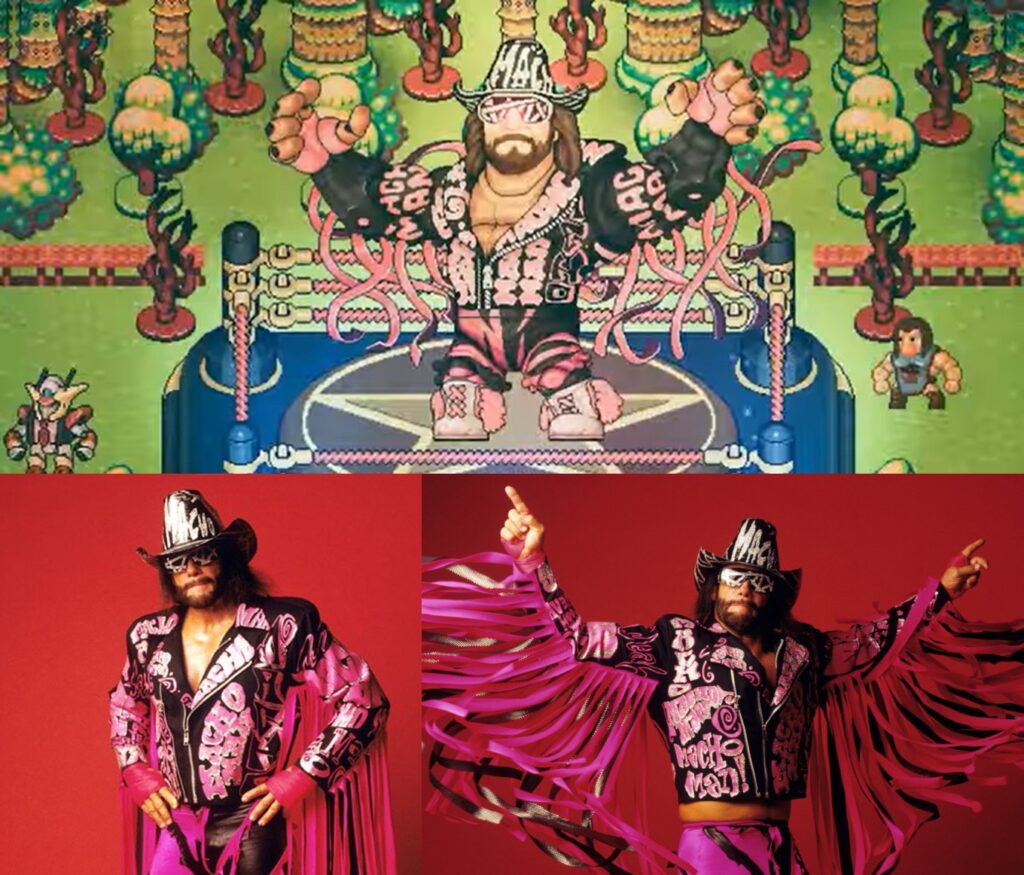 Randy Savage, Diamond Dallas Page, Jeff Jarrett, The Road Warriors, Jake "The Snake" Roberts, Sgt. Slaughter, Andre the Giant, and L.A. Park (!!) have all been shown so far with more promised to be included in game. Like I mentioned, I cannot wait to see what this ends up becoming and wish pro wrestling ends up being shoved into more RPGs in the future. Maybe paid-DLC so Cloud can summon DDP to hit a Diamond Cutter on a Hell House in the upcoming Final Fantasy VII: Part II remaster.
Oh yeah, and AEW Fight Forever is coming out on June 26th with WCW names like Sting, Paul Wight, and Chris Jericho available to play as. Sad to see that Arn Anderson, Dean Malenko, or Jake Roberts did not make the roster cut as getting those legends in would have been my number one priority if I was a part of the development team.
More on that next month as I'm leaving this one to surprise me. I have a feeling of what to expect so my expectations aren't too high, but I am looking to see what the response to this game is when the review copies get sent out. In the meantime, I have magazine scans that I need to get on here, so expect a bunch of that over the next few weeks. I have some more merch ideas that need to get seen through, so expect to see some cool things on the Twitter and Instagram soon. Expect the July 1996 issue of WCW Magazine to hit this week, the absolute last hurrah for a pre-nWo World Championship Wrestling. If you like photos of the Booty Man, you will be in for a treat.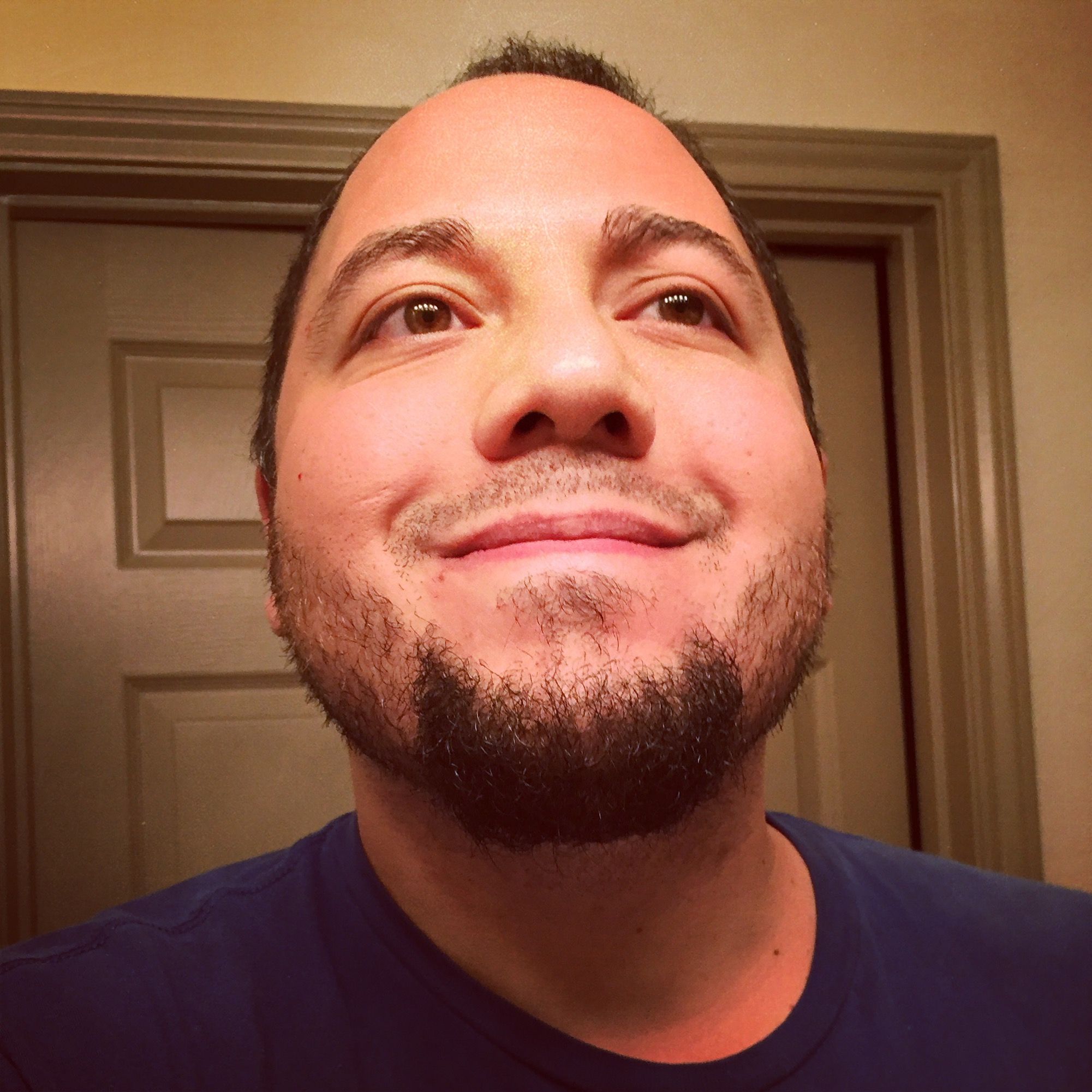 38-year-old World Championship Wrestling fanatic/collector/hoarder. Safety officer by day, scanner of wrestling magazine by night.
He's got posters on the wall, his favorite rock group's KISS.