After a long hiatus, over 200 videos have been posted to my YouTube channel throughout the last several days. Matches from UWF 1986 – 1987, WCW Saturday Night 1996, and the WCW Main Event 1992 – 1995 shows have been added.
For my 20th post on this website, we'll zone in on WCW Main Event 1994. The playlist for such can be found here . . .
At the beginning of the 1994, the WCW Power Hour aired at 9:05 am EST on Saturday mornings. It was a studio show with a rotating panel of hosts such as Eric Bischoff, Chris Cruise, Terry Taylor, Dusty Rhodes, Missy Hyatt, and others. It featured matches from the previous week's Worldwide Wrestling episode with new commentary attempting to fool the viewer into thinking they were watching new matches. It also included the occasional highlight from last week's Saturday Night.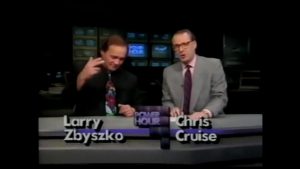 Meanwhile, WCW Main Event was a B/C-show that aired first run matches and was hosted by Tony Schiavone and Larry Zbyszko (thank heavens for on screen graphics for the heads up on the spelling).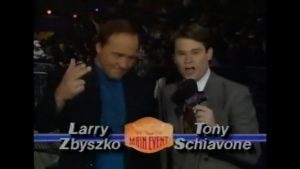 In March, WCW decided to shake things up a bit by disposing of the Power Hour and in its place, WCW Pro Wrestling was born (well, the TBS version . . . as it had run in syndication since 1986 but at this point was not airing first run matches). This show was hosted by Gordon Solie, Dusty Rhodes, and Larry Zbyszko and picked up where the WCW Main Event left off by presenting new matches and continuing their feuds (Ex: Lord Steven Regal vs The Armstrongs . . . some of these segments were blocked by YouTube).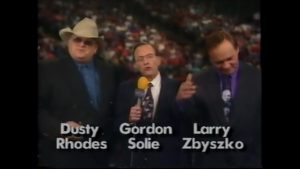 The very next evening at 6:05 pm EST, an all new WCW Main Event was born. It was now a studio show not unlike the old Power Hour, but it was now hosted by Gene Okerlund and Bobby Heenan. Perhaps, they were looking to catch a little of that magic from WWF's Prime Time Wrestling of the 1980s where Gorilla Monsoon and Bobby Heenan needled each other every week on USA (Of course, someone named Monsoon Classic would think that).
Instead of just recycling old Worldwide matches, Main Event lived more up to its name by featuring main event matches from that weekend's WCW programming. Feature matches from Saturday Night, Pro, and Worldwide were replayed followed by a Main Event exclusive match (that is where my playlist jumps in).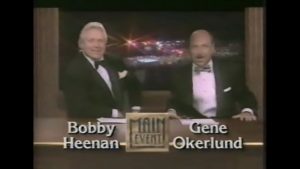 Unfortunately, YouTube put the block on many matches such as a high motor, heel vs heel Nasty Boys vs Tex Slazenger & Shanghai Pierce match and a Sting, Ricky Steamboat, & Dustin Rhodes vs Terry Funk, Arn Anderson, & Bunkhouse Buck match.
But luckily, plenty did survive the YouTube massacre. Matches such as . . .
– Ricky Steamboat & Arn Anderson vs Bad Attitude with a surprising ending (Whoops, I guess by just noting that, I may have given it away)
– Ricky Steamboat vs Ric Flair in their last ever televised singles match
– The Guardian Angel vs Vader from their first live special
– Pretty Wonderful defending their WCW Tag Titles against Stars & Stripes from their second live special
– Hijinx with the MYSTERY MAN from the third live special
– Booker T vs Brian Armstrong just minutes before Halloween Havoc 1994. The first time WCW aired a live match before pay per views.
– And while not a ****1/2 affair, Gordon Solie's fire during Brad Armstrong's comeback vs the Honky Tonk Man is well worth watching
So feel free to dig in and check out the transition from a grittier WCW to a lighter, fluffier, Hogan influenced WCW as 1994 progresses.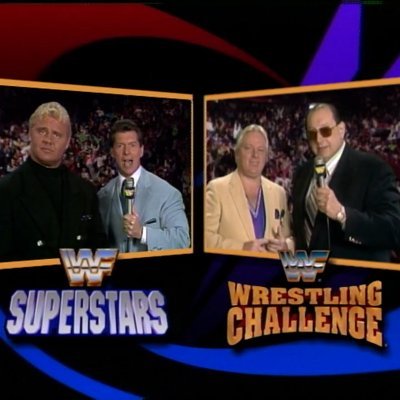 A Gorilla Monsoon mark who has a YouTube channel that ironically features more WCW matches than WWF ones. @Monsoon_Classic