When WCW 1995 is brought up, it causes even the most staunch Turner wrestling fan to recoil. Sure that was the year that brought us WCW Monday Nitro as well as the debut of top talent throughout the world, but it also brought us the Three Faces of Fear, the Dungeon of Doom, Evad Sullivan's rabbit Ralph, Ric Flair in drag (IT'S UNCENSORED!), and well I'll just cut it off there.
However, one thing WCW 1995 served us up with was one of my favorite angles of the mid 1990s . . . the formation of the Blue Bloods.
To properly tell the story, Lord Steven Regal had just ended an on-again off-again one year reign with the WCW Television Championship after ultimately losing it to Johnny B Badd at Fall Brawl 1994. Instead of getting rematches on television, the Honky Tonk Man swooped in and occupied Badd's time right up until Starrcade in December.
This left his Lordship rather directionless. He felt something was missing. He had dismissed Sir William (I don't believe Dundee was ever written off but he was more just phased out) and his ascent up the ladder in the singles division was stalling at best. It was at this point he felt he needed a tag team partner.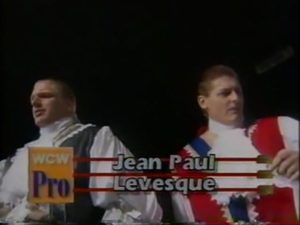 A young man named Jean Paul Levesque caught his eye during WCW Saturday Night and WCW Pro Wrestling programs. Soon after, they formed a tag team and compiled an undefeated record on television into early 1995. However, as fate would have it Levesque would be seduced by the bright lights, big cities, long limousines, and pretty ladies (Ric Flair TM) of the World Wrestling Federation leaving Regal without a partner.
This is where our featured video comes in. This ten minute offering takes us through the five week journey that brought us the Blue Bloods.
Week 1 – As Regal explains to Gene Okerlund that he is once again looking for a tag team partner, former multi-time NWA & WCW Tag Team Champion Bobby Eaton shows up to offer his hand in partnership. You knew he was serious since he took the gum out of his mouth before his sales pitch. He is casually dismissed by both Regal and Okerlund.
"Is that gum or is that grits?"
"Just gum"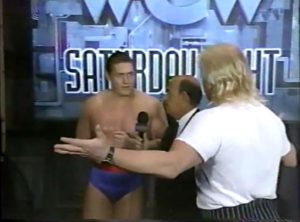 Week 2 – Regal doubles down on his stance against Huntsville, Alabama's favorite son Bobby Eaton. An offended Eaton shows up and exercises the censors at TBS by challenging Regal to get his "butt" in the ring. The challenge is accepted for Week 3.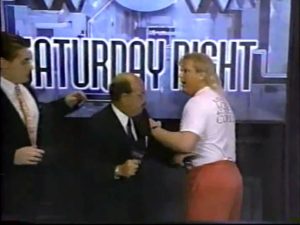 Week 3 – Eaton turns the table on Regal but before hitting the Alabama Jam, Regal scoots out of the ring and changes his tune regarding Eaton being his partner. An overwhelmed Regal thinks Eaton would now make a wonderful partner. A confused Eaton eventually accepts this offer.
"Is that gum or is that grits?"
"Nothing"
"Nothing?!?"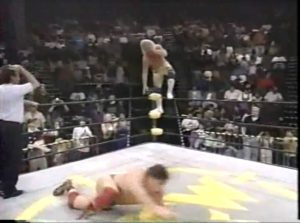 Week 4 – Regal meets Eaton for dinner in a fine dining establishment in England (Definitely NOT the Disney MGM Studios). Regal is put off by Eaton's tardiness, white socks, affinity for cheeseburgers, use of napkins, ect . . . but he charges on by taking Robert clothes shopping. Regal's facial expressions at every ensemble Eaton selects is a joy to watch. Progress is finally made as Eaton now dons a fine suit to Regal's approval.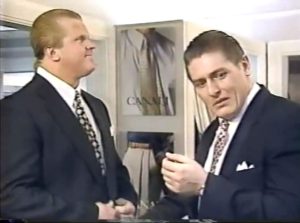 Week 5 – Regal coaches Eaton as they will be meeting the Queen of England . . . "You think she'll show me her jewels?" . . . "I don't think so." . . . We then go to Buckingham Palace (Definitely NOT another wing of Disney MGM Studios). Eaton is fully conformed and is knighted Earl Robert by the Queen.
"I wonder what the poor people are doing"
"Who cares?"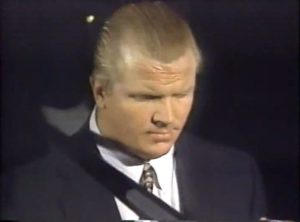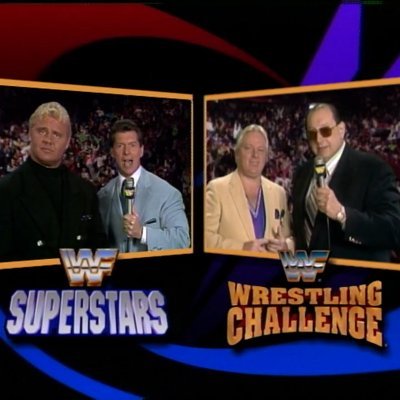 A Gorilla Monsoon mark who has a YouTube channel that ironically features more WCW matches than WWF ones. @Monsoon_Classic