We recently lost Bobby "The Brain" Heenan at the age of 72, a man who was nothing less than an absolute legend. The Tampa Bay Times reported that Heenan's cause of death was organ failure brought upon by complications from his throat cancer, a disease that he was diagnosed with back in 2002.
We here at WCW Worldwide wanted to give our thoughts on this incredibly sad event considering how important Heenan was not only to World Championship Wrestling but to the wrestling industry altogether.
---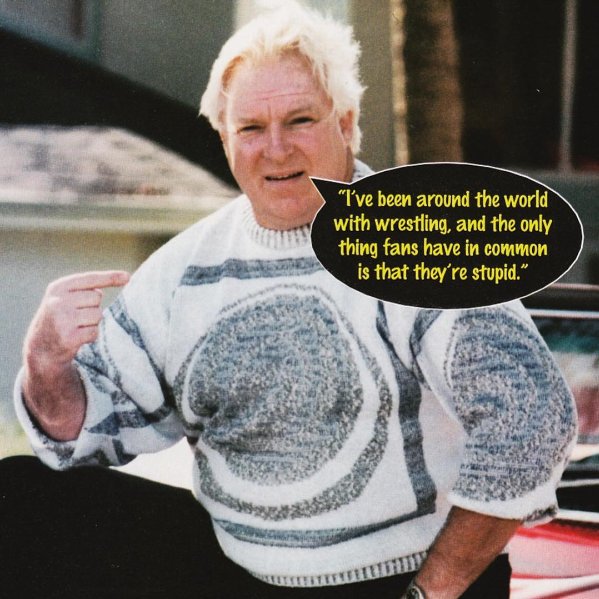 On September 17, 2017, Bobby Heenan ascended to the big "Gorilla position" in the sky. The wrestling world had lost one of its most endearing, memorable and entertaining characters while the world had lost one of its most underrated comedic minds.
Diagnosed with throat cancer in 2002, the last fifteen years of Bobby Heenan's life were a battle. A fight for survival; "The Brain" fought as long and as valiantly as he could. His early life was no cake walk however. He left school in the seventh grade to get a job and take care of his mother, elderly grandmother and aunt who had been diagnosed with cancer.
After spending a childhood enchanted with pro wrestling, he entered the business in 1960 doing odd jobs, such as carrying wrestlers' robes to the back. This eventually led to Heenan entering the ring himself, but of course as well know, he found his true calling in managing.
Saying, "Bobby Heenan is the greatest manager of all-time," is pretty similar to saying, "water is wet." It's an objective fact. Even guys like Jim Cornette and Paul Heyman, who are amazing in their own right, are not even in the same ballpark as Heenan. Bobby solidified anyone he touched as an iconic, upper-echelon talent. From his legendary run in the American Wrestling Association (AWA) with Nick Bockwinkle, to his final managerial act, leading the "real world champion" Ric Flair in the WWF; everything The Brain did was gold.
Due to my young age, most of my memories are through hindsight. I really only saw Bobby Heenan in archival footage. Even as a young child, I knew "The Brain" was the man and even my Mom would talk about watching Bobby Heenan when she was a kid. She grew up in Illinois, meaning she watched Bobby's heyday in the AWA. However, I mostly saw Bobby as a commentator.
In 1994, Bobby Heenan joined Tony Schiavone in the announce booth in WCW. From '94-'00, Bobby created yet another legacy; being one of the voices of the Monday Night War. Heenan was on commentary for the majority of Nitro's run. His voiced is spliced over most of the iconic moments in that show's history. Perhaps his greatest call in WCW was on July 11, 1998, the night Bill Goldberg beat Hollywood Hogan for the WCW Championship. Bobby's enthusiasm for this moment, made it feel real. Made if feel important. And it also cemented Goldberg as, "DA' MAN."
https://www.youtube.com/watch?v=dGRbK0_RHH0
Of course, it's difficult to talk about Heenan's legacy without talking about his partnership with Gorilla Monsoon in the WWF. Boot up an episode of Prime Time Wrestling on the WWE Network, and you'll get the perfect idea of their chemistry and humor.  The 1992 WWF Royal Rumble match is the apex of Heenan and Monsoon; their greatest work.
Bobby Heenan's legacy in pro wrestling is forever safe. Can anyone really criticize The Brain? If they do, they shouldn't. He excelled in everything he did. EVERYTHING. Wrestling, managing, commentary, being serious, being funny, being sad; he could do it all.
Everyone has been sharing their favorite Bobby Heenan jokes, one-liners and quips. I however, would like to leave you with my favorite serious quote from Heenan.
"I don't look at myself as a hero or smart person. I have a seventh-grade education, but I've had a lot of fun."
Thanks for having fun with us, Bobby. Thank for for being one of the voices of my childhood.
Raise some hell with Gorilla.
---