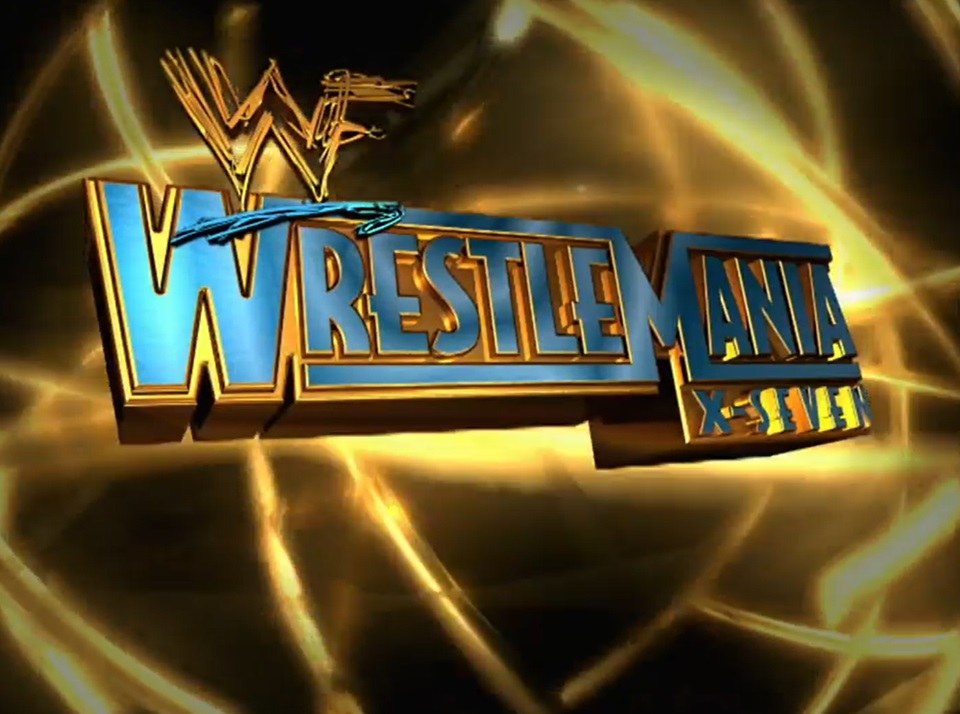 After WCW folded in 2001 and was bought out by Vince McMahon and the World Wrestling Federation, I'm sure that fans were expecting some sort of WCW presence at WrestleMania X-Seven. The final episode of WCW Monday Nitro was only six days before the "Showcase of the Immortals" took place from Houston, TX where Shane McMahon would be taking on Vince McMahon in a Street Fight — why the hell wouldn't there be a Sting or a Booker T. there alongside the newest "owner" of World Championship Wrestling?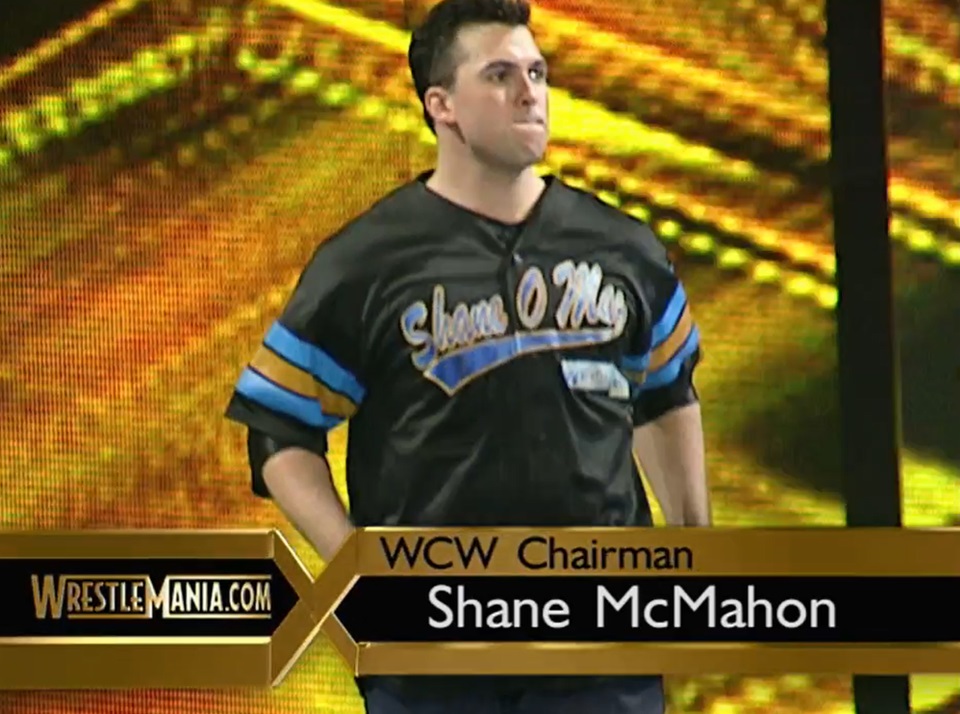 Unfortunately, the only involvement WCW had on the show was a shout-out by Shane McMahon to his "new-found friends", "some of the young stars of WCW":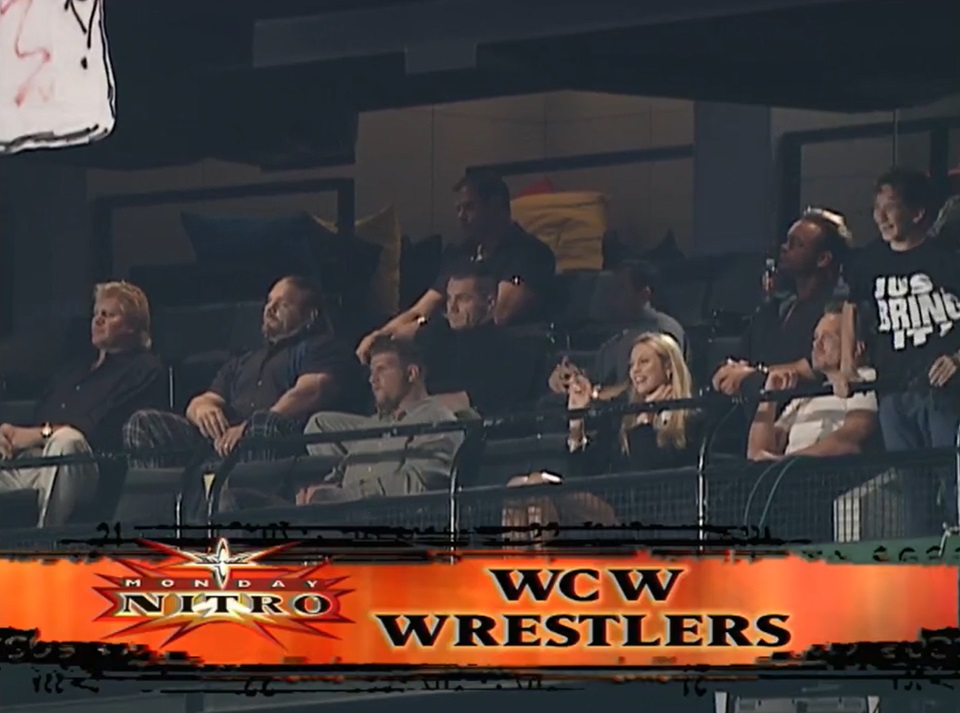 Not too sure how "Beautiful" Bobby Eaton got lumped into being called a "young star" but BOBBY EATON HAD HIS WRESTLEMANIA MOMENT! ALL 11-SECONDS!!
EDIT: Apparently, the man on the far left might actually be John Laurinaitis, not Eaton as pointed out by several people on Twitter. Johnny Ace was the main booker of WCW when it folded, but Eaton was brought in as a trainer as well at this time. Going to go with the crowd and admit to messing up. Whoops!
EDIT 2: Johnny Ace responds and confirms that it is him, not Bobby Eaton!
That is Mr Excitement bringing WCW talent to watch WM @WWE @WWEUniverse #peoplepower. That was some time ago https://t.co/hlMnZ3IxZD

— John Laurinaitis (@JohnLaurinaitis) April 9, 2016
Truth is that the original plan was to have the WCW wrestlers involved in the Shane vs Vince match, but the whole angle was scrapped because one of the wrestlers couldn't keep his mouth shut when doing a radio show. Lance Storm explained what went wrong in a 2011 blog entry on his site:
"[The WWF] flew us in, put us up at a different hotel, and had a bus booked to sneak us in the back door of the arena. We were even brought over a little bit late in hopes that all the fans would be in their seats and no one would see us. Unfortunately all these efforts to keep our Mania appears secret were for not because Shawn Stasiak did a radio or Internet interview the day before and stooged off the whole thing. The office was furious and many of us speculated that it might cost him his job. I was even told that at one point the plan was to have us do a run in on the Vince vs Shane match, but Vince was so mad word had leaked that he killed the angle and almost sent us all home. Thankfully we at least got to stay and watch the show."
Stasiak went onto the No Holds Barred radio show and blew the entire angle the day before WrestleMania. Along with revealing the WCW involvement, Stasiask also bragged about how the WWF had already given him a new deal (not true), and even mentioned plans for Bobby "The Brain" Heenan to be brought in as color commentator for the new Nitro show (also not true).
Bill Demott (Hugh Morrus) went into more details regarding the doomed angle during his interview with Chris Jericho during the summer of 2015:
"Chris Jericho: [Y]ou had come from WCW in the original WCW Invasion, when Vince bought WCW. You came over in that group.
Bill Demott: I was in the original group that sat up in the silhouette skybox when Stasiak couldn't keep his mouth shut. The night before he gives up all eleven names and Kevin Dunn called up Laurinaitis and said, 'Fire them all.'
Jericho: Because Stasiak said the eleven names?
Demott: I guess he did something right as the Internet was just coming out or whatever it was. So, Stasiak did an interview and gave up all eleven names that were going to be at WrestleMania.
Jericho: The secret WCW crew…
Demott: The secret crew! So Kevin Dunn had called Laurinaitis and said, "Fire them all. We don't even have them here and this shit's already started."
Jericho: You've got heat before you even showed up.
Demott: We flew in on ridiculous flights. Nobody saw us. You guys were in Houston, we're outside of Houston. You guys are at the Shangri-La, and I'm in Bedrock. The frickin' phone rings and it's Johnny [Laurinaitis], "Get your ass downstairs, you're all going home!"
So, I go down to meet Johnny – he's pissed. He told me the story, but he didn't say it's Stasiak. He goes, "Well, who went out on…" and I go, 'that's not my deal'.
Even to this day, that's not my deal. So, I called Lance [Storm] and Lance is sitting there going, 'You've got to be shitting me.'
Everybody gets called down. We're brought down to the lobby, Johnny gives his speech. Stasiak owns up to it and we're all looking at him like, 'Maaan…..'
Then, Ernie Ladd meets us.
Jericho: Ernie Ladd?!
Demott: Ernie Ladd meets us in a bus, they take us in a back route, stick us in a skybox with cheese and crackers and said, 'Enjoy the show.'
I went from being IN the ring with Shane McMahon at WrestleMania — that's going to be my debut in the WWE — to a silhouette of me and Lance sitting with Mike Sanders and someone else. The whole time, and you can imagine, Lance is just miserable.
WrestleMania was over – back down a kabuki stairwell that smelled like piss and vinegar. Back into the same bus, no one talked to us. It drops us off at the hotel, and we were sent home. I went, 'Holy shit! That was quick."
Then the Invasion, the Invasion came after, but we were supposed to be in the ring in Houston…"
Absolutely brutal.
There's no telling how things would have unfolded with WCW's involvement in the Shane vs Vince Street Fight, and we all have Shawn Stasiak to thank for that. Despite his monumental fuck-up, Stasiak would keep a position in the WWE until late 2002. During that time, Stasiak would be the idiot goodball of the WCW Invasion, failing at every simple task during his segments and would eventually end up being rebranded as Planet Stasiak: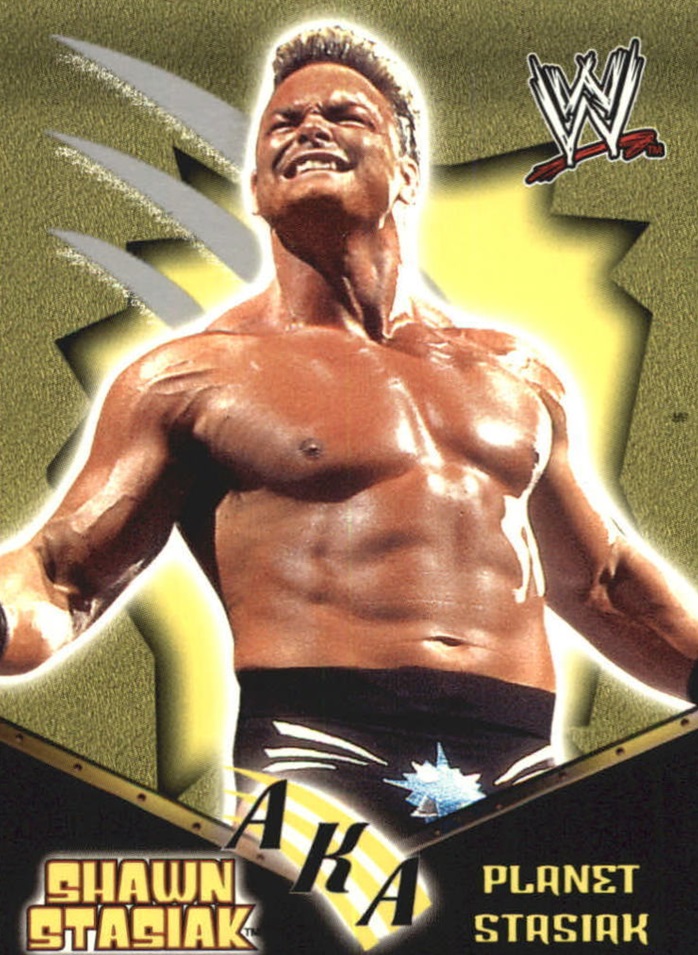 Shawn Stasiak is currently employed as a chiropractor in the Dallas area. No word yet if he attended WrestleMania this year or if he somehow was the reason why Karl Anderson and Doc Gallows were kept from making their debut as whatever Bullet Club knockoff the WWE has planned for them.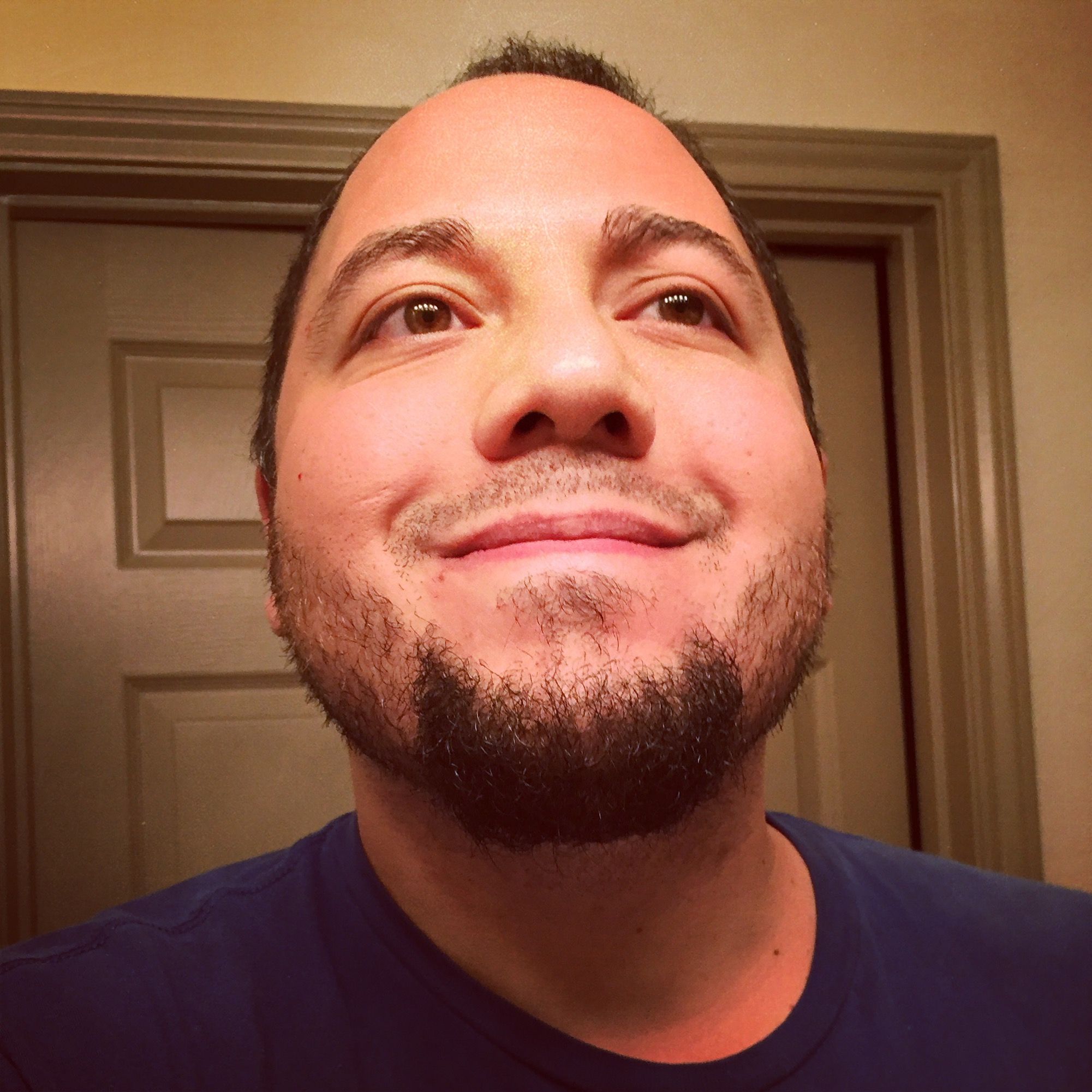 38-year-old World Championship Wrestling fanatic/collector/hoarder. Safety officer by day, scanner of wrestling magazine by night.
He's got posters on the wall, his favorite rock group's KISS.