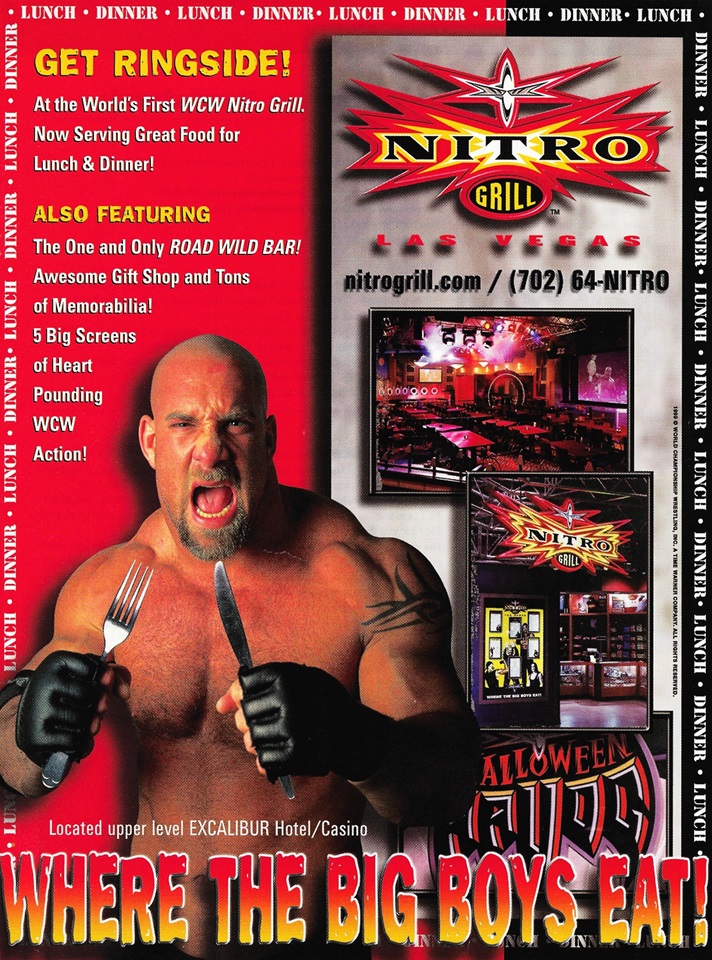 In January of 1999, Eric Bischoff decided to expand his World Championship Wrestling brand by opening a wrestling-related theme restaurant located in the heart of Las Nevas. The concept was nothing new as Planet Hollywood, Hard Rock Cafe and even Hulk Hogan's own Pastamania had already mixed kitschy decor and pop-culture memorabilia with the serving of barely-edible food, but it seems that hopes were high for this experimental project to succeed. Opening inside the Excalibur Hotel & Casino helped ensure that WCW had a steady flow of tourists to entice for their new eatery, plus the promotion promised a regular schedule of events featuring WCW wrestlers. The idea was to go a step beyond the theme restaurants that already existed at the time and create a perfect venue for celebrity and fan interactions through meet-and-greets, WCW PPV viewing parties, and more.
If the concept proved to be successful, WCW had plans to open similar Nitro Grills in other major cities across the country.
One week after the infamous Fingerpoke of Doom angle (that many of you out there on Twitter bring up to me regularly as the final nail in WCW's coffin), WCW held a groundbreaking ceremony for the WCW Nitro Grill at the Excalibur. The event was part press conference, part demolition as guys like Diamond Dallas Page, Sting and Kevin Nash talked about the restaurant but also used sledgehammers to tear down the walls where the Grill would eventually be placed at.
"World Championship Wrestling is coming to this gambling mecca in the form of a restaurant inside the Excalibur hotel-casino on the Strip.
The WCW Nitro Grill, set to open in March or April, will feature big screen televisions showing nonstop wrestling, shirts and hats and, of course, the wrestling stars themselves. The 16,000-square-foot restaurant will seat more than 350.
'I look forward to coming here and drinking [for] free.' Nash said, his long blond hair tossed over one shoulder." – 'Las Vegas Sun' [January 12th, 1999]

A vignette highlighting the groundbreaking ceremony aired on WCW Monday Nitro the following Monday, segmented in between a Mysterio/Luger match and a backstage spot where "Big Poppa Pump" Scott Steiner tried to convince Kimberly Page that she secretly really wanted to fuck him.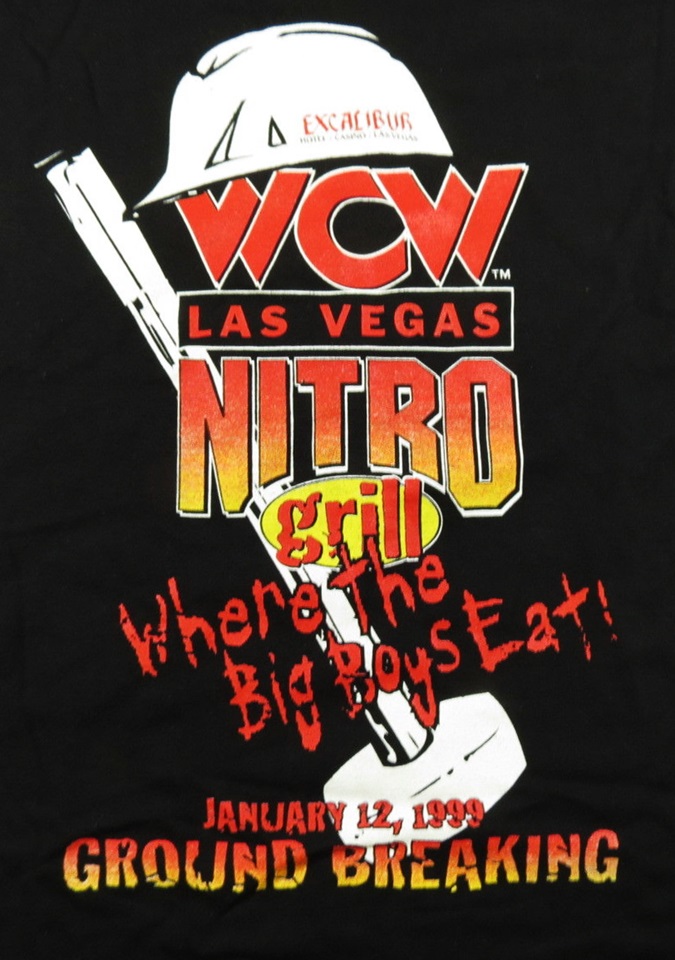 Despite the claims of the Nitro Grill opening quickly by March, the restaurant didn't actually open until May 24th, 1999. By that time, World Championship Wrestling had already gone through a whole reboot and design change throughout the promotion.
The Nitro Grill also went through similar revision with their logo to reflect the newer, hipper version of WCW.
Fans who made it out to the grand opening of the WCW Nitro Grill were graced with appearance by Kevin Nash, Sting and Roddy Piper. Along with few members of the WCW elite, other talent that showed included Berlyn, Van Hammer, Konnan, Kanyon, Dale Torborg, Chase Tatum, DJ Ran, Nitro Girl Chae and Nitro Girl Storm.
A short montage of the WCW Nitro Grill opening aired the following week on Nitro with WCW World Heavyweight Champion Kevin Nash joking about trying the "Stinger Lima Bean Casserole", an item unfortunately not on the menu.
"The spate of themed restaurants had to spawn a version geared to fans of professional wrestling, and this is the result. WCW [Monday] Nitro is one of the hottest cable TV programs on the set, and the idea here is to transport you to the middle of the ring with props, sets, live and video wrestling entertainment, costumed characters and oodles of merchandising for the kids or young-at-heart who enjoy this sort of thing. Surprisingly, the food is fairly good, featuring steakhouse-and-burger fare we enjoyed no less than we did other examples around town where there was less atmosphere. Of course, you've got to be in the right frame of mind, but if so, this could be a blast for fans and even fun for those who think they're too cool to enjoy a choreographed body slam." – Gayot Restaurant Review [1999]
"Fairly good" food sounds great, right? Since Las Vegas was never a destination for our family vacations, I never got around to trying out the food at the WCW Nitro , but I hear good things from those who got a chance to. Imagine a restaurant on par with something like a Chili's or a Applebees, and you can probably easily imagine what a Goldburger or a Crippler Crossface Cheesesteak tasted like.
You read that right — the menu for the WCW Nitro Grill was PUN-tastic!
While a lot of these wrestler references are terribly shoehorned in, there are some absolute treasures to be found here. The Booker T-Bone is the personal highlight for me but don't sleep on the Bashed at the Beach or the Stinger Splash cocktails, folks. The idea of legitimately ordering a Slappucino, a Spring Stampede Sirloin or a Big Boy Brownie without any hint of irony completely appeals to that dumb part of my wrestling-fan brain. In all honesty though, I wish they went all-in on these menu items and made EVERYTHING a terrible, terrible pun the likes only weirdos like Becky Lynch could enjoy. I'm talking about something like: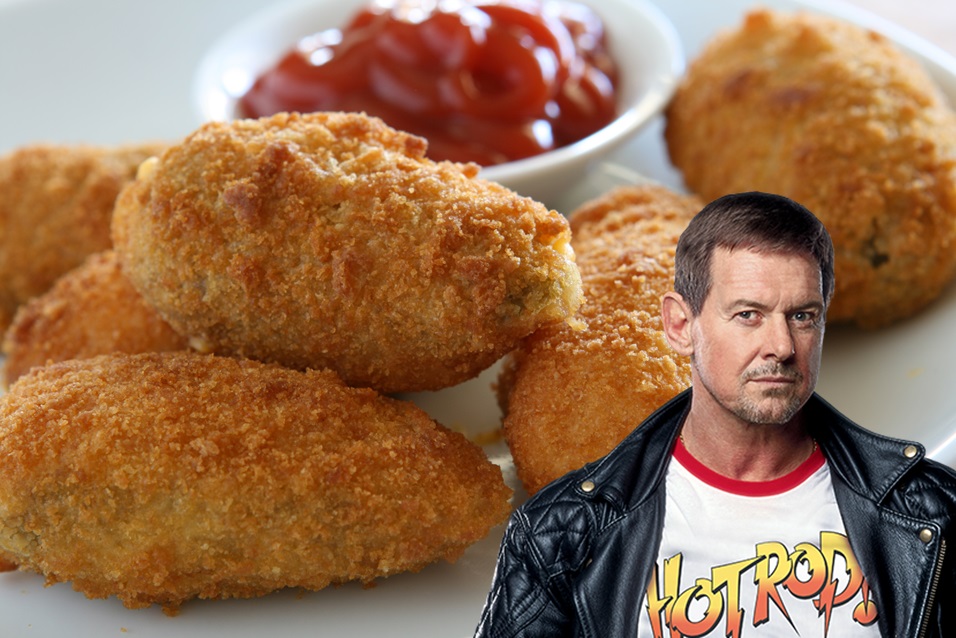 Deep Fried Jalapeno Rowdy Roddy Peppers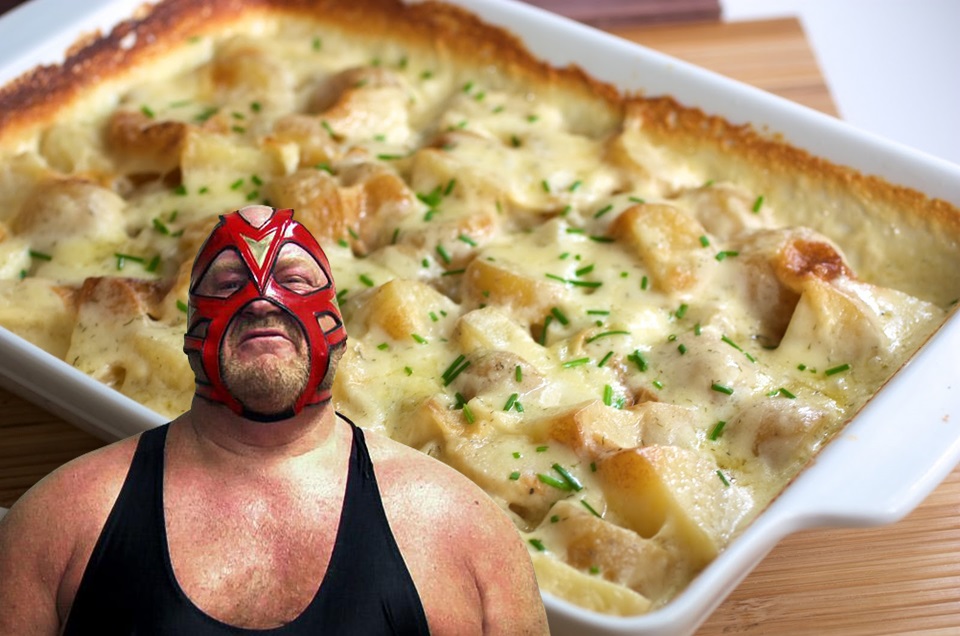 Vader Taters Au Gratin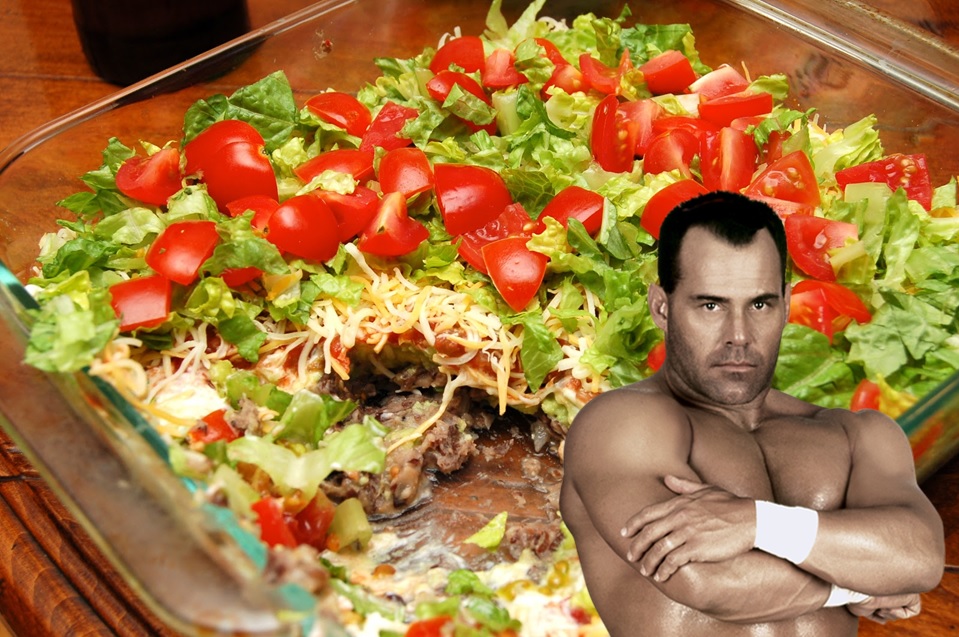 7-Layer Bean Malenko Dip
I'm already salivating over here just thinking about how delicious a Bean Malenko appetizer would pair up with a Texas Cloverleaf cocktail. Hot damn!
Also included at the WCW Nitro Grill was a shop set up to sell all kinds of World Championship Wrestling items along with exclusive Nitro Grill merch! WCW Nitro Grill shirts are kinda plentiful over on eBay, but anytime something else pops up for sale online, I usually end up throwing all of my money at it. Along with a full menu I bought to scan for this site, I've found myself with a small collection of drink ware as well: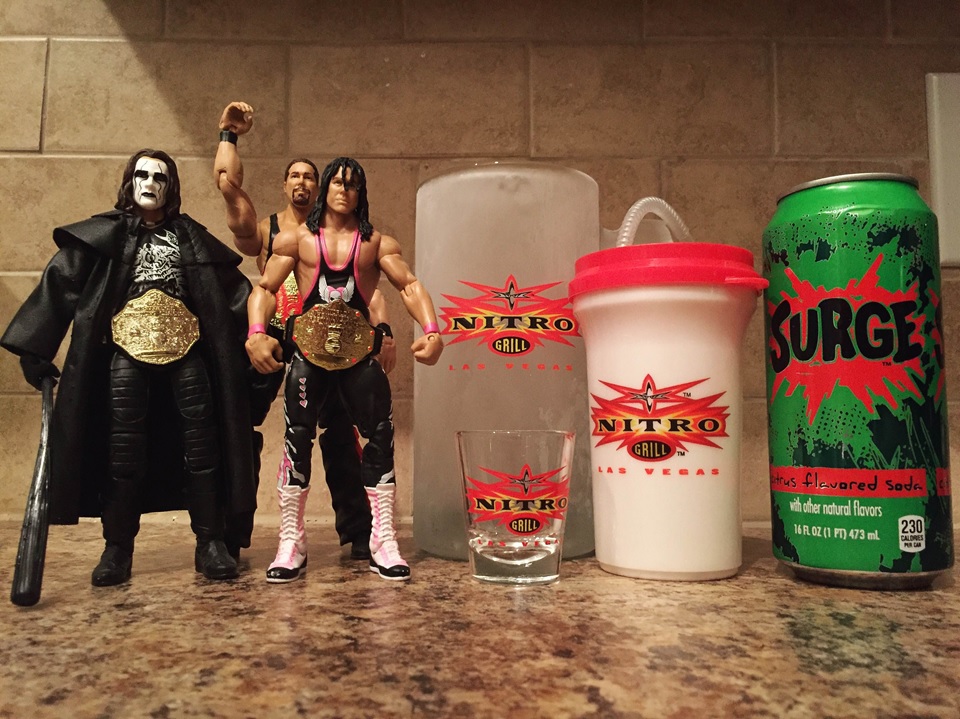 I don't know if I'll be able to shake this new compulsion to go after all things Nitro Grill, but I do have my eyes on a handful of other items that I've come across recently:
With all of this awesomeness and a supposedly decent offering of food, the WCW Nitro Grill looked to be a great place for wrestling fans. WCW wrestlers could also walk in and eat for free, so there was always a chance of rubbing elbows with someone like Disco Inferno or Brian Knobbs outside of the regularly scheduled WCW meet-and-greets. However, World Championship Wrestling's steep decline in popularity and ratings throughout 1999 and 2000 probably didn't help the restaurant fare well beyond their opening.
The WCW Nitro Grill would announce that it was closing its doors in late 2000, sixteen months after opening its doors.
"The wrestling-themed eatery – WCW Nitro Grill – will shut its doors Saturday, according to the Mandalay Resort Group.
The $2 million restaurant opened less than 16 months ago in the Excalibur hotel-casino, which is owned by the Mandalay Resort Group.
Nitro Grill employees also said they have been told the restaurant will close Saturday. But the company that operates the Nitro Grill refuses to comment on the planned closure.
Company officials said they are still negotiating with Excalibur and the WCW.
WCW promotes highly rated cable TV and pay-per-view wrestling broadcasts.
The agreement with WCW provided that the wrestling organization would receive a share of the 16,000-square-foot restaurant's revenue. In exchange, the WCW agreed to send wrestlers to the restaurant each month for promotional appearances." – Las Vegas Sun [September 28th, 2000]
So, if you never made it out to Las Vegas during that time, you're just out of luck. WCW never opened up any other Nitro Grills during the promotion's existence and all of the merchandise was blown out at live events and through NitroGrill.com. In fact, Joe DeFalco of Future Stars of Wrestling in Las Vegas once contacted me to show off that HE is the owner of that WCW Nitro Grill sign and sent over a pic of it currently hanging at his wrestling gym: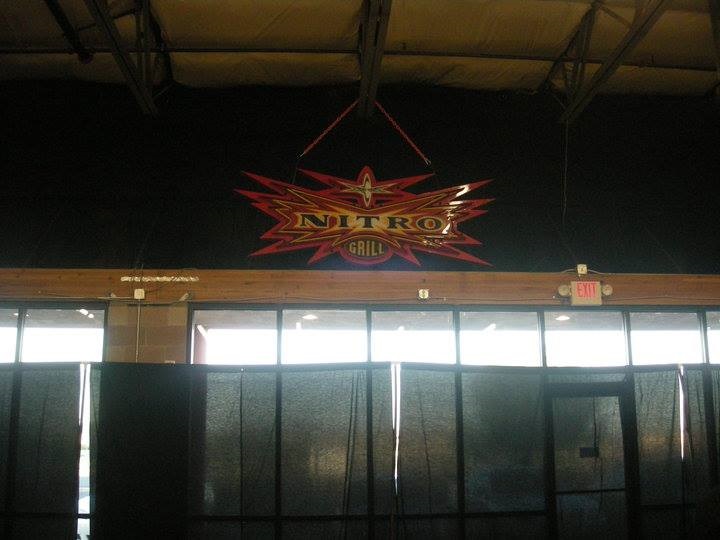 The World Wrestling Federation would follow WCW's lead and open their own theme restaurant at Times Square in December 1999, but WWF New York's pitiful menu couldn't touch the delightful puniness offered at the WCW Nitro Grill. In probably the most painful revelation I came across while researching this theme restaurant, there's currently a Dick's Last Resort in place where the Nitro Grill once stood inside the Excalibur Hotel & Casino.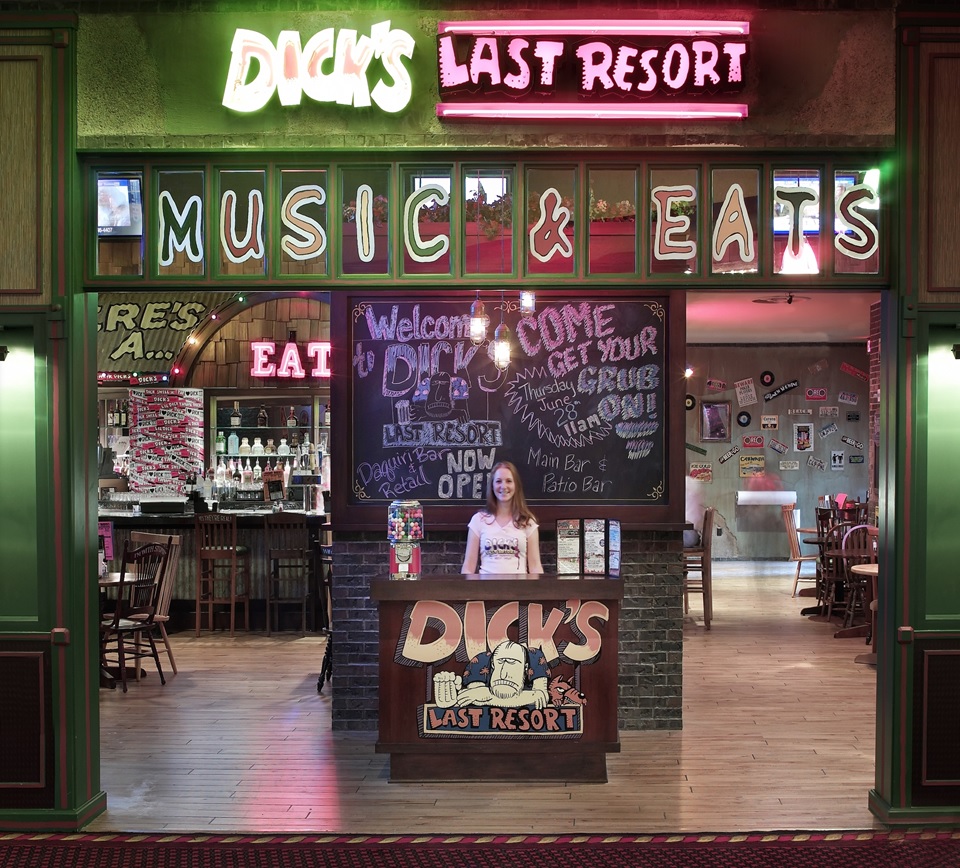 Dick's Last Resort, a theme restaurant where the staff are all insufferable pricks to you on purpose because that's the gimmick! Hey, hey — it's all fun and games, you shithead!
Heartbreaking.
I leave you with a feature on the grand opening of the WCW Nitro Grill I found, weirdly enough, in Wizard Magazine. Click through and pour one out for the passing of what could've been if WCW ended up winning the Monday Night War.