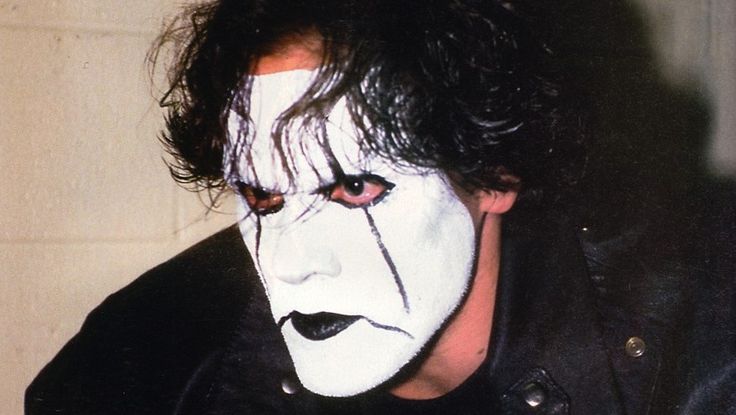 Steve Borden has had perhaps the most fascinating career in the history of professional wrestling. Spanning thirty years, The Stinger has seen and done it all in the business. The most amazing thing about this statement is that as recently as three-years-ago, I couldn't have truthfully made it. It feels like it's longer ago than it actually is, but Sting was in a featured match at WrestleMania only a mere two-years-ago. A full career retrospective on Sting is a far bigger project and honestly suits itself more for a novel rather than an internet column. I'm more focused on his downfall.
Borden more or less lucked into his career in wrestling. A body builder by trade, he was convinced to get into professional wrestling by some of his friends after being courted by Rick Bassman. Bassman had an idea of putting together a wrestling stable of four muscle-heads of various looks. Borden ended up a member of "Power Team USA" along with Mark Miller, Garland Donoho and some guy named Jim Hellwig.  The group together never became anything in the world of professional wrestling, but Hellwig and Borden went on to become The Blade Runners in Bill Watts' Mid-South Wrestling (which became the Universal Wrestling Federation). Jim Hellwig would leave the Stinger and later on in life, he'd become insane and homophobic. Oh, he was also The Ultimate Warrior.
Now for years, Sting and The Ultimate Warrior have been compared to one another, which makes sense considering they were partners and both wore facepaint. Here in 2017 though, I think it is safe to say the legacy of Sting has far eclipsed the legacy of the Warrior.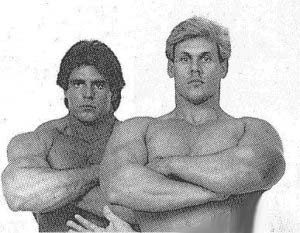 In 1987, the Universal Wrestling Federation was purchased by Jim Crockett Promotions. The UWF buyout gave Crockett stars such as Rick Steiner, Terry Taylor, "Dr. Death" Steve Williams, Eddie Gilbert and yes… Sting.
In April of 1988, Sting was cemented as a main event caliber talent after his forty-five-minute draw world title match against Ric Flair on the very first Clash of the Champions. Over the next eight years, Sting would win and lose the NWA/WCW World Heavyweight Championship on several occasions. Regardless, he always remained in the main event mix and was consistently seen as WCW's top home grown talent.
These eight years are why we call Sting, "The Franchise" of WCW.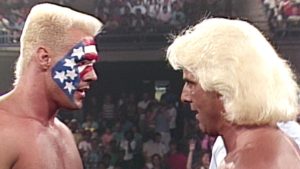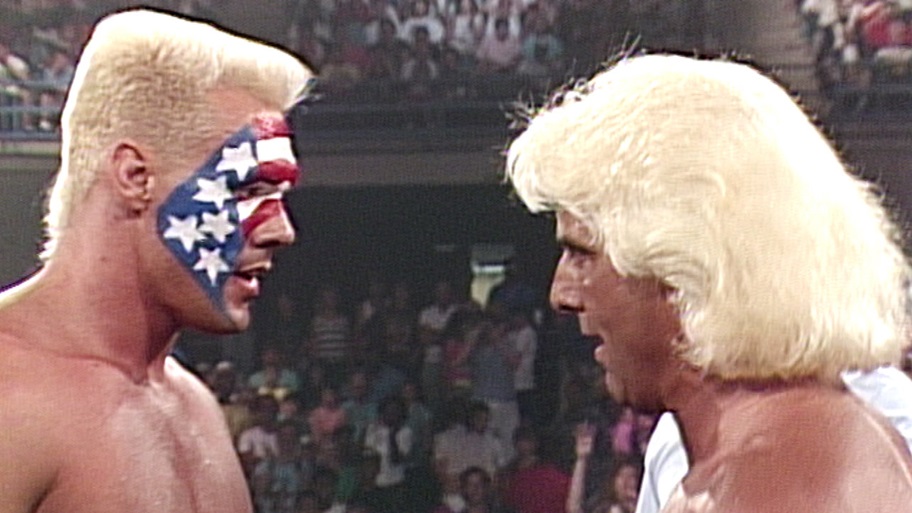 Fast forward to mid-1996. Scott Hall, Kevin Nash and Hulk Hogan have created the New World Order and thus, professional wrestling has been changed forever. The nWo was a group of perceived invaders from Vince McMahon's World Wrestling Federation. Even without saying it outright, WCW kept alluding to Hogan, Hall and Nash being employees of the WWF sent to kill off their competition. So therefore, Sting was the obvious choice to be the savior of World Championship Wrestling.
The nWo, wanting to fool everyone, enlisted a phony Sting to their cause. On the September 9th, 1996 edition of Nitro, "Sting" was seen coming out of the nWo's limousine to attack his best friend, Lex Luger. Of course, home viewers knew that it was the real Stinger, but some impostor in paint. Now, for a moment, let's ignore the fact that the commentators were confusing Steve Borden and this phony guy in multi-colored tights, who facially look nothing alike. Still, the WCW roster members were skeptical of Sting and accused him of being in the nWo, despite Sting (the real one) denying it.
Skip ahead to Fall Brawl '96, War Games: Team nWo vs Team WCW. The nWo was hyping a mysterious fourth man, who was revealed to be… Sting! Well, one of them.
After a few minutes of stinking up the cage, here comes the real Sting to face his evil twin! Sting single-handedly lays out the entire New World Order team on his own, turns to Luger and asks, "That good enough for you? That truth enough for ya!?"
Twenty-four hours later on Nitro, Sting turns his back to the camera to declare himself a free agent and tells WCW to stick it. Some weeks later, a black and white faced Sting, declines an open offer to join the nWo and leaves them standing confused with a, "The only thing for sure about Sting… is nothing's for sure."
These were the last words Sting would say on television for over a year.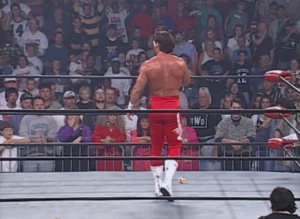 For the entire duration of 1997, from January until Starrcade in late December, Sting did not wrestle a single match. Instead, he would periodically show up and distribute vigilante justice against the nWo. He began descending from the rafters, which made him look like such a bad-ass super hero. In August of '97, Sting made his intentions clear. He wanted Hogan and he wanted the world championship. Sting got both at Starrcade 1997. Kinda.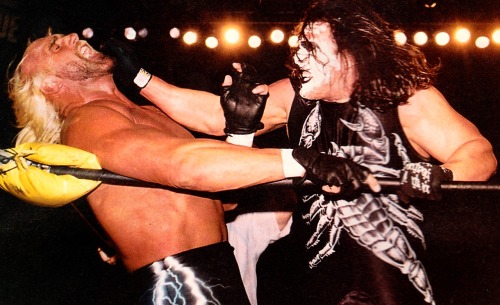 Let's leave Starrcade 1997 at this… the match was a mess, and it was all Hogan's fault.
After the controversy at Starrcade that involved Sting winning the title after first losing the match in a "fast-count" snafu that was anything but, J.J. Dillon stripped Sting of the WCW Championship on the first episode of WCW Thunder. This prompted Sting to utter his first words on WCW television since 1996. He pointed to J.J. and sharply stated, "You've got no guts."
Sting then pointed to Hogan and said, "You? You're a dead man."
That all being laid out, the next WCW pay-per-view Souled Out featured no match from either Sting or Hollywood Hogan. The two men who headlined the biggest show of the year one month prior had nothing to do on the next show.
Instead, their rematch ended up occurring at February's Superbrawl where, thank God, Sting pinned Hogan clean. For some odd reason, Hulk Hogan was much more comfortable losing to a less popular Sting on an event watched by fewer people. Does that make sense to you?
From February 2nd to April 19th, Sting embarked on his championship title reign. Not a good reign, not a bad reign. Just a reign. Considering the entirety of 1997 was building to this title run, that pretty much sucks. Let me assure you, this was NOT Sting's fault. While WCW should have put all of their proverbial eggs in Sting's basket, they instead focused on the split of the nWo. The March 23rd edition of Nitro featured an awesome match with Sting defending the WCW World Heavyweight Championship against Diamond Dallas Page… at the top of the second hour. The main event of that show? Randy Savage vs Roddy Piper. More nWo garbage! nWo garbage that ended in a no-contest after three minutes, by the way. Sting's one and only successful PPV title defense during this run was at March's Uncensored. Sting retained the championship in a lackluster match against Scott Hall.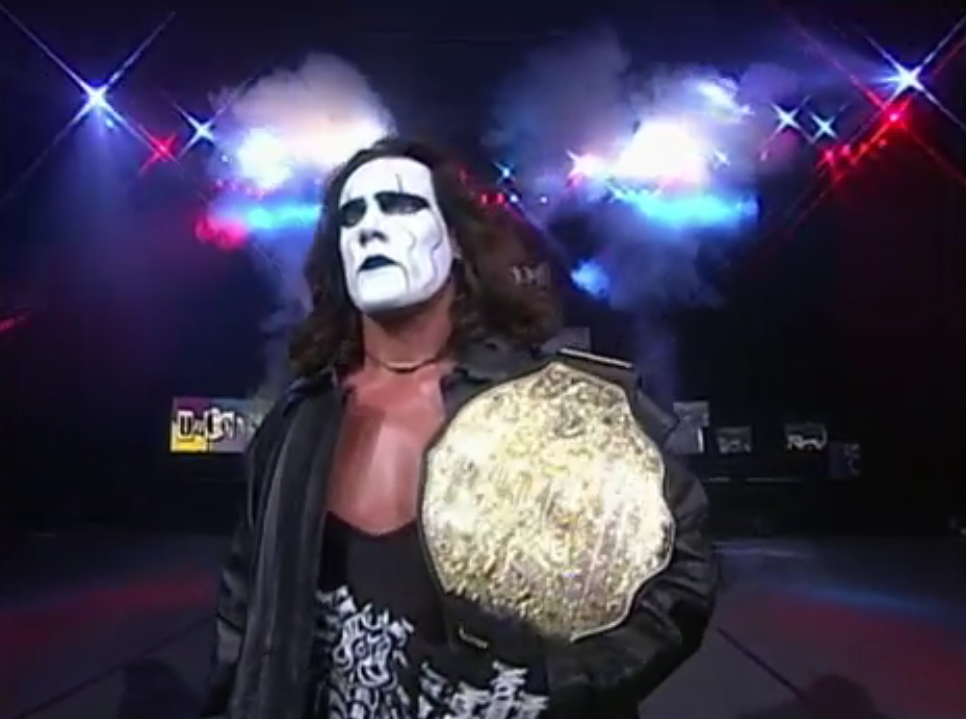 The main event at Uncensored? Hulk "Goddamn" Hogan vs Randy "Goddamn" Savage. "Take a backseat, brother!"
Don't be fooled, folks. Sting may have been the most popular babyface in the company, but this was still the Hollywood Hulk Hogan show. Sting didn't even have a chance to succeed. He was constantly being ignored in favor of whatever Hogan was up to that week. There were weeks during his run where Sting WASN'T EVEN ON NITRO. My God, state of this booking!
Sting's reign all came to an end on April 19th at Spring Stampede, where Sting lost the WCW World Heavyweight Championship to the "Macho Man" Randy Savage. Granted, Savage had help from Kevin Nash, but that doesn't make this any less hella heartbreaking. The Sting experiment was over. All of those months that fans looked to the skies for a vindicator, someone to strike fear into the black hearts of the same men who created him and found Sting, were wasted. Fans were hoping and praying that Sting would be the man to end the nWo and, my God, he should have been.
Look, I know WCW was printing money hand-over-fist off the nWo. From a business stand point, it would have been stupid to kill the nWo. But from a booking stand point, it was time. It was time to move on. Sting had finally redeemed WCW. One of the biggest problems with the nWo was that they always one up'ed WCW roster members. But never Sting. Sting was better than all of them. He was the crown jewel of WCW, and he was going to save the company.
Sting failed.
Sting was the hero of WCW but as the age-old adage goes, "You either die a hero, or you live long enough to see yourself become the villain."
Oh, I should also mention that Randy Savage lost the WCW title twenty-four hours after beating Sting to none other than Hollywood Hogan. Piss. Off.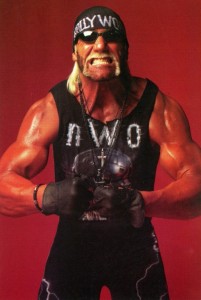 The nWo split storyline that took precedent over Sting in early '98 eventually lead to the creation of the red & black nWo Wolfpac consisting of Kevin Nash, Konnan and Randy Savage. By May of '98, Sting was just lost in the shuffle. With Hogan being champion and Savage and Nash (the two men who cost Sting the title) having turned babyface, Sting had nothing to do. He was still a huge star for the company, and the storyline saw both of the nWo factions begin to court him. The natural thought here is clearly Sting would tell them all to go screw and stick to WCW. But, of course, this is 1998 WCW! There's no place for logic around here!
On the June 1st Nitro, Sting descended from the rafters and took off his trench coat to reveal an nWo black/white shirt. After hugging Hogan (AHH), he bodyslammed The Giant and SWERVE–Sting reveals the nWo red/black shirt hidden underneath. Sting was now in the Wolfpac! Sting was now aligned with Kevin Nash and Randy Savage, the two men who cost him the WCW title!! Sting was now the New World Order!!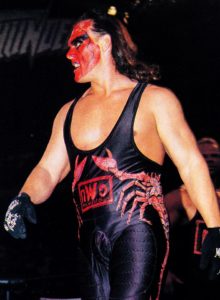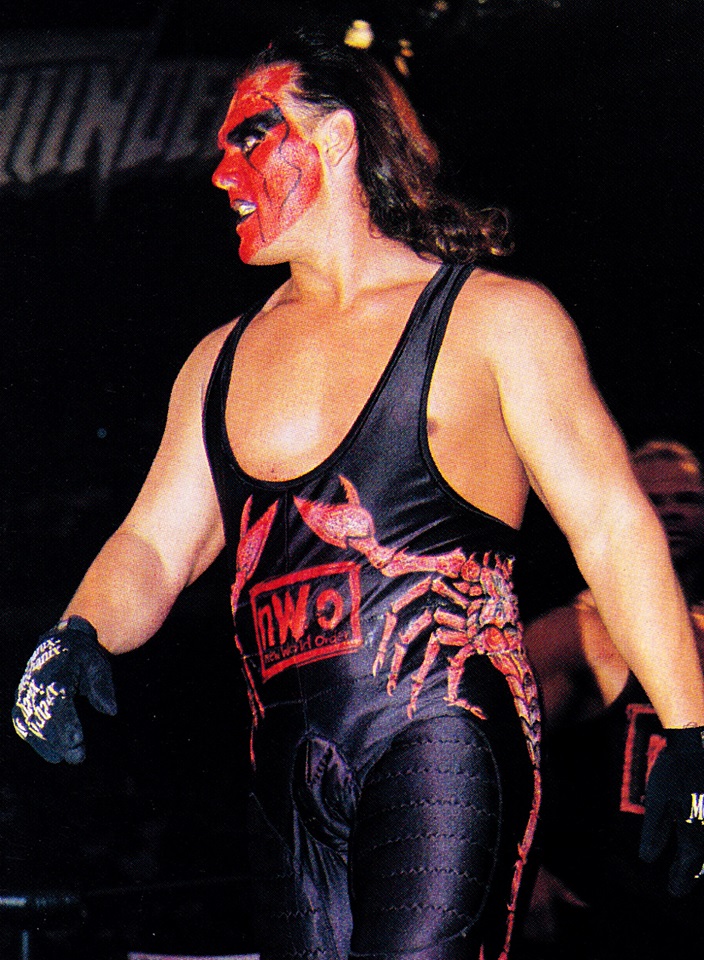 This began the character I like to call, Lobster Sting. Sting moved on past his black/white facepaint and opted for a hideous red and black look instead. After joining the Wolfpac, Sting also completely ditched the quiet stoic character in favor of a louder, more charismatic character. He also sprouted a goatee to fully complete his new, cool look.
In the late summer of 1998, Sting embarked in a feud with Bret Hart, which culminated at Halloween Havoc, where Bret won by attacking Sting with a baseball bat. This vicious assault put The Lobster out of action, ending his nWo affiliation altogether.
Sting's story, of course, has a happy ending. He returned in his black and white gear in April of '99 and remained a main-eventer in WCW until November of 2000, when a rotator cuff injury sidelined him until WCW's closure in March of 2001. He returned to the wrestling industry in 2006 for Total Nonstop Action, where he became a four-time TNA World Champion and one of their most well-utilized veterans. TNA had a track record of hiring former WWE and WCW wrestlers who just came in the earn a paycheck and ride roller coasters at Universal Studios while putting in almost zero effort. Sting was the opposite for them. He returned to the business to help TNA grow and simply because he wanted to wrestle, which is extremely admirable.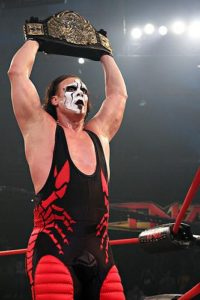 In 2014, after twenty-nine years in pro wrestling, Sting joined the WWE. His WWE run, while brief, was extremely memorable and allowed Sting to have a featured match at WrestleMania, something he always deserved. Even if he did lose….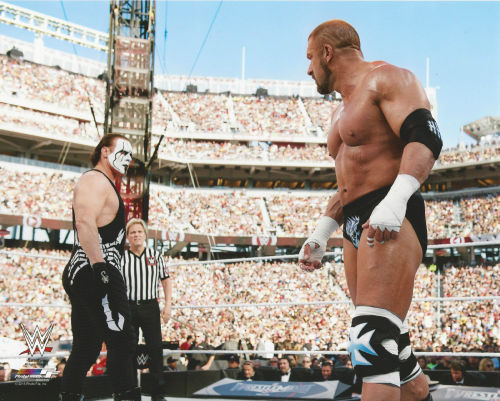 The story of Sting is a hard one to fully understand without putting yourself in that time period. If you lived through it, then you know the heartbreak. If you're like me, you've lived it with the benefit of hindsight, and it hurts even more.
Sting was the savior of WCW. He failed in saving it, to no fault of his own. To anyone who wants to debate if Sting was a "draw," go back and watch any given episode of Nitro from 1997. Look at the crowd and listen to the response Sting would get. If he had that momentum and popularity, he could have carried WCW to even greater heights than they achieved.
I would put Sting's popularity in '97 up against Goldberg, The Rock and yes, even Austin in during the peak of their careers. But sadly, the ego of one selfish, balding, failed movie star helped snuff out the bright star before it eclipsed his own. People always ask, "What went wrong with WCW?" To me, it all started with Sting in '98. Sting, the heart and soul of WCW, was a failure in his mission to save WCW. When he joined the nWo, he lost his credibility.
And when Sting lost his credibility, so did WCW. That's when the company fell. And that's when the vigilante fell.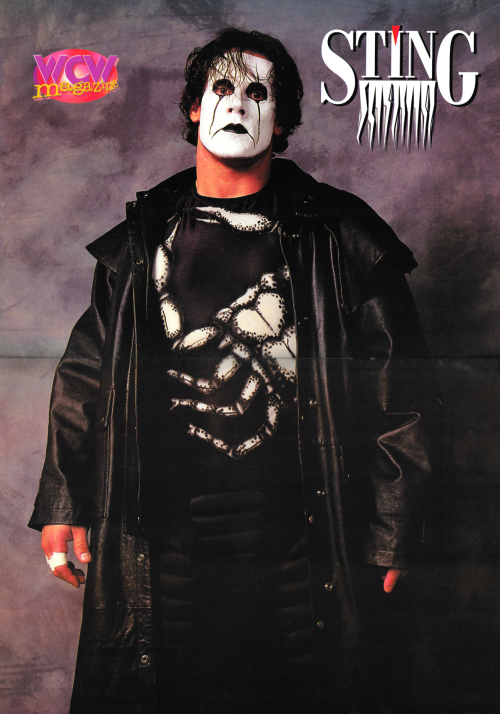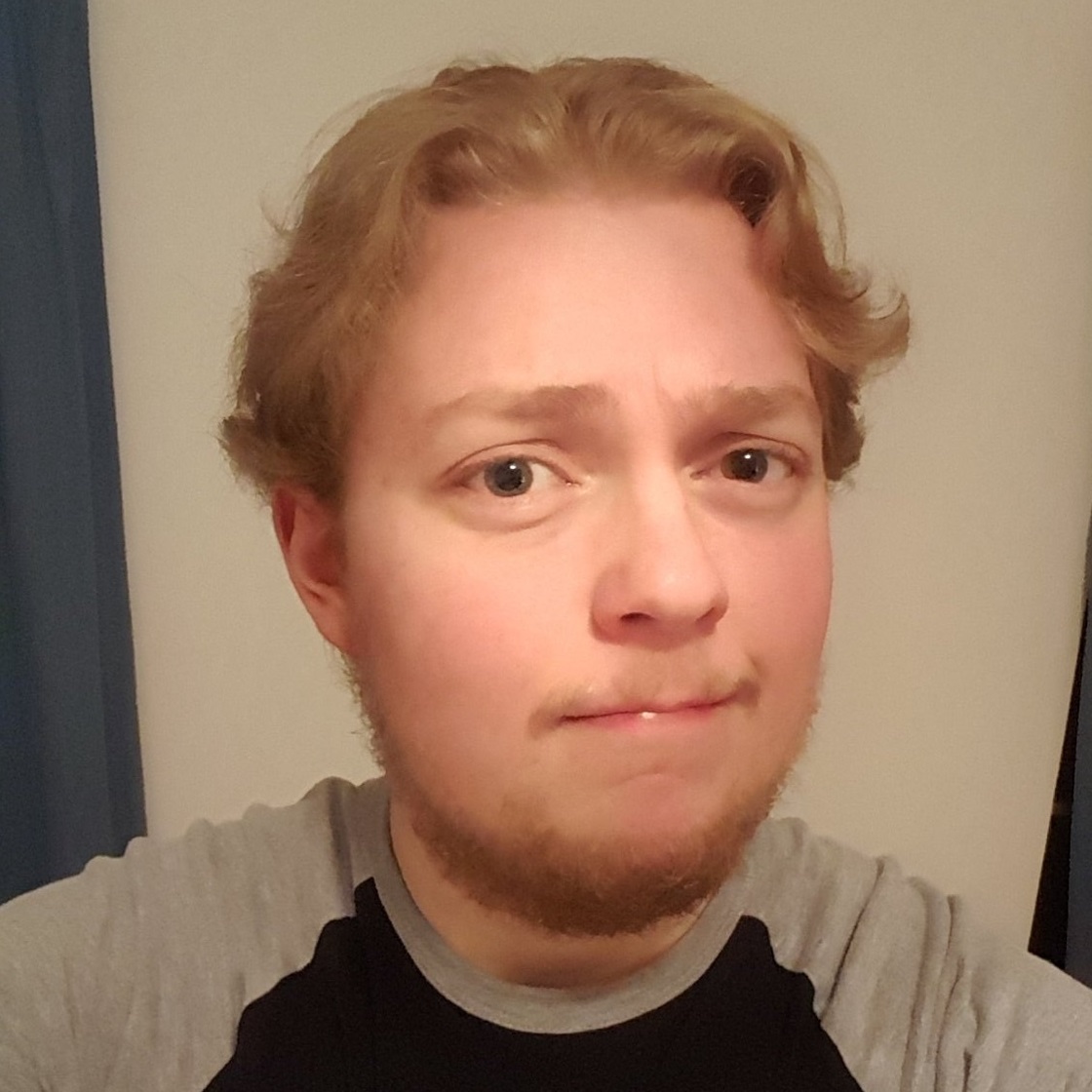 White hummer enthusiast, Tony Schiavone super-fan and the youngest WCW fan on the internet! Though my memories of watching WCW live are very few, my love and admiration for the company and brand run deep. I'll be writing all sorts of interesting (hopefully) columns and opinion pieces about various WCW shows, many of which I may be watching for the first time. Proud to be on the website, where the big boys play!