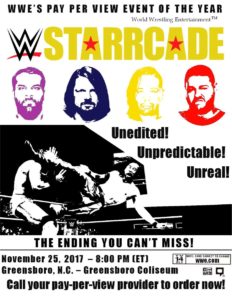 March 26, 2001. The day WCW died. For all intents and purposes, all relics and brands associated with World Championship Wrestling died that day as well.
…except they didn't.
For the past sixteen years, the WWE, who purchased WCW in 2001, have been slowly picking at the corpse of the Atlanta based promotion. At this point, you'd think it would be nothing more than a skeleton. Yet, the Fed has found some more meat.
Beginning in 1983, Starrcade was the biggest show of the year for the company that eventually became known as WCW. The "Nature Boy" Ric Flair vs Dusty Rhodes (1984), Hollywood Hogan vs Sting (1997), Kevin Nash vs Goldberg (1998); WCW saved their biggest stories and matches for Starrcade. It was their World Series. It was their Super Bowl. Their World Cup.
Starrcade was WCW's WrestleMania. Except they did it first.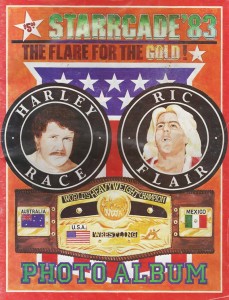 WWE recently announced that on November 25th in Greensboro, North Carolina, Starrcade will be resurrected. WCW's premier annual event, is having one more run in the sun.
But… why?
Only a few days before the announcement of this miraculous resurrection, Pro Wrestling Sheet reported WWE was toying with the idea of using WCW's pay-per-view names for their own Network Specials. With the exception The Great American Bash from 2004-2008, the WWE has yet to use any WCW pay-per-view or television names for their own product, despite us fans clamoring for it. I don't know how many people lose their minds every October demanding for a revival of Halloween Havoc. Or how many times I've thought to myself, "Man, how cool would it be if WWE did a Spring Breakout show on the beach one year?"
I woke up one morning and boom, there it was. November 25th, SmackDown Live Presents: WWE Starrcade. It will be emanating from the Greensboro Coliseum, in Greensboro, North Carolina; the same building the first Starrcade took place all the way back in 1983.
I had… conflicting emotions, to say the least.
In all honesty, my first reaction was excitement. In live in upstate South Carolina, so Greensboro is only about three hours away from me. I'm going to Starrcade. That's a surreal sentence I never thought I'd say.
After I kinda calmed down, it hit me.
Vince McMahon is doing Starrcade.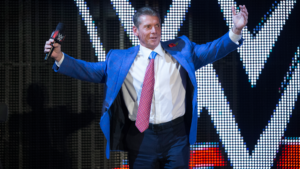 Now look, you can debate me until you're blue in the face about how, "Triple H is in charge!", or, "Vince doesn't care about SmackDown!"
The bottom line is this: Vince McMahon still has the final say in EVERYTHING that happens in the WWE. Vince runs Raw, Vince runs SmackDown and Vince runs NXT. It's his company, and it always will be until the day he draws his final breath. Therefore, Vince McMahon, who nearly lost his business and livelihood to WCW, is presenting a resurrected version of his competition's biggest show. And as history will tell us, Vince McMahon hates WCW. So thus, I'm a little nervous about how Starrcade 2017 will turn out.
My concerns begin with… eww… SmackDown. Now, I mean no disrespect to the extremely talented folks on the roster, but it is the WWE's B-show. I guess the feeling due to the WCW connection is that Starrcade was, "once a B-show, always a B-show."
My second point of contention is that as of the writing of this article, it is not confirmed that Starrcade will even be airing on the WWE Network. At this point, it's a glorified house show.
Starrcade… is a house show.
In other words, "Fuck WCW, I won!!!" – Vince McMahon (probably)
Now granted, things can always change. Tomorrow morning I could wake up and see, "WWE Starrcade: airing live on the WWE Network!", but the damage has been done.
If you're going to use the Starrcade name, do it justice. Don't do it just because you can. Put some love and passion into it. The same love and passion Dusty Rhodes and Jim Crockett Jr showed it nearly thirty-five years ago.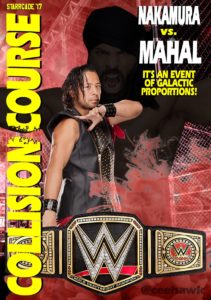 In a bit of happy news however, WWE is currently advertising NWA/WCW legends like Ricky "The Dragon" Steamboat and The Rock N' Roll Express to appear at Starrcade. Hell, the RNR Express ARE EVEN HAVING A MATCH against Luke Gallows and Karl Anderson on the show!! If this show does end up being a full on tribute to the Crockett era of WCW, then I'm all for it.
WWE Starrcade, if done correctly, could even be the WCW One Night Stand we never got. Why not bring out Arn Anderson, Tully Blanchard, Barry Windham, Jim Cornette, David and Jim Crockett Jr., Tony Schiavone and Sting for a reunion segment? Hell, this show could even act as the "Nature Boy" Ric Flair's big comeback following his recent illness, should his health permit him to appear.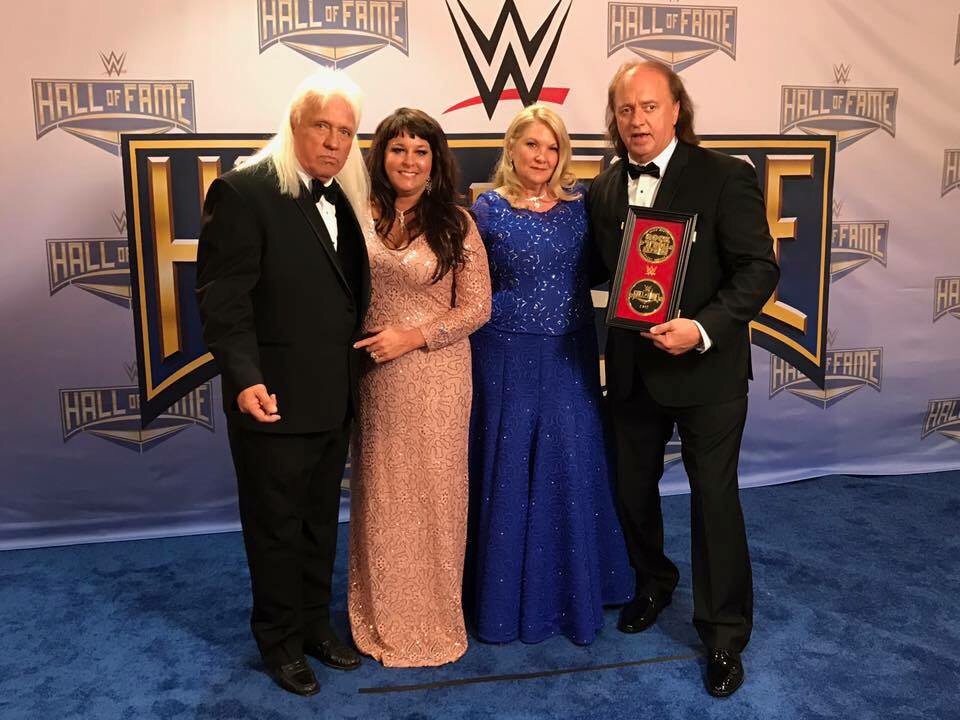 Now, if this show were taking place in October and was called Halloween Havoc, I might not have any problems with it. I mean, as long as the set had some tombstones and giant inflatable pumpkins included (and it was on the Network), it'd be great!
My biggest problem with this show is it's goddamn name. Why Starrcade?
Starrcade wasn't just another pay-per-view, it was the original pay-per-view. Despite what the WWE's revisionist history will tell you; without Starrcade, there is no WrestleMania. This is an indisputable fact.
Just having Starrcade on a random house show as a poorly promoted throw away, feels like an insult to the show's legacy. Granted, WCW did a great job or ruining the show's reputation in its final two years but still. It just feels like some sort of a compromise. It's as if Triple H pestered Vince about doing Starrcade for several years, only to have Vince finally blow up at him and yell, "Goddamnit pal! Fine, we'll do it. But it's not gonna replace RoadBlock!!"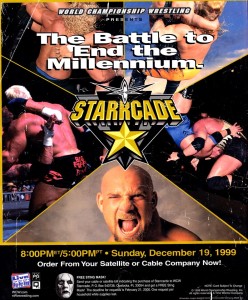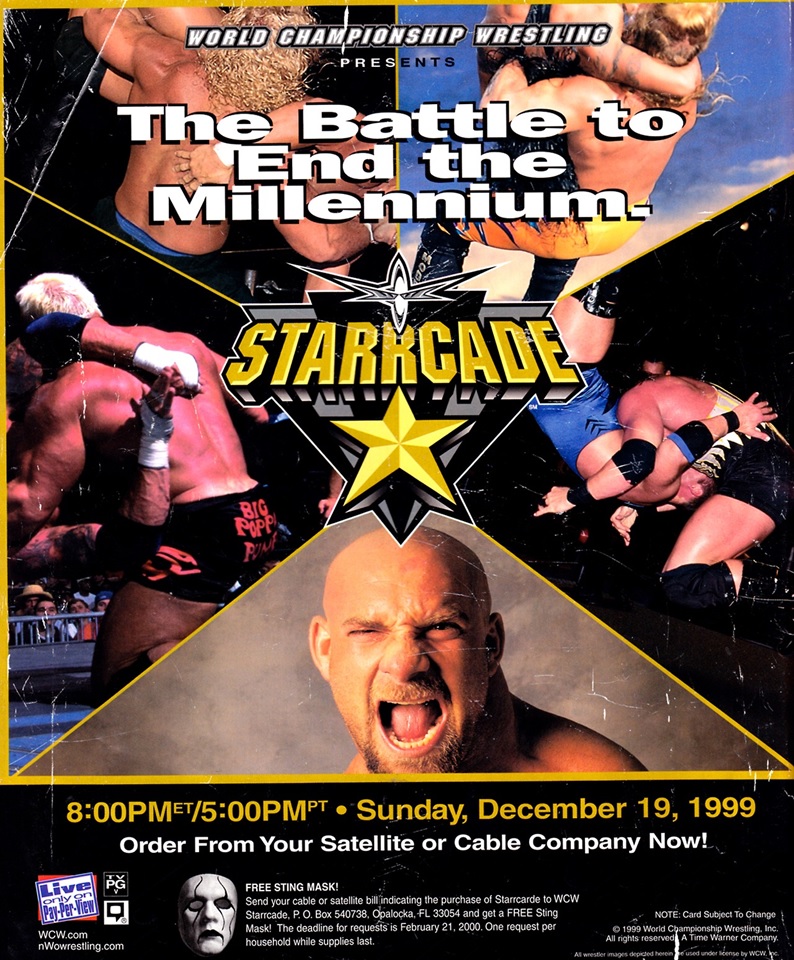 I'm happy to see the WWE finally acknowledging WCW's legacy on a grander scale than just archival footage on DVD or YouTube. I just can't help but feel that we, as WCW fans, need to temper our expectations. I'm expecting an average show on par with the other SmackDown pay-per-views from this year. Regardless, the WWE has my money. I'm attending this show, and I'm sure I'll have a good time. And if this show wasn't called Starrcade, would I go? Honestly?? Probably not. So, kudos to WWE for their clever marketing. If nothing else, WWE has done a spectacular job getting all of us nerds talking about a random SmackDown house show.
And hey, it's not like the other Starrcade shows aren't going to exist after this show takes place.
Now the real question is: Does the WWE have the balls to remake the finish of Hollywood Hogan vs Sting from Starrcade '97 for its 20th anniversary?
Oh shit… I just gave them an idea didn't I?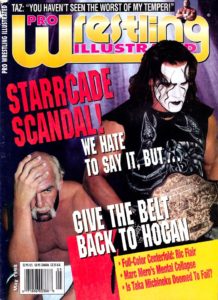 This and all of my future articles are dedicated to my late friend, Presli Whitfield. She loved wrestling the same as all of us. She was the best person I've ever known. If you can, please donate to her GoFundMe page, it will help her family out tremendously.
I love you, Presli.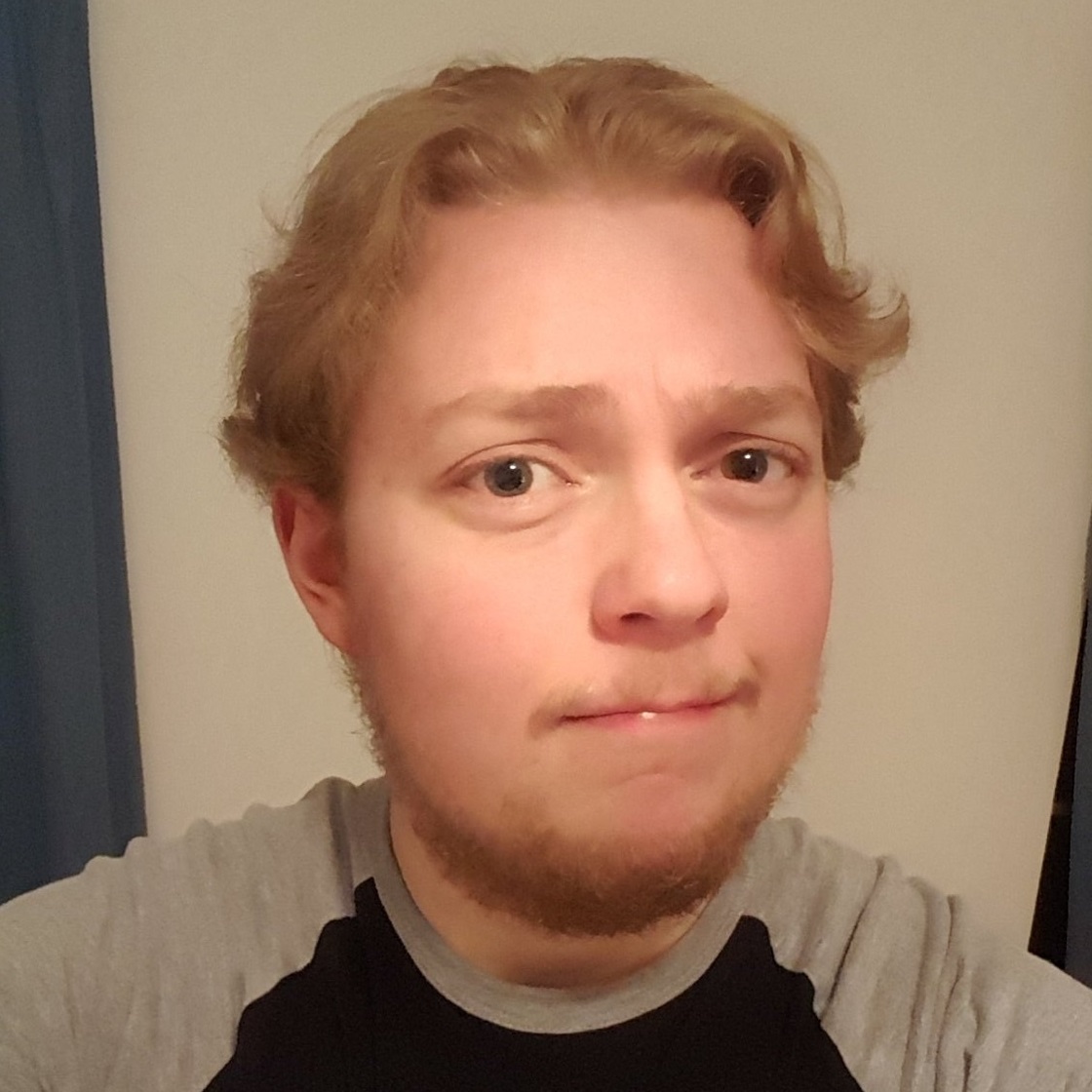 White hummer enthusiast, Tony Schiavone super-fan and the youngest WCW fan on the internet! Though my memories of watching WCW live are very few, my love and admiration for the company and brand run deep. I'll be writing all sorts of interesting (hopefully) columns and opinion pieces about various WCW shows, many of which I may be watching for the first time. Proud to be on the website, where the big boys play!