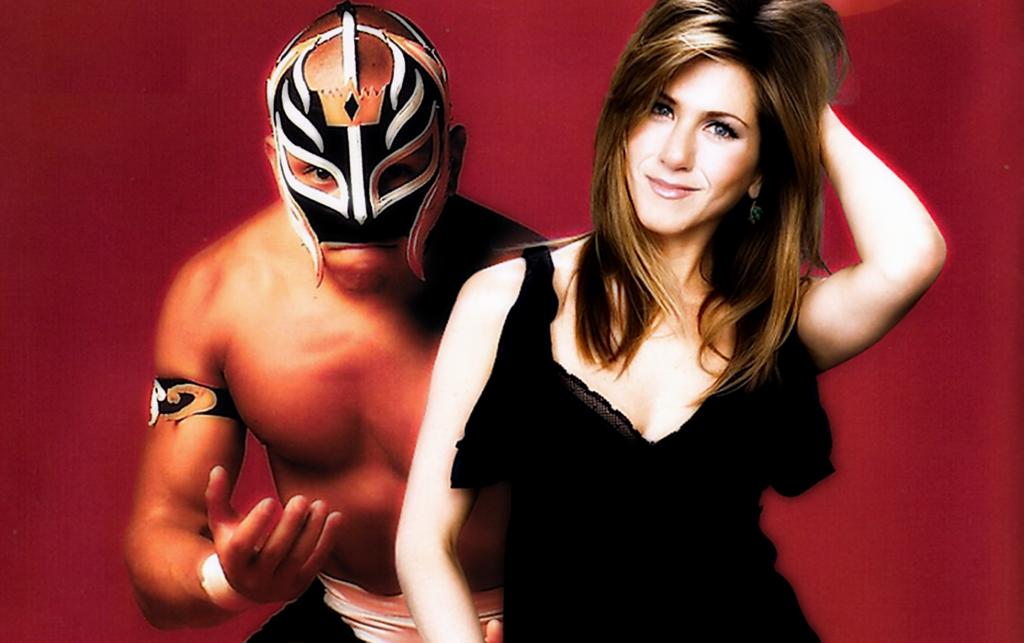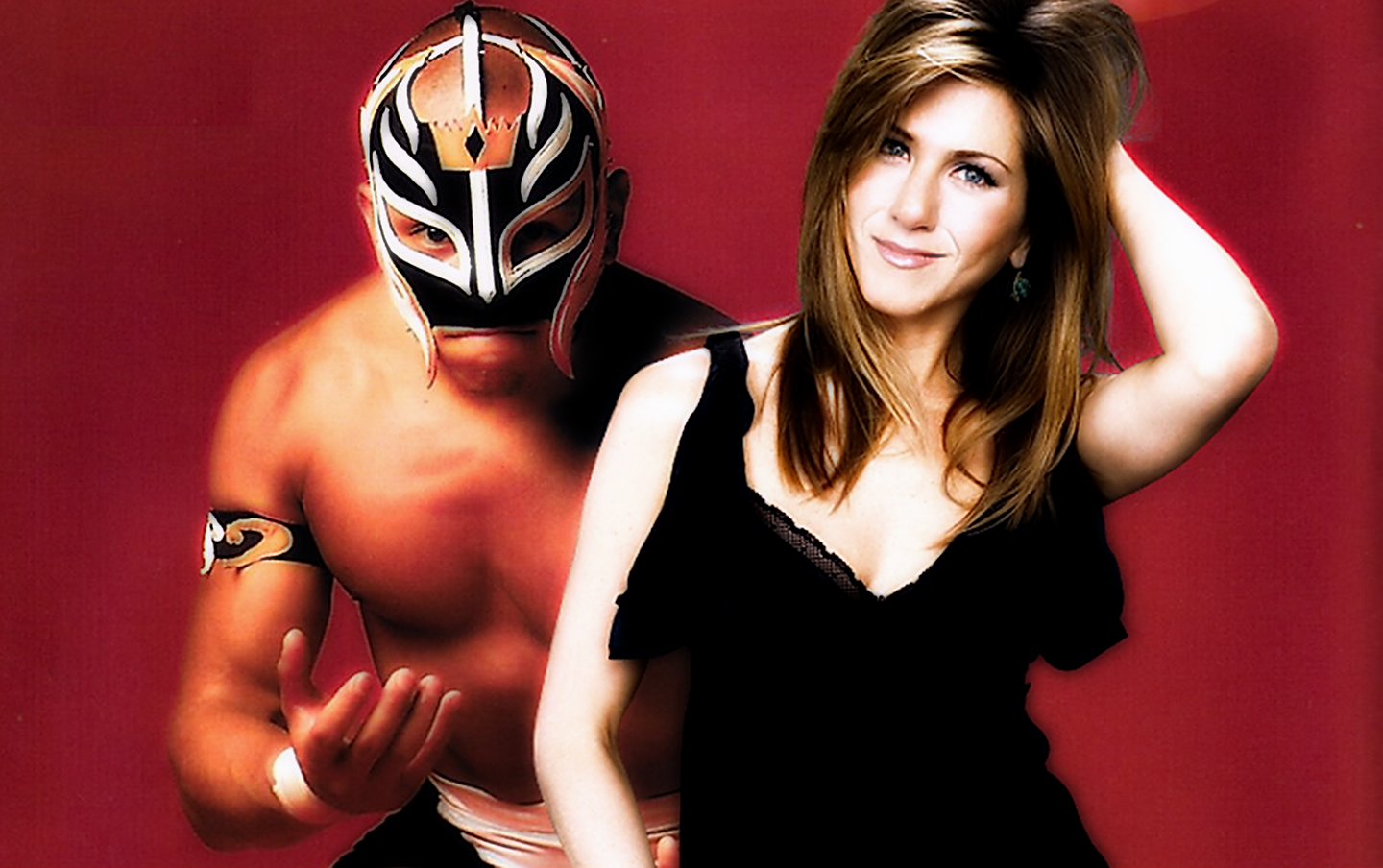 What?
Is this something you've never heard about??
Mystery: Did WCW Cruiserweight Rey Mysterio Jr. and Friends star Jennifer Aniston had a romantic fling during the height of her television stardom??
This isn't some sort of Internet rumor that has survived online since the Monday Night War, this is actually something that had a *little* bit of weight behind it. And by weight, I mean that it was an actual item that ran in the gossip tabloid National Enquirer: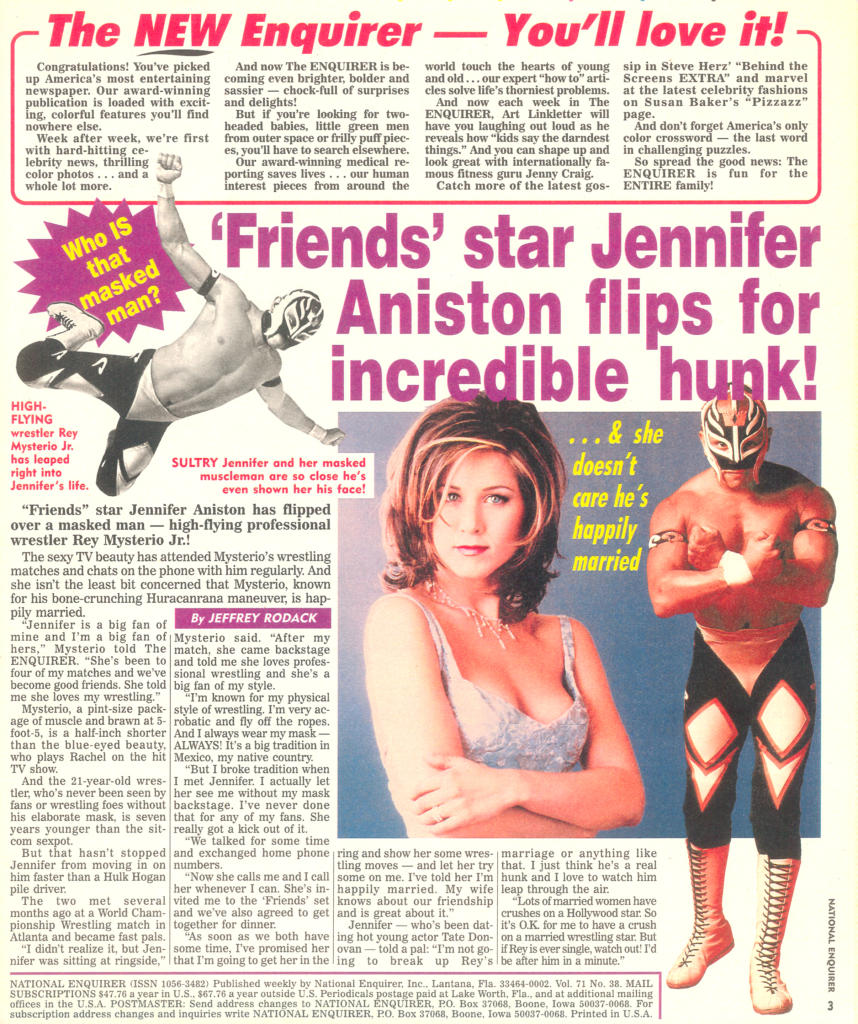 "'Friends' star Jennifer Aniston flips for incredible hunk!
By Jeffrey Rodack
Friends star Jennifer Aniston has flipped over a masked man — high-flying professional wrestling Rey Mysterio Jr.!
The sexy TV beauty has attended Mysterio's wrestling matches and chats on the phone with him regularly. And she isn't the least bit concerned that Mysterio, known for his bone-crunching Huracanrana maneuver, is happily married.
'Jennifer is a big fan of mine and I'm a big fan of hers,' Mysterio told The ENQUIRER. 'She's been to four of my matches and we've become good friends. She told me she loves my wrestling.'
Mysterio, a pint-size package of muscle and brawn at 5-foot-5, is a half-inch shorter than the blue-eyed beauty, who plays Rachel on the hit TV show.
And the 21-year-old wrestler, who's never been seen by fans or wrestling foes without his elaborate mask, is seven years younger than the sitcom sexpot.
But that hasn't stopped Jennifer from moving in on him faster than a Hulk Hogan pile driver.
The two met several months ago at a World Championship Wrestling match in Atlanta and became fast pals.
'I didn't realize it, but Jennifer was sitting at ringside,' Mysterio said. 'After my match, she came backstage and told me she loves professional wrestling and she's a big fan of my style.
'I'm known for my physical style of wrestling. I'm very acrobatic and fly off the ropes. And I always wear my mask — ALWAYS!! It's a big tradition in Mexico, my native county.
'But I broke tradition when I met Jennifer. I actually let her see me without my mask backstage. I've never done that for any of my fans. She really got a kick out of it.
'We talked for some time and exchanged home phone numbers.
'Now she calls me and I call her whenever I can. She's invited me to the 'Friends' set and we've also agreed to get together for dinner.
'As soon as we both have some time, I've promised her that I'm going to get her in the ring and show her some wrestling moves — and let her try some on me. I've told her I'm happily married. My wife knows about our friendship and is great about it.'
Jennifer — who's been dating hot young actor Tate Donovan — told a pal: 'I'm not going to break up Rey's marriage or anything like that. I just think he's a real hunk and I love to watch him leap through the air.
'Lots of married women have crushes on a Hollywood star. So, it's O.K. for me to have a crush on a married wrestling star. But if Rey is ever single, watch out! I'd be after him in a minute.'"
The very idea of the married Rey Mysterio Jr. having some sort of an emotional or physical affair with one of the biggest stars of television is laughable, but this could all plausible, right? We've got some info to go on here in the Enquirer piece. I mean, there's a slight chance that Aniston was in attendance for the March 3rd WCW Monday Nitro and fell hard for Mysterio after seeing him defeat Mr. JL at the Omni. It could have happened!
The reality is that none of this was true. National Enquirer would run absolute nonsense but they weren't on the level of Weekly World News with stories about demonic Bat-Boys or Ric Flair secretly running foreign policy for the Bush administration: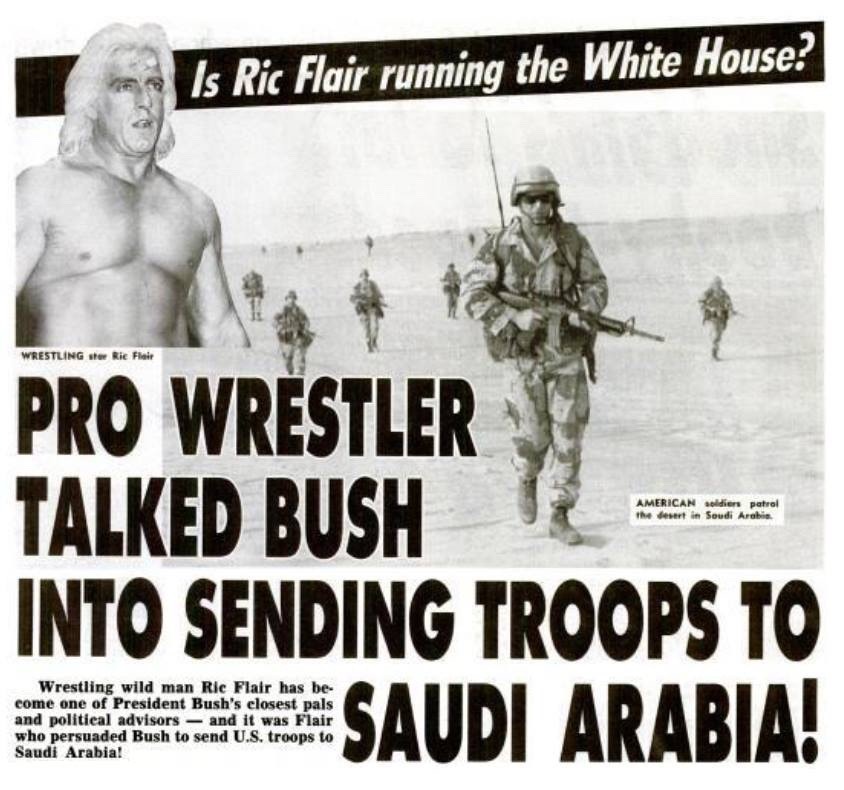 Instead, they tried to have stories about Tinsel Town, celebrities and national scandals that could be probable. They had no issues intensely demonizing the family involved in the JonBenet Ramsey case with stories filled with baseless claims, but as long as the articles felt that they could be true, that was good enough for the Enquirer. Looking back, it seems like Dave Meltzer actually beat the rag to the story by talking about the rumor a week before the magazine hit stores:
Dave Meltzer: If there is anything that comes out anywhere (and this may wind up in something like the 'National Enquirer') regarding Rey Misterio Jr. and one of the women from the cast of 'Friends', it is a 100% work. – 'Wrestling Observer' [March 31st, 1997]
Meltzer continued the following week in the Wrestling Observer:
Dave Meltzer: The 'National Enquirer' did run the piece this week regarding Mistero Jr. and Jennifer Aniston, but there's absolutely nothing to that one. It was just an attempt, which succeeded, to get Mistero Jr. some pub since WCW wants to push him big-time. If that's the idea, one would think they'd figure out how to book him effectively like not use him against guys who expose his lack of size or have him lose on five straight PPVs. – Wrestling Observer [April 7th, 1997]
Big Dave might have had a point here since Rey Mysterio Jr. was coming off two consecutive PPV losses (not five) in-a-row to WCW World Television Champion Prince Iaukea. Don't worry, Steven Regal would lose to Iaukea on PPV as well the following month.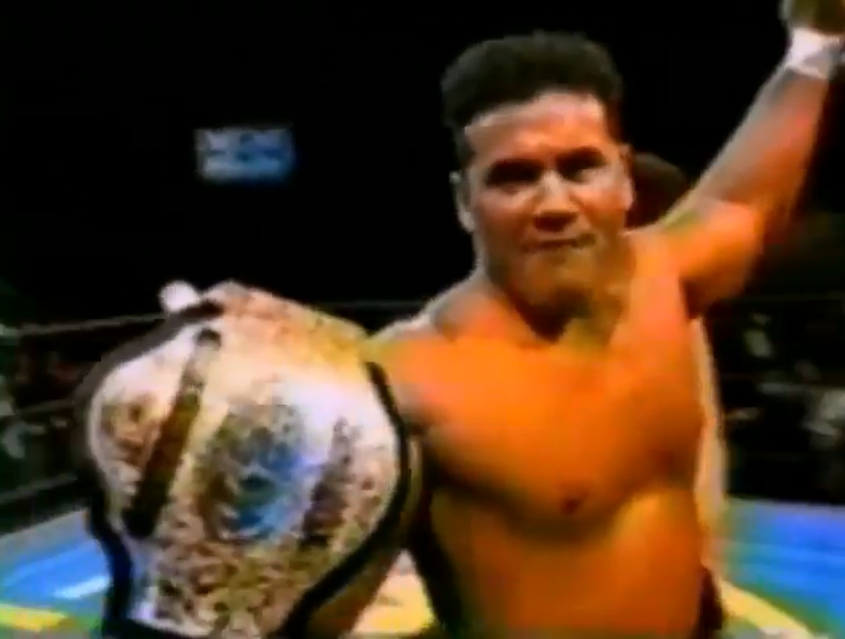 So, did the National Enquirer just make up this story outright or was there some sort of prodding from executives within World Championship Wrestling? That answer isn't exactly clear as Eric Bischoff ended up denying he had any involvement with the story a full twenty-two years later on his podcast 83 Weeks:
Eric Bischoff: "I have no idea where [this story] came from, and I'm not being a smart ass here. I'm not trying to be funny or coy. I have no idea. I'm not even sure WCW had anything to do with that. They may have, I don't know. We didn't work on a regular basis with the 'National Enquirer'. The only publication, you know we're talking mid 90's, it was one of the only publications out there that had more credibility than the 'Wrestling Observer'. That being said, we weren't working with them on a regular basis, so I'm not sure where that came from. It might have been true, who knows!?" – '83 Weeks' [2020]
***
Eric Bischoff: "[A]t that time, it would've been probably Alan Sharpe [WCW Director of Public Relations]. He had the best contacts outside of Atlanta, but I don't think Alan ever had a contact with 'National Enquirer' because we never really engaged with them prior to that. We didn't engage with them after that. It had to come somewhere or maybe they just made the shit up. Who knows? [Maybe] they went to the Dave Meltzer School of Journalism and just figured, 'Fuck it. We're at 8,250 words, we need more words. I know! Rey Mysterio is fucking Jennifer Aniston! Cool! Run with it!' I don't know. I don't know where it came from." – '83 Weeks' [2019]
Two separate shows where Bischoff discusses this, two separate digs against Dave Meltzer. I think the man might be obsessed or something.
Given the fact that Dave Meltzer had the story before the National Enquirer ever ran with it, I think it's safe to assume that this was something that came from within WCW. Since Meltzer didn't know exactly if it'd be the Enquirer themselves who would print it or someone similar, maybe it's also safe to claim that someone within WCW was fishing around to see who would bite. Since Eric Bischoff has never been shy about claiming himself responsible for anything that got his company any publicity, he probably wasn't involved in this one at all. Since it never really took off and was a pretty harmless tabloid piece that didn't harm the company/ratings in any way, there's no reason for Bischoff to lie about his involvement either.
Both Jennifer Aniston and Rey Mysterio would eventually comment on the Enquirer piece as well. Aniston brought up the "masked wrestler" gossip item in late 1997 while Mysterio himself included it in his 2009 book, Rey Mysterio: Behind the Mask:
Jennifer Aniston: "'What is the most outrageous thing the tabloids have printed about me?' she mused. 'Now, that's something to ponder. There have been some doozers. Well, they said I had a cat fight with Sandra Bullock and one or the other of us had to go to the hospital. I forget which one. Then they said I was dating this masked wrestler named the Phantom and that no one knew who he was because he wore the mask. I never met a wrestler in my life.'" – The Buffalo News [August 10th, 1997]
***
Rey Mysterio: "But fame can be a strange thing. People tell stories and rumors about you that aren't true, and the next thing you know, everyone believes them.
I remember in 1997 there were some stories going around that I was dating Jennifer Aniston, the actress who at the time was in the popular TV show 'Friends'. The 'National Enquirer' even printed a story about how we were an item.
I have no idea what that was about or where it came from. Maybe somebody wanted to get my name out there and started the rumor. Anyways, I thought it was funny. I even showed the story to my wife — best coming from me, no?
The locker room got on me for it.
'Hey, Rey, what's up with you and Jennifer?' someone would ask.
'What do you mean?' I answered. 'What's up?'
They wouldn't let it die. Over the next few weeks and months they were ribbing me in all sorts of ways. I'm lucky Photoshopped pictures of me and Jennifer didn't appear on television somewhere.
That's the boys.
One thing I never let on about: I was the first guy to grab the magazine. And I still have a copy." – Rey Mysterio: Behind the Mask [2009]
So in case that wasn't enough to convince you, let's go to former WCW announcer and current Impact Wrestling announcer David Penzer for the final say on the matter via Twitter DM:
"I have no memory of Jennifer Aniston EVER being at a WCW event, and I was at almost every one, certainly every one that she would have been at. I call BS."
There you have it.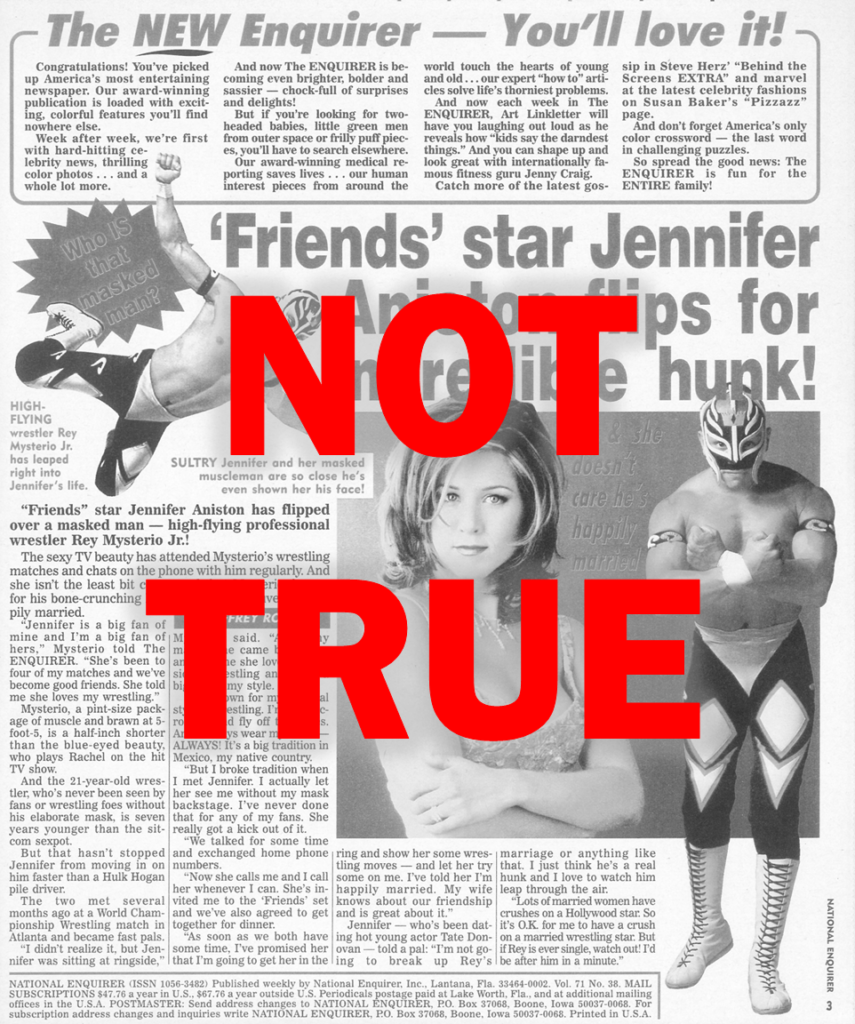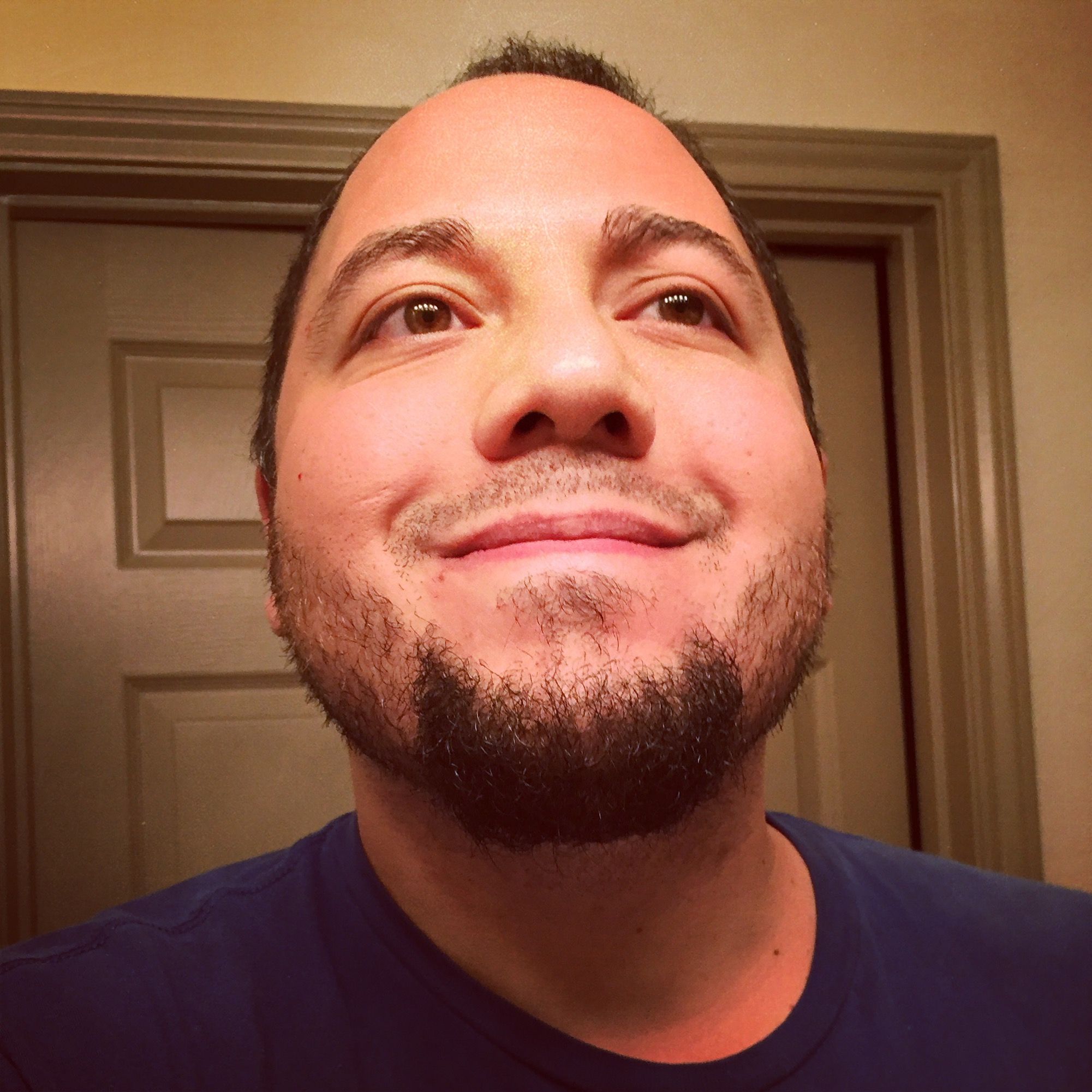 38-year-old World Championship Wrestling fanatic/collector/hoarder. Safety officer by day, scanner of wrestling magazine by night.
He's got posters on the wall, his favorite rock group's KISS.