Marquis of Queensbury Cup – Ric Flair vs Lord Steven Regal – Playlist
Sometimes, it's easy for us as fans to guffaw at some of the gaffes that WCW produced over the years. As much as we loved WCW, it's hard to turn a blind eye to some of the silliness and incompetence they showed.
Which begs the question, why do we love WCW?
The embedded video is one of the reasons why. This week in 1994, WCW Worldwide presented the first and only Marquis of Queensbury Cup pitting WCW World Champion Ric Flair vs WCW TV Champion Lord Steven Regal.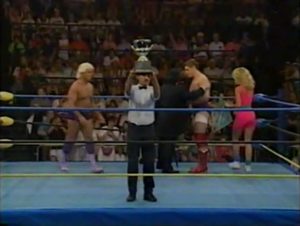 The MoQC was a five round series inspired by World of Sport out of England. Each round was five minutes long and a new round was held each week. In the event a decision wasn't rendered, the judges ringside would determine the winner. The judges were WCW referee Jimmy Jett, Sgt Craig Pittman (roughly a year before he'd be wrestling on WCW TV full time), with the third judge comprised of a rotating cast of characters including Grizzly Smith, Terry Taylor (not to be confused with the pride and joy of #TerryTuesday Terry Funk), and Randy Pee Wee Anderson. Apparently, Tony Weeks and Cecil Peoples weren't available.
The matches were largely mat based chain wrestling which was a refreshing change of pace from squash matches and the sometimes clumsy main events WCW would feature. It was also interesting seeing this style showcased in front of the fans at Disney MGM of all places.
The MoQC went all five rounds with the final round emanating from the rare outdoor venue that WCW Worldwide presented shows from in the summer of 1994.
Another nice touch was ring card girls holding up Slamboree signs which helped with the big fight feel. Certainly a big difference from the Rosatti sisters liking it RAW at the Manhattan Center.
The whole playlist clocks in at around 50 minutes and it sure is interesting to see Ric Flair play it straight just before transitioning into his feud with the incoming Hulk Hogan.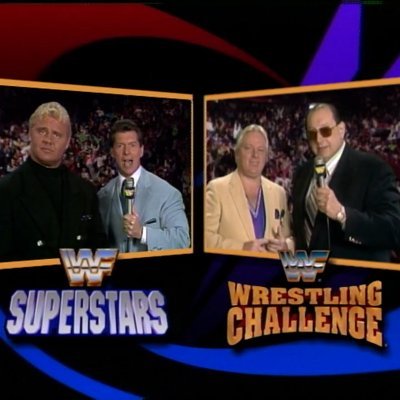 A Gorilla Monsoon mark who has a YouTube channel that ironically features more WCW matches than WWF ones. @Monsoon_Classic