"The Hottest Band in the World" meets World Championship Wrestling. An easy slam-dunk with WCW being in Las Vegas for WCW Monday Nitro, people will buy tickets in droves for a wrestling show plus a bonus KISS concert! Fans at home will love it too right?
"KISS bombed in the ratings despite their live appearance being pushed for a few weeks. That could spell the end of musical acts appearing on Nitro. The live event in Las Vegas didn't come close to selling out which was considered an early sign that the interest in seeing KISS at a Nitro wasn't as strong as some had hoped when the concept was first proposed." – PW Torch [August 28th, 1999]
"Whereas in the old days [Eric] Bischoff could comfort himself with the Tuesday-morning ratings report, they no longer gave him any relief. Nitro had drawn its lowest number in years, a 2.92. The KISS concert, as expected, bombed, doing a 2.25 rating. Nothing like spending half a million dollars to get a number like that." – 'The Death of WCW' [2004]
To be honest, I'm not sure why that was. I might be biased since KISS' appearance on WCW Monday Nitro introduced me to the band that I'd become quickly obsessed with as a fifteen-year-old in 1999. I mean, yes, I own all of the KISS albums several times over and am cursed with receiving any and all kitschy KISS Krap every KISSmas from my family… but their appearance wasn't THAT awful.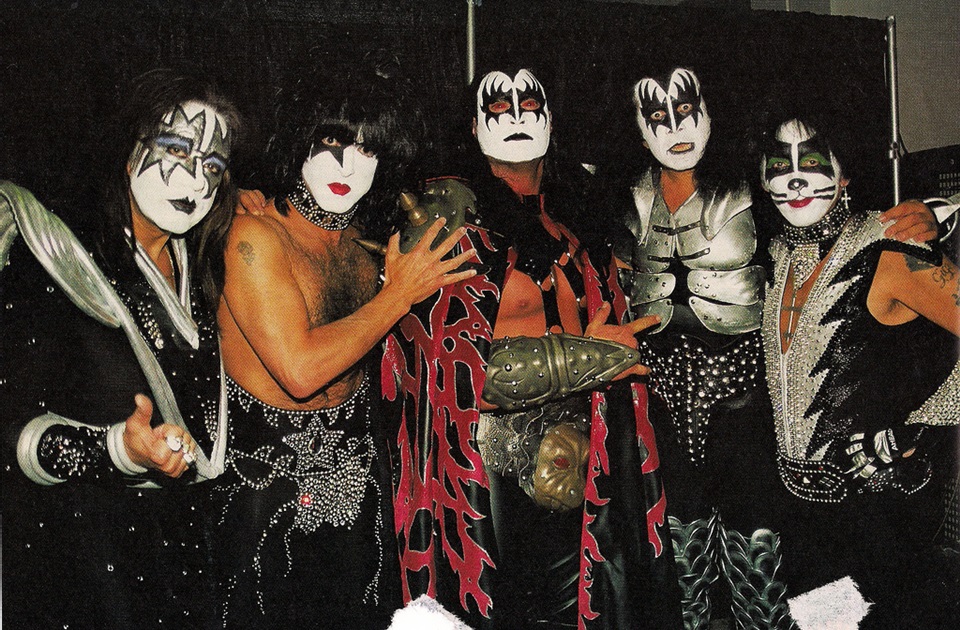 The Demon wasn't even that awful of a gimmick in a era when vampires, Mortal Kombat cosplayers and Juggalos were a weekly standard in the professional wrestling world. Yes, KISS did a poor job lip-synching to "God of Thunder" and yes, we all knew that it was nWo B-Team member Brian Adams under the grease-paint, but the pure concept of having a KISS-themed wrestler wasn't scraping the bottom of the barrel by any means. It was the actual deal around the KISS performance that might've done Eric Bischoff in, though.
ERIC BISCHOFF: "I'd met Gene Simmons of the rock band Kiss earlier in the year. We threw around different ways for us to work together. A lot of our ideas involved different licencing deals. Though the band had its heyday in the 1970s and '80s, it still had a huge following. To this day, Kiss has a fan base that will buy just about anything that has the Kiss name on it. It's a little like that 'Star Trek' thing.
Gene Simmons is a licensing and marketing machine. I have never met anyone who understands promotion to the extent that Gene Simmons does. We said if we're going to work together, we need a line of merchandise and collectables. If we could do that, the licensing end alone would be a good return on our investment. As part of our deal to work together, I brought Kiss onto Nitro. I overpaid for their appearance, but in the big picture to launch the Kiss/WCW merchandise, it made good sense." 'Controversy Creates Cash' [2007]
ERIC BISCHOFF: "As the Kiss relationship evolved, some people Harvey Schiller knew approached me about doing a WCW event on New Year's Day at the Fiesta Bowl. That gave me an idea.
This was in 1999, and everybody was talking about the "millennium bomb" — the supposed disaster that would strike when the clock struck midnight and the calendar rolled over to the year 2000. If you remember, there was a lot of craziness and paranoia about the computers and other electronic systems being unable to accommodate the new digits. I thought, 'Wow, what a great way to take advantage of this' — a Pay-Per-View that would air from nine to twelve on the West Coast. People could watch what happened as the clock struck midnight across the different time zones.
The Pay-Per-View would combine a Kiss concert with a WCW wrestling event. We'd call it New Year's Evil. It would be incremental revenue hitting our books, and more than make up for any short fall we were projecting at that time." 'Controversy Creates Cash' [2007]
Along with the KISS performance and the introduction of Brian Adams as The Demon wrestler, this New Year's Evil PPV event immediately caused tension backstage amongst wrestlers and WCW employees:
"WCW wrestlers and staffers are extremely upset that Eric Bischoff has booked a wrestling and concert combination PPV for New Year's Eve. As reported first two week's ago in the TORCH, Kiss's appearance on Nitro last month was an attempt to test the marketability of a proposed Dec. 31 PPV. Despite being a ratings flop, Bischoff went ahead and locked in plans last week for a full card of WCW matches to be co-featured with a Kiss concert live on New Year's Eve from Tempe, Ariz. at the 70,000 seat home of the NFL's Cardinals.
WCW already has a Dec. 19 Starrcade PPV and a January PPV scheduled. The New Year's PPVV is an added event, making it one of three WCW PPVs in the span of about five weeks. For a number of reasons, WCW wrestlers and production staff are more upset by the added PPV than anything in recent memory. A lot of the wrestlers and staffers, who previously believed they would have that day off, had made plans with friends and family to celebrate. Also, there is potential for Y2K computer problems and no one wants to be away from their family and friends during that time.
There is talk among wrestlers of a staging massive walk-out if WCW management insists they take part in the New Year's Eve PPV" – PW Torch [September 11th, 1999]
This massive WCW walk-out actually ended up getting close to happening due to Eric Bischoff blowing a gasket backstage and calling for an immediate talent meeting. At the Las Vegas Nitro, the same show KISS was brought in to perform on, Bischoff tore into various wrestlers for their use of profanities on WCW shows along with various negative comments made to the media through interviews and radio shows. Any talent there who was unhappy with being in World Championship Wrestling was offered an immediate release, if they wanted to take it:
"Bischoff said he would grant any unhappy wrestlers their release from WCW. Raven stood up and left the room, indicating he wished for his release. Bischoff then turned his attention to Konnan for using inappropriate language during a promo at a weekend house show, and Rey Mysterio Jr. for using the term "Hershey Highway" on last week's Nitro. He asked them what six-year-olds would think about the remarks. Konnan asked Bischoff what the difference is between what he said at the house show (to the Rednecks: "You haven't had pussy since pussy had you") and the language Randy Savage and Dennis Rodman had been using on Nitro. Bischoff avoided the question and instead chewed out Konnan for complaining too much. Konnan eventually stood up and apologized by saying, "What I said was stupid and I shouldn't have said it."
Later in the meeting, Bischoff ripped Buff Bagwell for his role in the pre-PPV fight he had with Ernest Miller by telling him to quit acting like a kid and start acting professionally. Bischoff also ripped on Public Enemy for recently voicing their opinion about having to do a job to Sid and refusing to take a double chokeslam. Bischoff concluded the meeting by telling the wrestlers that he plans on "kicking Vince's (McMahon) ass" and said WCW would do it with or without anyone in particular. Immediately following the meeting, several wrestlers made phone calls (including Raven, who is said to have called Paul Heyman within ten minutes of walking out) to see if either the WWF or ECW would be interested in their services.
While the WWF officially said they couldn't talk to anyone under contract because of tampering laws, some say there were indications given that they would be interested in several wrestlers should they gain a full release." – PW Torch [August 28th, 1999]
Raven would actually take up Bischoff on his offer and end up in ECW, while Konnan, Rey Mysterio Jr. and Kidman were eventually talked into staying with the promotion. All of the backstage tension along with the falling WCW ratings all culminated in the eventual dismissal of Eric Bischoff from his position as WCW president. By early September, Bischoff was ousted and Bill Busch was brought in as his successor. The KISS/WCW event was canceled soon after, but WCW ended up using the New Year's Evil name for their final Nitro of 1999. Instead of getting a free KISS concert, fans in Houston, TX ended up seeing Scott Steiner join the nWo 2000 in the go-home segment (a show I was actually in attendance for — I would've preferred KISS).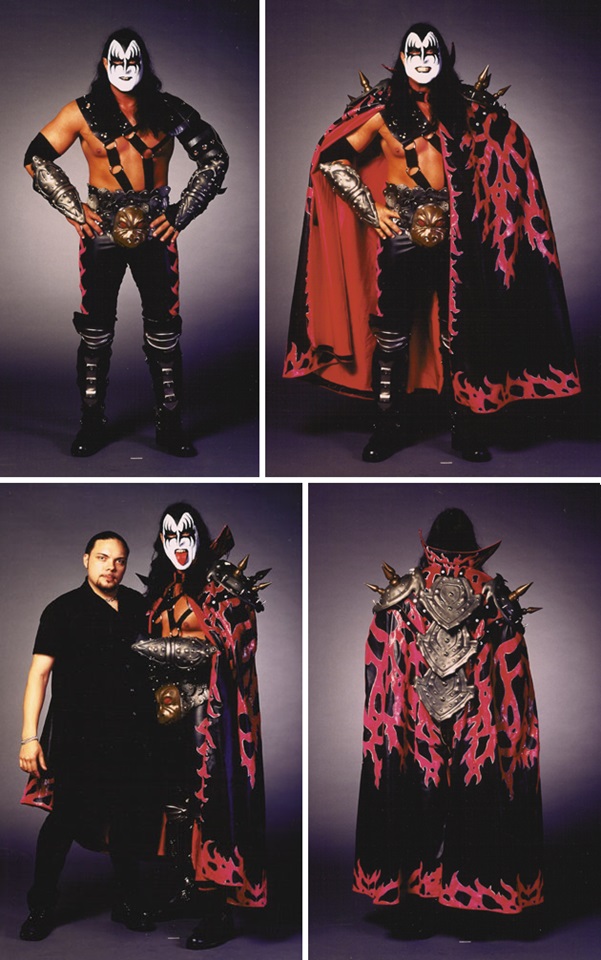 Throughout all this turmoil, the fate of The Demon character was in disarray. The character had originally been given to a trainee from the WCW Power Plant named Dale Torborg.
DALE TORBORG: "My brother brought home the [KISS] Destroyer record about when I was five years old, and I was hooked from that point on. Getting any opportunity to represent KISS or Gene was a dream come true and a thrill to be able to do it."  – Podcast Rock City [2013]
Torborg had already been seen on WCW television alongside Chad Fortune in the tag team The Pit Crew. Eric Bischoff and Gene Simmons both picked Torborg for The Demon character due to Dale being one of the few WCW wrestlers with a passing resemblance to Gene. After being told about his new gimmick and passing a dark match "tryout" to gain the gig from Bischoff, Dale Torborg ended up having the character pulled from him at the last moment.
DALE TORBORG: Gene, when he looked at the pictures, he said, "[Torborg's] the guy that looks the most like me. That's the guy."
I guess he kinda did some research, saw how big Kane was for the WWE, and said, "I want somebody as big as Kane."
Brian Adams was over 300 lbs. I was 260. He was 40 pounds heavier than me, and I guess that's when they said, 'We're gonna have to give it to Brian.'
So, Brian got the gig and Brian was one of the nicest people on the planet. Loved the guy, I thought he was awesome. So, I actually went out to Vegas when KISS did the whole Nitro thing, and I tried to help Brian with all the [Demon] mannerisms. He has no idea, doesn't know anything about KISS, or what Gene does. I really tried to help him do the best he can for the gimmick." – Podcast Rock City [2013]
With Eric Bischoff losing power so quickly after Brian Adams' debut as The Demon, whatever storylines that were in play were immediately scrapped. Adams would make only one more additional appearance in the facepaint on the following Monday Nitro to bizarrely interrupt Vampiro during his match against Evan Karagias: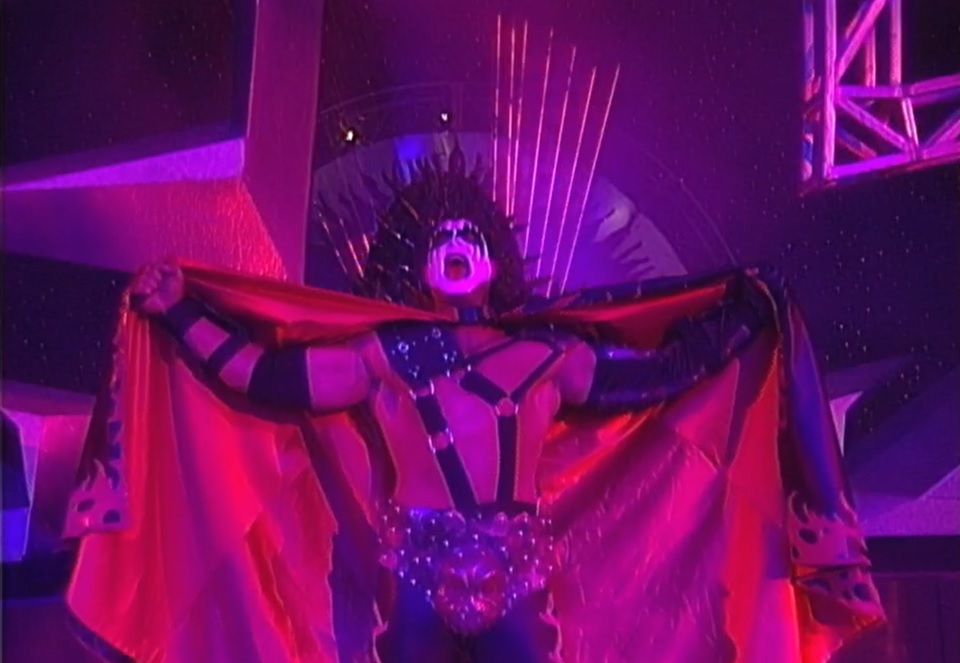 It seemed like all was lost for The Demon, but eventually Dale Torborg would get another chance to play the character. It would take six months, but The Demon returned to Nitro in February 2000 with Adams replaced with the leaner Torborg. According to Dale, Brian Adams immediately wanted out of The Demon gig due to not knowing much about KISS and feeling like he was forced into a gimmick he never wanted to do in the first place. All was seemingly right with the world with Torborg fulfilling a childhood dream being a member of KISS, but that'd immediately change once WCW laid out their plans for The Demon.
DALE TORBORG: "Right from the get-go, [WCW] tells me, 'You're doing us a favor. We're gonna bury this character to make Eric Bischoff look bad."
That's exactly what I was told. "You're doing us a favor. We're gonna put you under this facepaint and when this contract is done — for doing this for us, we're gonna reward you by pushing you in another character.' – Podcast Rock City [2013]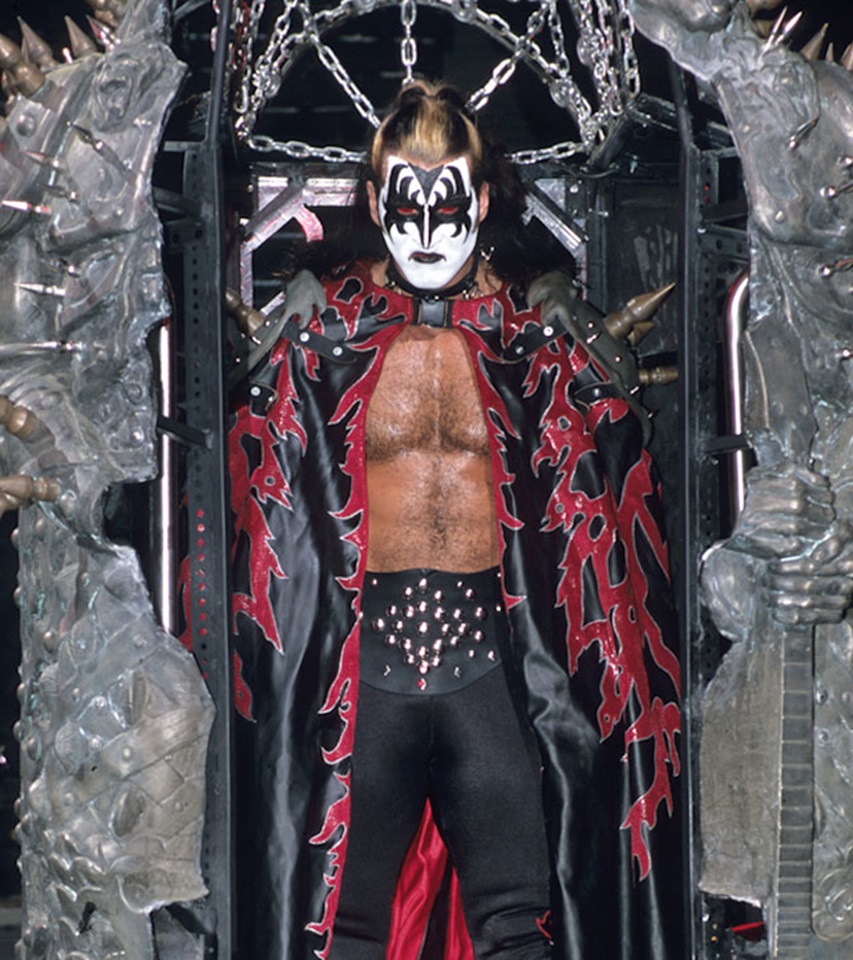 DALE TORBORG: "I get so ripped on the Internet because of the character, and it really doesn't matter. It's neither here or there but what people don't understand is, I had a chance to bail on the character really, really early in this whole thing. I had a choice not to take it, and I took it because I was a huge KISS fan. I could've bailed on it, just done what they said, finished the contract, and been pushed in another character just like they promised me that would happen, but I kept fighting for the character being a KISS fan.
I did not want to embarrass the character anymore than they were going to make it. They were going to make it look absolutely ridiculous. They were going to make this thing look horrible. I fought and fought — there was a time I got sent home for three months because I kept fighting for the character and [WCW] told me to shut hell up and go home." – Podcast Rock City [2013]
Due to The Demon being a leftover deal from the Bischoff era, WCW immediately sandbagged Dale Torborg. Regardless of any cheering The Demon received with his colorful appearance and spectacular blood-spitting entrance, he ended up losing more often on WCW television than anything else (unless you were the kind of fan who was still watching WCW Worldwide and WCW Saturday Night in 2000). Eventually, WCW moved The Demon alongside Vampiro for The Dark Carnival stable but Torborg would never achieve championship gold under the face-paint.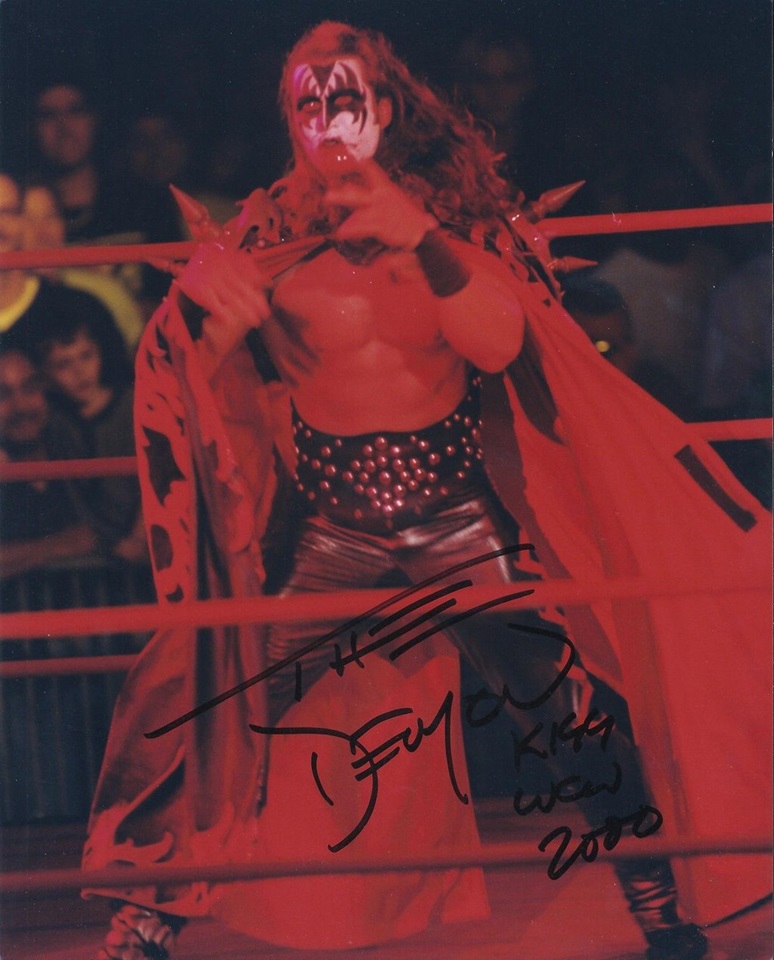 Even though The Demon was handicapped from achieving success in WCW, it seems that KISS fans still have a soft spot for the character. Torborg makes no excuses for continuing being a KISS fan today and makes it out to conventions and special events nowadays dressed up in makeup and costume. However, things could have been very, very different for The Demon if Eric Bischoff hadn't been tossed aside by Turner. In fact, Gene Simmons had envisioned KISS kompletely konquering the world of wrestling by having more than one grappler represent the glam-rock band.
GENE SIMMONS: "In 2000, I saw the enormous success of wrestling. For years I had been telling our legal people to send letters to various wrestlers to cease and desist using similar make-up. It became clearer and clearer to me that wrestling had simple become a KISS show. The character wore outfits and, even though they wrestled, the intros to the events were pure KISS. The pyro came right out of our shows.
We went down to New Orleans to be on the Superbowl TV extravaganza. While we were there I tracked down Linda and Vince McMahon, the owners and founders of World Wrestling Federation (later Entertainment). I invited them down and in my hotel room we started talking about KISS wrestlers. My idea was there would be a Demon — a guy who had "been to hell and back." And the Starchild, who looked real pretty. Everyone wanted to beat him, but because of his athletic skills no one could touch him.
Eventually there would be the female versions: Lady Demon and Wild Child, and Cat Girl and even Space Girl. They would be gorgeous, of couse, and no one would know what they looked like.
Eventually, both groups of wrestlers would meet and one of the couples might even have KISS Kids! Little kids in make-up.
Linda and Vince loved the idea. We started to negotiate right then and there. I told them I would get back to them. In the meantime, I also spoke with their competition, WCW, and they simply offered a better deal. We signed with them.
The Demon was born." – Sex Money KISS [2003]
Ignoring the original plan of having The Demon in the World Wrestling Federation, we got so close to having women like Madusa and Nitro Girl Spice as various KISSettes on WCW television. And The Starchild? Scotty Riggs was doing a narcissist gimmick at that time, who knows — maybe he could've been the one destined to don the facepaint.
If only.
KISS and The Demon Photo Gallery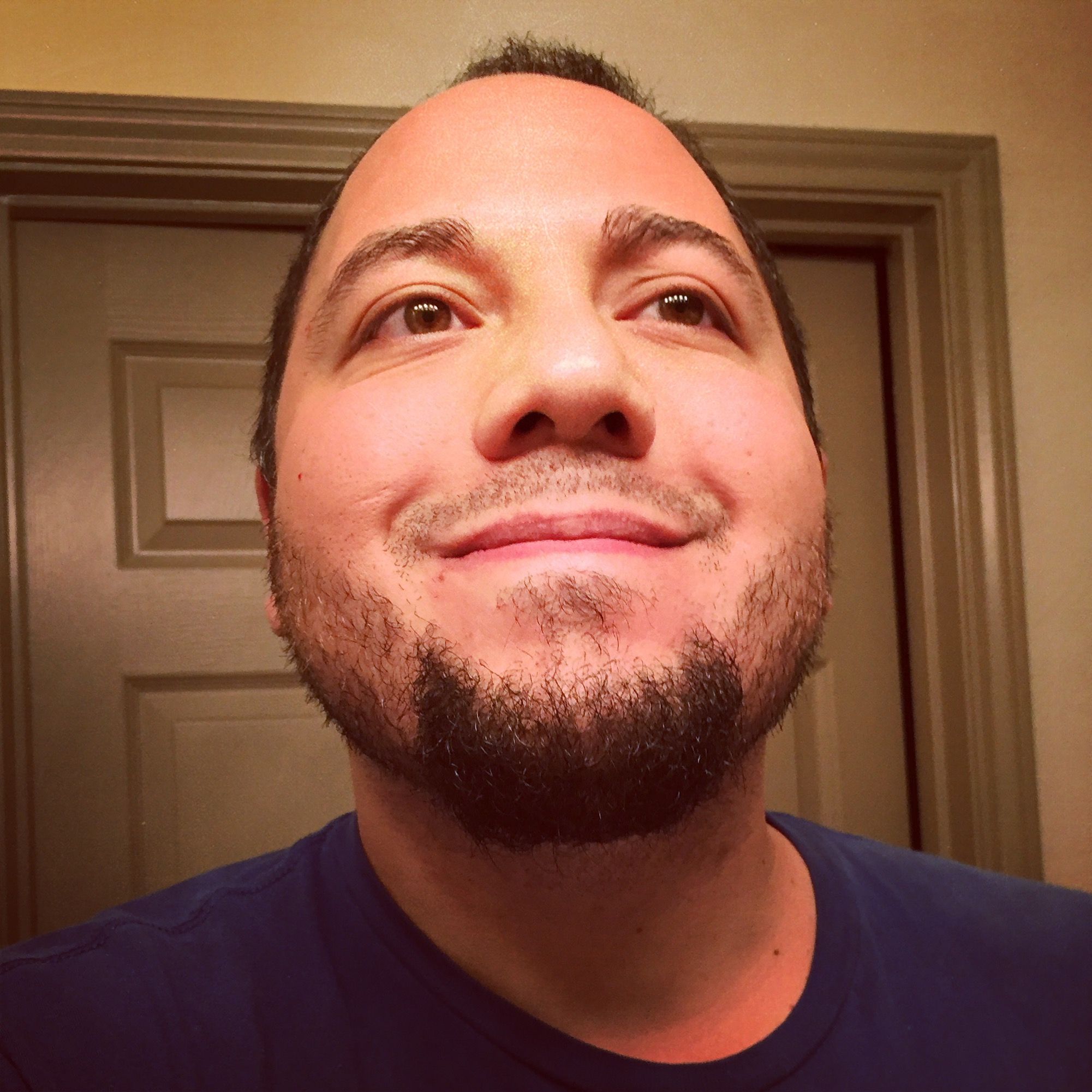 38-year-old World Championship Wrestling fanatic/collector/hoarder. Safety officer by day, scanner of wrestling magazine by night.
He's got posters on the wall, his favorite rock group's KISS.