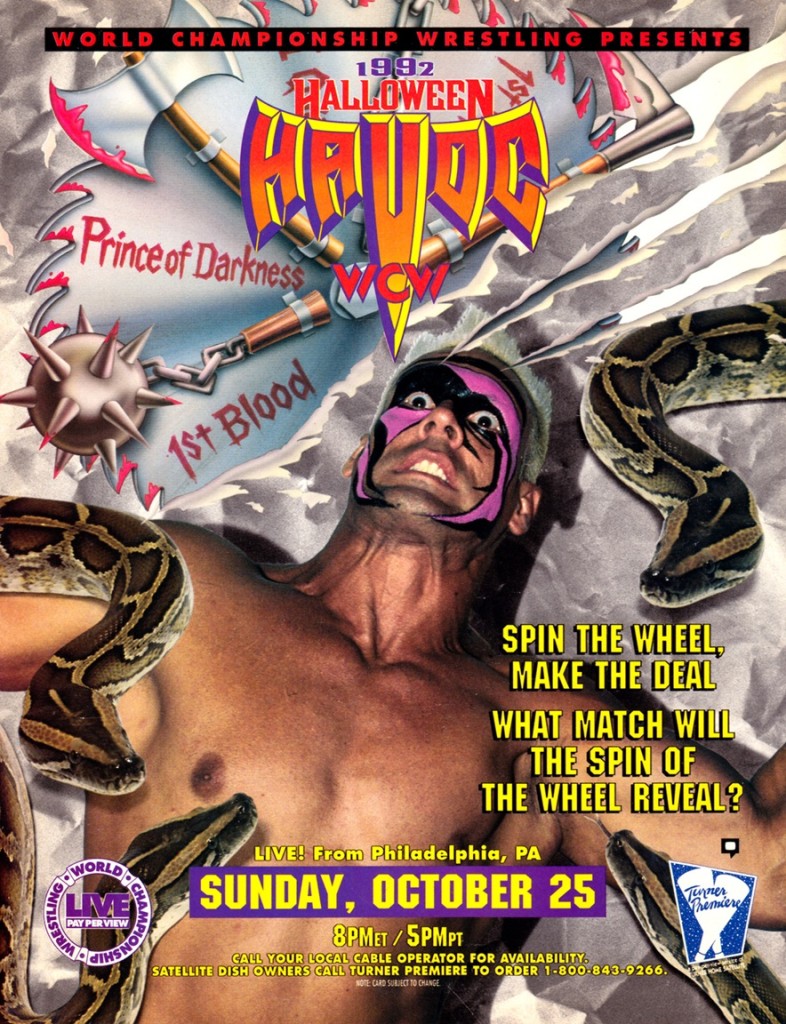 Spin the Wheel, Make a Deal with The Stinger and Jake "The Snake" Roberts facing off in the main event. This would be the only World Championship PPV event Jake Roberts would wrestle in.
While the main event matchup between Sting and Jake "The Snake" Roberts is mostly remembered for the dumb COAL MINER'S GLOVE MATCH stipulation given to it (due to WCW using a non-rigged wheel that truly gave out a random result), I don't think many people realize how awful the match could have turned out if it landed on a TEXAS BULLROPE MATCH or even a dreaded PRINCE OF DARKNESS MATCH. Sting and Jake Roberts wearing hoods and wrestling blind?? Good God!
However, I'd love to peek into the alternate reality where the wheel stopped on the BARBED-WIRE MATCH option. Forget Sabu/Funk and ECW, we'd all still be singing the praises of the time when WCW invented EXTREME with Sting/Roberts!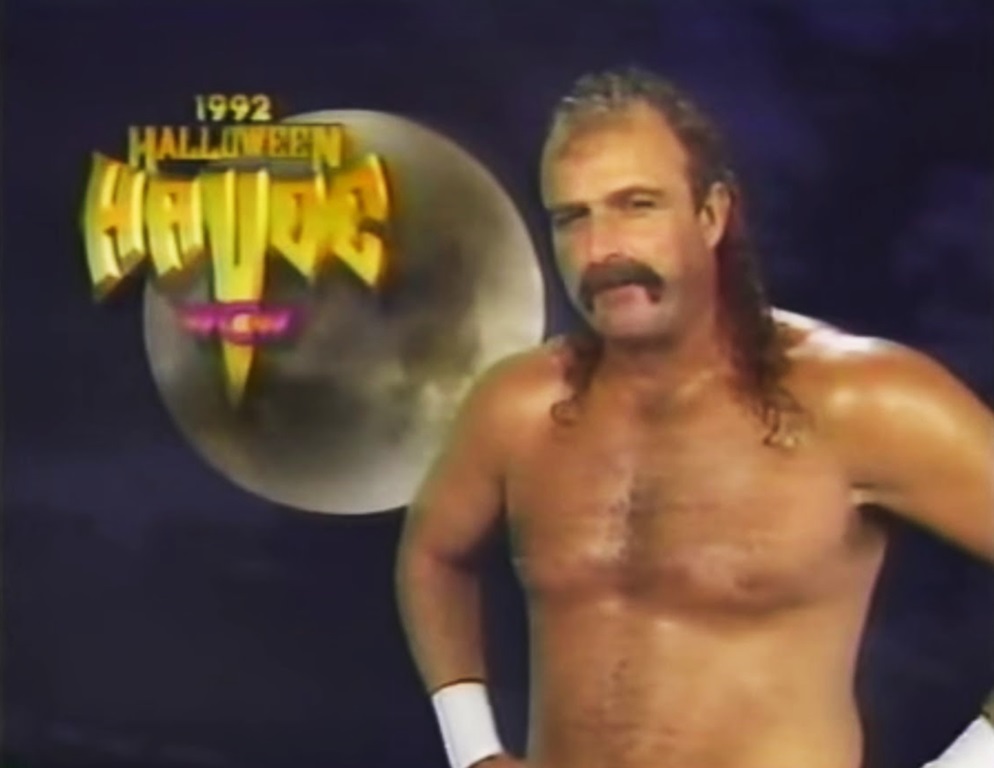 Speaking of "The Snake", his whole WCW run did not last long at all. As far as I understand, Roberts left the WWF for WCW due to being promised a big money contract from Kip Frey to come in and work against Sting. However upon arrival, Frey had been replaced by "The Cowboy" Bill Watts who sat Roberts down with a different contract that cut the pay he was promised tremendously. Some details of the events (depending on who is telling the story) have Watts shredding the contract in front of Jake whenever he presented him with the new one, which obviously didn't go over well with Roberts.
If you look around online regarding this story, you'll find talk about it being a personal thing against Jake due to Watts not liking him. In actuality, Bill Watts came in and cut the salaries of several other wrestlers in an effort to restructure the promotion and attempt to better it. In the end however, Jake Roberts ended up checking himself into rehab soon after this horrendous match at Halloween Havoc, and that was all she wrote for "The Snake" working for World Championship Wrestling.
The Halloween Havoc 1992 card in its entirety:
Tom Zenk,

Johnny Gunn

and Shane Douglas vs Arn Anderson, Michael Hayes and Bobby Eaton
Ricky Steamboat vs Brian Pillman
Big Van Vader vs Nikita Koloff
NWA and WCW World Tag Team Champions Barry Windham and

Dustin Rhodes

vs Steve Williams and Steve Austin
NWA World Heavyweight Champion Masahiro Chono (with Hiro Matsuda) vs Rick Rude (with Madusa)
WCW World Heavyweight Champion Ron Simmons (with Teddy Long) vs

The Barbarian

(with Cactus Jack)

Sting

vs Jake Roberts in a Coal Miner's Glove match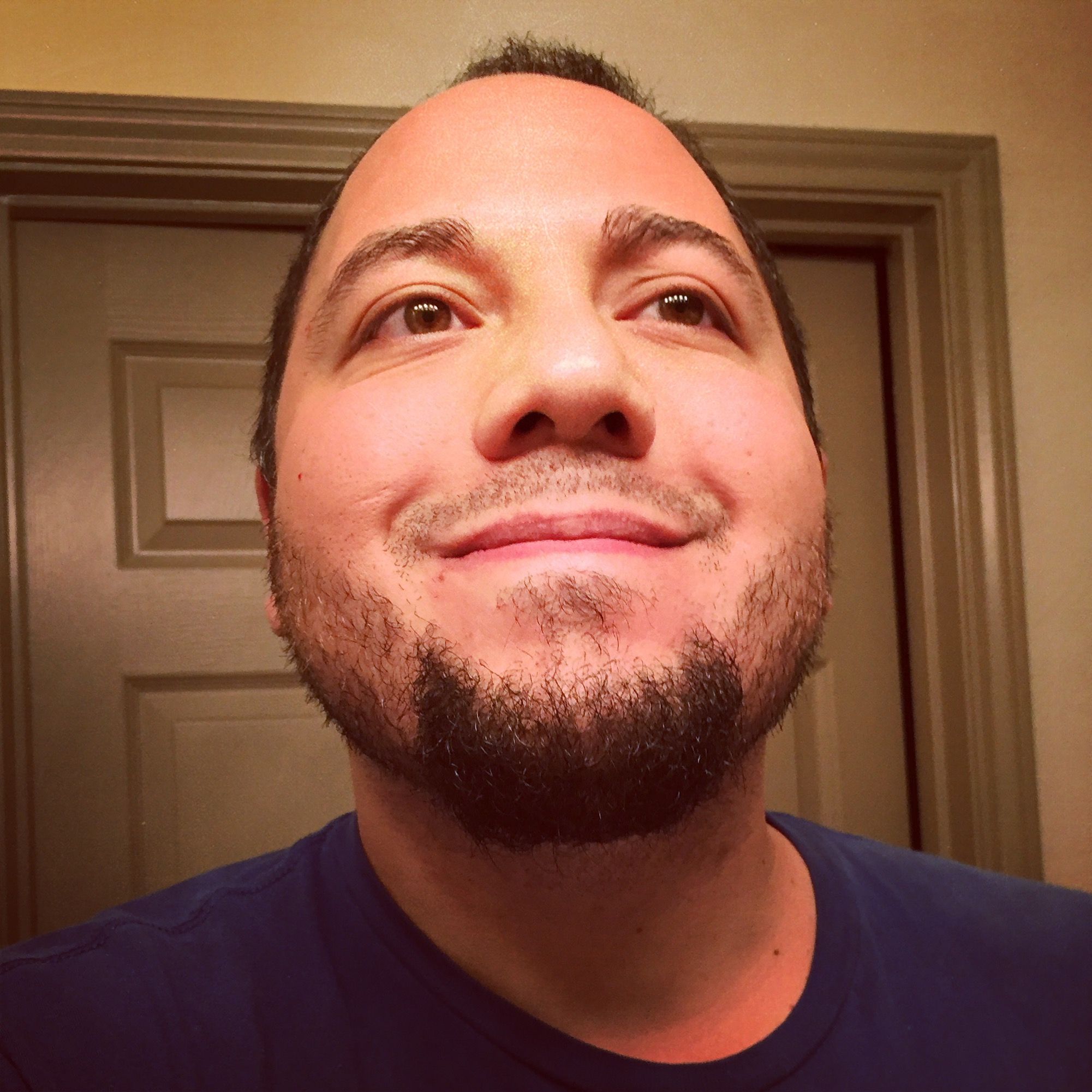 38-year-old World Championship Wrestling fanatic/collector/hoarder. Safety officer by day, scanner of wrestling magazine by night.
He's got posters on the wall, his favorite rock group's KISS.