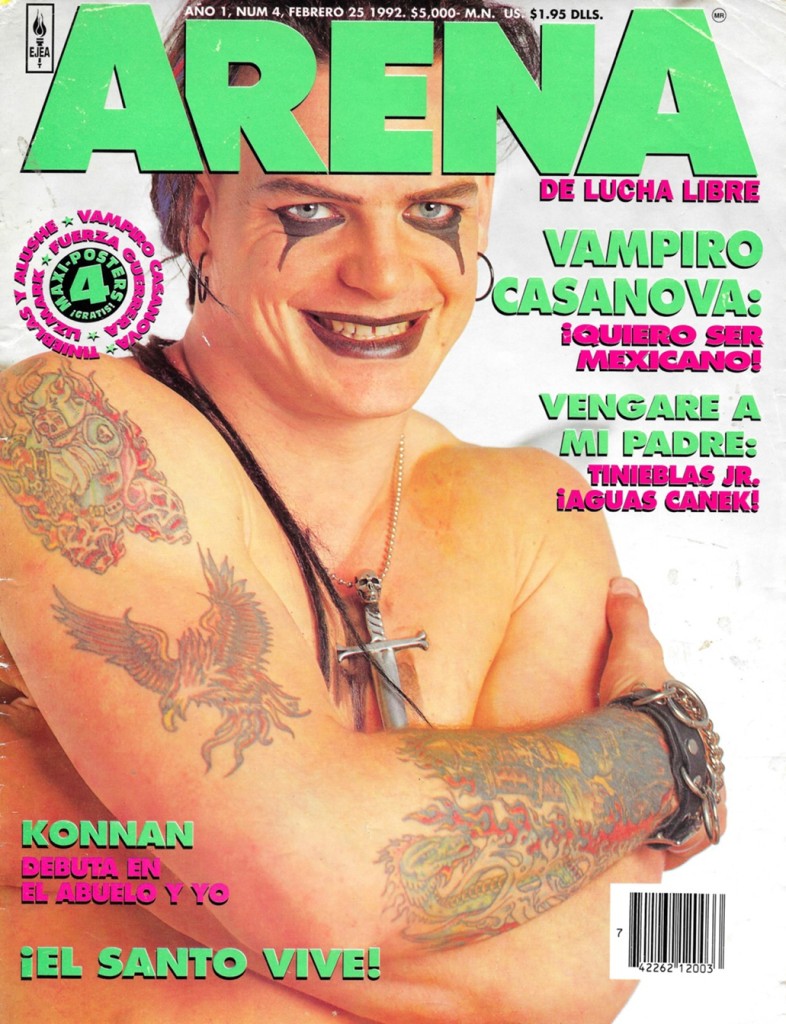 A rare, retro pull from one of the lucha libre magazines I own. Vampiro's entire interview is in complete character and is translated completely below for you to enjoy. Personally, I love the contrast of Vampiro from this magazine versus what most Americans were introduced to in WCW, what most current fans know nowadays with Lucha Underground.
Full article is also scanned below the transcribed interview:
"Vampiro Casanova, Women and Heels – Behind The Hair (?) By Leobardo Magadan
He does not drink blood, eat moronga (blood sausage) tacos and doesn't wear a cape.
He is the modern vampire: tall, dark, charismatic with women, and brave against his opponents. His real religion is vampirism: he became one in England, pushed into it by a good friend during his stay in the British island. It is Vampiro Casanova, the Canadian wrestler – soon to be Mexican – at 6'6″ and weighing in at 253 lbs.
Born in Toronto, 26 years ago, he played hockey for 11 years. He's traveled the world in search of his own identity and made his wrestling debut only 15 days after asking for employment from "Paco" Alonso Lutteroth, the successful wrestling entrepreneur (CMLL).
[Interviewer] Do you see me, Vampiro? I'm not afraid!
[Vampiro] I don't know why everyone thinks I'm looking for a fight. I am an ordinary person, I do not seek trouble and consider myself to be a little shy.
A little? You have to fend girls off with a stick…
When I'm in front of a fan, I get so nervous that I cannot speak. Many people hate me, but I don't feel guilty, that's a vampire's life. In any case, thank you to the fans who cheer me.
The World Heavyweight Championship
Do you feel like an idol?
No, never. Mexico has been home to several idols and, to be honest, I'm still learning. I want to become as great a fighter as El Santo and many others.
For that, you must overcome very difficult obstacles. For example… Cien Caras…
I will say this pubically, I will win Cien Cara's CMLL World Heavyweight Championship. I want to become a legend, a gladiator remembered by fans…
You don't fear him?
I respect him, but I've never feared anyone. I'm not very knowledgeable about moves, but my energy is enormous. I say to my opponents: "Come on, fight me!", and I have never backed down.
I get the impression that you're not afraid of Cien Caras…
No! I'm better than him. In wrestling, it's not enough to have good technical skills. Physical condition is also important and with that, nobody beats me.
When do you think you'll fight with Cien Caras?
Very soon, at least I hope so.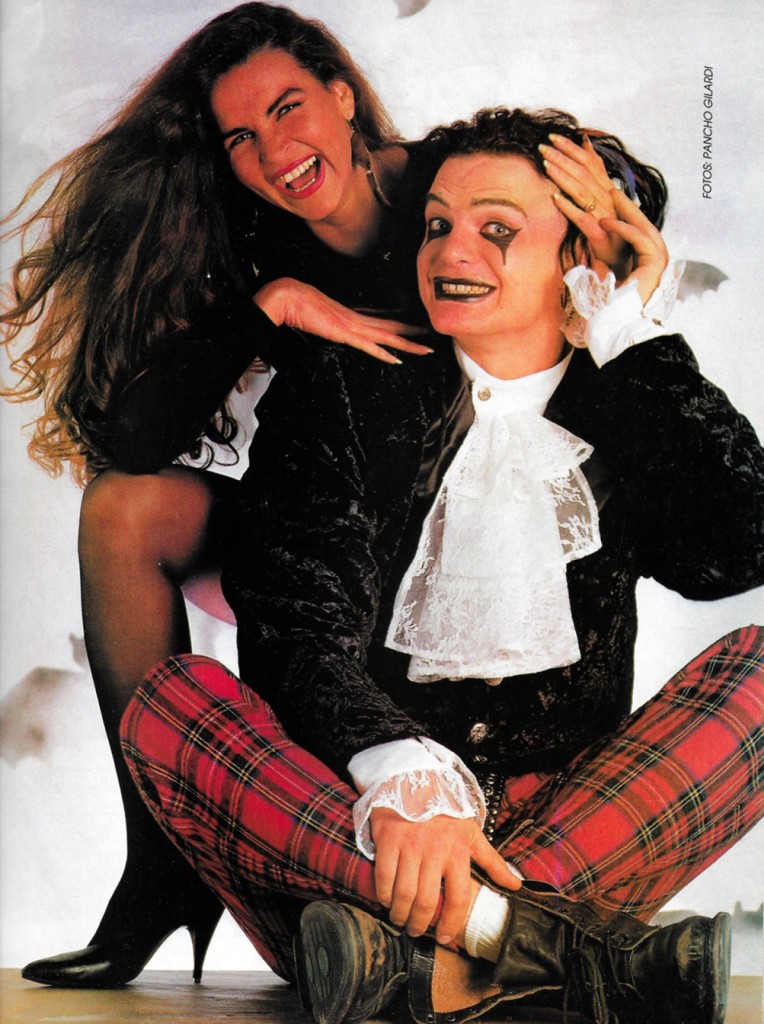 Hockey and Wrestling
Vampiro, when did you start wrestling?
I like sports and rock and roll. I played hockey for 11 years. With sports, you know, there's a lot of discipline and honor. I liked to dress and have my hair crazy and weird. One day I ran…
What happened then?
I went to wander around the world. I went my way alone and visited several places like England, Germany, the United States but I didn't like any of them and I thought that I could do it. I talked with Paco Alonso and he gave me an immediate contract after a tryout. It wasn't that difficult.
You had virtually no preparation? Did they hurt you??
Yes… but now I'm a very strong fighter. My opponents feel my strength when I'm in the ring. I do not give them many opportunities…
And you are doing great in our country, correct?
Yes. It is true, and I like it so much that soon, of course after completing the formalities required by the Mexican government, I can say that I'm also Mexican.
Do you feel very proud in that?
I have found much friendliness and affection here in Mexico, I feel comfortable here.
Of course, you're mobbed by hundreds of fans.
Yes, and I give these girls the grace for believing in me. However, I feel very lonely. I'm waiting for a love, after the breakup of my girlfriend… we both tried to continue the relationship, but it failed. Anyways, that is love.
Meanwhile, what do you do in your spare time?
I go to the dance clubs, I love dancing. I'm a man who has a lot of energy, even in love.
Do you talk often with your family?
My mom tells me to take good care of myself. She believes wrestling to be a crazy job, but she prays a lot for me. She's a nurse.
Are you a real vampire?
Yes, absolutely. I became one in England thanks to the advice of a dear friend. Since then, I've begun to even attend vampire conventions.
What's the difference between a vampire and an ordinary person?
We are special: we look different, eat different and believe in different things.
Like what, for example?
That's a secret, my friend. Another time, we'll talk more in depth about this topic…"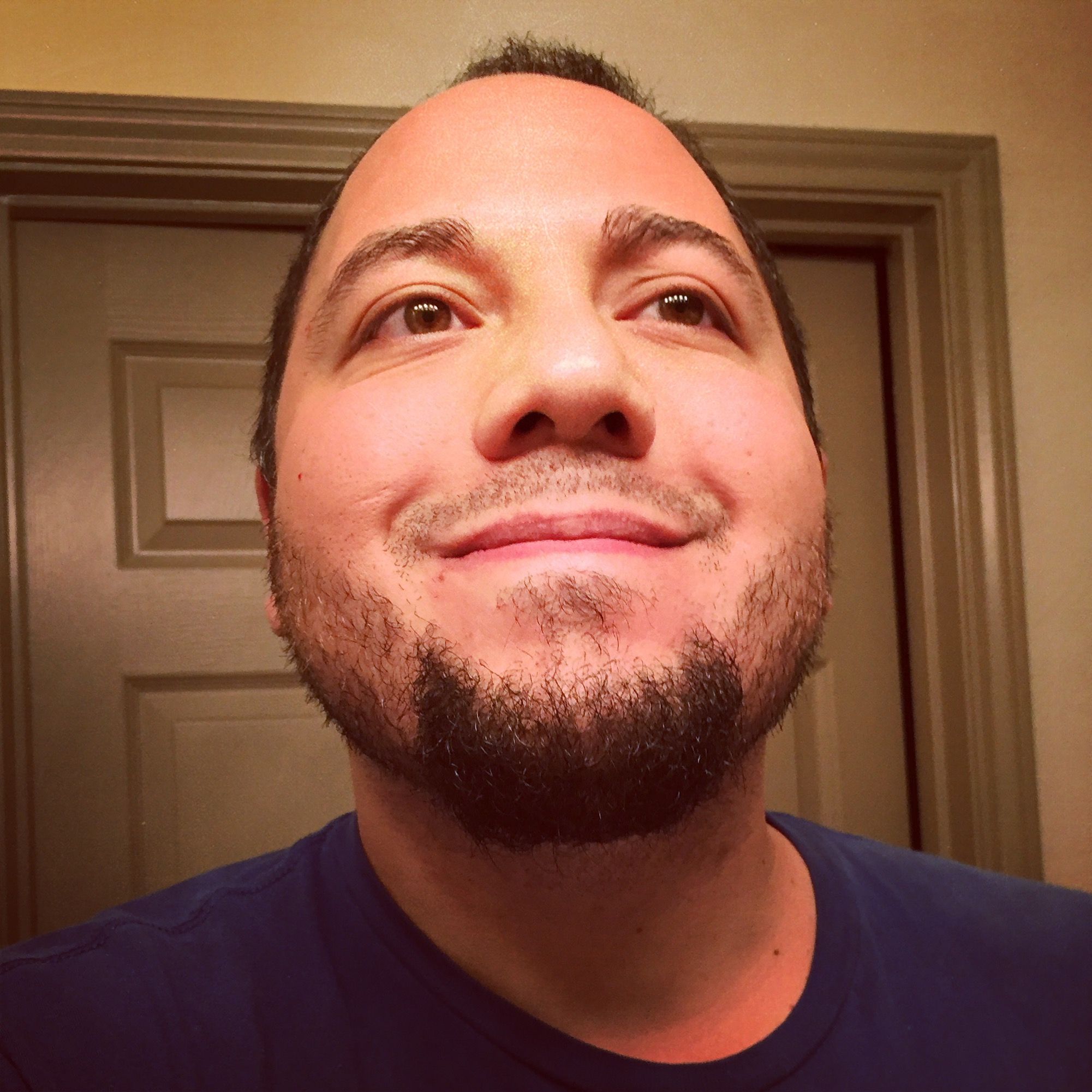 38-year-old World Championship Wrestling fanatic/collector/hoarder. Safety officer by day, scanner of wrestling magazine by night.
He's got posters on the wall, his favorite rock group's KISS.