WCW Monday Nitro: Night of Champions aired on March 26th as the final broadcast of Nitro where viewers were treated to one of the strangest nights in wrestling history.
WCW wrestlers were filmed openly discussing their new owners, and the show had moments where segments were simulcast on both TNT and the USA Network to keep every person tuning in up to date about what would happen to WCW now that Mr. McMahon was in charge. Fans were shocked. WCW wrestlers seemed a bit put-off. Even WCW commentator Tony Schiavone broke script a couple of times to spout out a couple of barbed jabs against the WWF (and oddly enough, William Regal).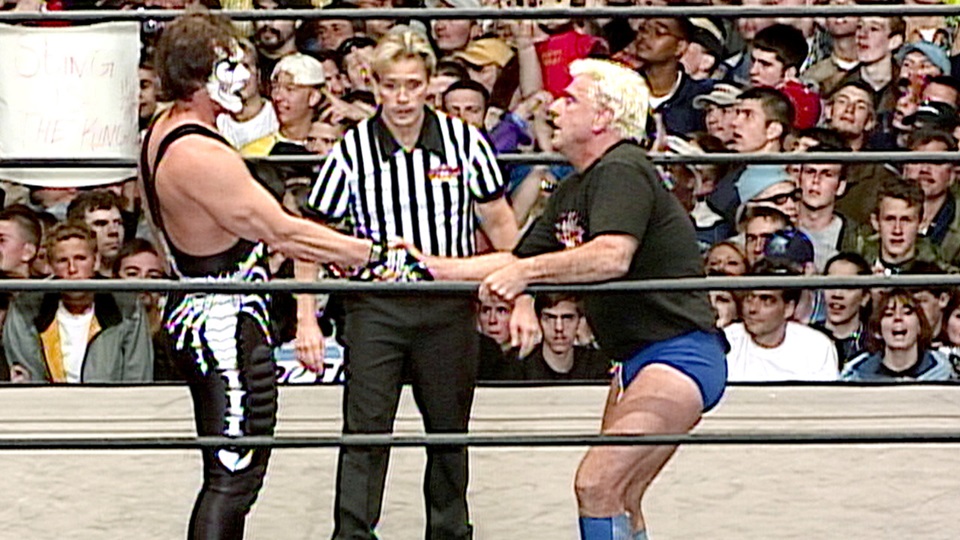 The final match of the night had Sting and Ric Flair face each other in a match done purely as fan service to longtime WCW loyalists where both wrestlers hit all their signature spots with Sting getting the win with a Scorpion Deathlock. Both Sting and Flair hugged afterward and played to the live crowd before the show ended with the news that Shane McMahon was the REAL owner of WCW. The Young McMahon grasped control of the company from underneath his own father's nose (oh no!):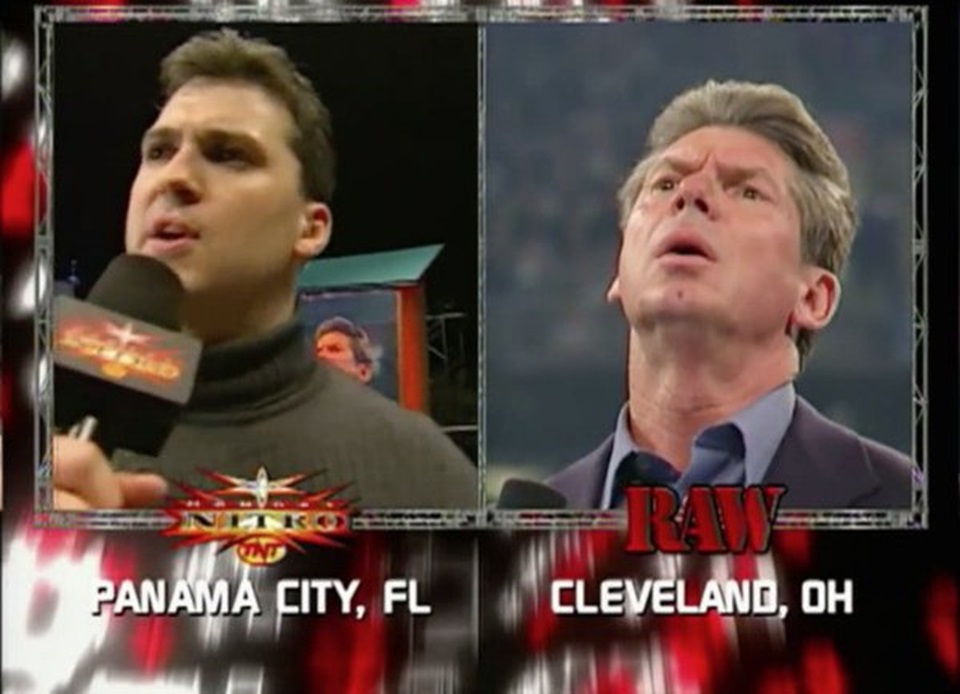 Unfortunately, Vince McMahon really did own World Championship Wrestling and WCW Monday Nitro was dead for good. Ted Turner was forced out of the wrestling business. Wrestling still to this day has never returned to either TNT or TBS. Even though the World Wrestling Federation had plans to keep the World Championship Wrestling brand alive, it was never meant to be. Instead, we all got to suffer through The Invasion angle where Shane, Vince and even Stephanie McMahon were showcased as the key owners of WCW, the WWF and ECW and every wrestler in each faction were nothing more than soldiers for each one of their respective McMahon family member. In hindsight, we were all tipped off about what the WCW buyout would truly become just by looking at the cover of WWF Magazine after the smoke cleared: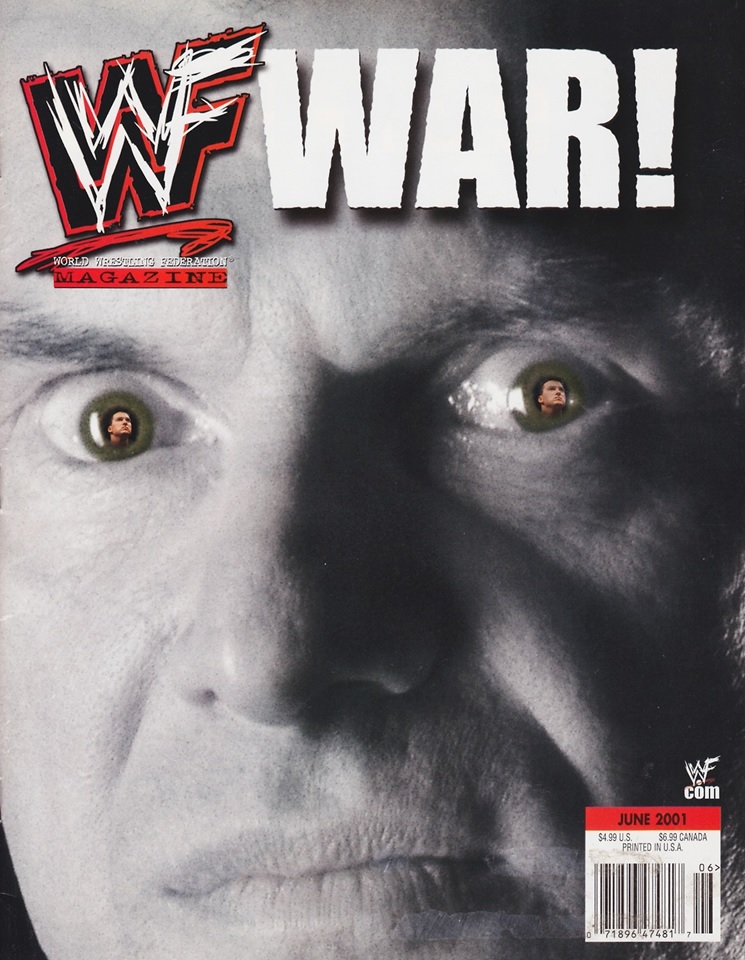 No mention of World Championship Wrestling anywhere on it, just the small portion of Shane McMahon, the storyline owner of WCW, reflecting off of the eyeballs of Vince. No Lance Storm, Booker T, Diamond Dallas Page or any actual WCW wrestler involved here — just two McMahons.
The entire final WCW Monday Nitro card in its entirety:
WCW World Heavyweight Champion Scott Steiner vs WCW United States Champion Booker T in a Champion vs Champion match
3 Count (Shannon Moore and Evan Karagias) vs The Jung Dragons (Kaz Hayashi and Yun Yang) vs The Filthy Animals (Rey Mysterio Jr. and Billy Kidman) to determine #1 Contenders for the WCW Cruiserweight Tag Team Championship
WCW Crusierweight Championship Shane Helms vs Chavo Guerrero Jr
WCW World Tag Team Champions Sean O'Haire and Chuck Palumbo vs Team Canada (Mike Awesome and Lance Storm)
Shawn Stasiak vs Bam Bam Bigelow in a Loser Gets Tattoo'd Match
WCW Cruiserweight Tag Team Champions Kid Romeo and Elix Skipper vs The Filthy Animals (Rey Mysterio Jr. and Billy Kidman)
Sting vs "Nature Boy" Ric Flair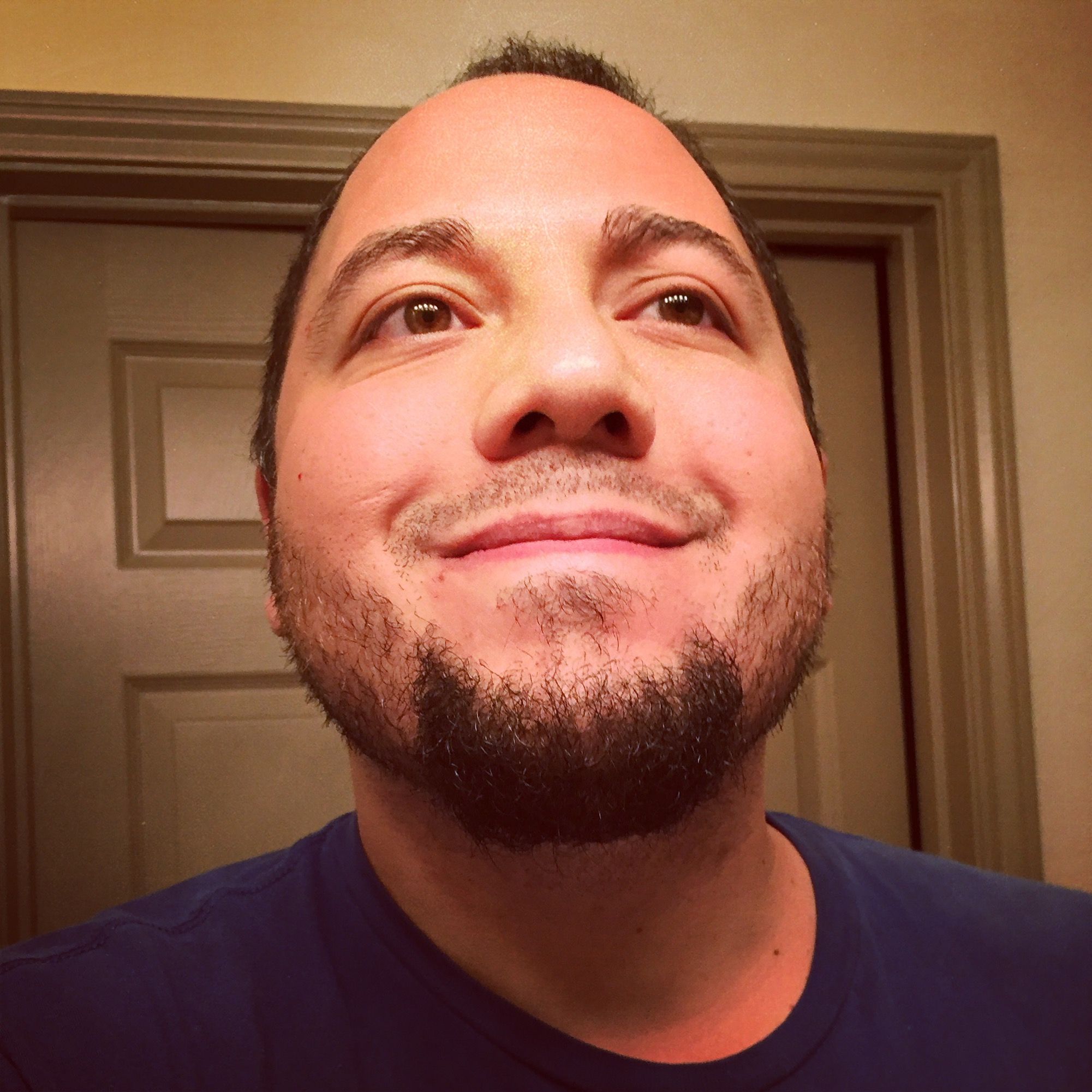 38-year-old World Championship Wrestling fanatic/collector/hoarder. Safety officer by day, scanner of wrestling magazine by night.
He's got posters on the wall, his favorite rock group's KISS.