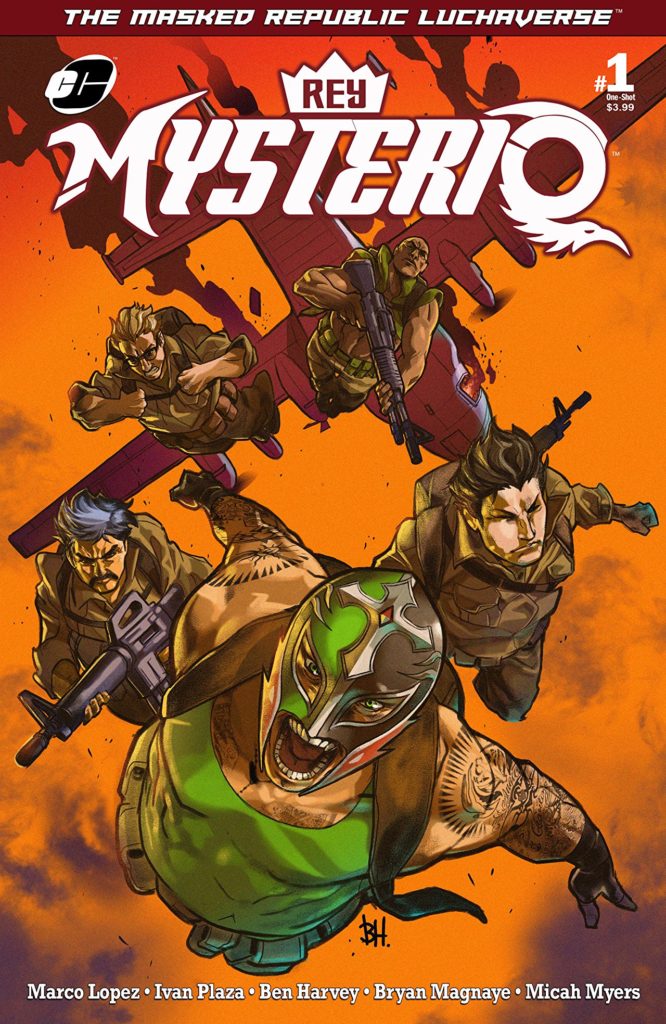 One of the great things about modern day comic book shops is the ability to walk in and grab unique offerings from independent comic publishers sight unseen. There's nothing wrong with keeping up with the current incarnation of the X-Men or whoever's part of the Bat Family nowadays, but I've always been someone that sticks to random issues that catch my eye or full graphic novels/collections of story arcs. Naturally, anything wrestling related is something I'm always into checking out and the fine folks at The Masked Republic were kind to offer up their introduction to their LUCHAVERSE that they plan on building with their releases through Chido Comics.
The expanded Luchaverse starts here at Rey Mysterio, but as time goes on comics involving the Lucha Brothers (Penta Zero M and Ray Fenix), Super Astro, Solar and Konnan will be introduced and showcase the shared universe of the wrestlers.
"THERE IS A SECRET HISTORY UNKNOWN TO MODERN MAN: A TIME OF GODS, MONSTERS, WARRIORS AND THE MASKS THAT GRANTED THEM POWERS. IT IS A HISTORY THAT WILL SOON BE REDISCOVERED IN A WORLD THAT SHALL COME TO BE KNOWN AS… THE LUCHAVERSE!"
Our first look at what Masked Republic and Chido Comics have created has Rey Mysterio leading a team of mercenaries against a tribe of cat warriors deep within a South American jungle. Their mission is to retrieve the mask of the first Mysterio as Rey Rey's family line is filled with great heroes who are all destined to fight and become legendary champions of the people.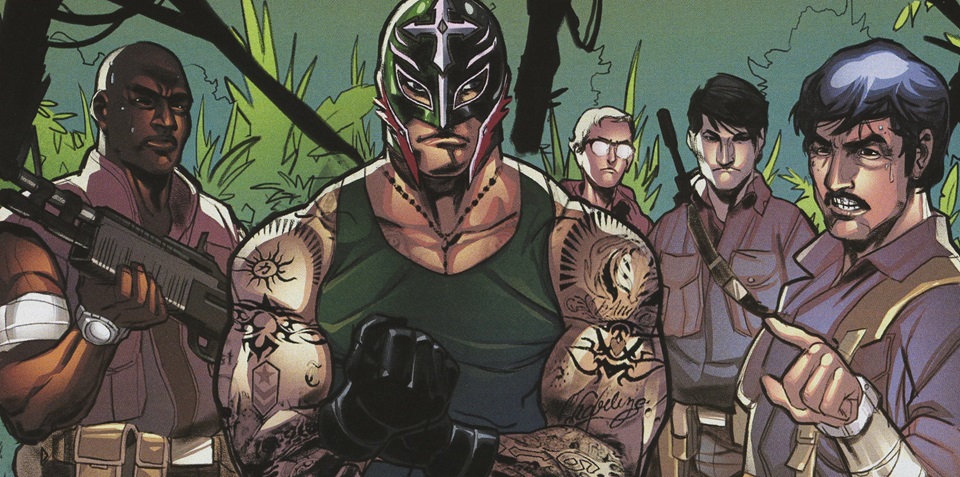 Throughout the twenty-one pages, we get to see the origins of the Luchaverse's Rey Mysterio from his reluctance to take upon the role of the prophesied hero to a glimpse of his career as an actual luchador. Even though the story is solely focuses specifically on Mysterio, names like Konnan and Tinieblas are mentioned as fun nods towards who else we can expect to see within this world. I'm not sure if we'll eventually end up in an Avengers: Infinity War scenario where the entire Luchaverse must band together to stop an ultimate threat that's headed their way, but Tinieblas specifically lays out in a letter to Rey that they're running short of time. He must find the mask of the first Mysterio.
Rey Mysterio #1 Preview - 2018
The artwork, layout and story for Rey Mysterio are all fantastically done making it an easy breeze of a read. Mysterio and his group of trained soldiers shooting and tearing their way through mystical combatants is (unsurprisingly) completely badass. This fantastical take on Rey Mysterio is entertaining, even without it being based one-hundred percent on the real wrestler's life (or is it?).
If the cover of Rey jumping out of a plane with armed mercs wasn't enough of a sign that professional wrestling is just a backdrop to this main story, then I don't know what else to say here. You're not walking in on Rey Mysterio wondering if he should re-sign with the WWE or going through a super-powered take on a wrestling match on every page. Thankfully, we're a long way past stories found in the Marvel WCW comics, so no battle royals with every wrestler shoe-horned in. Instead, it's Rey Mysterio starring in the leading role of a gritty, action packed B-movie. With that said, doesn't it make perfect sense why Chido Comics were also the ones behind those Lucha Underground books from a few years back?
Taking the world of lucha libre and putting it in the middle of action-oriented comic books isn't anything new. I don't own many, but I have a few Sensacional de Luchas books that have Konnan and Vampiro as overly heroic pulp heroes who fight crime and save damsels in distress. Obviously, the early 90's isn't the starting point for these kinds of things with El Santo and Blue Demon appearing in similar roles across comics, tv and movies in the 50's and 60's. Still, it's such a cool concept to see reintroduced through a well-known, lucha libre legend like Rey Mysterio here in 2018.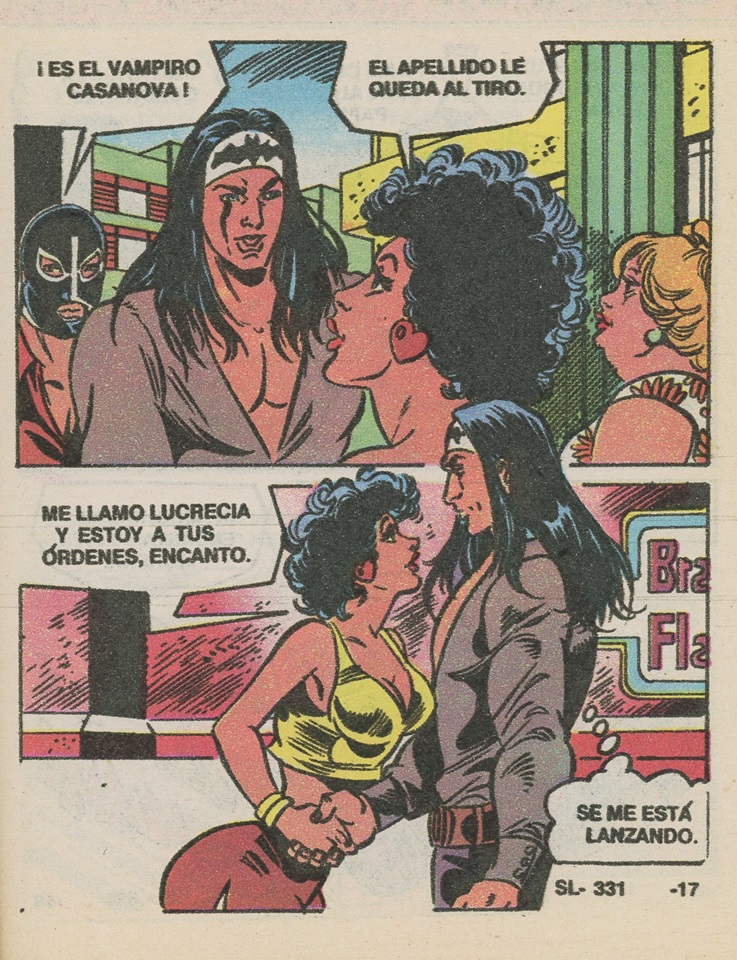 There's a lot to take in when it comes to this universe, but I'm not going to hold anything against the writers for not laying everything out on page one. You get enough to understand that tales found in Lucha Brothers (shipping now) and Tinieblas Jr. (ships October) will be just as wild and incredible as Mysterio. As an introduction to the Luchaverse, Mysterio has me completely on the line for what's to come next from Chido Comics. Even though it might not fit their overall concept, I'm hoping for a story involving beefcake long-haired 1992 Konnan feuding with Vampiro over a supposedly stolen role on a Mexican telenovela.
Let's figure this thing out, guys.
'Rey Mysterio #1' and all future Masked Republic comics can be purchased directly through TheLuchaverse.com and digitally through Comixology
---
A copy of 'Rey Mysterio' #1 was provided for review purposes to WCW Worldwide courtesy of Masked Republic.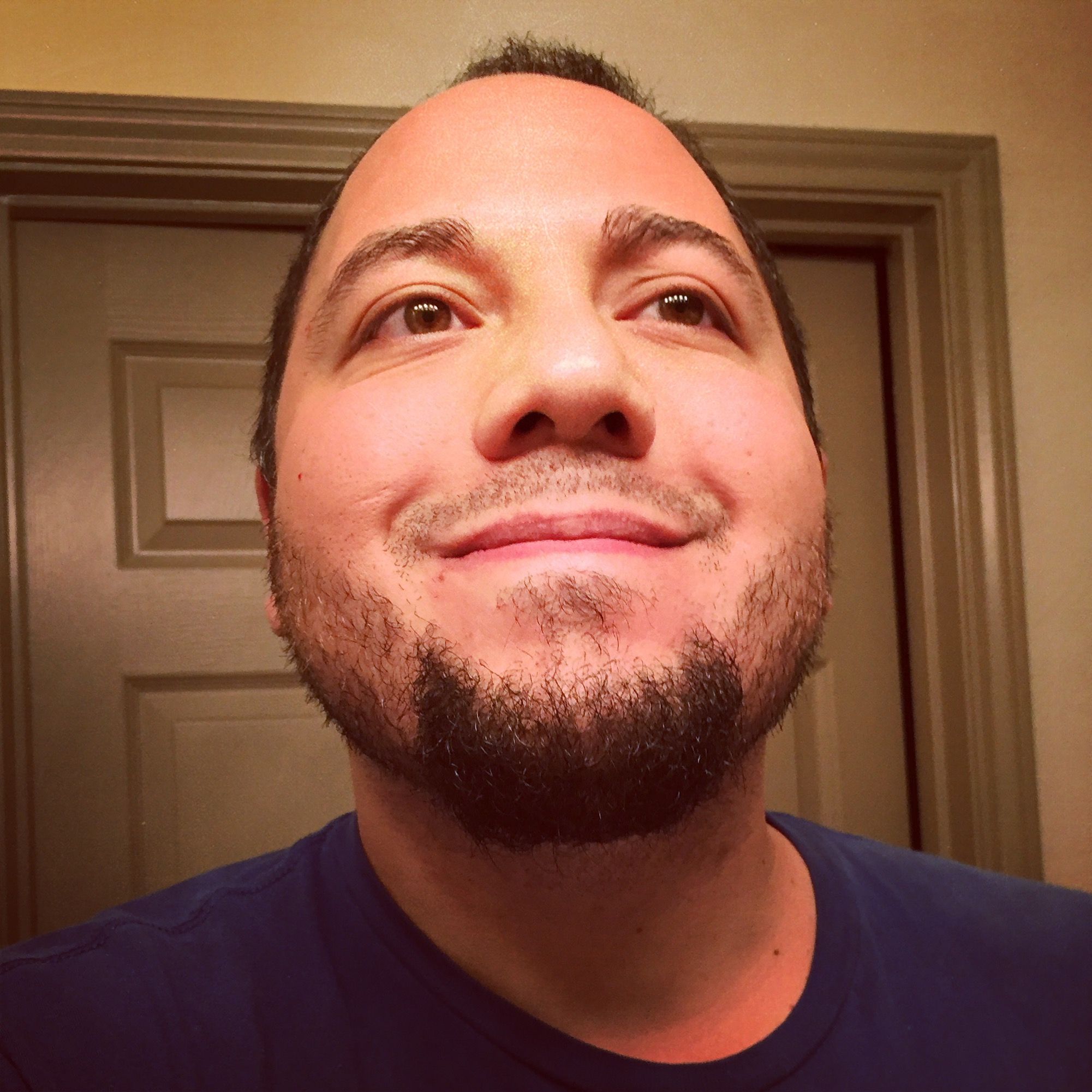 38-year-old World Championship Wrestling fanatic/collector/hoarder. Safety officer by day, scanner of wrestling magazine by night.
He's got posters on the wall, his favorite rock group's KISS.