WCW's SuperBrawl may have been a pun based on the annual February offering from the National Football League, but my interest in the former always infinitely outweighed that of the latter. Considering my interest in any form of sportsball was and still is roughly 0%, this was not a monumental accomplishment by WCW. But I ask you, what's not to like about a show that literally opens on this scene?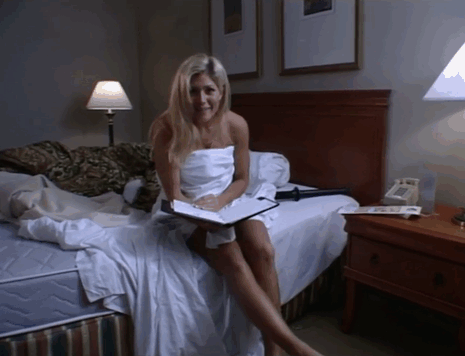 A mystery woman (Torrie Wilson) is in a hotel room talking to a mystery man, whose eyes we appear to be using in lieu of a camera. The man (us?) extends a plane ticket to her.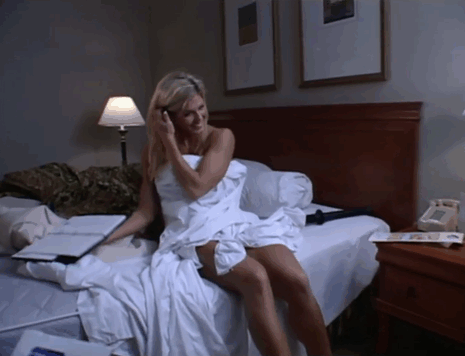 Upon learning that the tickets are to SuperBrawl, she rushes off to get ready.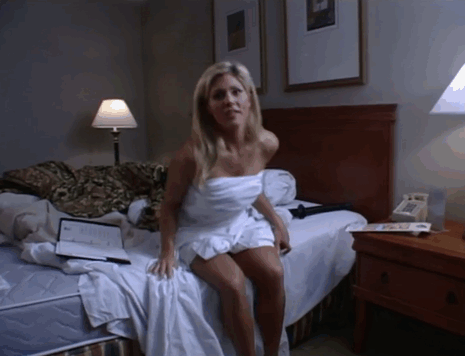 Cut to the proper intro to the show, and we get to see the fresh young stars of 1999 spinning on a turntable.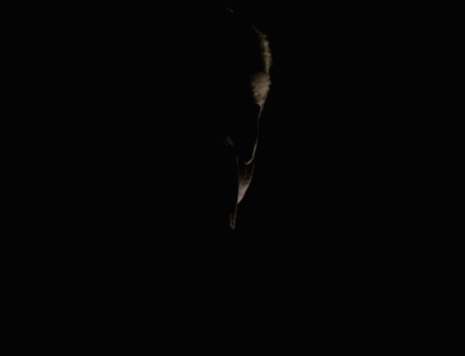 The action begins as Wolfpac member, Disco Inferno (yes, you read that correctly) faces off against Booker T.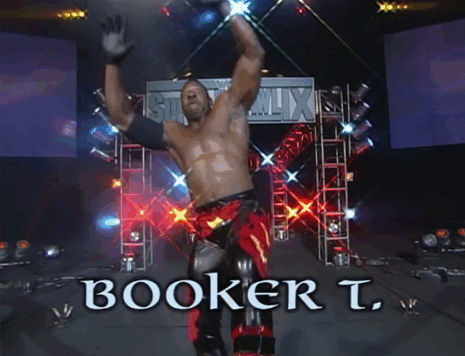 The Wolfpac was massively popular in 1999. Simply throwing up the "2 Sweet" would elicit a deafening roar from the crowd… unless you're Disco Inferno.
From early on, it's clear that D.I. will be doing what he does best.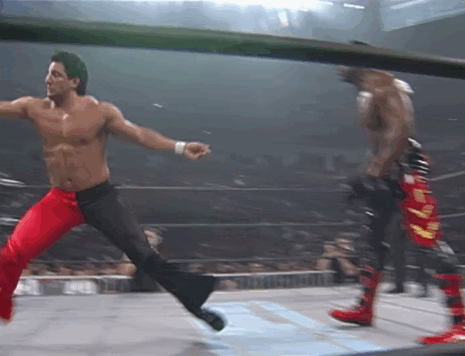 But Glenn certainly has his moments.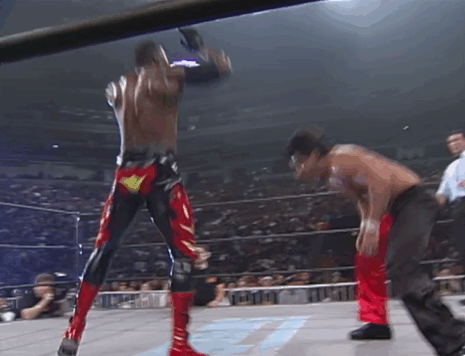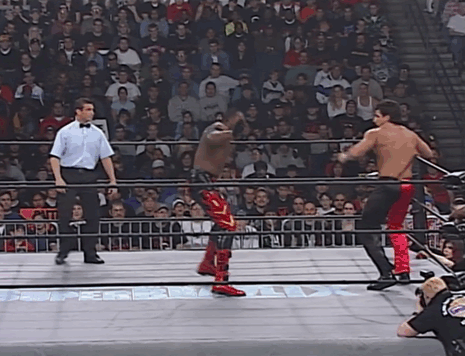 The match ends with a Harlem Hangover that is a little too on-target.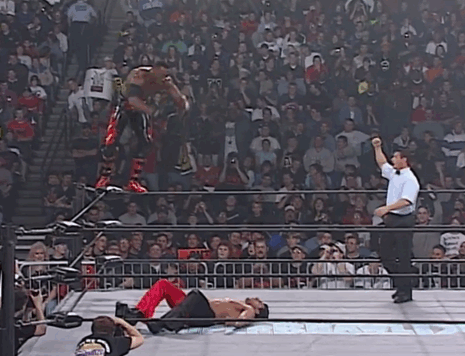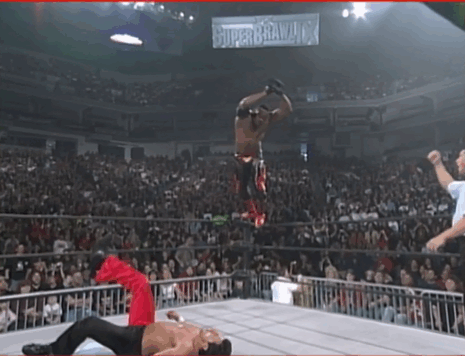 Since last month's Souled Out, Perry Saturn has been forced to wear a dress as per the stipulation of his match against Chris Jericho. At SuperBrawl, the two meet again with the same stakes.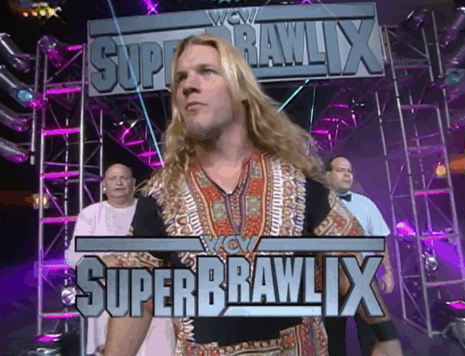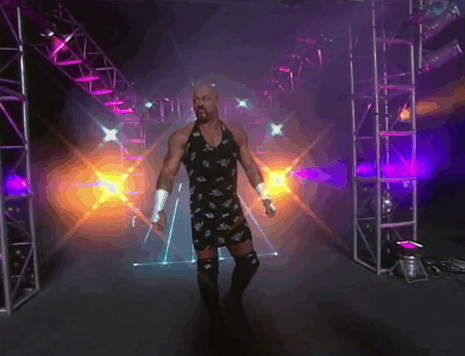 Inexplicably, Ralphus has also taken to wearing a dress. All things considered, he looks pretty good.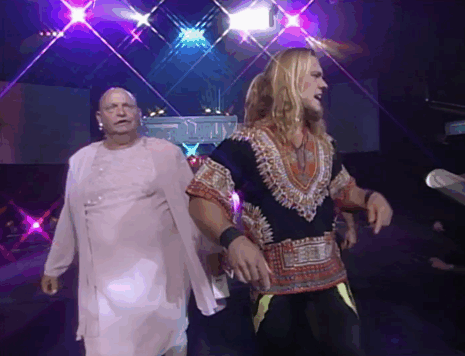 Saturn has been out for revenge since Souled Out and not even the squared-circle can contain his rage.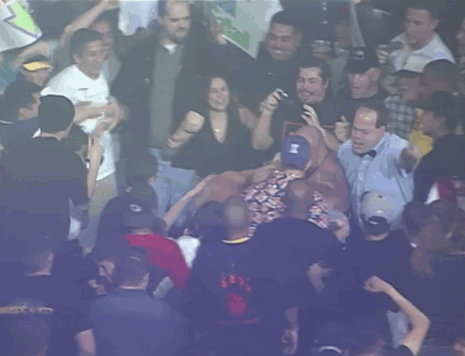 Saturn is definitely not in retrograde on this night.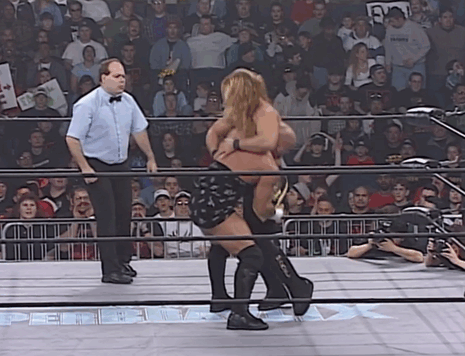 Ralphus attempts to get involved but is less than effective.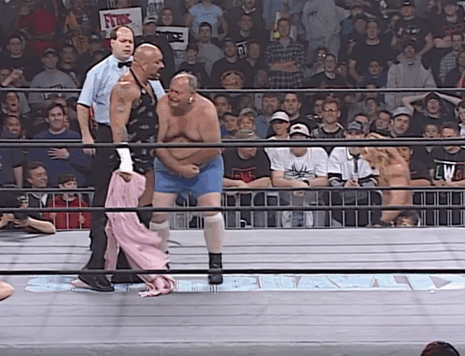 Everyone gets a DVD like it's BOGO day at Suncoast.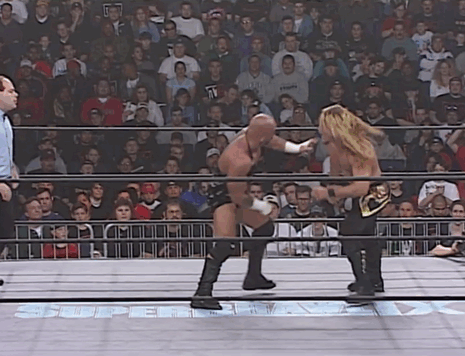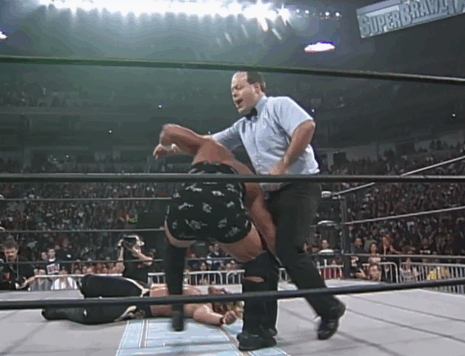 Crooked referee, Scott Dickinson, was responsible for Saturn's loss at Souled Out, so he too must be driven to Death Valley. Perry, having decided that vengeance is more valuable than victory, walks away the moral victor.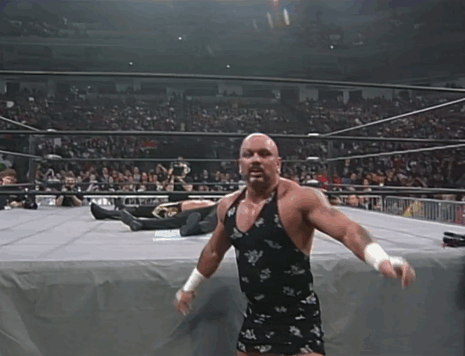 Over the previous weeks, Chavo Guerrero and Billy Kidman competed in the double-elimination tournament to crown new tag team champions (which will also culminate on tonight's show). In their final match of the tournament the dastardly Chavo betrayed the cruiserweight champion, who seeks retribution tonight.
Chavo goes full-Guerrero and begs for leniency.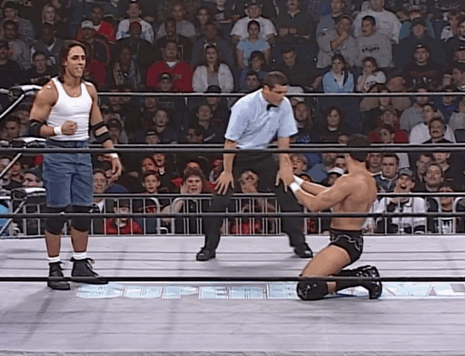 But William has known Chavo for too long to fall for such chicanery.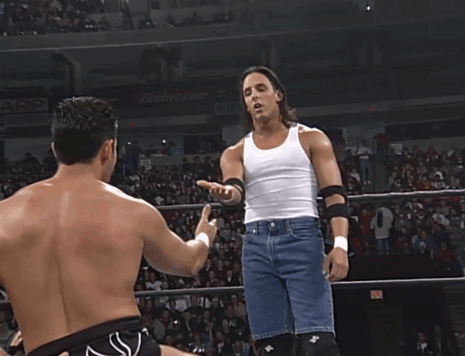 I have always felt that Chavo was unfairly overshadowed in this time. This was partly due to Eddie, I suppose, but I would primarily attribute it to the fact that the WCW cruiserweight locker room was absolutely stuffed to the gills with talent. It's easy to forget that Chavo Guerrero regularly pulled off moves like this.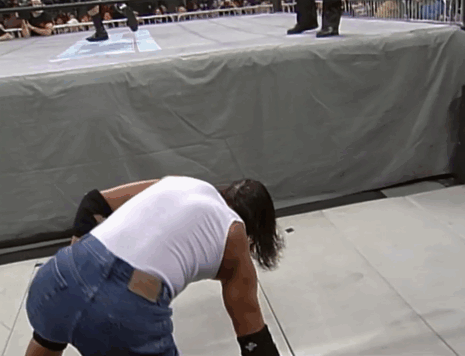 Speaking of overshadowed, a great disappointment to me is that Kidman never enjoyed success in the main event scene. Sure, he had a short-lived program with Hogan (that I will always defend as being awesome), but Billy Kidman was Just. So. Good.
During the course of the match, Chavo forgets the number-one fact about Billy.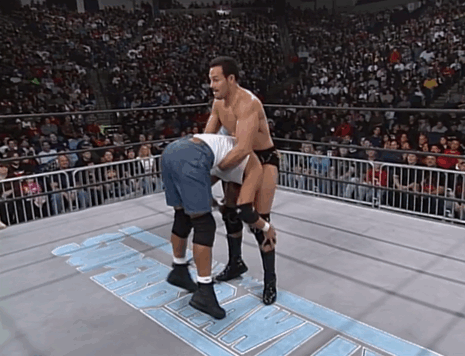 Our cruiserweight champion remains as such after a picture-perfect Shooting Star Press.
The aforementioned tag team tournament concludes next, as Curt Hennig and Barry Windham face Chris Benoit and Dean Malenko of the 4 Horsemen for the brand new championship belts.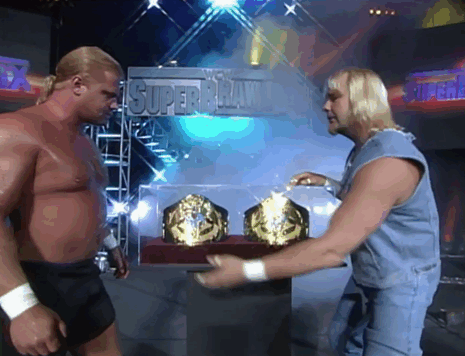 The tournament is of the double-elimination variety, with Windham and Hennig having taken no loses up to this point and the Horsemen with one loss. In typical WCW fashion, this makes the conditions for victory complicated. Benoit and Malenko must pin the blondes twice to win; however, this is not a 2-out-of-3-falls match.
Benoit and Hennig trade chops, with the latter reacting as though he'd been hit by a truck, as was his (perfect) way.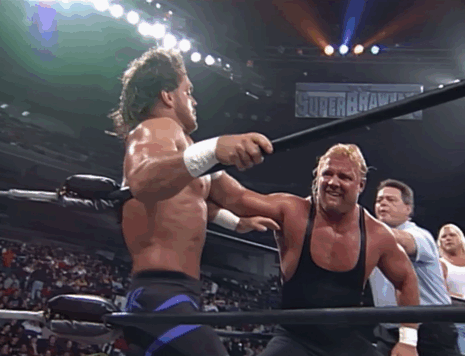 It is a match full of saves and breaking up pin attempts. Clearly, the "one save per team" rule is not being honored here. Benoit is able to dispose of the corner man in what looks like it will be the first fall, but wouldn't you know it? Windham makes the save.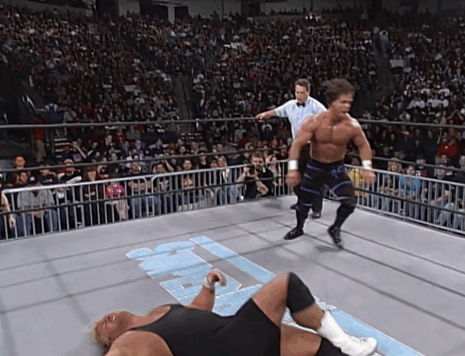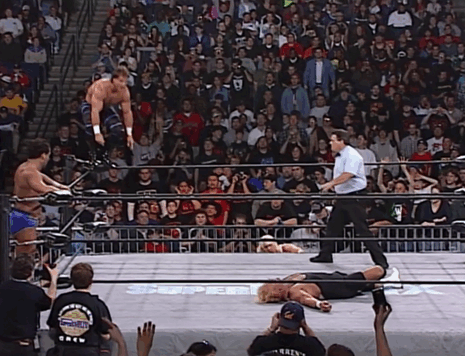 In a spot that was clearly supposed to be Hennig hitting a low blow while Mickie Jay was distracted by Windham…doesn't turn out that way.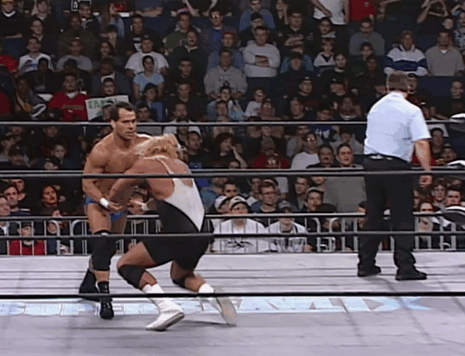 Windham's signature second-rope superplex is executed perfectly, much to his delight.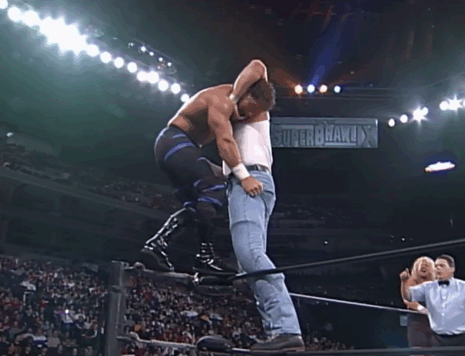 All four men enter the ring, but even among the confusion, Malenko is able to sink in the Texas Cloverleaf for the first pinfall.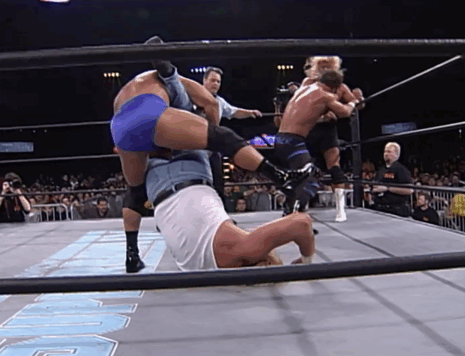 There is a 30 second rest period but the only man getting any rest is Windham.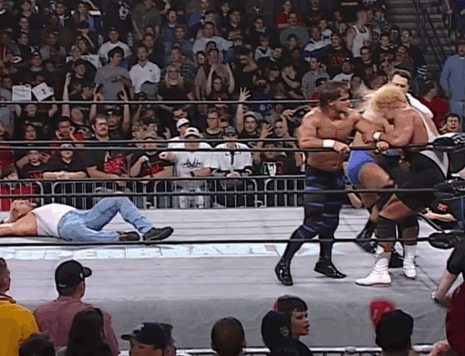 Ignoring Barry turns out to be a bad idea, and he strikes when Dean turns his attention back to the big man.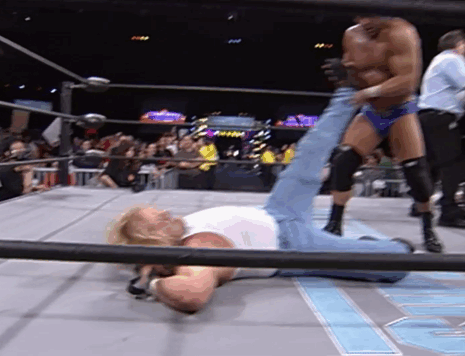 Very cleverly using his draped arm to hide the belt still taut around Malenko's neck for the pin, win, and tag team titles.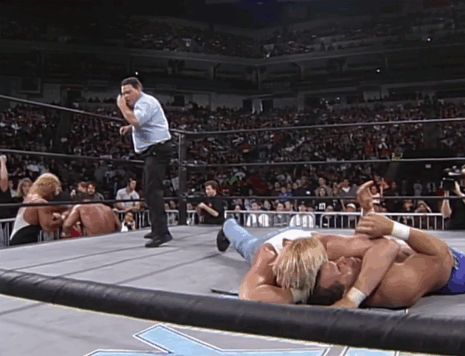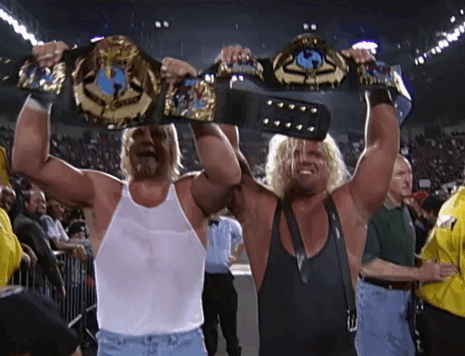 Our next match is a David versus Goliath story as Rey Mysterio and Konnan take on The Outsiders (which I guess is technically a David and Konnan versus Goliath and Scott Hall story) in a match that pits Rey's mask against the hair of Miss Elizabeth.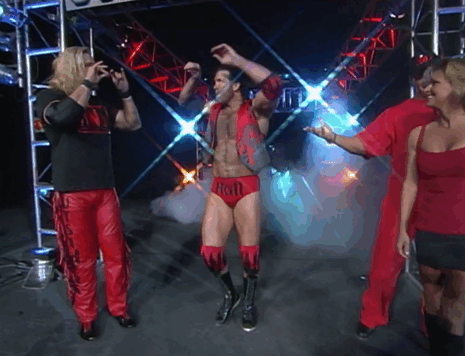 One audience member in particular is very excited to see Mr. Nash.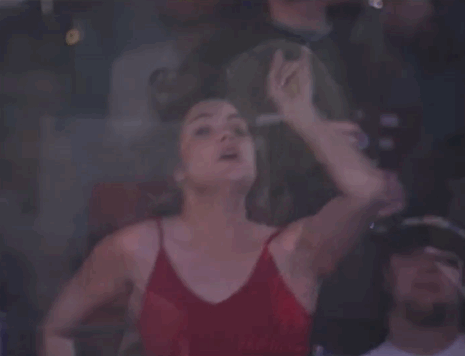 Rey storms the ring with a steely determination.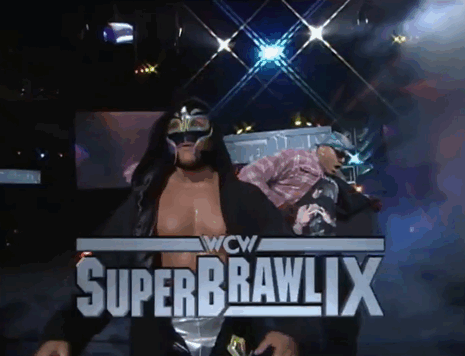 Konnan, an experienced pollster, asks the crowd if they are rowdy, rowdy.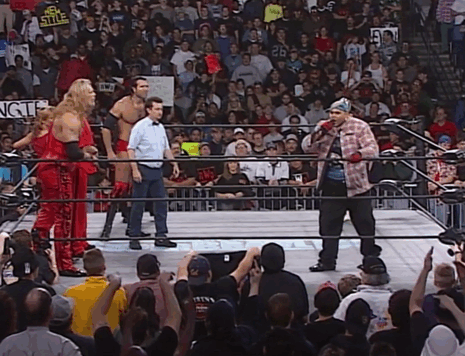 Mysterio starts for his team, and things go as-expected.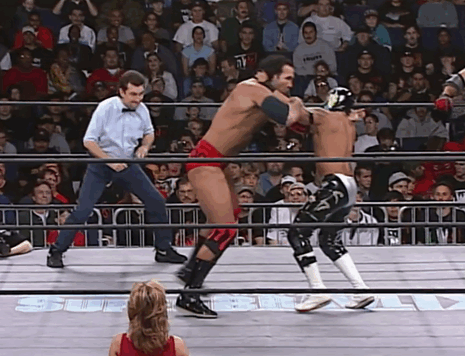 The cruiserweight is able to gain the advantage, but his cockiness is his undoing.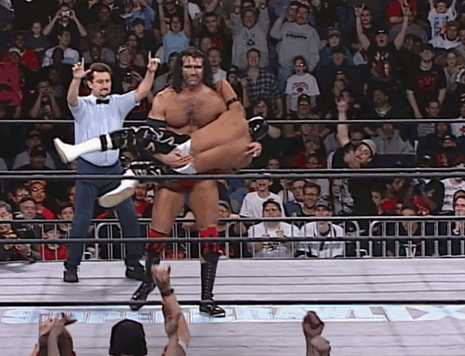 Scott Hall does the thing.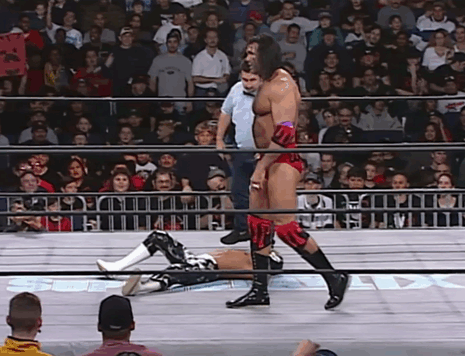 A fresh Nash takes his turn with the luchador.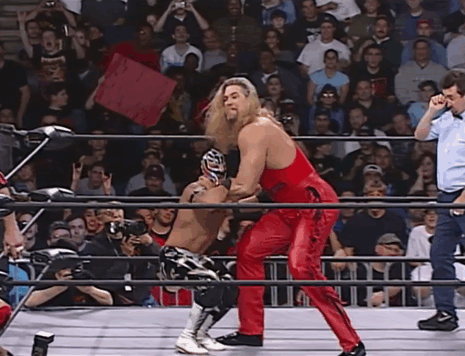 The nimble Mysterio escapes an Outsider's Edge, making a hot tag, and once again everyone loses their minds for Konnan.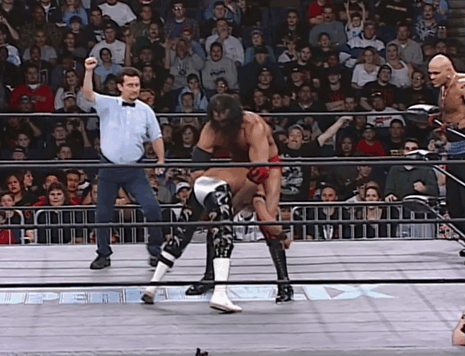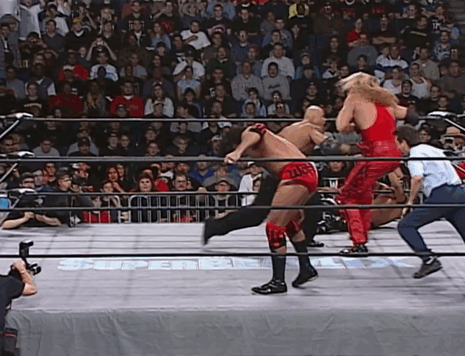 Predictably, Luger gets involved at ringside.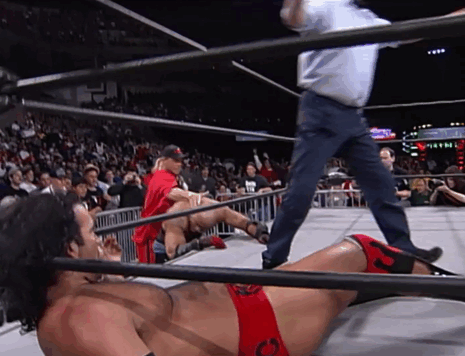 Predictably, Elizabeth gets involved on the apron.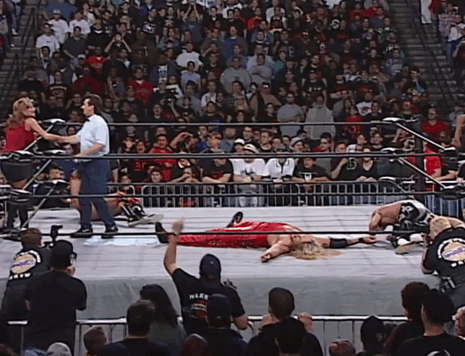 A second Edge attempt is successful thanks to the interference, and Nash's prone body is situated for the pin and win.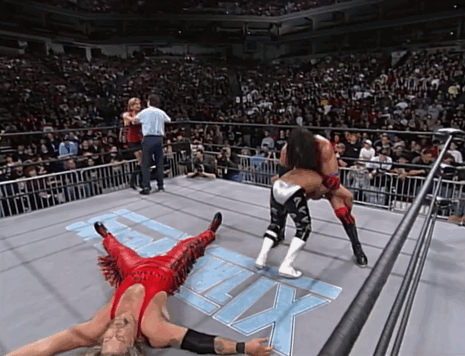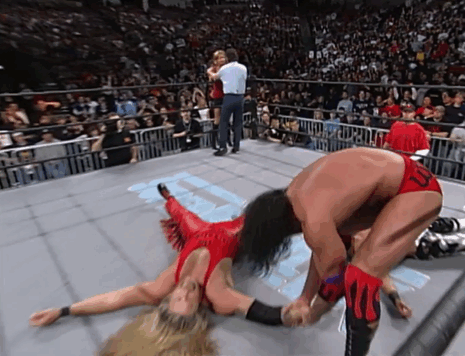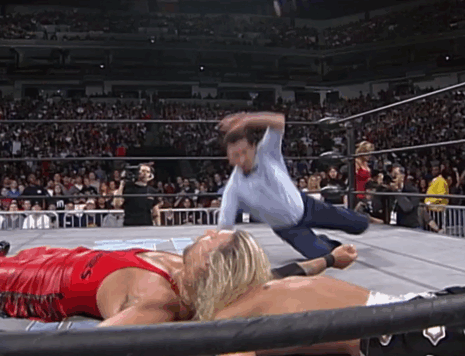 As per the stipulations of the match, the loser removes his mask, making Rey a little bit less Mysterio.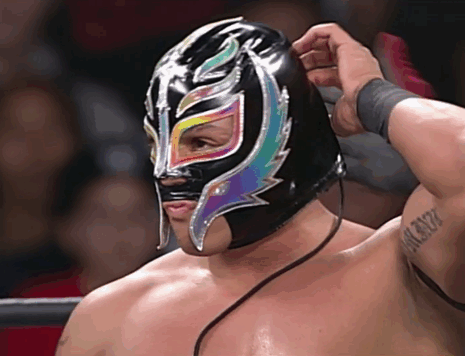 We have yet another revenge match as Diamond Dallas Page gets his hands on Scott Steiner, who pushed Kimberly Page out of a moving car.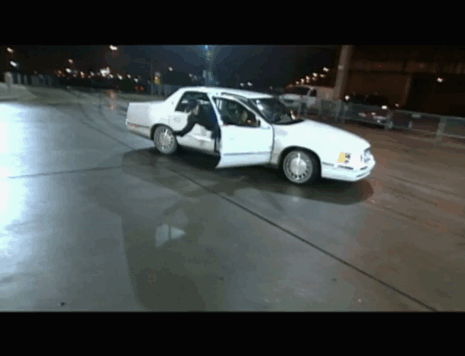 Scott comes out first and makes a stop to do some freak shopping on his way to the ring.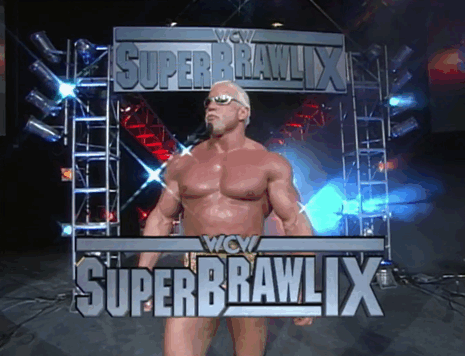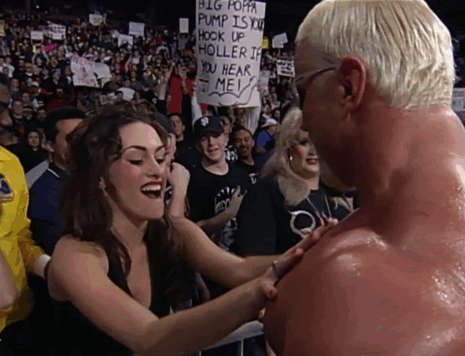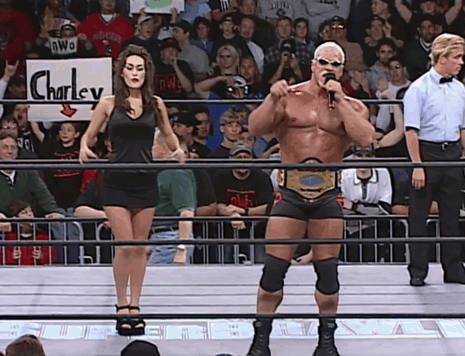 A laser-focused Page makes a beeline for the genetic freak and unloads.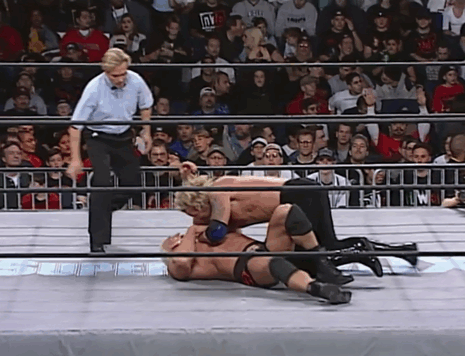 As the Wolfpac is wont to do, Buff Bagwell comes out to support his comrade, Steiner.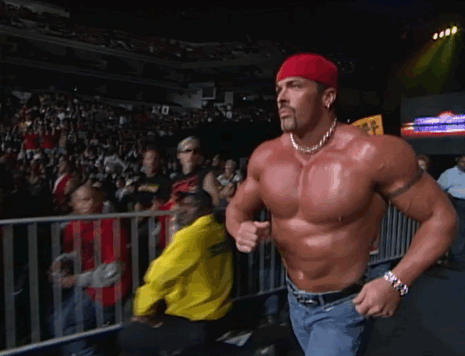 Buff Daddy gives the Booty Daddy an opportunity to turn things in his favor.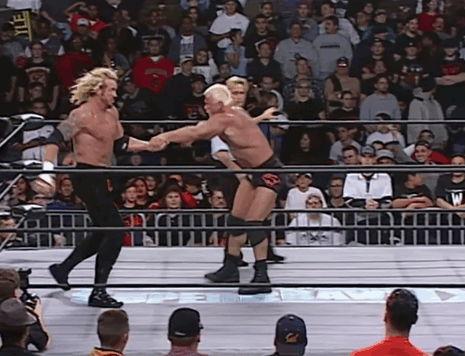 Marcus is nothing if not helpful. He's always thinking of others. So when he notices that his friend, Scott, is looking tired, he offers him a chair.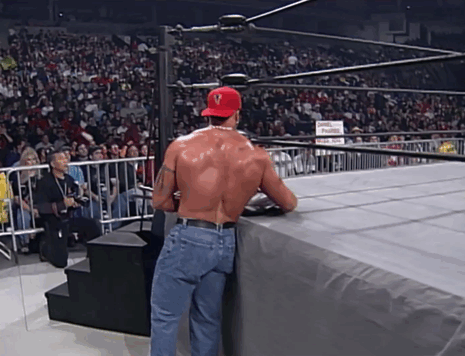 Steiner, inspired by the kindness of his friend, decides to pay it forward and also offer the seat to Page.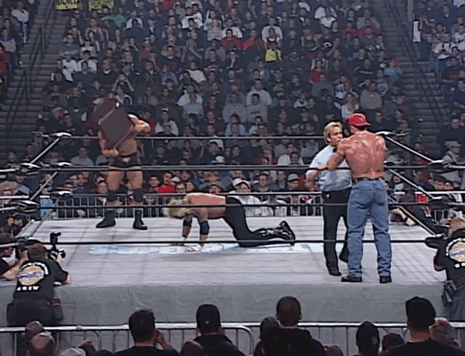 The Stuff is still willing to work as ring crew, despite being a big star. So humble.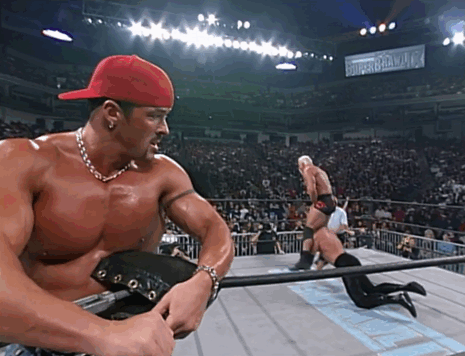 Proving that no good deed goes unpunished, Li'l Natch ejects Bagwell from ringside.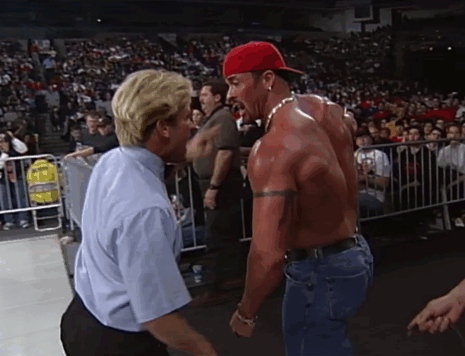 Charles Robinson foolishly makes Buff leave before he had finished fixing the turnbuckle pads. If anything, this is the ref's fault.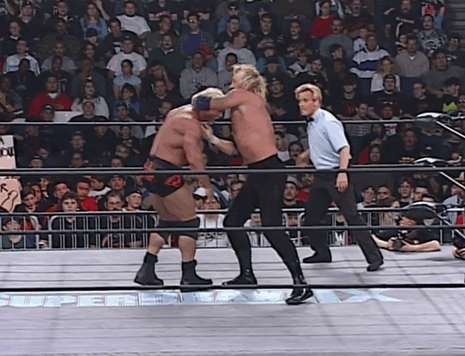 Steiner capitalizes on this complete freak accident, sinking in the Steiner Recliner for the win, and an unconscious DDP leaves on a stretcher.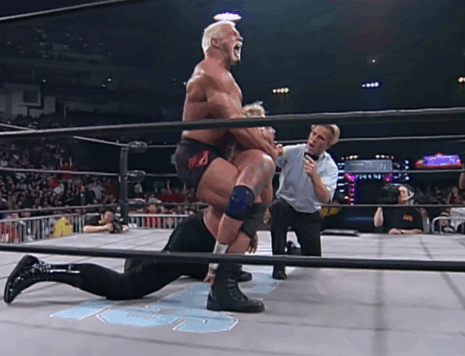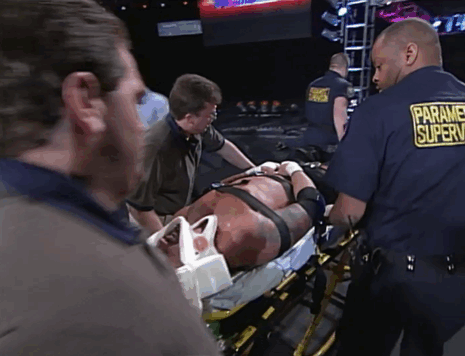 Scott Hall returns to the ring, this time to battle Roddy Piper for the United States Championship.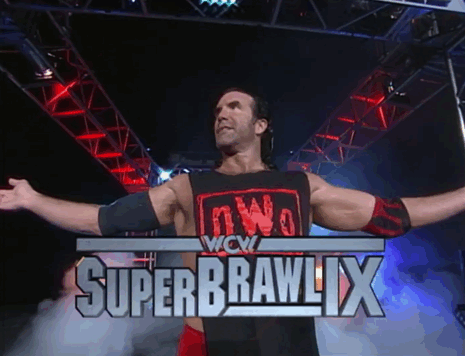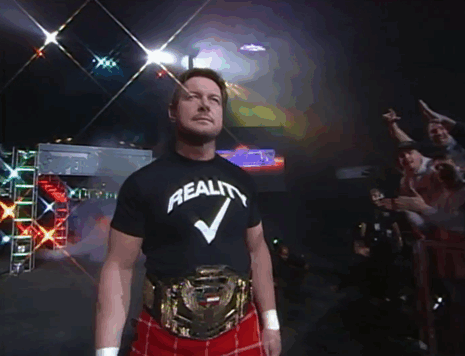 Look… I'm going to level with you. This match is horrendous. Truly one of the worst things I've ever seen. I don't know how to spin it, so here it is presented without comment.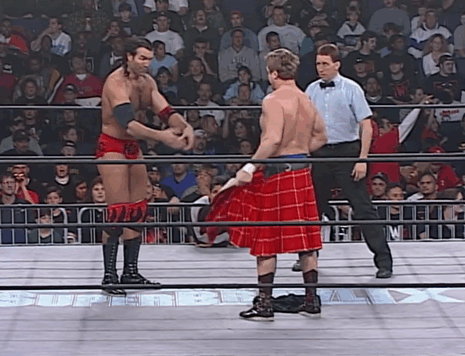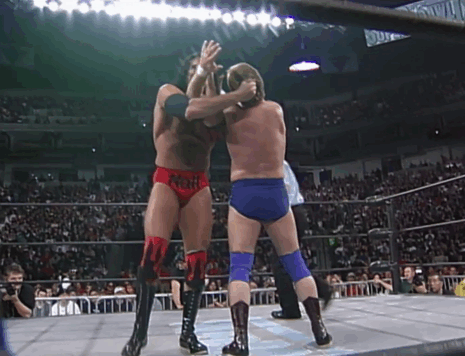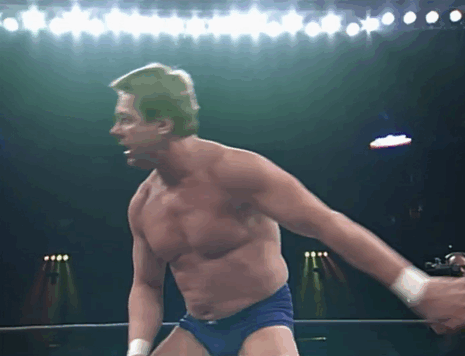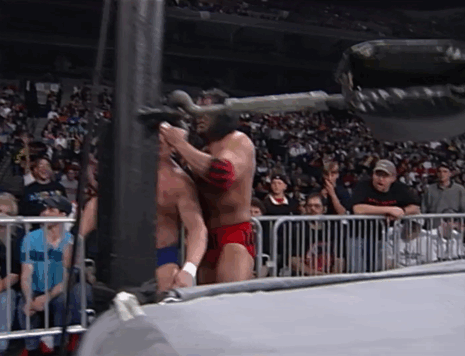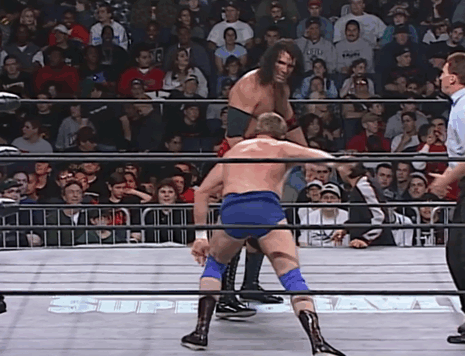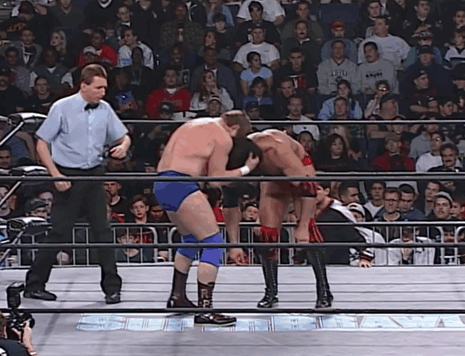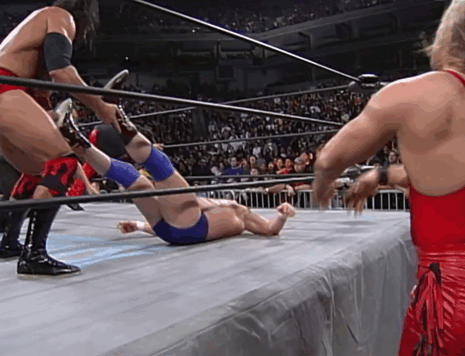 Scott Hall is your new U.S. champ. Great. Whatever.
In what is announced as "a special one-fall grudge match" Bam Bam Bigelow has set his sights on Bill Goldberg to make a name for himself in WCW.
Everyone is still VERY into Goldberg, despite him having the streak ended at Starrcade. One fan in attendance is more into Bill than most.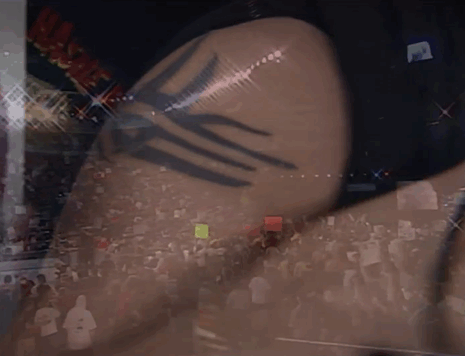 Bigelow may have the weight advantage, but Goldberg follows the advice of Chumbawumba.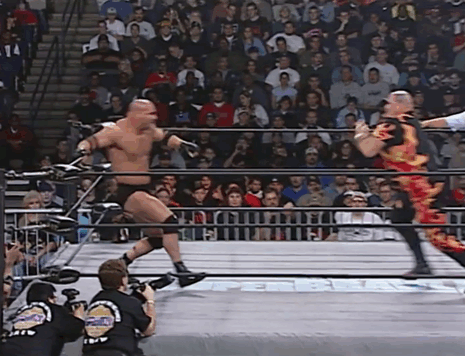 Bam Bam goads the former-Falcon to the apron and takes advantage with a low blow.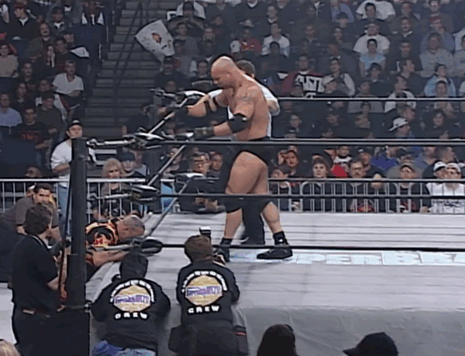 The legs become the target of the flamed one — a good strategy against an opponent who mostly spears and jackhammers.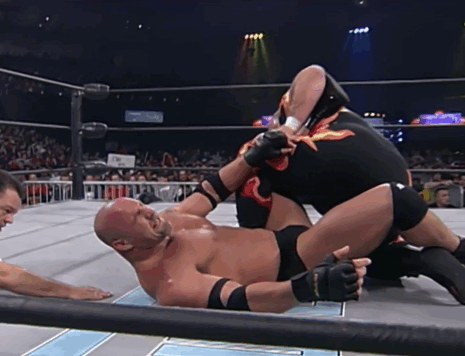 Bigelow changes tactics, instead opting to put on a headlock for a very, very, exceptionally long time.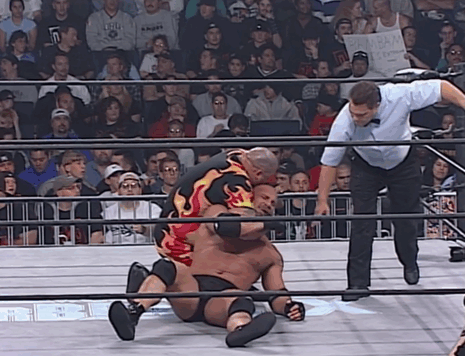 But then everybody gets what they came for, and Goldberg is victorious.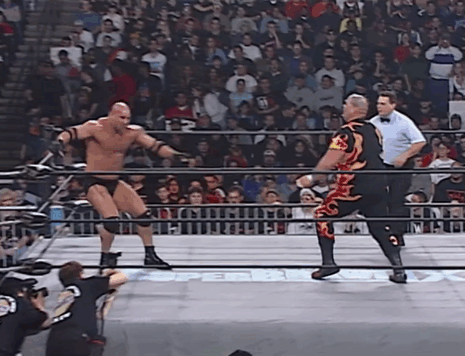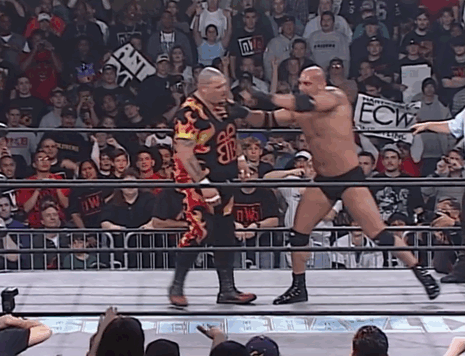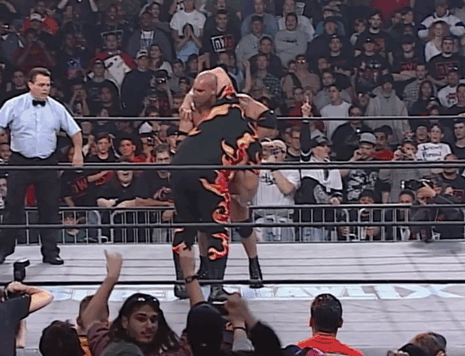 It's time for the main event as the World Heavyweight Champion, Hollywood Hulk Hogan, defends his title against Ric Flair.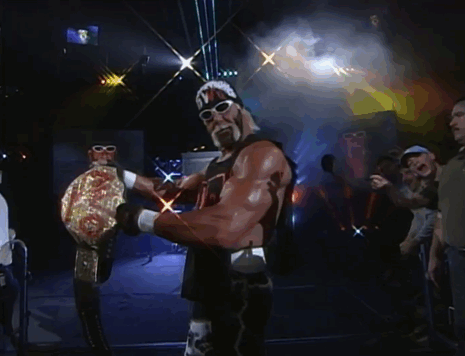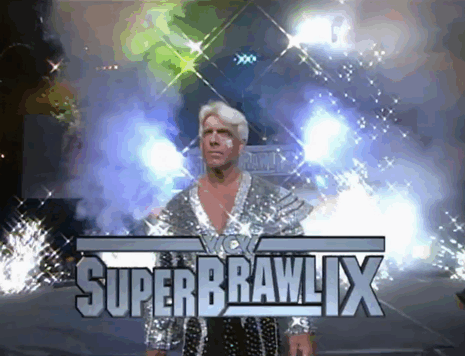 Hogan attempts to mock Flair's signature "Wooo," but it looks more like Sting's "Owww."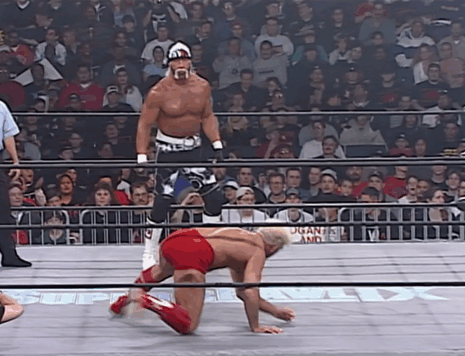 Ric gets all of his greatest hits out the way early, just like a classic rock band at a county fair.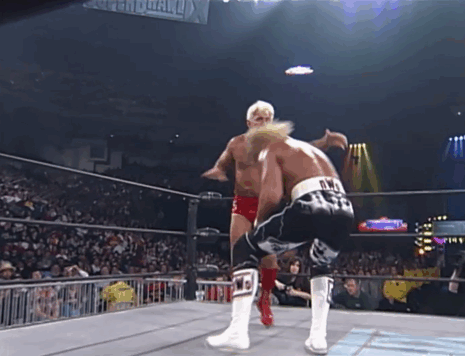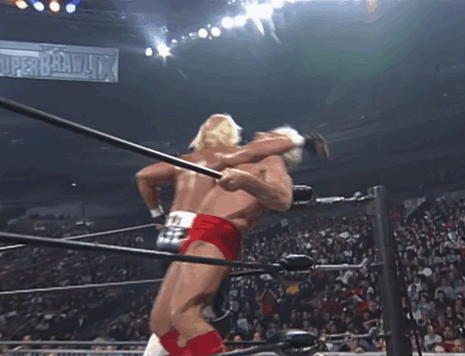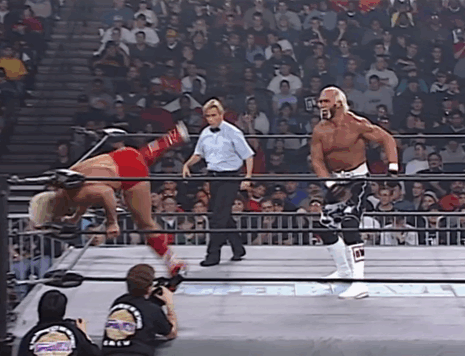 Hogan resorts to using a chair on the outside, although I don't recall this being a no DQ match.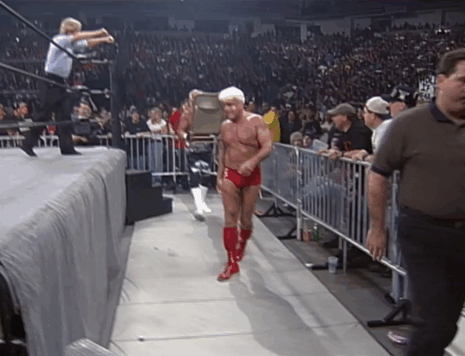 Hilariously, even though he just hit his opponent with a chair, Hollywood still respects the rules enough to reset the referee's 10-count.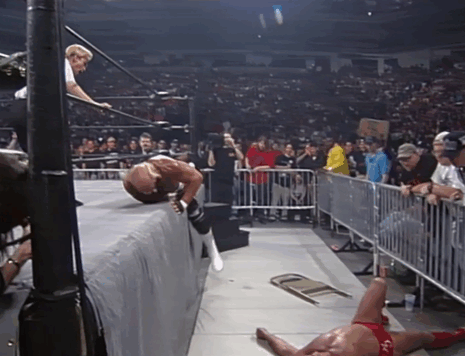 Back in the ring, a bloodied Flair gives Hogan a taste of his own medicine as he "Hulks Out" after a pin attempt.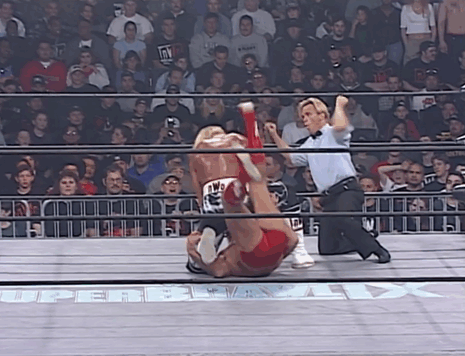 At Souled Out, the Hulkster brutally whipped David Flair as his father looked on helplessly. This month, he looks to make it a family affair, giving the Horseman the same treatment.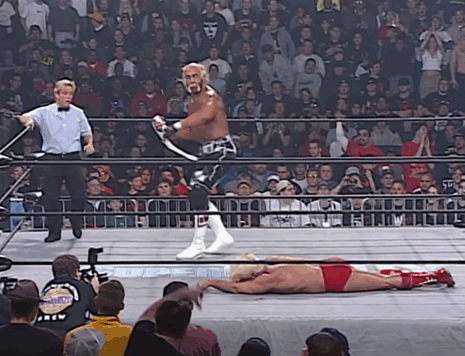 The shoe is on the other foot, and the belt is on the other back once Ric takes control.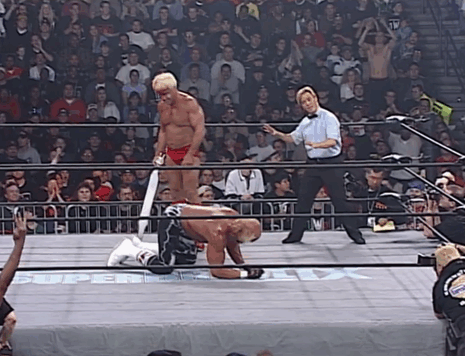 Our mystery woman from the top of the show comes to the ring with purpose, but for whom?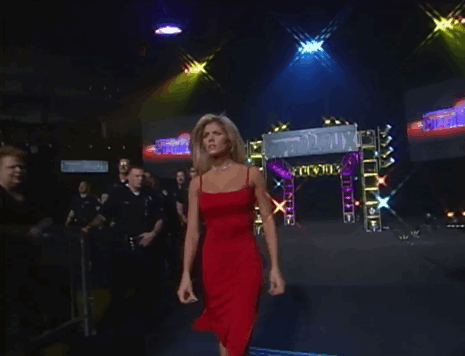 Her intentions are revealed as she paintbrushes Flair's bloody face.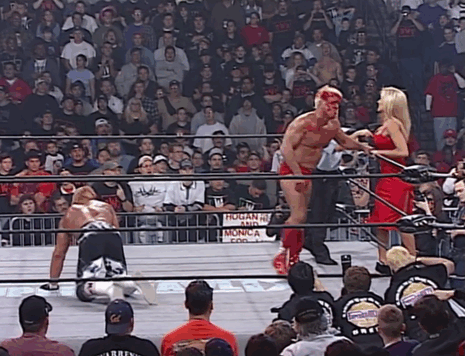 In 1999 WCW, once people start coming out to the ring you can bet a fishy ending is close behind. This is no exception as Li'l Natch is taken out by the flying body of Big Natch.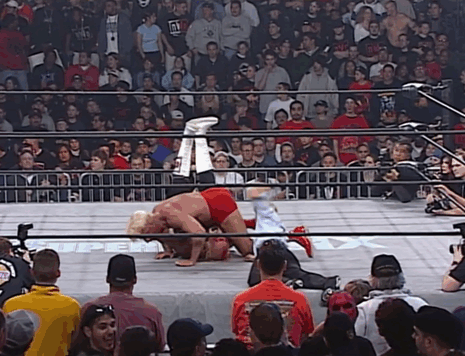 A masked man approaches the ring, BUT WHO COULD IT BE?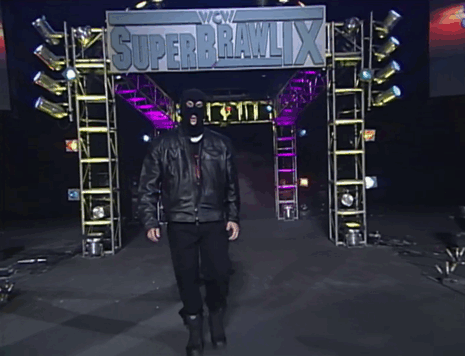 Balaclava Boy enters the ring and zaps Flair with a stun baton. I assume that Turner Broadcasting acquired a stun baton company sometime around 1999, given how often they are featured in PPV main events.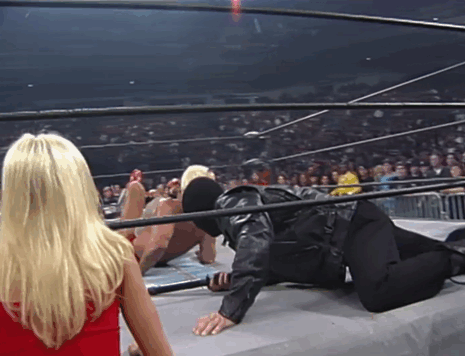 The despicable discharge incapacitates Flair, and hogan retains his title.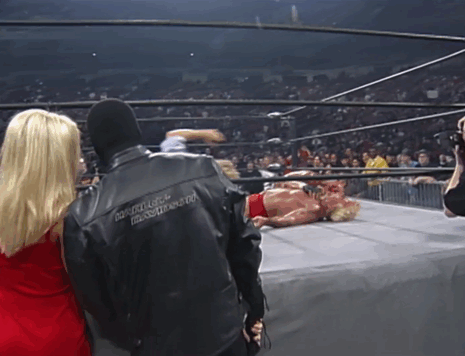 But who is this masked man?
A far-less effective and/or dramatic camera angle, reveals that it was David Flair who has turned on his father and apparently completely forgiven Hogan for the vicious attack that he suffered only four weeks ago.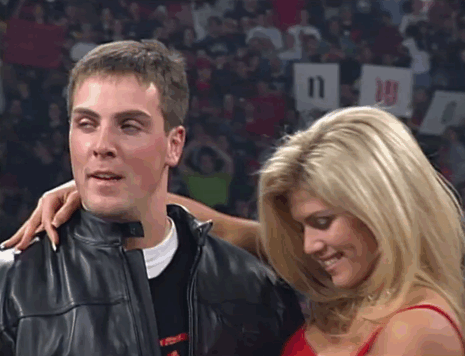 So where does the story of Hulk Hogan and Ric Flair go from here? A fight this wild must be put in a cage, and no matter how intense the action gets, it will be UNCENSORED.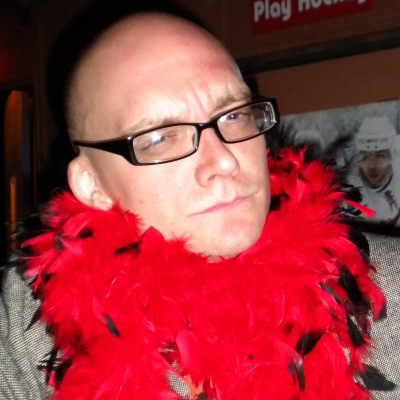 Lifelong WCW apologist. Didn't watch wrestling for 10 years after the final episode of Nitro. Alex Wright once sent him a message saying, "Thank you very much." Probably wrote all of his articles while at work.