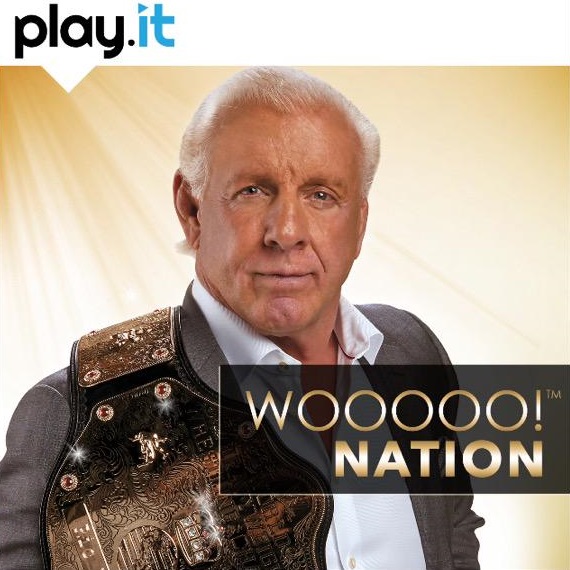 Click Through to Download or Stream WOOOOO! Nation on Play.It
You know you're in for a ride if Ric Flair and Eric Bischoff and sitting down together and going one-on-one for a podcast. Right off the bat, The "Nature Boy" goes into promoting his guest for the program and says a few things that's a bit bizarre to hear from Flair, knowing the history between the two:
"Ladies and Gentlemen, today – Eric Bischoff, who I'm proud to call today my friend…"
"We're friends today. We did war, we did feud, we did disagree, and on a personal note, the worst thing he ever asked me to do was in Birmingham, Alabama when he asked me to put over… what's the guy's name, again? The Mexican guy… oh, Konnan! (laughs)"
Let's begin.
06:02 – Interview Starts with Ric Flair and Conrad Thompson talking to Eric Bischoff
Eric Bischoff is currently enjoying life in Wyoming and is still working with Jason Hervey on television projects. Small talk, both Flair and Bischoff catch up and discuss their current lives and diets.
09:30 – Conrad Asks about the Beginning of Eric and Flair's Relationship
Ric Flair was partially responsible for Eric Bischoff getting his management spot in WCW. After Flair's return to WCW from the WWF, Ole Anderson asked Flair, "What good are you to me after putting over Curt Hennig on National TV last night?" (Flair lost to Hennig in a Loser Leaves Town match, finishing his WWF run). A pissed off Flair went to WCW President Bob Dhue afterwards with a "it's me or him" proposition and when he was asked who could do a better job than Ole, Ric Flair brought up Eric Bischoff.
11:28 – Eric Talks Blackjack Mulligan and Ole Anderson
Eric discusses how the hiring of Blackjack for the WCW Power Plant went down, mentions the fight that actually ensued between Blackjack and Ole a time when Mulligan overheard Ole shit-talking about Bischoff.
Ric Flair reveals that Blackjack Mulligan is in poor health currently, apparently close to 500 pounds.
Flair tells the Lex Luger story where Luger was offended at having to wrestle Dutch Mantell, asking Blackjack "Why would a Lex Luger wrestle a Dutch Mantell?". Instead of murdering Luger in response, Blackjack Mulligan quit WCW.
17:00 – Taking Over WCW, A Company in the Red
Eric discusses difficulties at the beginning, especially how Ted Turner was the only person at Turner who actually wanted WCW to succeed. Everyone else wanted to pull the plug. Eric was hungry for success, but had no fear of failure since the company was already at the bottom when he took over.
25:32 – Eric Bischoff's WWF Tryout
Eric Bischoff was working for Verne Gagne in the AWA when he saw an ad in Minneapolis paper for the WWF announcer position. When the opportunity came up, Eric asked Verne Gagne if it was alright to do so out of respect and flew to NY to do it with Gagne's blessing. When asked about his actual tryout, Bischoff quips:
"I sucked. People send me that clip now and I was horrible, but it was exciting."
Ric Flair mentions how Tony Schiavone was calling him at that time, trying to come back to WCW as the WWF schedule was "killing him". Eric Bischoff talks more about his tryout, believes it was Vince McMahon and Kevin Dunn directing him at the WWF, but isn't positive.
31:42 – WCW's Trip to North Korea
Conrad asks about how the North Korea trip came about and Ric Flair pops in before Eric answers. Flair says George Foreman, Hulk Hogan and Sting all passed on the trip but Flair was the one that fell for it. Ric also talks about how the North Korea government separated Flair from the rest of the WCW wrestlers and tried to coerce him into filming a statement, "to the effect of, if North Korea elected to go to war with the United States, [North Korea] would demolish the United States" (!!). Flair laughs about it and says that he called Bischoff in to help him get out of the situation but never really gives details on how he avoided filming the propaganda piece. Ric Flair points out how the North Korea government trashed Scott Norton's hotel room due to what they heard while spying on Norton's phone call to his wife.
Eric discusses how the entire trip was brought up, says that it was due to Bischoff helping Inoki get back in contact with Muhammad Ali for an unrelated event. Months later, Eric was asked to be part of the Festival For Peace event, went for it because no one else had ever done it.
40:10 – Flair Talks Sturgis
Flair goes onto a tangent, discusses the $32,000 motorcycle he was felt pressured by Eric into buying just to ride it a mile-and-a-half into Sturgis for a WCW Road Wild PPV. Ric claims he never got a title for the thing but rode it into Cheyenne the following day. Flair quips, "And by the way, not that this matters… I'm the only guy in the world that can find a massage parlor for me and Tony Schiavone in Cheyenne, Wyoming."
This is the greatest podcast in the history of our sport.
42:55 – Rick Rude Demands Sting's Spot
Eric and Flair talk around the physical confrontations they had with Rick Rude, talk about his paranoia. Bischoff says he felt like he get along with Rude due primarily to their shared Minnesota roots before getting into a story involving Rude pulling a gun out on him:
"We walk out to the car, [Rude] opens up the trunk, and there's the [WCW International World Heavyweight Championship] sitting there, right next to a 357. And he just kinda looked in the trunk, looked and me, and he reached in – and I thought "well, here it goes" – and he grabbed the belt. He made a statement, and that was the end of it. Nothing happened after that but it was an awkward moment."
Ric Flair brings up that Hulk Hogan never worked Rick Rude, called him "The Tasmanian Devil". Flair points to time Rude beat up the Ultimate Warrior bad in Savanna, GA dressing room as the reason for Hogan never crossing paths with Rude in the ring.
49:36 – Hulk Hogan in WCW
Ric Flair called Hogan and convinced him to join WCW. Flair says his exact words were, "I don't know what this means. I'm not sure if you're even interested, but the guy that I'm gonna bring down to you is the head of Turner now and they've got a lot of money." Flair brought over Bischoff and they signed Hogan to WCW. Flair says the almost exact same thing went down when signing "Macho Man" Randy Savage.
Conrad Thompson asks Flair if he was ever hesitant in bringing in a guy like Hulk Hogan and devaluing his own place on the card and Flair says no. "I was focused on having someone to work with! I loved working with Hulk. People are gonna say what they want to say or whatever, but working with Hulk Hogan was the easiest job I ever had in my life."
Eric discusses the challenges with signing Hulk Hogan, talks about the three things Hogan was interested, which was money, the light schedule, and who he was gonna work with since he didn't trust many people:
"Hulk didn't want to come over WCW and make a big splash, make a lot of headlines, and get in the ring with somebody like Vader, that he didn't know or didn't trust. Or Rick Rude. Or anybody that wasn't going to put a 100 percent effort into making Hulk look as great as Hulk could look. But… Hulk knew Ric Flair was that guy.
Conrad asks if Hogan's contract and deals within WCW were actually structured in a way where he was making north of $20 Million a year (a number given to them by a previous guest, most likely Kevin Sullivan), and Eric shoots it down. Bischoff then gets into Hogan's ACTUAL contract whenever he started in WCW:
"[Hulk Hogan] got $500,000 a PPV, and he had to do 7-10 TVs leading to each PPV, and he had four PPVs a year. That was his deal. Now he had some really favorable percentages on his merchandise that were unrealistic, but you've got to remember – at the time that we brought hulk in, WCW was making about $40 a week in merchandise."
Bischoff makes sure to point out Hogan got the merch percentage on HIS merch only, not WCW. Kevin Sullivan on his MLW show has publicly stated Hogan got 50 percentage on ALL merch sold at venues, so it's a bit obvious what Bischoff is trying to address with his comments. Conrad gets Bischoff to restate his point, and Eric points out again that Hogan wouldn't get any $$$ from a WCW Monday Night Jericho shirt being sold, only his own merch.
59:34 – Who Gets Money for nWo Merchandise Sold by the WWE?
Flair reveals to Eric how "ballistic" Kevin Nash was over the WWE's decision to pull all nWo merchandise after Hogan's firing over his racist remarks. Apparently, Hogan and Nash own the rights to 50 percent of all nWo merch (Hall sold his part to Nash). Flair mentions how Kevin Nash played a part into getting the nWo merch back on the WWEshop while Eric Bischoff mentions that he has zero percent in any nWo royalties.
1:03:28 – WWF/WCW Merchandise Deals
Eric compares the WCW and the WWF TV deals regarding merchandise. Says WCW sucked at selling items like hatch-jackets and t-shirts as "WCW was a young company and all of their focus was on just trying to survive in television… and trying to build their live event business."
1:10:13 – Kevin Nash and Scott Hall WCW Contracts 
Eric doesn't remember the details to Hall and Nash's contract, from what he remembers, they both got deals that put them close to what they were making at the WWF. Claims he didn't invent "guaranteed contracts", says Ric Flair was the first to have one. Flair points to Luger actually being the first back in the Jim Crockett days to have a guaranteed contract, much to the dismay of the Road Warriors and Flair.
Bischoff says the "Guaranteed Contracts" were used primarily to persuade people to sign and tried to match their WWF money. Bischoff remembers their contracts being around $750,000 when they were first signed, doesn't recall any renegotiation during a contract like the infamous story where the two had their pay increased after the WWF promoted their return on RAW but delivered a Fake Razor and Fake Diesel instead:
"Did [Scott Hall and Kevin Nash] each get a raise when their contracts were up? I'm gonna rate that as highly probable. But, I also would unequivocally say that it had nothing to do with fear, it had nothing to do with me buying into the bullshit that Jim Ross was gonna bring them back and I was gonna lose them… that's the typical kind of nonsense that's evolved in the urban legends of the wrestling business over the last ten or fifteen years.
Bischoff claims the only two people that he remembers favored nation clauses (if a new wrestler was signed at a higher pay than you, your pay would increase to match the new wrestler's contract) were Hulk Hogan and Bill Goldberg. When Goldberg started he was making $75,000 a year, didn't make big money until he blew up.
1:20:05 – Wrestlers with Time Warner Contracts?
The only real slow-part of the podcast as Conrad asks why were there wrestlers with Time Warner Contracts, instead of WCW contracts. Conrad explains that believes that it had something to do with guaranteed contracts and the WWF buy-out. Both Eric Bischoff and Ric Flair have no real insight or knowledge regarding this, I'm guessing that Conrad is talking about the Universal Wrestling Corporation – a husk within Turner Broadcasting that's still currently owned by Turner. From what I understand since the name WCW was bought outright by Vince McMahon, the UWC name was used in place regarding lawsuits and paycheck sent out to the few wrestlers who were still getting TBS checks after WCW's demise. Might be wrong here, but that's how I've always understood it.
[Update: I asked Conrad if this was indeed about the Universal Wrestling Corporation and got a response over on Twitter]
@WCWWorldwide no just heard they had entertainment contracts to offset the numbers on the books and make WCW look better financially

— Conrad the Mortgage Guy (@HeyHeyItsConrad) September 18, 2015
1:23:45 – Ted Turner's Fall from Grace
Flair asks Eric about Ted Turner, they discuss the AOL/Time Warner merger. After the merger, Turner lost ton of operational control in his own company. Bischoff talks about the stock options he acquired during his time at WCW and discusses the major money he made when he luckily cashed out before the stock all became worthless. When Bischoff was brought back to WCW in 1999, he had his contract paid out and was rehired as a consultant, not as a Turner employee.
Small Harvey Schiller talk before Ric Flair and Conrad promote next weeks show which will include why Eric fired Ric Flair, WWE, divided locker-rooms, and why Eric and Ric get along so well nowadays.
1:35:50 End of Interview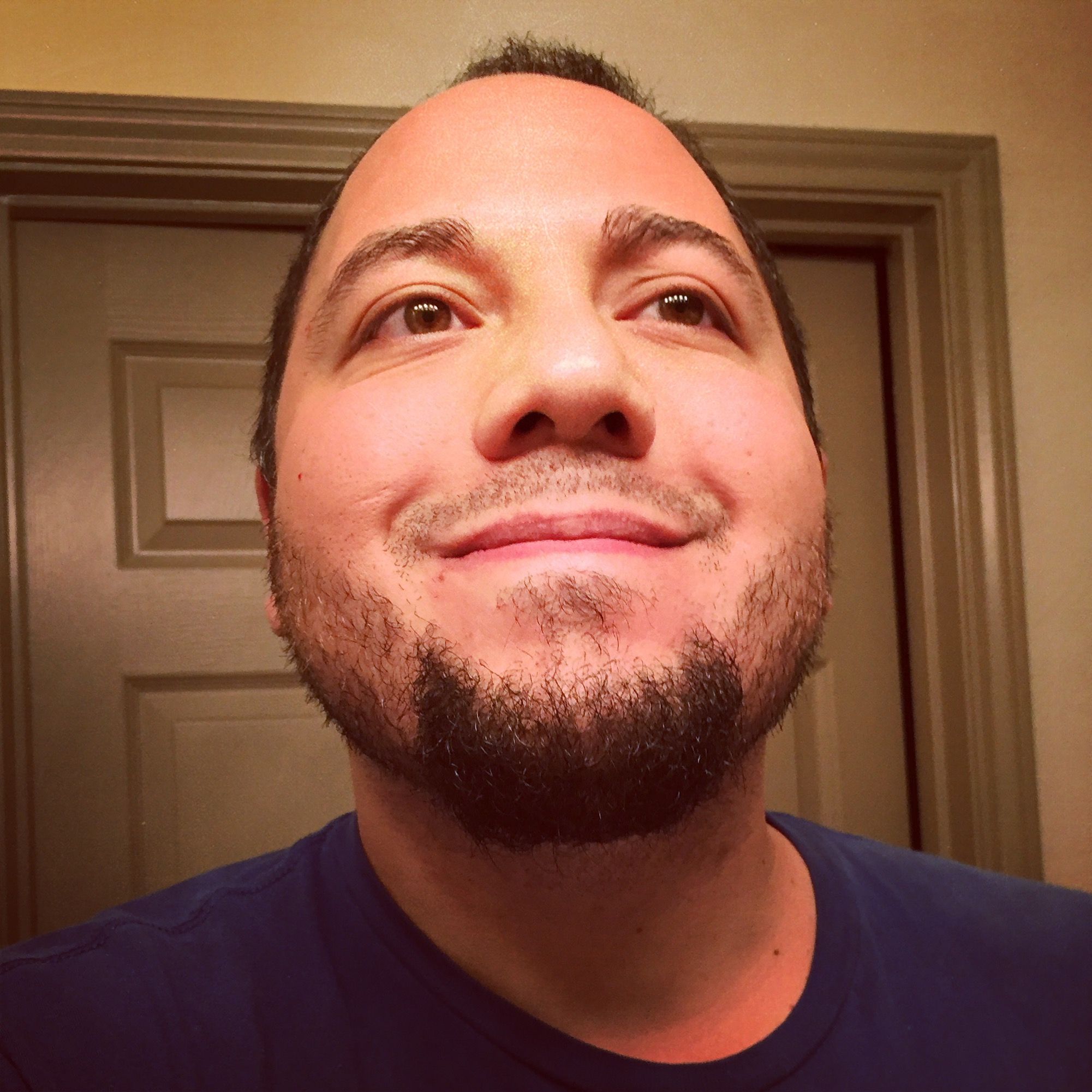 38-year-old World Championship Wrestling fanatic/collector/hoarder. Safety officer by day, scanner of wrestling magazine by night.
He's got posters on the wall, his favorite rock group's KISS.